Under the careful watch of such states as Kentucky and Tennessee, bourbon has rightfully earned a spot among the world's most respected whiskies. While top-notch tasting glasses are available for the single malt spirits of Scotland, it's important to give bourbon glassware a spot on our shelves, as well. Bourbon glasses are more dedicated to the individual drinker's personality and style. Whether you're looking for fun, refined, or personalized bourbon glasses, we've found 11 different styles that are sure to appease your taste and your taste buds.

One quality that gives American whiskey its distinction is the process of distilling in charred oak barrels. In fact, this is a requirement along with being distilled in the United States are required for a whisky to be classified as bourbon. These personalized bourbon glasses celebrate this tradition with the engraving of a barrel, which accents the drinker's name. To make these double old fashioned tumblers even more perfect, they are made and engraved in the USA.

If you're looking for a bourbon tasting set, you want something that makes it easy to compare different batches. This great flight has four identical glasses that fit perfectly into a notched serving platter. You can pour multiple drams, then carry the entire set to the serving area. You even have the option of adding a name or date to the paddle, so you can commemorate the occasion of that monumental whiskey tasting.
These mouth-blown bourbon tasting glasses give you the benefits of a whiskey snifter, but with a twist of innovation. Each glass features a wide rim top, allowing the drinker to let the fragrance of the whisky build up within the glass. When you are ready to taste, simply lift it up, and take a moment to enjoy the smell before diving in for the first sip.
Gifts for bourbon lovers should always include hallmarks of the American spirit, such as time honored craftsmanship, and an eagle emblazoned on the side! These swirled tumblers fit both requirements. Forged in the United States with a distinctive handmade swirl, each one comes engraved with a soaring symbol of patriotism, and the name of your choice. A great addition to bourbon gift sets, or as a stand alone keepsake.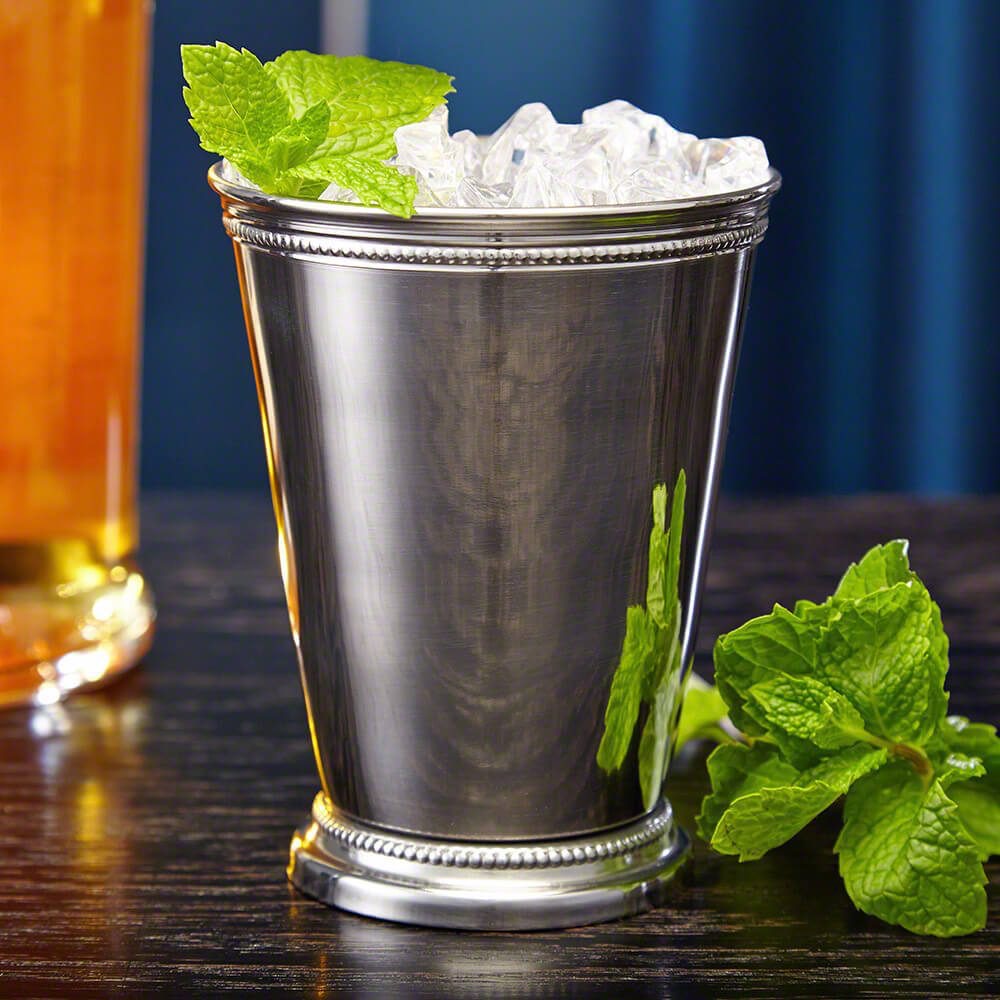 Not everyone drinks their bourbon straight, and these Kentucky bourbon glasses are the perfect choice for enjoying it on the rocks. Designed as the official vessel for a mint julep, attendees of the Kentucky Derby enjoy their locally made spirits on the rocks with a little fresh mint.
For those who like their whiskey chilled, but not overly diluted, these bourbon glasses offer form and function. Each one includes a silicone mold to create a solid ball of ice. Since the surface of one large ice ball is less than that of individual cubes, the melting process is slowed down. This keeps your drink more potent, while lowering the temperature. An elevate glass dimple in the base allows the ice ball to swirl around freely, chilling the spirits efficiently, and with quite a bit of style, I might add.
The Champagne coupe has been popular for centuries as an elegant way to imbibe in, well, champagne. Legend has it the shape was inspired by Marie Antoinette's breasts. But you don't have to travel far to find folks who consider coupes to be one of the best bourbon glasses. Anything from a Manhattan to a Sidecar cocktail will pour perfectly into this seductive stemware.
What better way to adorn American whiskey glasses than with one of the most popular American presidents? Featuring a portrait of former Commander-in-Chief Ronald Reagan, these rocks glasses are also sculpted with the look of actual rocks inside the base, so your whiskey appears to trickle-down to the bottom. A great way to give your Tennessee spirits a rock solid foundation.
While the best thing to do with bourbon is drink it, there's another task that require proper executions: storing it. The bottles manufactured by the distilleries are perfectly capable, but a first-rate bourbon decanter brings a sense of importance, and ceremony to your drinking. Plus, using a decanter makes you feel like Don Draper.
If you've ever enjoyed a Moscow Mule, you might have wondered, "Why does my cocktail gotta be Russian?" Answer is, it doesn't. There's plenty of spins on the classic Mule, a cocktail that actually started in the US. Just sub out the vodka for some bourbon and you've got a Kentucky Mule, or a Tennessee Mule. Here's a sexy copper bourbon tumbler to follow in the tradition of other great Mule cocktails.
A wax seal is a centuries old emblem of quality, used as a sure-fire way to show evidence of tampering. Wax has also been used to seal the contents of many fine liquors through the ages. These fine bourbon glasses use the wax seal to set a standard, as well. This bourbon glass set comes personalized with a name and year of your choice, while the wax seal design is customized with a single initial of your choice. Since four pieces are included, it's the perfect set for sharing.