UPDATED 012-6-2018
Under the careful watch of such states as Kentucky and Tennessee, bourbon has rightfully earned a spot among the world's most respected whiskeys. While top-notch tasting glasses are available for the single malt spirits of Scotland, it's important to give bourbon glassware a spot on our shelves, as well. Bourbon glasses are more dedicated to the individual drinker's personality and style. Whether you're looking for fun, refined, or personalized rocks glasses, we've found 11 different styles that are sure to appease your taste and your taste buds.

One quality that gives American whiskey its distinction is the process of distilling in charred oak barrels. In fact, this is a requirement along with being distilled in the United States are required for a whisky to be classified as a bourbon. These personalized glasses celebrate this tradition with engraving of a wax seal of the individual's last name, which accents the drinker's name and established year. To make these double old fashioned tumblers even more perfect, they are made and engraved in the USA.
This Marquee wood boxed bourbon tasting set is a great way to enjoy your American bourbon whiskeys and also scotch whiskeys. This personalized set comes with chilling rocks, etched bourbon glasses, and a handsome wooden box that can be used to store the set or for many other uses such as storing cards, ties, cufflinks, watches, etc.

If you're looking for a unique bourbon glass, you want something that makes it easy to compare to other bourbon glasses. This Matterhorn bourbon glass has a complete remarkable design that feels like your bourbon is cutting through the legendary mountain. Commemorate a memorable occasion with monumental whiskey tasting.
These glasses are the ideal shape for sipping bourbons, here is why. Similar to the Glencairn, but not quite as narrow, these glasses can also be used with ice whereas the Glencairn cannot. The wide bowl of these bourbon sippers accommodates up to 8oz of bourbon and ice, while the shape of the glass pushes the liquor towards the proper part of your pallet while you drink and the conical shaped top funnels the liquor towards your nose.
Squared with expertly rounded corners, these square bourbon glasses are a pleasure to hold and look handsome and refined in any setting.
Sculpted glasses are a great way to enjoy your bourbon. Each ridge is designed so the glass rests comfortably in your hand, no matter the size. That's why it had to be paired with a legendary decanter to hold your legendary bourbon anytime you want to enjoy it in these legendary glasses.
These mouth-blown tasting glasses give you the benefits of a whiskey snifter, but with a twist of innovation. Each glass features a wide rim top, allowing the drinker to let the fragrance of the whisky build up within the glass. When you are ready to taste, simply lift it up, and take a moment to enjoy the smell before diving in for the first sip.
253+ COOL BOURBON GLASSES >
Gifts for bourbon lovers should always include hallmarks of the American spirit, such as time-honored craftsmanship. This bourbon decanter set is hand crafted in the United States and is finely etched with his initials before being slipped over the glass. Perfectly weighted and between your hand and the glass, these glasses and are ideal gift sets, or as a stand-alone keepsake.
Truly the best way to serve drinks, this bourbon presentation set is made to perfectly fit the included glass and decanters so it is easy to serve guests without any spills or mess. Trust us, this is important when serving expensive bourbons! It includes your name and initial engraved on it with Oakhill design and the bourbon set is made in the USA out of beautiful birch wood.
The Glencairn bourbon snifter is a modern classic. Perfectly shaped to allow your scotch, whisky and bourbon to hit your palette at the optimal spot, and narrowed at the top to push the subtle aromas to your nose. These Custom Glencarin snifter glasses are the perfect glass for high-end or complex bourbons like Booker's, Bulleit, or Barrell Bourbon Batch 14.
For those who love their whiskeys and bourbons cold, but don't want to dilute the flavor, a rocks and bourbon glass combo is the best way to enjoy your bourbon. The rocks help to chill your bourbon, without diluting your most expensive blends like ice will do. Simply pop the stones into the freezer and pop them into your glass when you are ready for a drink.
A great bourbon glass has a timeless appeal that fits in any home bar. These 4 curved bourbon glasses are perfect for enjoying your drink neat or on the rocks. The included decanter and box make this a great item for any home. It's even better because your friends and family can easily enjoy a nice glass of bourbon with you anytime you want.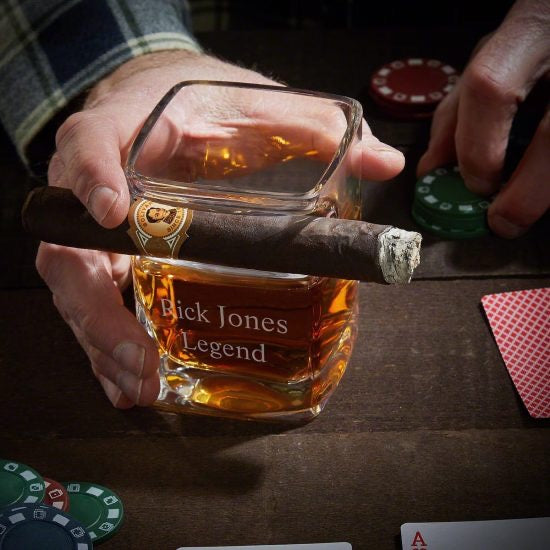 Now one thing we all know goes amazing with good bourbon is a hand rolled cigar. These clever cigar holder bourbon glasses make drinking your knob creek or woodford reserve and smoking your favorite stoogie easy as pie. Thanks to these glasses smart built in cigar holder, your cigar will never suffer the disgrace of being set on the table, and your mouth will never run dry in between puffs.
For those who like their whiskey chilled, but not overly diluted, these bourbon glasses offer form and function. Each one includes a silicone mold to create a solid ball of ice. Since the surface of one large ice ball is less than that of individual cubes, the melting process is slowed down. This keeps your drink more potent, while lowering the temperature. An elevate glass dimple in the base allows the ice ball to swirl around freely, chilling the spirits efficiently, and with quite a bit of style, I might add.
Adding a touch of class with their bronze rims, bronze colored anything is back in style again. Perfect for mixed drinks or bourbon straight up, anything from a Manhattan to a Sidecar cocktail will pour perfectly into these handsome bronze rimmed bourbon glasses.
Any seasoned bourbon drinker knows adding a few cubes unleashes the full flavor of a great bourbon. This cool Wax Seal bourbon set gives you everything need for the perfect glass of bourbon. The Upton-style glasses play perfectly off the ice cubes for an enticing effect you won't find with any other bourbon glasses.
BOURBON & WHISKEY DECANTERS >
What better way to serve your bourbon than in cool square bottom glasses like these? Featuring a thick formation at the bottom of the glass that amplifies the color and character of your whiskey, when drinking out of these tumblers your bourbon appears to trickle-down to the bottom. Very cool effect. A great way to give your Tennessee spirits a rock solid foundation.
Love Old-Fashions, apple pie bourbon, or any other bourbon cocktail? If so, then these stainless-steel bourbon tumblers are exactly what you need. Not only do they look super sleek, they will keep your cocktail cool and refreshing for hours. Your friends will be begging to know where you got such a cool set of glasses.
While the best thing to do with bourbon is drink it, there's another task that require proper executions: storing it. The bottles manufactured by the distilleries are perfectly capable, but a first-rate glasses and bourbon decanter set brings a sense of importance, and ceremony to your drinking. Plus the wooden box this bourbon glassware set comes in makes it perfect for gift giving.
This two-in-one bourbon glass is super cool. The idea is you freeze it with the special insert, and then when you're ready for a cold glass of the good stuff, you pull it out of the freezer and pour your Kentucky bourbon straight into the glass where the ice is already ready to go. Larger ice also means it will melt more slowly so less dilution and more flavor. Get this cool bourbon wedge glass personalized with your initials here.
If you really want to enjoy bourbon you should be able to take it with you anywhere you can. This complete ammo can gift set has two glasses and a sleek ammo can so you can enjoy your bourbon in the home, in the backyard, or while you're communing with nature. The flask can even hold a cigar so you can make your evening extra special.
These substantial rocks glasses come etched with your initials and are the perfect weight for drinking liquors. The ideal weight, they feel slightly heavy, in a good way, and perfectly balanced in the hand. Ideal for the man who doesn't like to drink out of a dainty glass. Since four pieces are included, it's the perfect set for sharing.
Reminiscent of something from Mad Men, these cool silver rimmed bourbon glasses will have you feeling like Don Draper in no time. Easy hold, and perfect for sipping bourbons and whiskeys, these glasses will become your new favorites in no time.
SHOP 253+ COOL BOURBON GLASSES >