If you're an avid whiskey or bourbon drinker, one thing you have surely heard is that all bourbon is whiskey but not all whiskey is bourbon. And if you are new to either spirit, this is a great time to learn the difference. While whiskey covers a variety of liquors that are made from malted grains, bourbon by law, must be made up of at least 51% corn. However, to distill the difference between whiskey and bourbon even further, American bourbon must also be distilled at no higher than 160 proof, aged in new charred oak barrels at no more than 125 proof, while it must be bottled at a proof no lower than 80. So, whether you enjoy bourbon, whiskey, or a little bit of both when you're looking at bourbon vs whiskey, you'll need to get some great sets of whiskey or a set of the best bourbon glasses to enhance your liquor!
Bourbon vs Whiskey – Battle It Out with an Ammo Can Gift Set
When deciding which you prefer in the battle of bourbon vs whiskey, you'll need to be armed to the teeth with a quality set of the tools of the trade, and with this engraved ammo can gift set, it'll be quite a long time before it feels like you'll need reinforcements. Thanks to the glasses and cigar accessories, trying bourbon, whiskey, and even scotch will be easier than ever. The rocks glass gives you an unadulterated flavor while this set also makes enjoying a cigar equally as easy. So, now you can find out which liquor you prefer and which is best to pair with a good Padron or Cohiba.
A New Twist for Enjoying Whiskey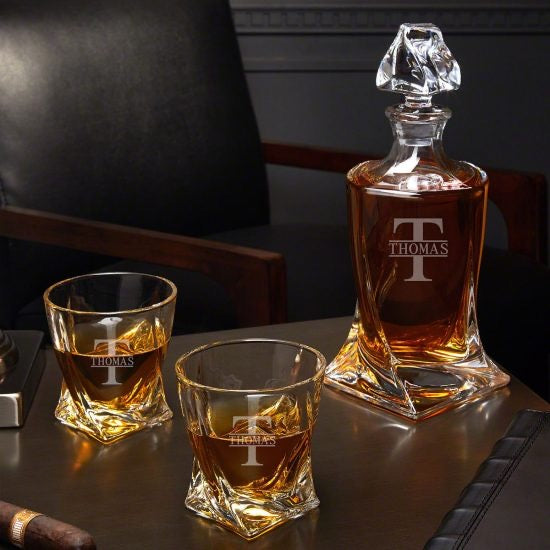 While it will certainly work for bourbon, this classy, personalized twist decanter set simply screams that it is perfect to be filled with top-shelf whiskey thanks to the elegant twist in the design of the glassware. A glass full of Hillrock Rye or Yamazaki 12 year will never feel more full of class and sophistication than it does out of a decanter set that is this stylish.
The Classiest Bourbon Gift Set
While the last set may feel tailored made for whiskey, how great will it be for your Blade and Bow Kentucky bourbon or High West Yippee Ki-Yay to come straight from this custom decanter set? Engraved with a name, initial, and last name, this set makes for a fantastic gift for any bourbon-lover and will easily become one of the classiest bourbon gift sets they own. Now, sharing a drink of their favorite bourbon with friends and family will be easier than ever thanks to this set of four, awesome-looking, rocks glasses.
Throw the Book at This Whiskey vs Bourbon Glassware Set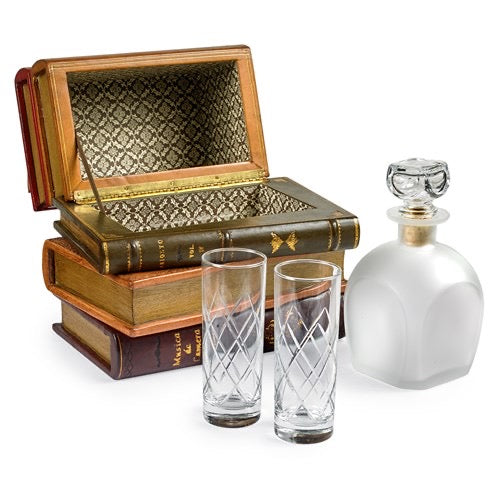 Regardless of where you fall in the whiskey vs bourbon debate, this unique decanter set has got to be one of the coolest ways for you to enjoy your favorite liquor. Think of how cool it will be to have guests over and pull out your high-ball glasses and decanter from inside a set of books! You'll either look like the coolest and most sophisticated person ever, or they'll think you've got more hidden switches and tricks up your sleeve than a haunted mansion in Scooby-Doo!
The Coolest Set for Your Favorite Liquor
Whether you are battling it out between bourbon vs whiskey or you love both, this whiskey stone set is the ideal way to take the most simple and effective way to enjoy both liquors! The rocks glass makes it easy to enjoy a drink neat, on the rocks, or even as a cocktail. Plus, the set comes with a set of whiskey stones, meaning that your drink will never be watered down due to ice melting ever again. For a lover of whiskey or bourbon, this set is an absolute must-have!
947+ ENGRAVED BOURBON AND WHISKEY GLASSES>
A Rare Decanter Set Perfect for Any Liquor
The reason the debate between whiskey vs bourbon is so hard to decide on is that both are great, and also, each is unique in its own way. So celebrate each unique drink you have with a one-of-a-kind decanter gift set. These sculpted glasses are sure to stand out even more than your most sought after bottles of bourbon or whiskey!
Feel Sophisticated with Every Sip with a Classy Liquor Set
Make your next glass of whiskey feel like the classiest one you've ever had. When you set this black on your home bar or kitchen counter and pull out the matching decanter set, you know that you are always going to be in for a good time when you choose to use this epic glassware set. From whiskey neats to Old-Fashioneds, you'll feel so damn classy that you will feel like you're putting the Dos Equis most interesting man in the world to shame!
The Perfect Way to Bet and Enjoy Bourbon
There simply is not a better way to enjoy your favorite bourbon than while also having a stogie; however, if you can add a game of cards to that as well, you've got one of the ultimate bourbon experiences possible! And thanks to this monogrammed poker set with a cigar glass, you can finally hold your full hand for Texas Hold'em while also having a cigar and drink in the other hand! Not only is this gift a game-changer, but you'll look like the ultimate card shark at your next game night!
A Modern Taken on a Classic Decanter Set
Whiskey and bourbon have quite a long history and have come from all sorts of shape and size decanters. Pay homage to your liquor with a modern take on classic styling with this artistic take on a classic decanter with matching old fashioned glasses. This is the perfect set to use every day but is also classy enough that it works perfectly for important dinners or anniversaries alike!
Custom Decanter and Whiskey Cigar Gift Set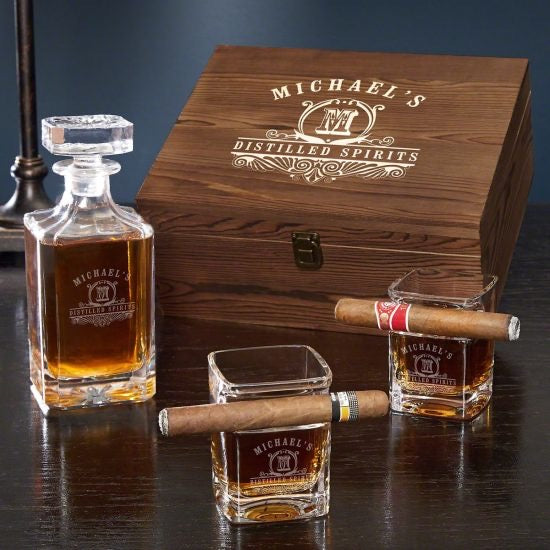 Cigars and liquor pair together like an adult version of peanut butter and jelly; however, enjoying both at the same time is not always as easy as it sounds. This is why this engraved decanter box set with cigar glasses is the perfect set for yourself or to give as a gift to the person who simply can't get enough of cigars and whiskey or cigars and bourbon. After all, the flavor combinations between different liquors, brands, and cigars are nearly endless. Make the most of every cigar and liquor experience with a set that is single-handedly the best way to enjoy the combination!
Take a Shot at this Whiskey Stone and Rocks Glass Set
Since bourbon is strictly an American liquor, what could enhance your bourbon more than an engraved bullet whiskey stone gift set with matching rocks glasses? This set is ideal for creating chilled drinks and cocktails without spoiling the perfect flavor of top quality bourbon. Plus, thanks to the novelty of the stones, this set will have everyone feel just as badass as Clint Eastwood in all of his Spaghetti Western movies.
The Toughest Decanter Set Around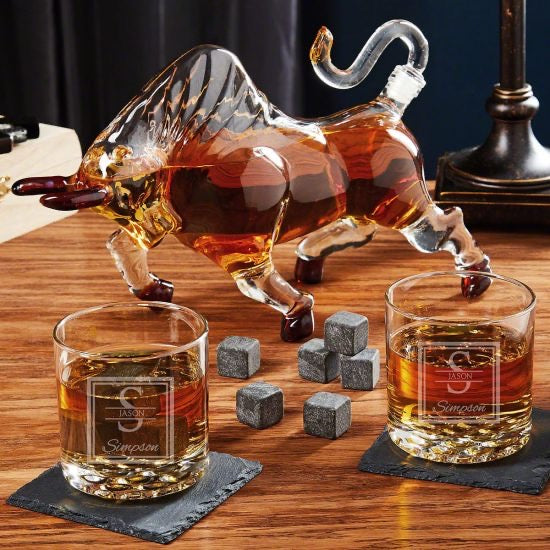 It doesn't matter if you prefer to sit back with a good ol' glass of American bourbon or a fantastic glass of whiskey, one thing is for sure, each time you go for a drink you feel like the toughest person around. With this bull decanter set, you can be sure that anyone you share a drink with will know just what it is like to feel like a true badass each time they have a sip of their drink! This is the perfect bourbon or whiskey set to enhance any home bar or liquor corner!
Must-Have Personalized Whiskey Stone Box Set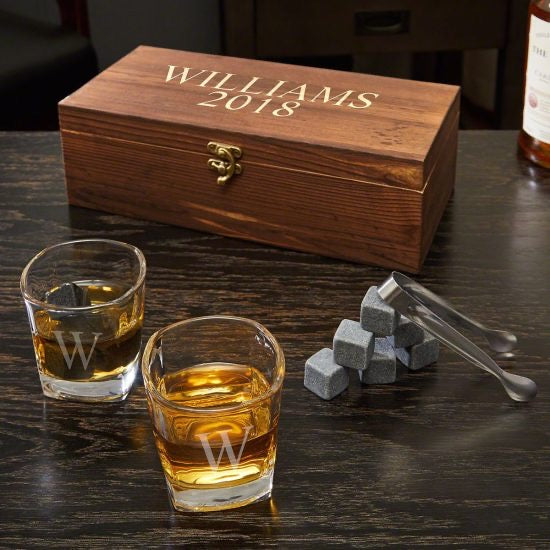 Sometimes, simplicity in a gift set is what truly makes it special. This custom whiskey stone box set lives in simplicity. Although it is special made with the engraving, the no-frills glasses, stones, and box, mean this is all about experiencing and enhancing the bourbon or whiskey of whomever you give this to. This set works perfectly for occasions like retirement or even more personal ones like anniversaries!
Bourbon vs Whiskey – The Winner Can Be Crystal Clear
Sometimes, when deciding what kind of liquor is best or what set enhances your drink the most, you need twice as much to really make sure that you are making the right call. Ensure you are making the right decision on each sip with these double-old fashioned crystal glasses. Not only will they hold twice as much bourbon or whiskey as you've ever been able to enjoy at once before, but they'll also make you feel twice as classy thanks to their gorgeous glassware design!
A Must-Have Whiskey Box Set
If you are a person who has made it this far down the list and are still reading and not just looking at the pictures, clearly you have a strong interest in your liquor. While whiskey vs bourbon may be life or death to you or the debate may simply be a passing interest, one thing that will stick in your mind for sure is how awesome this custom decanter box set is. You've dreamed for years of what it would be like to have your own namesake whiskey label, and with this set, you can make that dream a reality! Be your own distillery with a set that is sure to make you proud every time you see it in your man cave or on your home bar with this awesome decanter box set!
443+ CUSTOM WHISKEY AND BOURBON DECANTER SETS>
The Chillest Way to Decide in Bourbon vs Whiskey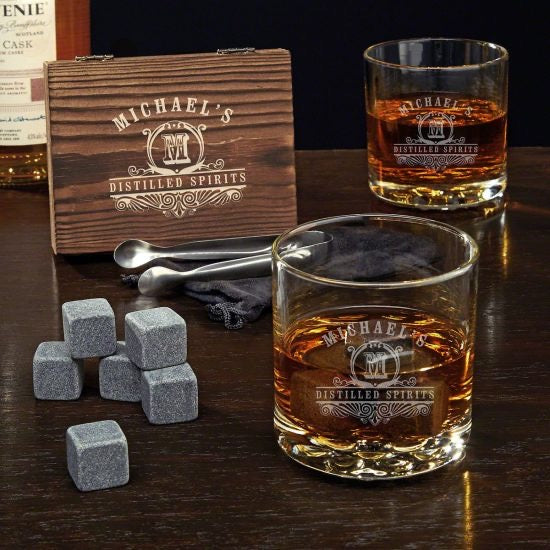 Chill out! Bourbon vs Whiskey should never get heated, which is exactly why a personalized whiskey stone set is the easiest way to keep everyone cool in determining what their favorite liquor is. Now, with this awesome set, you can have long philosophical debates about how all bourbon is whiskey but not all whiskey is bourbon without worrying about your drink getting watered down. Thanks to the soap stones in this set, you could not take a sip for hours and your liquor will taste just as cool and fresh as when you first poured it.
Presenting the Best Way to Decide Between Whiskey vs Bourbon
Is there a better way to decide which is better, bourbon or whiskey, than with a whole group of people? Thanks to this presentation set, sharing a few drinks will not only be easier than ever, but it'll also feel classier too! This gorgeous acrylic serving tray immediately sets the tone that what is about to come out of the decanter is going to be life-changing. Now, when you share drinks, you and your friends can feel like true whiskey aficionado's and give your justified opinion of how woody the liquor tastes or of what hits of flavors it has. With a presentation set like this, no one will ever doubt your tasting credentials!
Taste the Difference in Whiskey vs Bourbon
Never before will it have been as easy for you to determine which flavor profile works better for you when deciding between whiskey vs bourbon than when you've got this Glencairn box set in your hands! Not only does the black gift box and engraving on the whole set make you feel like a whiskey connoisseur but the shape of the Glencairn glasses actually highlights the flavors and smells of each liquor, giving you the purest form of each to decided and enjoy which flavor you will like most!
Etched Crystal is a Classic Way to Enjoy Whiskey or Bourbon
No matter what style of whiskey you prefer, everything tastes better when it is from a crystal glassware gift set. The lines along with the gorgeous glass is a fantastic way to highlight the beautiful amber hues of your drink. Plus, you know that a set like this will make your home bar or man cave the talk of all your friends. Seeing this set on the counter of your home bar or kitchen will be the way to make each drink you share with a friend or family member memorable to them for the rest of their lives!
The Most Unique Decanter and Glassware Gift Set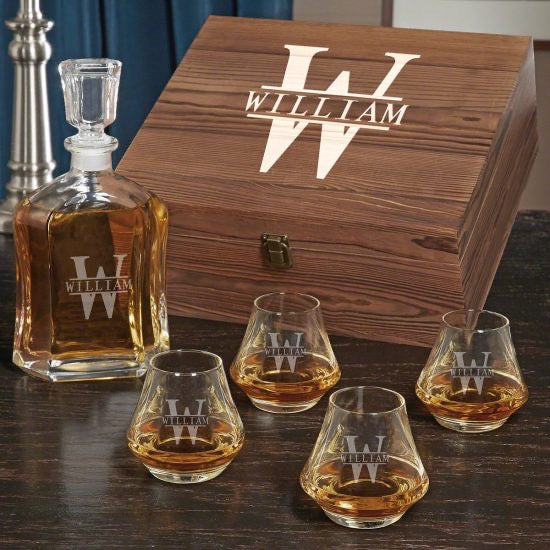 Enjoying your liquor should be something that is incredibly relaxing. While this is all about bourbon vs whiskey, that doesn't mean it should be something stressful. In all honesty, figuring out what liquor you like should be an activity you get to enjoy, and with this personalized decanter box set, you can! The decanter and uniquely shaped glasses make finding all the flavors and aromas from each style of liquor easier than ever while helping you find out which suits your palate better. For someone who truly cares about taste, this set is a must-have!
Monogrammed Box Set for Enjoying Whiskey, Bourbon, & Stogies
Got someone in your life who you want to make feel like they're the luckiest person in the world? This monogrammed cigar and whiskey gift set has got to be one of the best ways to surprise someone with an awesome gift. It doesn't matter if they're more of a fan of bourbon or whiskey, with this set, they'll be in ecstasy as they sit back and enjoy a drink while simultaneously being able to use the same hand to hold their cigar. They'll probably even fist-bump you with their free hand for getting them such a cool gift set!