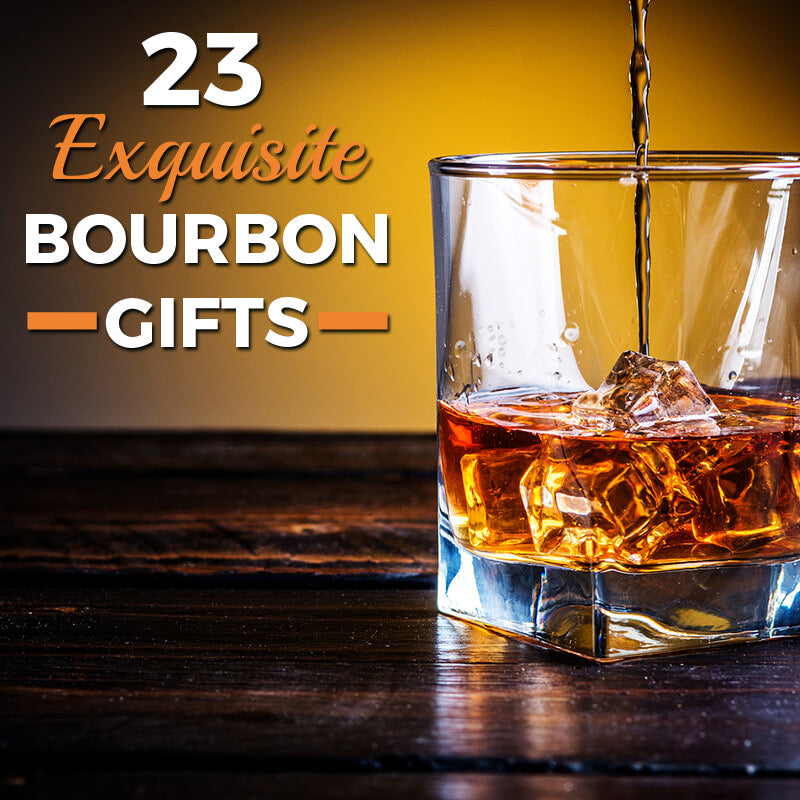 23 Exquisite Bourbon Gifts
Check Out These Bourbon Gifts Every Bourbon Lover Must-Have in Their Life!
Did you know that bourbon is whiskey that is made in America? It has to contain at least 51% corn to be officially considered bourbon, too, but for the most part the difference between whiskey and bourbon is geography. For those that prefer a classic glass of good old American bourbon rather than beer or rum, we found the best bourbon gifts! But what are good gifts for bourbon lovers? Do they want custom bourbon glasses or another kind of gift? Something that enhances their favorite liquor and makes it more enjoyable or something that they can use to show off their love for the delicious spirit. After all, the glass really does matter when drinking bourbon. Don't worry, we put together plenty of incredible, unique, and personalized gifts that any bourbon drinker would be thrilled to get!
Unique Sipping Glasses
When enjoying a liquor as fine as Four Roses Single Barrel or Michter's US1, you have to have the proper tools. Bourbon is a spirit that can be used for shots and cocktails, yes, but top-shelf blends are meant to be sipped slowly and carefully enjoyed. You'll want glasses like these, small in size but uniquely designed to expose the subtle notes and secret ingredients that make each bottle of bourbon special. This set of four glasses fit perfectly in your hand, but their hourglass shape serves a purpose: the wide base and rim funnel all of the subtle flavors and aromas from the bottom of the glass to the top where you will be able to enjoy your bourbon to the fullest as you can inhale the delicious aromas and enjoy the many ingredients within. Talk about a great set of bourbon glasses!
A Classy Set of Cigar & Bourbon Gifts
There is nothing quite like pairing a good bourbon with a proper stogie, which is why this set of personalized bourbon gifts even exists! They'll feel classier than James Bond at a poker table in Dr. No when they're enjoying their go-to pairing of vices using this bourbon and cigar gift set! Perfect for an ice-cold drink, the set comes with whiskey stones and even has cigar holders so they can rest their stogie or travel with up to three cigars at once. Seriously, how great of a gift for a bourbon lover is this?
Give Them Their Own Brand
Every fan of whiskey has thought about what it would be like when they own their own brand. However, you may not be able to give them their own distillery as a gift, but you can give them the next best thing, a personalized bourbon decanter! How awesome will they feel every time they see their decanter on their home bar or table, only to be reminded they have their own in-house brand! Personalized with four lines of text, this decanter will truly make them feel like they've finally made it in the bourbon world!
Basic Bourbon Tasting Set
When it comes to the fine liquors, you have to have the proper tools. Two things are vital when enjoying bourbon: the right glass and whiskey stones. Why the latter? Well, you want to enjoy your drink to the fullest, right? You can't do that with regular old ice. Whiskey stones are made of natural soapstone and can be frozen so that they will chill your drink just as well as ice does, but they won't affect the flavor. These classic old fashioned glasses were literally made for drinking bourbon. Named after the popular cocktail, you can enjoy the perfect amount of Woodford Reserve in these six ounce glasses with a couple of whiskey stones. Thanks to this essential set, you've got everything you need to enjoy a nice after-dinner drink with your SO or a friend. This set is by far one of the best gifts for bourbon lovers because it's got everything they need for a proper drink, and is perfect for any occasion!
Top-Notch Bourbon Gifts
True connoisseurs of bourbon come from far and wide, but if you run into one, you'll definitely want to get them a top-notch gift set. For the highest quality set, look no further than this engraved crystal tasting gift set! The Glencairn glasses are the perfect way for them to be able to taste and fully experience their bourbon. Plus, the crystal glass looks amazing! Not only will a true bourbon-lover enjoy every part of this gift set, but you can also be sure they'll use it as their new centerpiece in their home too!
Luxury Bourbon Gifts
Make the most out of your luxury gifts for bourbon lovers with a classy gift that can't be beaten. These personalized twist glasses are a fantastic way for anyone to enjoy their go-to bourbon while having them feel like they're drinking from the absolute top-shelf liquor. Perfect for enjoying a drink before a date night, to catch up with a friend, or simply because it is Friday, these bourbon glasses will definitely see a lot of use.
55+ BOURBON STONES AND SETS FOR YOUR BOURBON>
Have "Spiked" Coffee Every Day
You've probably had Irish coffee, but have you ever had bourbon coffee? Bones Coffee makes a special blend of coffee beans that are aged inside an oak bourbon barrel. While this coffee does not contain actual alcohol, you can enjoy the delicious, smoky taste with this incredible medium roast coffee every morning before work! Now you can enjoy a "spiked" coffee in the morning without having to worry about the effects of actual alcohol. Any bourbon fan would be overjoyed to receive this scrumptious bourbon gift for Christmas or their birthday, but make sure you do include a bottle of their favorite bourbon too!
Take Your Bourbon Gifts to the Next Level
Tired of giving the same old gifts for bourbon lovers? Get them something that will revolutionize the way they enjoy their bourbon with this smoke box gift set! Instead of having the same glass night after night, now they have the opportunity to make a new, creative, and tasty bourbon whenever they want! Simply throw their glass inside the box, and smoke it with things like cedar, rosemary, or thyme to create unique flavors that bring life back into a bourbon they thought they were getting bored of!
A Twist On the Rocks
Not a fan of whiskey stones for your bourbon? Try the unique wedge glass. Simply attach the included silicone mold to the glass, fill it with water, place it in the freezer, and it creates a cool triangle of ice inside your glass. It doesn't just look cool, but the wedge of ice melts slower than normal ice cubes so that you can enjoy your bourbon's fullest flavors a little longer before the ice fully melts. It certainly makes great Instagram posts!
The Perfect Pairing
When you settle down in your armchair with a glass of chilled bourbon, you're probably lighting up a cigar as well. Cigars and bourbon go together like beer and salty snacks, you just can't enjoy one without the other. Thanks to the revolutionary cigar glass, you can enjoy both your cigar and your bourbon at the same time! That's right, these unique glasses actually have a built-in cigar rest so that you can puff and sip with one hand while reading a good novel in the other. The crystal decanter in this set will certainly become your new centerpiece in your cigar lounge or home bar because of how stunning it is. Talk about one of the best bourbon gifts for men!
The Manliest Bourbon Gift You've Ever Seen
Bourbon drinkers are the manliest, toughest, and coolest of the liquor fans. After all, they're patriotic and fiercely loyal to the land that makes their awesome spirit: America. One of the coolest gifts for bourbon lovers, this incredibly patriotic gift set has it all. It's got two DOF glasses and a set of whiskey stones for a nice chilled bourbon with a buddy after a day at the shooting range, a gnarly tactical survival knife for all of those outdoor adventures, and a genuine military surplus ammunition box for all of your storage needs. On the glasses and ammo box is a rustic American flag design that shows off your love for 'Murica and ensures that no one else will dare try to take it from you since it's engraved with "Private Property of" followed by your name. Seriously, can a gift for someone who loves bourbon get any cooler than this?
Single-Handedly the Best Cigar and Bourbon Gift
There is no cooler set of bourbon gifts for men than this! The custom box set with cigar glass allows him to enjoy a stogie and bourbon in the coolest way possible, with one hand. Now, he can pour another drink or fist bump you for getting such an awesome gift set, while still enjoying his stogie and bourbon! How cool is that? This unique set is so good, he'll want to use it every single time he has a stogie, bourbon, or both!
A Classy Set for the Office
Like scotch, bourbon can be a refined spirit. Whether you're drinking Elmer T. Lee Single Barrel Kentucky Straight or Henry McKenna 10 Year Single Barrel, you'll feel classier than James Bond himself with this presentation set. Featuring four double old-fashioned glasses, a decanter, and an acrylic serving tray, this breathtaking set belongs in a place of prominence in your home office or home bar. The decanter will keep your favorite blend of bourbon fresh and secure while also showing off its lovely golden hues. You can serve a couple of friends a classy drink in style with this set, that's for sure! Anyone would be impressed by this matching decanter set.
A New Way to Enjoy Bourbon
You can certainly enjoy that delicious smoky bourbon flavor in other ways besides the liquor itself or cocktails. If you've never had bourbon truffles, you're seriously missing out. Bourbon Barrel Foods created the ultimate bourbon lover gift set of unique and yummy foods infused with the taste of bourbon! How cool is that? It comes with different sauces, salts, seasonings, and other unique edibles that will give your food an extra kick.
Ultimate Set of Gifts for Bourbon Loves
Is there any better set of gifts for bourbon lovers than a set that lets them share their love of their favorite drink? Help them have their friends and family become as enthusiastic about bourbon as they are with a personalized gift set! This is the ideal way for any fan of bourbon to share their top bottles since the Glencairn glass will enhance all of the subtle notes of flavor. Now, instead of going on and on about how great bourbon is by themselves, this set of personalized bourbon gifts guarantees that they will have people to discuss flavors, bodies, or even just how generally awesome their new bottle of Rip Van Winkle bourbon is!
Put Wind in the Sails of Your Bourbon Gift
Sometimes, a bit of novelty is needed when giving the coolest bourbon gift. Now, that doesn't mean novelty means corny, cheesy, or impractical, in fact, this gift is far from it! Any fan of bourbon will love pouring themselves a glass of their favorite drink while watching a glass ship swim in a sea of their favorite drink inside this awesome decanter! Could any bourbon accessories ever be cooler than this awesome set?
421+ CUSTOM BOURBON DECANTER GIFT SETS>
The Perfect Gift for the Legendary Bourbon-Loving Man
Looking for the perfect gift for the awesome guy in your life who loves drinking the American liquor more than any other spirit? You've found it. Everything about this incredible gift set screams "I'm the coolest guy in the world!" He'll love it, especially since it's personalized just for him. After a romantic date, you two can enjoy a nightcap of his favorite bourbon chilled with whiskey stones. Plus, he can use the ammo can to store anything from live rounds to tools! It's the perfect bourbon gift for your anniversary, his birthday, or the holidays.
Square Up On Your Bourbon
When you're shopping to get gifts for bourbon lovers, you want to make sure that your gift makes a strong statement. This square bourbon decanter makes a statement that is nearly as strong as the liquor it holds! A decanter like this is the perfect stately gift to add an element of class and sophistication to anyone's evening when they're including in their favorite American-made whiskey, bourbon of course!
The Best Bottle of Bourbon You'll Ever Have
As a bourbon drinker, you've heard of Pappy Van Winkle. The famous distiller of what is perhaps the finest, smoothest, most sought-after bourbon whiskey in the world. His 23 year old bottle is the best of all, and it'll set you back a couple of thousand! Those who can snag a bottle will only pour a tiny amount to taste, not a usual full glass. Such a fine bourbon is the absolute best gift for bourbon lovers you can possibly give if you can afford such luxury! Whoever you gift it to will certainly want to give you something as equally amazing in return.
Custom Bourbon Glass and Chilling Sphere
Feel like a stud when you've got to chill your bourbon with this glass and bourbon sphere combo. Sure, you could let the sphere chill your drink in due time, but instead, you know rolling is faster, more efficient, and just looks so damn cool. Add in the fact that the glass is personalized, and you've got a fantastic set of bourbon gifts on your hands.
A Badass Bourbon Smoker
Add a touch of unique flavor to your gifts for bourbon lovers with a smoker kit. These are the ideal gifts for the bourbon lover who wants something new and exciting in their lives. With this gift set, they can infuse each drink they have with a new smokey flavor. That means all those bourbons they've had have just become interesting again as they now have so many new flavor combinations to try. Everything from different woods like cedar to herbs such as thyme are great for smoking drinks.
Bourbon Gifts with a Bull Decanter
Give a memorable set of bourbon gifts with a personalized bull decanter set. Sure, it works exactly the same as any other decanter but this one is in the shape of a bull mid-charge, how cool is that? Perfect for any home bar or office, it'll be the centerpiece that is perfect for every occasion.
The Ultimate Tasting Set for Bourbon Lovers
You're still here? Well, then why don't you get the kitchen sink of classy gift sets with this amazing bourbon tasting set? Monogrammed with three initials on each piece, this is the set of bourbon gifts that you give when you want them to have it all. Rocks glasses, Glencairn glasses, and tasting glasses. It doesn't matter what occasion you're getting this for because it is so good, it is perfect for everything.
FAQs
How do you gift a bourbon bottle?
A bottle of bourbon goes great in a special gift box or inside a fantastic bit of wrapping. While it is tempting to give the bottle as is, you'll want to spice it up just a bit. At a bare minimum you'll want to add a bow to the top, just so the recipient knows this is a special bottle you're giving them as a bourbon gift.
How much is a bottle of good bourbon?
For a good bottle of bourbon to give as a gift, you'll want to look at spending at least $30 or more. At that price range there are plenty of great brands and even some special blends from distilleries like Buffalo Trace, Knob Creek, Wild Turkey, and Woodford Reserve.
What to get for someone that likes bourbon?
Simple things that make their bourbon enjoyment even better. Think about custom bourbon glasses, box sets developed to add accessories and decanters to the bourbon experience. You can even add things like bottles of bourbon, bourbon-flavored coffee, or chocolates. Honestly, anything that lets the bourbon lover enhance and adds more bourbon to their life will be the perfect gift!
Is bourbon a type of whiskey?
Yes! Bourbon is a type of whiskey; however, not all whiskey is bourbon. Bourbon is always made of at least 51% corn mash and has to be aged in a new oak charred barrel. To be considered bourbon it also has to be distilled at 160 proof and aged until it is 125 proof or less. Furthermore, by the time it is bottled, the bourbon must be testing at 80 proof.