When it comes to personalized gifts for men, you can give a great gift with either elaborate customization or something a little more subtle. For the guy you're shopping for, you want to keep it simple, like a monogram of his initials or even just his name. Monogrammed gifts for him are personalized gifts for men that feature his initials or name as a thoughtful touch to an otherwise regular gift. By getting him something uniquely personalized, he will make sure to take extra care of it and hold onto your gift forever, not just because it has his initials on it, but because you went to the extra effort of getting him something customized. These incredible monogrammed gifts are perfect for a variety of occasions whether you're searching for something sweet for your husband, a nice gift for your boyfriend, or even an amazing present for your dad.
Crystal Whiskey Monogrammed Gifts for Him
One word will come out of his mouth the moment he unboxes this incredible whiskey decanter set: "Wow." This stunning six-piece decanter set is one of the most impressive monogrammed gifts for him you will ever see! The entire set features his first and last initials in a classy, elegant way that he will absolutely love. He will proudly display this amazing crystal decanter set in his office, living room, or home bar front-and-center so that anyone who visits will see it immediately upon entering the room. Such an incredible gift is ideal for an anniversary, promotion, or even his retirement.
Unique Manly Monogrammed Gifts He Will Love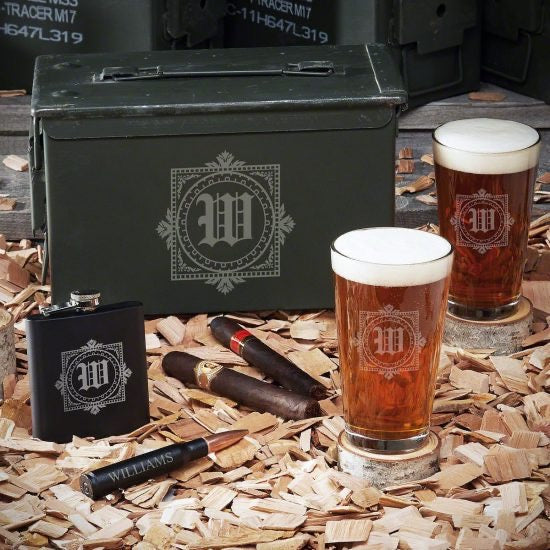 Everything about this awesome gift set is manly yet classy. The Old English-style monogram on the entire set gives it a vintage, sophisticated feel that he will enjoy. On top of that, every item in this badass box set is practical! From storing his favorite tools or rounds in the ammo can to taking his trusty new flask wherever he goes, he will enjoy every piece of these manly monogrammed gifts!
You Can't Go Wrong with a Cutting Board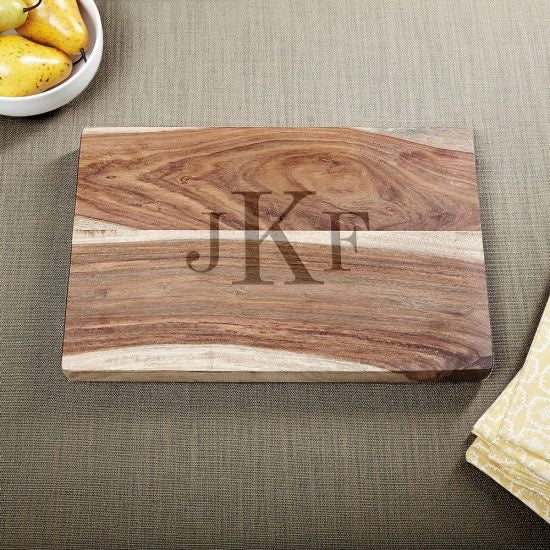 Whether you're replacing a well-used cutting board or you want to get him something nice for a housewarming gift, this handsome monogrammed hardwood cutting board is perfect. The durable sheesham wood ensures that no matter how hard he chops and dices that the surface will stay smooth. When he's not using it for food prep, this handsome hardwood cutting board will look amazing in his kitchen. Any guy will love such a cool engraved gift!

The Only Way to Bring Beer Wherever He Goes
One of the biggest hassles of bringing beer on a trip to the lake or a BYOB party is how easy it is for a six-pack to get dropped or broken. Make traveling with his favorite beverage easy with this huge insulated beer growler! He can finally take plenty of his favorite beer wherever he wants with ease thanks to the double walled stainless steel that keeps his brew ice cold for 24 hours. The convenient carrying handle makes it easy to bring anywhere whether he's camping or backpacking. Plus, it's monogrammed just for him so that no one else can take it!
Classy Monogrammed Gifts for Him
For the man who enjoys relaxing, this classy whiskey gift set is one of the coolest personalized gifts for him. He will love having his own unique rocks glass to enjoy his favorite whiskey from, and he will love the cigar case even more! He'll finally be able to bring a couple of his preferred brand of cigars anywhere with ease thanks to the cigar case and the included cigar cutter. Thanks to you, his down time after work will be more enjoyable than ever. Such a sophisticated gift is the perfect anniversary, Father's Day, or birthday gift for him!
599+ AMAZING WHISKEY GIFTS FOR HIM>
Create a Custom Phone Case for Him
One of the most thoughtful monogrammed gifts you can give is something he can use every day, like a monogrammed phone case! This awesome phone case comes in all kinds of different styles, colors, and fonts so that you can make him a phone case that perfectly complements him. You can even get one for yourself and have a his and her set! This custom phone case is the ideal birthday or holiday gift for your boyfriend, guy friend, or even your brother.
Impressive Whiskey Decanter Set He Will Love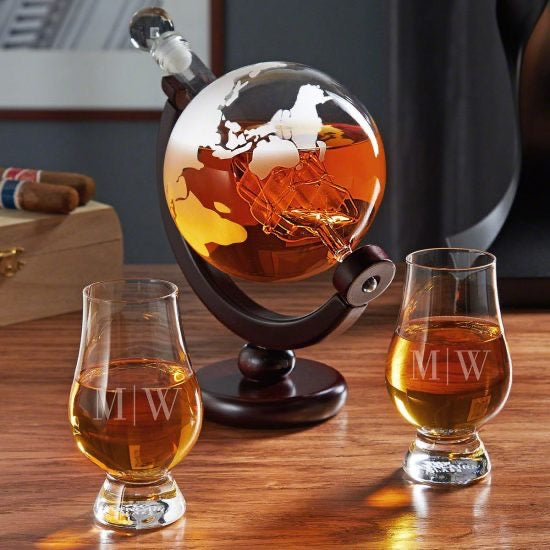 Want to give him something really unique? Look no further than this awesome globe decanter set! The stunning decanter is impressive enough, but the fact that it comes with a pair of monogrammed Glencairn glasses makes it even more awesome. These expert whiskey tasting glasses will deliver the best tasting glass of whiskey every time, making his favorite scotch better than ever before. Such an incredible decanter set is one of the most impressive monogrammed gifts you can give!
A Monogrammed Shadow Box for Storing His Collections
One of the most thoughtful monogrammed gifts for him you can give is a new hobby! This custom shadow box is the perfect way to start gathering a collection of cigar bands, ticket stubs, golf balls, bottle caps, or anything else he wants. He will love having the shadow box to drop each item in and watch as his collection grows over time as it slowly fills up. This awesome gift even doubles as a cool piece of decor to display!
Cool Beer Gift Set
Personalized gifts can be cool, too! This manly beer gift set is one of the coolest monogrammed gifts for him. Everything in this set is practical and awesome from the custom pint glasses to the bottle opener made from a .50 caliber bullet! He will enjoy using each piece in this incredibly manly personalized gift set at home, at work, or on the go!
Unique Monogrammed Gift for the Cigar Fan
You might not be able to personalize a pack of his favorite stogies, but you can certainly get him a custom marble ashtray! This handsome genuine marble ashtray is the perfect piece for his cigar lounge or man cave, especially because it's bigger than it looks! He will finally have a quality ashtray to share with a couple of friends without making a mess. The dark green marble will complement his decor perfectly and make a stunning decoration on its own when not being used.
Monogram a Wallet That He Will Never Lose
Wallets are pretty standard gifts for men, but you can make a run-of-the-mill gift even better by personalizing it! This leather bifold wallet can have a variety of different styles of monograms and customization to make it especially unique for him. He will not only be thrilled to get a brand-new wallet, but he will take extra care not to lose this one because you went to the trouble of personalizing it!
Impressive Monogrammed Gifts for Him
Are you looking for something a little nicer? This professional decanter set is ideal for giving as a celebration of his promotion, anniversary, or retirement. The elegant block monogram across the entire set is eye-catching and will look fantastic on display in his work office, home bar, or home office. He will love using this sophisticated decanter set to enjoy a relaxing glass of whiskey after a long day at the office or even to serve quality drinks to new clients after agreeing on a partnership!
Customize a Watch Case Just for Him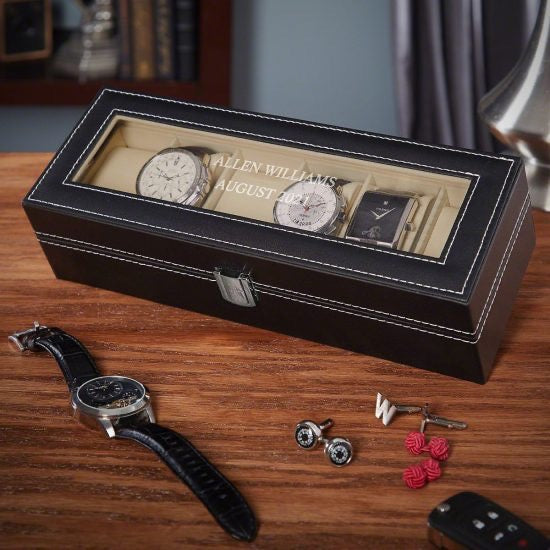 One of the easiest ways to give a nice personalized gift is by taking a classic gift for men and getting it engraved, like this watch case! Customize the glass on this six-slot watch case with up to two lines of text or you can keep it simple by just having his initials engraved. He will love that you got him something so nice and practical, especially since he can keep all of his watches and cufflinks organized and secure in this thoughtful gift.
Elegant Decanter for His Office or Home Bar
Looking for something that will make a statement? Look no further than this engraved decanter! The sophisticated curves aren't just aesthetically pleasing, but they actually reflect light through the liquor within, accentuating and highlighting the beautiful hues. He will want to display this stunning decanter prominently in his office or bar so that the light can hit it just right. You know he will enjoy displaying his prized whiskey in such a luxurious decanter and enjoying a glass from it like a true connoisseur!
Handsome Monogrammed Gift Set
One of the best monogrammed gifts for him is this complete flask set! Not only is the handsome leather-wrapped flask monogrammed, but the matching box is too! He will bring his handy new flask wherever he goes so that he can enjoy a drink anywhere, anytime. He can even pour a couple of shots for a friend thanks to the stainless steel shot glasses! On top of that, the monogrammed gift box can be turned into a keepsake box for his watches, coin collection, photos, or anything else he likes once he takes out the foam.
Engrave a Cool Bracelet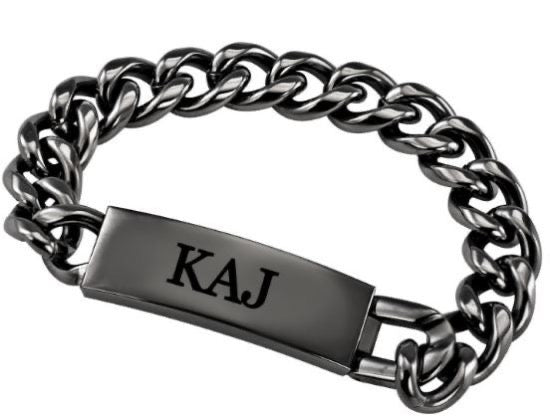 Men like jewelry too, but they prefer ones that aren't overly fancy. One of the easiest ways to give him a cool piece of jewelry that's meaningful but something he'll actually like is with a monogrammed bracelet! This simple, manly bracelet is the perfect accessory for daily wear but also nice enough to reserve for special occasions.
Monogrammed Mugs for Both of You to Enjoy
This custom beer mug set is one of the best personalized gifts to help him enjoy his beer even more! He will be thrilled to have his own bar-quality mug to enjoy at home with his favorite brews, and even more so that he can share the experience with you or a buddy! The two of you can kick, back and relax with a large mug of beer together and watch a movie or a game on TV without needing a refill.
479+ AWESOME MONOGRAMMED GIFTS FOR HIM>