Make the next gift you give to your husband absolutely unforgettable. Nothing will show him you went to greater lengths for an awesome present than by giving personalised gifts for your husband! He'll love getting gifts that have his name, initials, or a unique design engraved right into them. Although making a gift personalized automatically makes it way cooler, the present itself needs to be awesome too. So, instead of wondering: What custom gifts for husbands are there? Or, what can I get him that I can customize? Check out the list of personalised gifts we put together. This curated collection is full of awesome custom items that make great gifts!
Charge Your Husband with an Impressive Decanter Set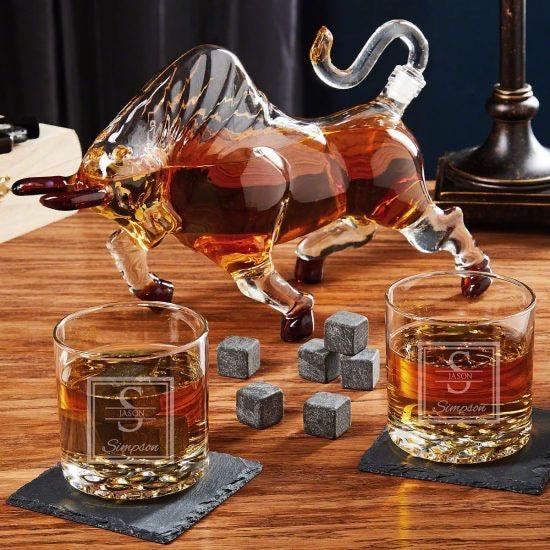 Uncommon gifts tend to be the ones that people remember forever. Give him a decanter set that you know he won't be able to ever forget because of just how cool this gift is! Not only will this bull decanter set make him feel awesome each time he sees it but it is functional too! This will be the coolest way for him to enjoy a drink from his personalised glasses. Your husband will love this so much that you shouldn't be surprised when it becomes a centerpiece for his home bar or end table!
A Gift of the Highest Caliber
Guys love to be able to do a little bit of everything in life, they're eclectic. Just because he is a beer guy doesn't mean he doesn't have other interests. This ammo can comes with all the personalised gifts for a husband that he could ever need! He can even use his cool ammo can to bring supplies with him outdoors, bullets to the range, or store his sweet collection inside. He's got everything for a relaxing drink, his favorite cigar, and he can even survive in the wilderness with this gift. What custom gift could give more?
An Unforget-Tee-ble Golf Gift
Men love to have just "one more," and with golf, they could always use an extra shot at the end of a round. Well, make his own home the 19th hole he's always wanted it to be with his own personalised sign! Perfect for sharing a few drinks and stories with the guys after a day on the course, this sign will make his home feel like they're at the country club after dark!
Ultimate Celebration Box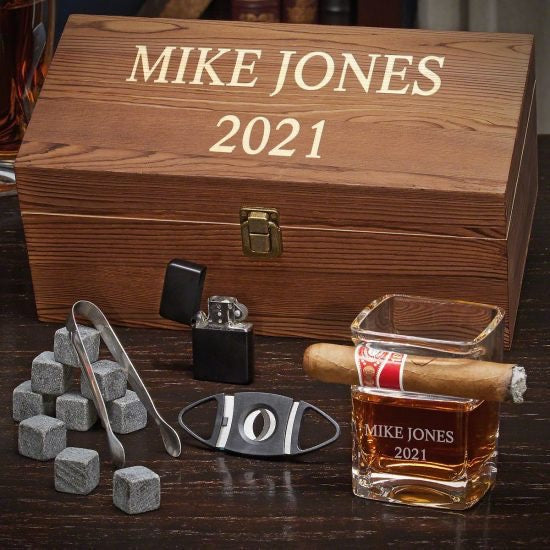 There is nothing like a great gift box for a husband. Inside this keepsake is everything he could ever need to have a relaxing night in. These personalised gifts for your husband are the ideal way for him to enjoy a good cigar with his favorite chilled drink. Whether he loves to have the occasional stogie and glass or cigar or it is his favorite way to end each day, you just know he'll always be reaching for this set when he feels it's time to unwind.
Time for Personalised Gifts for Husbands
An organized life simply makes things easier. Use this custom engraved valet box for all of his watches and accessories. This gift doesn't just look great, it will keep him sane too! Everything he will ever need to look for to look great will all be in this one spot. Now, when he's got a big meeting or a date night with you, he'll be ready to go in no time. This organization tool is definitely the best looking way to keep him looking sharp.
243+ GIFTS FOR HUSBANDS WHO HAVE EVERYTHING>
What's Cooler than Being Cool?
An outdoor ice-cooler is the ideal way to keep his drinks ice-cold. For backyard BBQ's, get-togethers, parties, and more, this cooler is the perfect place to keep all of the drinks. Better yet, he may even enjoy this great gift when he's working in the yard. After pulling weeds or mowing, nothing tastes better than an ice-cold drink!
The Chillest Whiskey Gift Set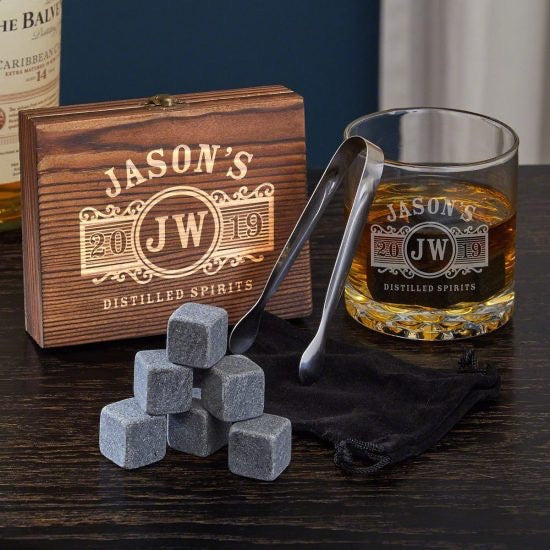 Having a cocktail is something your husband loves to do. He may have them often or maybe only on the rare occasion, but when he does, it is always special. Make his drinking experience feel even more unique with this whiskey set full of personalized gifts for your husband. Thanks to these romantic gifts for husband, he'll be drinking from his own engraved set with a perfectly chilled drink every time. He can't want much more than a perfect drinking experience every time thanks to this great gift.
His Favorite Personalized Beer Set
Every guy that is a fan of beer deserves to be able to enjoy it wherever and whenever he likes, and with this awesome beer set, he can! This ultimate beer set has everything he needs to enjoy craft beers, bottles of beer, or even the staple brands. Watch his eyes light up when he pulls out each piece of this beer set and starts devising plans to enjoy local craft beers at home or to use his new keepsake for his beer collection!
Smokin' Cigar and Whiskey Set
Husbands love to get gifts that look great and are practical. Most of these men have entered a point in their lives where they have most of what they need, so when you're getting a unique gift, it's got to be good. Luckily, this custom decanter set fits this rigid criteria perfectly! Ideal for enjoying a stogie and drink, while still leaving a free hand, this engraved gift will be more unique than anything he's ever gotten before. Now, he can smoke and drink in one hand while changing the channel, reading a book, or even being on his phone with the other!
Pub Sign Personalized Gift for Husbands
Have each drink he has at home feel like a night out on the town with a sign that is the ideal personalized gift for your husband. This sign is the perfect unique gift. It makes home feel like the pub he has always wanted. In fact, he'll probably grab a cold brew and immediately put this up on display in his home bar, office, garage, man cave, or anywhere else he loves to hang out. No matter where he likes to enjoy a drink, you can be sure he'll have his new sign there!
Knot Your Average Tie
Give his attire a fresh new look with this unforgettable gift. He'll be able to rock this fashionable tie to nearly any occasion but still has classy personalization due to his secret message. The underside of the tie will have his initials monogrammed which makes this a sleek and discrete personalized gift, how cool is that?
Presenting the Ultimate Personalized Gift for Husbands
Is there anything cooler than a monogrammed gift for your husband? The answer to that rhetorical question is a definite YES! How about a presentation set that comes with six pieces which each have his monogram on them? This is a gift set that your husband won't help but love. Seeing his initials on his decanter, glasses, and serving tray is a fantastic way to make him feel classy each time he even looks at his gift. But don't forget, this gift also lets him enjoy his favorite liquor too! So, this isn't a gift for your husband that just looks great, but it is also perfect for enjoying a drink at a moment's notice!
This Sear's Best Grill Gift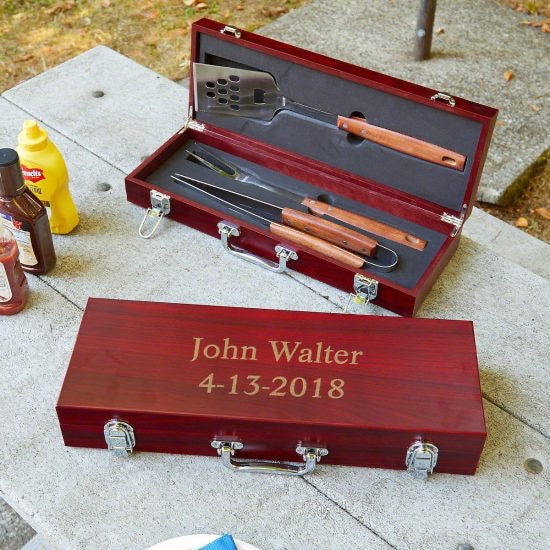 After the first time he uses your gift, he'll always associate it with the smell of seared meat and vegetables. This personalised gift for your husband is a great grill tool set that he will always look forward to using because each time he does, he gets a juicy meal after! This set of grill tools will cover all of his grilling needs, and because he can store them all in the case, he will always be ready for a spontaneous cookout!
Everything He Could Ever Need Ammo Can
Get your husband a unique gift that he'll never forget with an ammo can that has everything he could ever need for outdoor adventures to when he puts his feet up at the end of a long day. This monogrammed gift has an awesome hatchet for clearing anything in his path, and comes with two drinking vessels to celebrate, all of this comes in his matching ammo can, how cool is that?
Show Off His Collection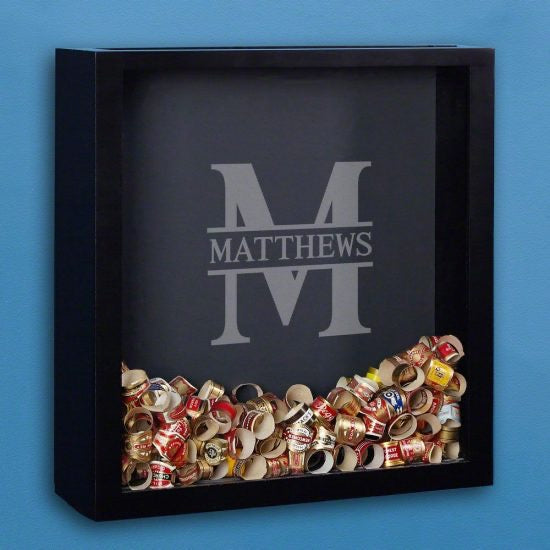 The most unforgettable gifts are things your man gets to see or use every single day, much like this stellar shadow box! This personalised gift for your husband is the perfect place for him to store or start a collection. He can fill it with any number of his favorite things from cigar bands, golf balls, movie tickets, to anything else he can fit inside! He'll love seeing the shadow box displayed in his home and watching his collection grow each time he adds to it.
This Gift is in the Bag
Ignore the necessary, but slightly misleading pun in the title because the gift actually is the bag! This commuter bag is a great gift that your husband will find endless uses for. It can be as classy as a travel bag for weddings or as useful as a day to day travel bag for full of everything he needs throughout the day. Either way, he'll look like the classiest commuter with his own monogrammed travel bag!
Whiskey Box Personalized Gifts for Husbands
An unforgettable gift for your husband begins with an experience. This gift box filled with old-fashioned glasses and whiskey stones is the perfect way to give him something he'll never forget. This all in one gift set is the perfect gift that your husband will never forget. Throw in a few mini-bottles of his favorite brew and you can be sure he'll want to make a drink and toast you for such a great gift right away!
Simply Awesome Stein Gift
Give your husband an unforgettable gift by getting him his very own beer stein! This personalized gift for your husband not only lets him drink beer, but it will make it look pretty awesome while doing it. This gift comes with his initials monogrammed on the stein, pretty cool right? He is sure to think so! No matter if he's got his stein in his hand or on the mantle for display, you can be sure your husband will love this gift!
His New Favorite Brand
The ultimate set of personalized gifts for husbands is this whiskey set! He doesn't just get a set of amazing whiskey accessories, but he gets some home decor too! This set will actually make him feel like he is the owner of his own whiskey label, there are few gifts cooler than one that makes him feel like the connoisseur or distiller he's always wanted to be!