Life would be so different without your best friends and the memories you've created with them. From epic nights at the bars, that one time you hit a hole in one at golf, or those hilarious stories you and your friends can tell and get a laugh over and over again. In your lifetime, you've created a real group of friends. These guys are there for you no matter what. Now, you call upon them once again to have your back, but this time it is at your wedding! So now, they're not just your friends, they're your groomsmen! To be a proper groom, you clearly want to get gifts for groomsmen to celebrate your big day as well as being items they can use during the bachelor party, during the wedding, or at the reception. Don't settle for a simple gift or something that they'll only get to use once. Make sure your gifts are as special and long-lasting as your marriage with any of these awesome groomsmen gifts!
Axe if They Will Be Your Groomsmen
It goes without saying that you will have to at one point or another "Axe," them to be your groomsmen, so make it easier with this engraved whiskey and hatchet gift set for groomsmen! This is the perfect ceremonial way to ask your best friends to be there on the biggest day of your entire life. However, it is also a great gift that you can hand out during the bachelor party, this way you and your groomsmen can toast each other from your matching custom glasses all night long!
Will You Be My Groomsmen Gift Set
Maybe it is the nostalgia of feeling like a kid on Christmas, maybe it is like being a pirate who finds his buried treasure, or maybe it is just because gift boxes are cool, but you know this engraved box set of gifts for groomsmen is sure to be a hit will all your groomsmen! Even better, each box set is engraved with their name and has a personalized card (as well as a pretty sweet rocks glass and leather-wrapped flask), this is an awesome gift set that also takes away all of the pressure of asking them to be in your wedding party.
A Gift for the State of Things
Whether it is at your reception or at the bachelor party (maybe even both) there are sure to be lots of beers opened, which means a ton of beer caps, and what could you do with them? Put them inside these state beer cap maps! Your friends may be coming from far and wide so make sure they have a unique gift they can fill in with beer caps from your wedding or from their favorite craft brews. These state beer cap maps are a fun and unique piece of decor and will be the perfect reminder of your wedding!
Personalized Ammo Can Gift Set Full of Gifts for Groomsmen
When arguing, it is best to never make things too personal; however, when giving gifts you absolutely want to make things as personal as possible! This engraved ammo can groomsmen gift set is the perfect set of gifts for the guys who will be there with you on your big day! Gift sets for groomsmen are the coolest way to thank them for taking the time to be there for you when you need them most. With the knife, hatchet, and flask, they are sure to be equipped with everything they could need to support you too! From loose threads to a victory cigar, they've got everything they need!
Ensure Your Best Friends are On Time
If there is one thing that is important to everyone when planning a wedding or bachelor party it is being on time! Ensure your groomsmen gift makes all your guys on time every time when you get them their own personalized wooden watch! It is even the perfect matching accessory that everyone can wear while you do your vows but will also be a dapper accessory for when you're out on the town taking groomsmen pictures or having a great time bar hopping!
279+ BEST GIFTS FOR THE BEST MAN>
Cap Off Their Night
Who doesn't love a flat bill hat? For the bachelor party, nothing will show that you put a lot of time into your groomsmen gifts like a custom flat bill hat! You can even have these matching embroidered hats as a cool accent piece in some of your wedding party photos! These will definitely be a great way to add some style and flair to your bachelor party!
Gifts for Groomsmen They Can Pocket
Groomsmen gifts don't have to be large and bulk items, but they do need to be memorable. So, when you're searching for a pocket-sized gift that packs a full-sized gift basket's worth of punch, you don't need to look any further than these gifts for groomsmen! When the bulkiest item is a leather-wrapped flask, you know you've got a sweet gift that your best friends can easily keep on them from the day you hand it to them, to years down the road. From being on time to a last minute toast, this gift has everything every groomsman could need!
A Gift for the Memories
Some memories will fade over time, that is just the nature of things, but with this awesome gift set for groomsmen, you can be sure your bachelor party won't be one of them for the men involved in your wedding! The engraved shadow box gift set even comes with matching pint glasses, meaning they could use their gift right away or save it and start collecting memories inside the shadow box with beer caps from your bachelor party, photos from the wedding, or even a wine cork from the table they sat at.
Everything Your Groomsmen Could Need
Groomsmen are usually a bit eclectic when it comes to likes, so sometimes, a gift set is a far better idea than trying to find the single groomsmen gift that will work just right. So, make sure you have all your bases covered with this awesome personalized beer mug and watch box gift set! This is one of the manliest gifts you can get that will ensure they're just as ready to suit up for you as they are to toast you with a few pints of their favorite beer!
The Hottest Groomsmen Gift
There is nothing quite like the non-traditional bachelor party. Instead of being out all night, you know that a BBQ is one of the most fitting things you can do. After all, what guy doesn't like to cook a great burger or steak? Which is why this personalized grill toolbox set is even more gifting as a gift for your groomsmen. They can go home, replace the same tools they've been using for years, and make great grilled food thanks to your awesome gift!
Assemble The Greatest Heroes
Assemble the mightiest heroes in your life and ordain them with a classy, matching set of tie clips and cufflinks. These are the perfect gifts that make each groomsman stand out while still having them look as dapper as ever. Plus, you have a plethora of heroes to choose from, meaning you can make your own Justice League of groomsmen!
A Cut Above Other Gifts for Groomsmen
Cut to the point with your gifts for groomsmen and give them an engraved hatchet as the most ceremonial way of asking them to be part of your wedding party. Weapons and tools used to be one of the most serious gifts you could give a man, so revive an old tradition and take this matching set as an incredibly unique way to ask each guy "Will you be my groomsman?"
Say Cheers With Beer
Is there a manly drink than beer and is there a more manly way to enjoy it than out of a beer stein? It is both a classic yet so modern way to enjoy such a great drink. Use a custom beer stein as one of the most awesome gifts for your groomsmen! When you take them to your home bar or have a six-pack for each of them, you can be sure you'll hear the clinking of glasses toasting all night long!
A Legendary Groomsmen Gift
The guys you choose to have in your wedding party are clearly awesome, and to you, they might even be legendary. So, make sure you remind them that with this legendary whiskey stone gift set. The groomsmen gift box is engraved with their name and when they're pulling their crystal glass from their box, you can be sure they'll feel like King Arthur and the Knights of the Round Table when all of you have a toast together!
Custom Groomsmen Box Set
Equip your groomsmen with a manly gift basket that also functions as the easiest way to ask your friends to be your groomsmen in the first place! With the sunglasses, watch, and cigar gifts, there is little doubt that there could be anything else than you asking for them to stand with you and party with you as you get nearer to your wedding! Make celebrating and dressing up for groomsmen pics easy with this initialed cigar box gift set!
437+ GIFT BASKETS FOR GROOMSMEN>
A Slam Dunk Groomsmen Gift
Step your gift-giving game up with this personalized basketball as an awesome gift for your groomsmen! Each has their name and room for a number on it! So, whether you want to have a friendly game of knockout or a dunk contest before the wedding, you can be sure your groomsmen will have the balls to do so!
A Take Anywhere Gift
Not every groom wants to celebrate his wedding at bars or at home, some want to take to the road or to the woods for some adventure. However, after a few hours of hiking or driving, you and your groomsmen are sure to work up a thirst, so make sure no matter where you are in the world you all can have your favorite beverage with you thanks to this personalized beer growler. To make this an even better gift for them, you can top it off with their favorite beer, tea, coffee, or anything else before giving it to them!
A Personalized Flask Set for Friends
Asking someone to be your groomsmen is usually done individually, and they may not all know each other. So, aside from introducing them, they can all feel like a team when they see they've been given matching blackout flasks that have been personalized for each of them! What better way to bond than for all of them to share a toast together from their new classy looking gift?
Monogrammed Decanter for Your Best Man
The idea of getting gifts for groomsmen is nothing short of a class act move. It shows you care about the time and money they've invested to support you at your wedding. While they are honored to be there, you know it can be stressful being a groomsman, so why not help them de-stress with a monogrammed decanter set that is also going to be the fanciest piece of glassware in their house? It'll look so good when it is full of Glenlivet or Makers Mark, they'll just have to leave it out for everyone to see on their coffee table or home bar!
A Sharp Idea for a Groomsmen Gift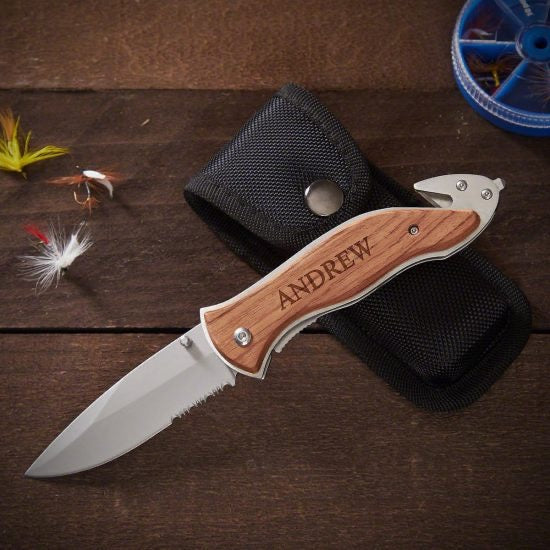 Keep things simple at your wedding with an engraved pocket knife. Every man loves to get a knife as a gift, and that includes your groomsmen, too! There is always a use for one around the house, on a vacation, or while hunting. Now, it just becomes an even more sentimental gift since it'll remind him of you and your wedding each time he sees his name engraved on the handle.
Duffle Bags are Perfect On the Go Gifts for Groomsmen
Okay, so you may be thinking why would my gift for groomsmen be a duffle bag? They probably already have a bag. Well, they may, however, how cool will it be seeing everyone walk in with matching sweet leather bags? Plus, this ensures everyone will be able to fit all their overnight clothes, toiletries, and anything else they could possibly need. You're making this as convenient as possible for your groomsmen with a great gift like this!
For Your Brothers Down the Aisle Who Love Beer
Arm them with a set of gifts for groomsmen that are sure to keep them celebrating all night long and long into the future with a personalized ammo can beer gift set! Long after the wedding has been over and done with, you can be sure they'll still be coming back to this beer mug or ammo can to unwind at the end of the day and you may still see them at your place celebrating your first, second, or fifth anniversary while still rocking their custom wooden sunglasses!
Take a Shot at These Gifts for Groomsmen
Give your groomsmen the best shot at having a good time with one of the coolest ways of asking them to be in your wedding party with this bullet whiskey stone set! They are guys after all, so a set that is engraved with their name and has bullets to chill whiskey or to open a beer, what could be cooler than that?
Engraved Beer Box Set for Groomsmen
Got a group of guys that absolutely cannot get enough of their favorite beer? Or have you gone to countless breweries or split an infinite number of six-packs with your boys? Then this beer gift set is the manly beer-themed groomsmen gift you've been looking for! They'll always remember your wedding but they'll never forget your gift when each piece has been personalized and looks this good!
Keep Their Man Cave Classy
Make sure that every guy in your wedding party knows he is appreciated and has a memento that will last him a lifetime. More goes into being a groomsman than simply having a fun night with the groom and showing up to the wedding. So with your gift, get them something to make their home that much more special for putting time and effort into something that matters to you so much with a personalized wooden sign. This is a great gift that they can hang in their home bar, man cave, or even home office. The sign is the perfect piece to make the room feel rugged, manly, and because it is personalized, their own!
They've Heard How Good This Gift Is
Headphones are always the perfect gift! They can jam to their favorite tunes in style as well as with crystal clear sound thanks to these Beats by Dre wireless headphones. So, now it doesn't matter if they're working out at the gym to get those sweet six-pack abs for the wedding or getting pumped up like a football team on game day before going to the wedding, this gift has them covered!
For the Party on the Go
It's not a bad thing to keep things simple. Not every gift needs to be an elaborate gift set; however, if you find something simple, show you want to go the extra mile and make it personal. This flask and sunglasses gift set, for example, they're both engraved with a specific name and title for your groomsmen. They're easy to use, easy to keep on them all the time, and the perfect groomsmen gift!
A Classy Groomsmen Gift Set
Take your gifts for your groomsmen to a whole new level when you get them not just one gift, but a whole groomsmen kit! This personalized watch box gift set has them covered for everything they'll need from bachelor party to reception and in between! The whiskey glasses are the perfect way for all of your friends to raise a glass in your honor while the watch and multi tool are the perfect tools to ensure that everything will run smoothly on your wedding day!
Gifts for Groomsmen for Day and Night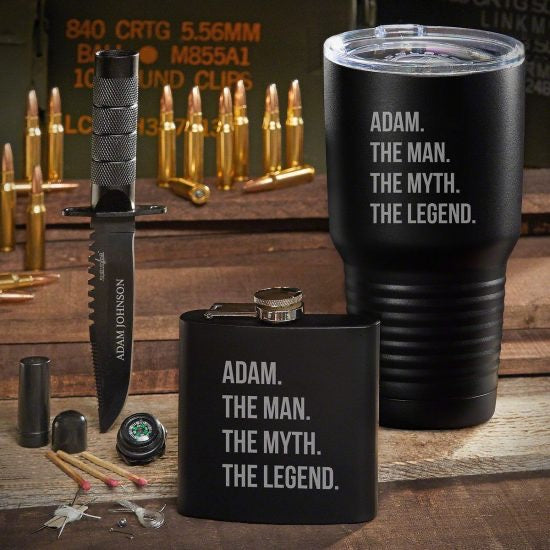 In case you think your guys could use a little pick me up between bars or in the morning after your celebration, you can be sure this legendary coffee tumbler and flask gift set are perfect! Each set is fully personalized with their name, so no matter how crazy things are, no one will ever have an excuse for drinking from someone else's set. Also, whether you're starting the day off right with a coffee or celebrating the night away, this gift set is perfect for your whole wedding party!
509+ MOST AWESOME GIFTS FOR GROOMSMEN>