Our men and women in the Armed Forces are brave, incredible people. After their many years of service to our country, they deserve a nice gift to congratulate them on their retirement. What makes a good gift for veterans, you ask? Something respectful of course, but also a gift that is useful. These amazing people have been trained to only have what is necessary, after all! Our experts searched the web for the best possible military retirement gifts from all branches, so you're sure to find something awesome for the veteran in your life. 
Patriotic Ammo Can Gift Set
Whether he's newly retired or is a seasoned veteran, he will absolutely love this incredible ammo can gift set. Complete with two pint glasses, a cool knife, and an even cooler bottle opener made from a bullet, he'll love it all. The ammo can is perfect for him to bring along to the range, store tools, or use as a memory box for keepsakes from his service. He'll love using the pint glasses to share a cold one with you or one of his brothers-in-arms as they reminisce about their missions together and feel like young men again excited about starting their career in the Armed Forces.
The Coolest Gift for a Naval Officer
They spent years of his life traveling the world by ship, sailing the seas of the globe. However, now they are retired. But they spent so much time on the ocean or working around ships, it would just feel wrong to not acknowledge it. Since you can't afford their own military-grade ship, get them the next best thing, their own Navy globe decanter set! Engraved with their name, it'll finally be like there is a ship named after them. This is the perfect retirement gift for any Navy veteran to enjoy as they recount some of their best adventures while watching the new ship they command sail in a sea of their favorite liquor.
Custom Whiskey and Cigar Gift Set for Pilots
Military pilots fly all sorts of planes, not just fighter jets! Any pilot who has had the privilege of flying a Cessna 172 or a similar, older aircraft will get a kick out of this classy Air Force retirement gift. The veteran pilot in your life will love using his new custom whiskey glass for his nightly drink of Johnnie Walker scotch. He'll never leave the house without his cigar case and lighter on hand so that he's always prepared to puff a stogie while regaling someone with his tales of his time in the armed forces.
Patriotic Whiskey Decanter Set
Now this is an impressive military retirement gift! This gorgeous custom whiskey decanter set is perfect any branch of the military and is entirely engraved with your veteran's name, rank, and the day he or she retired. This set belongs on display in a home bar for all to admire, and a great gift to unveil at a retirement party! Make sure to include a bottle of their favorite whiskey, bourbon, or scotch as well. With this decanter set, you both honor and appreciate their service for the United States while also giving them a fantastic gift to treasure forever.
Stainless Steel Gift Set
Your veteran's many years of blood, sweat, and tears shed while fighting for our rights have not gone unnoticed, but how do you show your appreciation for such a man? This travel gift set is thoughtful, useful, and a very nice military retirement gift. The cool engraving that shows off his name, rank, and the date he enlisted is a respectful touch that he'll love. He'll also love having a nice stainless steel mug to bring along plenty of piping hot coffee to keep him energized throughout the day and a liquor flask for when he feels like a shot or two. The tactical knife contains a hidden survival kit, which is perfect for bringing along on fishing, camping, or hiking trips. After all, military guys like to be prepared for anything!
Custom Wood Sign
After 20 plus years in the military, the veteran in your life deserves a truly special gift to thank him or her for their many years of serving our country. This awesome gift for veterans is a wooden sign that bears a unit's emblem, name, and custom phrases all of your choosing. That's right, you choose the entire design! Your retiree will absolutely love this incredible gift and proudly display it in the home. This is one of the most thoughtful military retirement gifts you'll find in this blog!
Military Decanter in Four Styles
This handsome whiskey decanter comes in four styles: Navy, Army, Marines, and Air Force, making it the perfect military retirement gift for men or women! Your veteran will love having a cool decanter bearing the crest of their military branch to store and serve liquor whether it's tequila or scotch. It'll look fantastic on a home bar or in a dining room.
389+ MORE WHISKEY GIFTS HE WILL LOVE >
Badass Beer Gifts for Veterans
One of the best ways to show your appreciation for the veteran in your life is by presenting them with a retirement gift that's all about their favorite things! You know they enjoy kicking back with an ice cold beer and or spending time outdoors with their family, which makes everything in this badass gift set the coolest gifts for veterans. From the gigantic mug to the custom ammo can, the veteran in your life will be so excited to try out every item in the set!
A Gift to Send them Sailing Into Retirement
Ensure they never feel like they still aren't part of one of the greatest parts of their lives with this set of fantastic military retirement gifts! They spent years on carriers and various ships protecting the globe, so it only makes sense to get them a gift that reminds them of all of their travels with this unique ship decanter set! The ship inside this set is actually modeled after the USS Constellation, how cool is that? Is there anything that could make this feel like a more fitting gift for a retired military veteran?
Custom Patriotic Sign Any Veteran Will Love
While it is customary to give a flag to someone retiring from military service, a more unique way to give them Old Glory is with this awesome sign! Any veteran of any branch will be proud to display this stunning decoration in their home or office. This patriotic gift is something that the veteran can treasure forever and even pass down their children someday!
Military Watch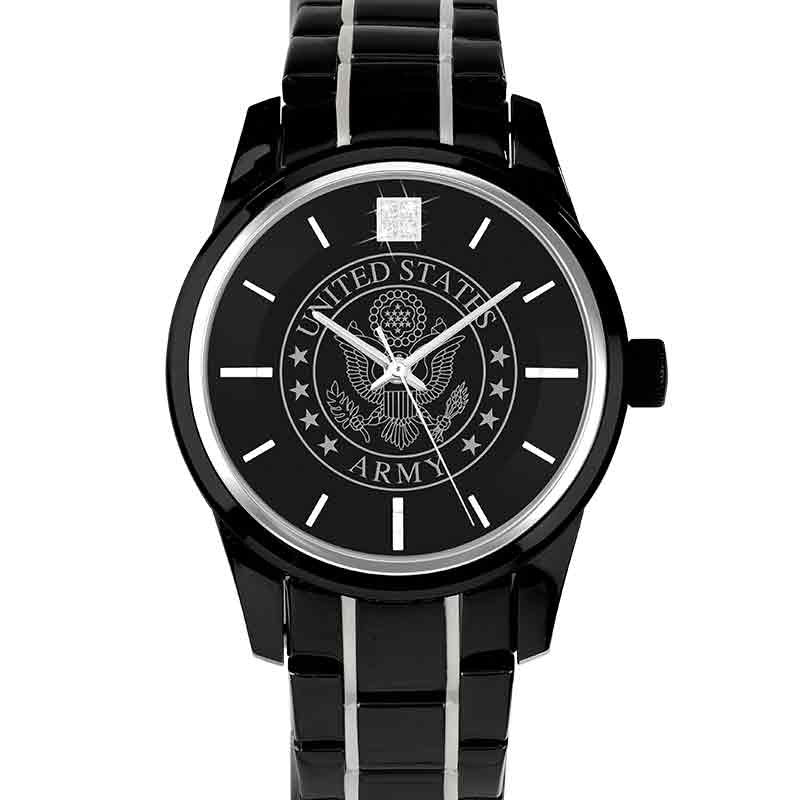 A military-themed watch is one of the coolest military retirement gifts you can give. This handsome Army watch is sure to impress with its sleek style. He'll want to wear it all the time so that he has something that both shows off his service and patriotism. Made of sturdy stainless steel, this watch will last for years to come. This watch is one of the classiest ways to thank your veteran for his many years of service in the United States Army.
Custom Military-Grade Humidor
Now, this is the perfect military retirement gift! Not only is this a gift for a retired member of the military but the ammo can itself has been brought from the military as well. This repurposed ammo can has been turned into the coolest cigar humidor that they've ever seen! It won't just keep their stogies at the perfect temperature and humidity but it'll also protect them as well as the military protects their rounds of ammunition! Also, since this humidor is portable you can be sure they'll be bringing their stogies in this ammo can to all their buddies cigar lounge, or who knows, maybe this is the inspiration they needed to create their own cigar lounge?
A Personalized Flag Case
Emblazoned with the crest from a branch of the military, this personalized flag case is available with crests from the Marines, Army, Navy, and Air Force. These flag cases are fantastic gifts for veterans. They allow them to easily display the United States flag with honor and pride. The plaque on the case comes engraved as well, making this one of the most sentimental and honorable display pieces any veteran will have in their home.
The Perfect Military Retirement Gifts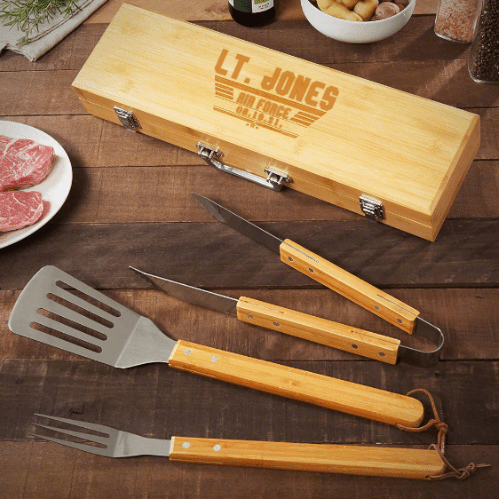 Now that he'll be retired, he'll have plenty of time to cook and grill up delicious meals for his loved ones! These custom bamboo grilling tools are the best gifts for veterans who enjoy cooking. Not only are they lightweight and heat-resistant, but they're easily portable too thanks to the handy custom carrying case! He will love using this awesome set all spring and summer at home, the park, the lake, on vacation, or even at his friends' houses!
Must-Have Gifts for Army Veterans
Looking for something special to give to someone retiring from the United States Army? This decanter set is perfect! The Army logo on the entire set is a testament to their bravery and service as a soldier and the fact that it can be customized with just about any text you want makes it that much more special. This impressive decanter set will look great in their home bar or office and is sure to be part of many future visits from their brothers and sisters-in-arms!
254+ MORE COOL BEER GIFTS FOR HIM >
Personalized Ammo Can Whiskey Gift Set
There's nothing like a nice glass of bourbon and a fresh cigar after dinner. You know your veteran's routine and you want to get him or her something nice for the anniversary of their retirement from the military. This custom whiskey gift set is the perfect gift for veterans! From the military surplus ammo can to the personalized rocks glasses, he will love every piece in this incredible set. Whether he's retired from the Army, Air Force, Navy, or other branch of the military, this awesome gift will make his nightly routine even better.
Veteran Fleece Jacket
If you're stumped on what to get the veteran in your life, a nice jacket is always a good idea! This fleece zip-up comes in an Army style (pictured), Navy, Vietnam, and more, making it the perfect military retirement gift for any branch of the Armed Forces. He or she will love that you got such a cool veteran gift that is both useful and shows off their proud service. The jacket is lightweight enough for the fall, but slim enough for layering over in the winter, making it the perfect go-to jacket.
A Customizable Beer Stein Ideal for Any Officer
Have you ever seen a cooler, more patriotic beer glass? This awesome beer stein is one of the most unique gifts for veterans. The pewter shield topped by the majestic American eagle pays tribute to your American hero, and you can customize the engraving as well. Whether he's newly retired or a seasoned veteran, he'll enjoy using this stein for his beers at dinner or even to display as an antique decoration.
You Can Never Go Wrong with a Flask
Not sure what to get the veteran in your life as a gift? You can never go wrong with a personalized liquor flask featuring their branch's insignia that's engraved just for them! By far one of the best gifts for veterans, a flask can go anywhere and is a subtle and cool reminder of their time in the Armed Forces. In fact, you could get a whole set of these flasks for your veteran's squadron so that they have a matching gift that they can enjoy forever. 
For Veterans Strong as an Ox
Make sure your veteran keeps his strength up with this badass bull decanter set! Commonly referred to being stronger than 10 men or as tough as a bull, your veteran can finally have something that represents their well-known strength in their own home! The custom glasses and whiskey stones are nice to have on hand when a fellow veteran drops by to catch up or to celebrate special occasions such as birthdays or anniversaries with a couple of quality drinks. This unique set is one of the coolest retirement gifts for veterans out there no matter what branch they're retiring from!
Coast Guard Shirt
This Coast Guard shirt is made of lightweight moisture-wicking material that will keep him cool and comfortable no matter the temperature. He can wear this working out, hiking, or just to go grocery shopping. In the winter, it's perfect for layering and keeping him warm. It's sure to become his new favorite shirt!
American Flag Whiskey Decanter Set
One of the best military retirement gifts you can give is a personalized whiskey decanter set. This handsome set features an American flag design that also has his name, rank, and the date he enlisted or retired. The decanter is a stunning piece of glassware that will look fantastic displayed on his home bar or lounge area, and the equally cool glasses are perfect for serving guests. Whether he's in the Army, Navy, Marines, Air Force, or the Coast Guard, he will love this incredible set.
A Bottle Opener for Every Branch
Have you been struggling to find a great gift for the military retirees in your life? They're all from different branches and have served in different wars, divisions, and retired with different ranks. What's one thing they have in common? They drink beer! That's where this cool wall-mounted bottle opener comes in. You can choose from four different styles of military crests: Navy, Army, Air Force, and Marines. Whether they are a longtime retiree or newly retired, this bottle opener is one of the greatest gifts for veterans!
Unique Bullet Whiskey Stone Set
Can a retirement gift get any cooler than this awesome bullet-themed set? Included are a set of super unique bullet-shaped steel whiskey stones in a custom box with accessories, a matching personalized glass, and a bottle opener made from a genuine .50-caliber bullet! Your retiree will love showing off the way too cool whiskey stones to friends and family because not only do they look great in a glass of whiskey, but they keep it cold too! Anyone retiring from the military, no matter the branch, will enjoy this unique gift set.
Personalized Ammo Can Gift Set
Looking for a really cool, useful military retirement gift? This is the perfect gift set. Included is a personalized ammo can, an awesome hatchet, a handy liquor flask, and a trusty pint glass. He'll love having a custom ammo can for storing his ammunition, tools, or old duty gear. The hatchet is ideal for him to use to chop firewood in the winter and clear out trees in the summer, but it's also useful for bringing along when camping or fishing! He'll love having a cool flask to bring along on his travels so that he always has a few ounces of his favorite spirit at his side. The pint glass is perfect for drinking beer of course, but it's also the perfect size to enjoy a soda, iced tea, or even cocktails. Everything about this gift set makes it one of the best gifts for veterans because it's super useful and totally awesome.
Scale Model of His Ship or Aircraft
Vets are often very attached to their military vessels whether he's an Air Force pilot who flew B-17s or a Navy guy who sailed on a heavy cruiser, so a scale model of their favorite is one of the best military retirement gifts you can give. He will love having a miniature version on display in his home so that he has something tangible to remember his service on it. His friends and family will love seeing a physical representation of the incredible vessel they hear so much about as well!
The Ultimate Military Retirement Gift
Have you ever seen such a great military retirement gift? Last but certainly not least, this incredible gift set comes with everything a veteran needs: double old-fashioned glasses, a cigar case with a cutter, and a gaming set including cards and dice. He can play a good old fashioned game of Go Fish with the family or a few rounds of Yahtzee with fellow veterans like they used to in basic training. Plus, he'll always have fresh cigars on hand thanks to the new cigar case. All around, this set is one of the best military retirement gifts you can give.
125+ MORE AWESOME GIFTS FOR VETERANS>