Members of the United States Army sacrifice so much for their communities and country. That's why the beloved soldier in your life deserves an amazing gift, whether it's for graduation from the military academy, retiring from the Army, or any occasion in between. The greatest Army gifts for him are those that demonstrate how proud of him you are as well as help him relax from the job. After all, military life can be extremely stressful. They also are gifts that he can use when he's deployed. You may be asking: what will show him how proud I am? Or what gifts will help him de-stress from his hectic military lifestyle, especially when he's overseas? We've found the most fantastic Army gifts that he'll be extremely thankful to receive.
Most Impressive Glassware – Army Gifts for Him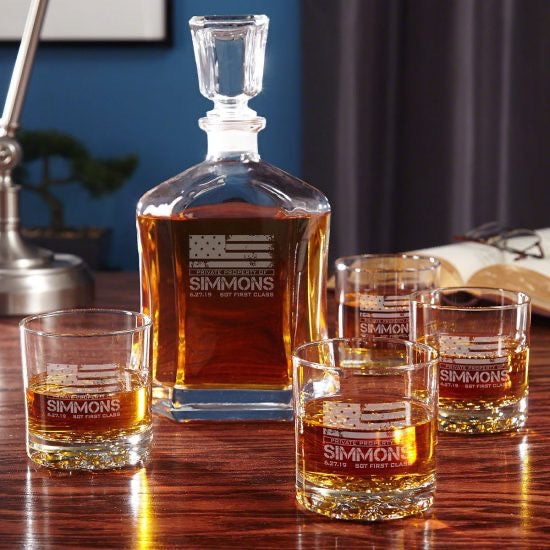 Whether he's a private, specialist, corporal, or sergeant, he's immensely proud to serve his country in the Army. What better way to show off that pride than with a stunning whiskey glassware set? This stately decanter will keep his favorite whiskey oxidize inside it so he can enjoy a glass or two of delicious whiskey whenever possible. His buddies will enjoy a glass with him as well after a long stretch of hard work on the job.
Ammo Can for the Soldier
There's no way you can ever repay your soldier for all he's done for your country, but the best way to show your admiration and appreciation is with this awesome ammo can gift set. He'll love relaxing with a delicious glass of beer and using the cigar accessories to enjoy a stogie or two. The ammo can is perfect for soldiers because it's repurposed from the military, so he'll feel like it truly is meant for him. This is such a fantastic Army gift for him because of how unique and useful it is.
Drink in Secret
Army life is a busy life, so chances to have a drink of liquor are few and far between. You know your boyfriend doesn't get to enjoy his favorite liquor very much, so buy him this cool flask to help him out with that. This custom flask will fit perfectly in his pocket so he can keep it hidden as he goes about his day every day. As a way to demonstrate his pride for the Army, this custom wall sign is the perfect piece of decor. Your man will very much appreciate these Army boyfriend gifts that give him an easy way to indulge in his favorite liquor and show off his Army pride.
Army Strong
For soldiers in the Army, the Army Seal means so much to them. Buy your soldier this phenomenal decanter set that prominently displays his beloved seal. Seeing it every day on his decanter will remind him why he works so hard day after day. He and a fellow soldier can enjoy a delicious glass of whiskey while talking about the pride they have for their work.
Home Sign Army Boyfriend Gift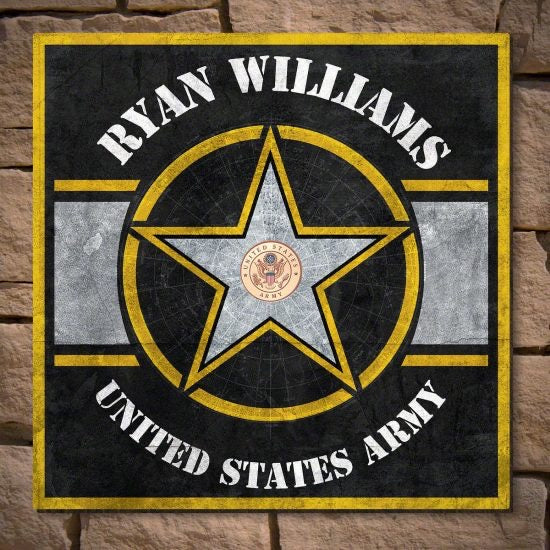 When someone is proud of what they do, they want to display it in some way. Help him prominently display his pride for the Army to whoever enters his home with this custom Army sign. Its simple design will immediately point out to whoever sees it that they are in the presence of a man who has put his life on the line for his country. He will swell with pride every time he sees his name on this sign, and he'll know that you're proud of him too.
307+ AWESOME PERSONALIZED SIGNS>
Feel Their Touch With this Deployment Gift
When a soldier you love is deployed overseas, the pain of separation can be almost unbearable. However, when the two of you wear these bond touch bracelets, the time spent apart won't be quite as tough. When you and your soldier are wearing these, whenever one of you touches it, the other will feel their bracelet vibrate. He'll love receiving these as a gift because they're a fantastic way to feel connected from afar, and they will make your time apart a little bit easier until you can be reunited.
Ammo Can Set Full of Army Gifts for Him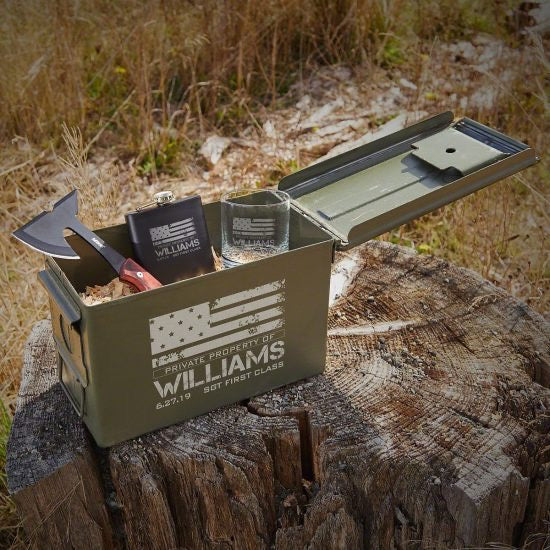 Who wouldn't want an awesome container for storing fishing equipment, camping gear, or anything else? This cool ammo can is a great Army gift for a soldier. It's made even better by the fantastic accessories inside it. The flask is perfect for discreetly drinking when he's out and about, and he'll love using the whiskey glass after a long day as a way to relax and unwind.
For a Gun Enthusiast
As an Army guy, he's probably also a big gun enthusiast. If he loves whiskey as well, this bullet whiskey stones set is the perfect Army gift for him! Nothing will make him happier than using these unique, bullet-shaped whiskey stones in his engraved glasses that have the Army logo on them! Combining three of his biggest loves in one set – whiskey, guns, and the Army – he won't be able to stop talking about how much he loves this amazing gift!
De-Stress Out With this Army Boyfriend Gift
There are few things that help people relax like a nice mug of cold beer. Your boyfriend can sometimes feel stressed out being in the military, so get him a gift that will help him relax: this beer mug set. When he fills one of these mugs to the brim with delicious beer, suddenly, all his troubles will begin melting away. He'll really appreciate this awesome beer set that will help him relax and de-stress.
Army Gift for Him to Keep His Cigars Intact
Nothing is more tragic than cigars drying out or becoming too moist and rotting. You never want this to happen to his cigars, so get him this handsome cigar humidor. Even if he's at basic training or on a mission where he's too busy to smoke his stogies, he can trust that his stogies will stay fresh inside. Not only will his favorite stogies remain in tip-top shape inside this, but all his friends will be jealous of how cool it is. The outside of this humidor is an ammo can that the military used to store ammunition, making it completely awesome.
A Prominent Display
You are so proud of him, and you want to buy him a gift that he can use to display in his home to represent his service to his country. This framed Army Seal will look totally awesome hung up on the wall, a constant reminder that his profession is so important. With this Army Seal gift, he'll know that you recognize and appreciate all his hard work and sacrifices.
Proud to Serve
He's a big fan of having guests over to his house and serving them delicious foods and beverages. This fancy serving set is a must-have for him. Everyone will be extremely impressed with how high-quality this set is when he's serving them liquor. The American flag design will be a constant reminder to them that he continually puts his life on the line for his country, and they'll love sharing drinks together.
Army Gifts for On-the-Go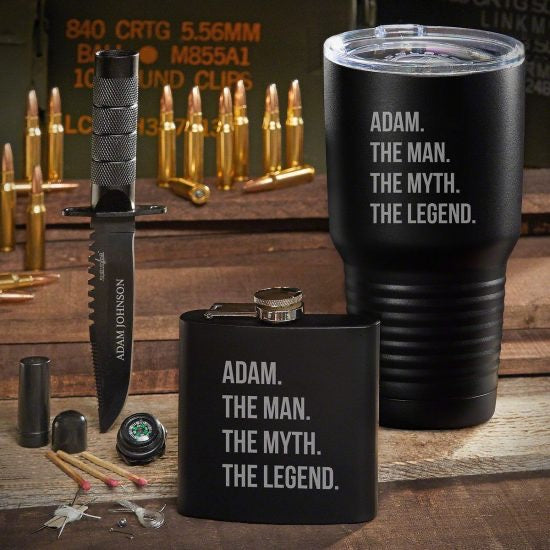 Being in the Army can involve a lot of travel, so a great gift for a soldier is one he can take with him. This awesome gift set contains a flask and tumbler that are just what he needs when consuming beverages when on-the-go. If he's in some sort of an emergency situation, this tactical knife could help him out of a tough jam or even save his life. These are fantastic Army gifts for him that are not only practical, but will have him thinking of you during his travels.
Whiskey Set as a Deployment Gift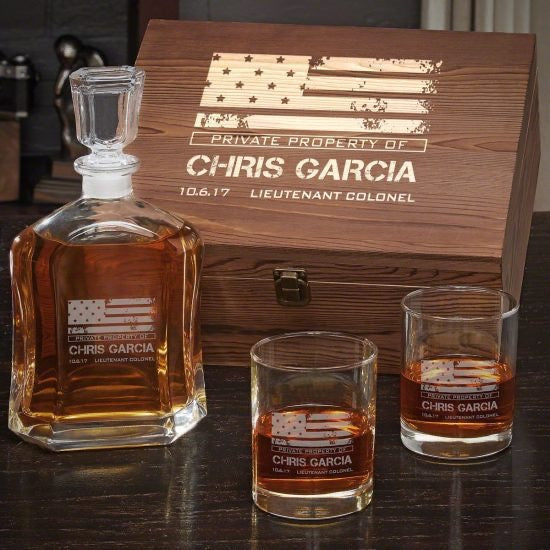 He's being deployed, and you want him to be able to enjoy his favorite whiskey wherever he's stationed. This decanter set is a phenomenal gift because his whiskey will stay fresh inside this tight-sealed decanter. Even if he is sent on a mission in the wilderness and can't take his whiskey with him, it will stay fresh for months inside the decanter for when he returns to his barracks. The best way for him to unwind after a mission is to have a nice glass of his favorite whiskey. He'll be thinking of you and how much he misses you the whole time he drinks it.
535+ SUPER COOL CUSTOM WHISKEY GLASSES>
Keep Your Veteran Warm
Even after he's retired from the military, he wants to show off his pride for the Army. This fleece jacket is a fantastic gift for the new veteran. The embroidery lets everyone know that he's a proud vet, so he'll want to wear this all the time. He'll really enjoy sporting this handsome jacket and feeling proud of his service.
Whiskey and Cigar Army Gifts for Him
The soldier you're buying for is a huge whiskey and cigar fan, so you know you've found the perfect gift with this ammo can set. The Army keeps him insanely busy, so when he has some down time, he'll greatly enjoy drinking chilled whiskey from these handsome whiskey glasses and using the cigar accessories to smoke a stogie or two. He'll have a great place to store these awesome items inside this authentic ammo can that he'll definitely want displayed in his barracks or home.
Cocktails and Coasters for a Soldier
Sometimes all a soldier needs is a delicious, ice cold beer. This pint glass and coasters set is the ideal gift for a beer-loving soldier. His Modelo or Bud Light will stay chilled and delicious inside the pint glass that's spacious enough for a man-sized amount of beer. To avoid condensation on his tabletops, these cool coasters will do the trick. He'll love the novelty of these coasters that are made to look like shotgun shells.
Whiskey Set Army Boyfriend Gift from the Proud Soldier
Your guy is so proud to be in the military, and you want to buy him a gift that will show that off. This decanter set is the perfect gift that will both express that pride and help him enjoy fresh, chilled whiskey. He'll display the decanter and box proudly in his home, with the American flag design demonstrating that he's in the service of his country. The pride will rush through him as he sips his favorite whiskey.
Mementos from His Travels
Many members of the Army end up doing a lot of traveling in their positions, and your boyfriend is no exception. He loves trying new beers wherever he goes, and he likes collecting the bottle caps. Buy him a great Army boyfriend gift that he'll love: this bottle cap shadow box! He'll take great pleasure in putting all his bottle caps inside this box. He'll display it prominently in his home where he can always see it.
183+ UNBEATABLE ARMY GIFTS FOR HIM>