UPDATED 6-6-2019
With the big day just a little ways away, it's time to get presents for the wedding party. But what gift do you get for the father of the groom? What makes a good gift for the father of the groom? Is it standard procedure to buy him something sentimental and small? Or should you go big and buy the father of the groom a high-class gift set? There are many ways for one to approach the conundrum of shopping for the groom's dad, and with these 22 amazing father of the groom gifts at the ready, you have a stellar selection of options to choose from this wedding season.
1. Personalized Decanter and Rocks Glass Sets- for the Dad Who Sips Whiskey
If you get the father of the groom gifts like a whiskey decanter set, be sure that it has the option of being engraved. This will not just elevate the significance of the gifts being given, but it will also reflect well upon the person handing them over. We find ourselves leaning toward this personalized decanter and rocks glass set due to its vintage whiskey label motif, and that it comes encased in a wooden box that has been engraved to match.
2. Wine Box Gift Sets- for the Man Who Prefers Fermented Grapes
Does your old man favor good wine over all other forms of alcohol? If that sounds like him then maybe it's best to buy a nice wine box gift set for a change. Making sure that the box set includes his family name, initial, and year of the wedding will help make the gifts become that much more meaningful. Be sure to opt for a wine gift set that allows you to have the lid of the box itself engraved to match the glassware contained therein.
3. An Awesome Whiskey Glass that Holds His Cigar
Your dad is a great guy. He's generous, classy, and has really helped put your wedding together. The big day is coming up soon, and it's time to get gifts for the wedding party! One of the coolest father of the groom gifts you can give is this monogrammed whiskey glass that holds a cigar. That's right, it's specially designed to hold his stogie while he sips on his favorite scotch every evening. This neat glass is a great way to say "Thank you for being my dad," especially if you pair it with a bottle of his favorite whiskey.
4. Now He Can Practice His Putts Anywhere
When the father of the groom isn't working, he's on the golf course. He's always honing his skills and challenging his friends to competitions to see who can make a hole in one first. One of the best gifts for him is his own portable putting set! He'll love that he can bring the set with him on business trips and keep in his office so that he can practice whenever he wants, even during the off season. He'll love using this set to relax with after your wedding. After all, he's the one that made sure everything is going to go perfectly! You can surprise him with this awesome gift at your wedding reception.
5. The Biggest Beer Mug He's Ever Seen
Your father loves beer almost as much as he loves your mom. As soon as he gets home, the first thing he reaches for is an ice cold beer. You want to get him a nice gift for being a great dad and for being there for you during all of the wedding planning. With this monstrous beer mug, he'll never want to use a regular pint glass again! He can pour an entire liter of beer in this humongous mug, which is more than enough to get him through your wedding reception or a football game. As the father of the groom, he'll be overjoyed to get such a great appreciation gift. In fact, you could get a custom beer mug as gifts for all of your groomsmen, ushers, and everyone in the wedding party!
6. Engraved Wooden Boxes for Liquor- Amazing Reusable Gift Ideas
Is a simple, cleanly lined look something that the groom's dad would gravitate toward? If that's the case, then maybe engraved bottle boxes are the sort of amazing father of the groom gift ideas he's been needing all along. Our choice would be something that has a sturdy hinged lid, and a structure that is made from richly stained wood. Throw in a bottle of his favorite liquor, and watch the father of the groom beam with delight. Looking for a gift for everyone in the wedding party that they'll all enjoy? This is it.
7. A Father of the Groom Gift He'll Treasure Forever
You and your dad are pretty close. He helped you plan your proposal, pay for the caterer, and he just gave you the cufflinks he wore on his wedding day for yours. The two of enjoy catching up over a glass of whiskey and going to the shooting range together once a month. This incredible personalized ammo can whiskey gift set is certainly the perfect father of the groom gift! He'll be touched that you got him a nice personalized set of whiskey glasses for you two to use the next time you come to visit, as well as an ammo can to use at your monthly get-togethers.
193 GIFT BASKET IDEAS FOR MEN >
8. Fun Grilling Tools Dad Will Love
Your dad taught you everything there is to know about cooking. He taught you the family's secret recipe for the perfect steak, how to make burgers from scratch, and how to cook his famous pasta. Now that you're getting married, you'll be on your own to share your masterful cooking with your wife and even teach your future children the same skills. One of the best gifts for the father of the groom is a new grilling set, and this one's inspired by his favorite sport and hobby: golfing! Designed to resemble golf clubs and even have a fun travel bag, your dad will get a kick out of this funny grilling set. He'll love using it to cook up dinner for his buddies after a day on the green!
9. He Will Always Have Chilled Wine
You've got gifts for everyone in the wedding party except for the father of the groom. He's always been hard to buy gifts for, and you want to get him something that he'll like, but also shows that you appreciate him being part of your wedding. Think about his interests, is he more of an outdoorsy guy or does he like to relax inside with a glass of wine? If it's the latter, get him a marble wine chiller! One of the best gifts for the father of the groom, he'll love using this useful and decorative wine chiller to keep his favorite Riesling cold.
10. Deep Sea Fishing Adventures!
Sometimes material possessions deserve to take a back seat, and experiences are given the chance to take the wheel. "Hook" dad up with a surprise deep sea fishing trip as wedding gift and he'll be jumping with glee over the notion of father-son time on the ocean! Plus, you're going to be able to eat whatever you catch, so bring your appetites if you end up going this route.
11. Father of the Groom Whiskey Gift Set
Your dad is one of the most important people in your life, especially since your wedding is coming up. He helped pay for the venue, got a great deal with a photographer through personal connections, and even passed down his grandmother's wedding ring for your bride-to-be. You want to get him something nice that will show your appreciation for everything that he has done for you as well as for being an awesome dad. Look no further! This personalized whiskey gift set is one of the best gifts for the father of the groom. You can engrave the wooden gift box with his title as the father of the groom, his name, and the date of your wedding. Whenever he uses this set for an evening glass of scotch on the rocks, he'll think of you.
12. A Place to Store His Stogies
It's a tradition to enjoy a cigar in celebration at a wedding whether it's one last smoke with your friends before you walk down the aisle or afterward at the reception. Your dad has promised to supply the stogies for you and your groomsmen, and you want to make sure he feels included in your wedding. A personalized cigar box is a great gift for the father of the groom! He'll love the elegant style and that the engraving makes it a one-of-a-kind gift he'll treasure forever. Now he'll have the perfect place to store his stogies!
13. The Perfect Gift for a Shotgun Wedding
Whether you're getting married at the courthouse in a last-minute decision or your dad is just a fan of guns and whiskey, this awesome gift set is the perfect father of the groom gift. A dad joke waiting to happen, he'll get a kick out this cool set. He'll love the elegant engraving of his initials on the whiskey stone box and square shaped glasses. The two of you can toast to your nuptials with the set and enjoy the full flavor of chilled whiskey on the rocks, or in this case, bullets.
14. Professional Mixologist Gifts- for the Guy Who Always Makes Amazing Cocktails
If the gigantic cocktail shaker didn't seem like the right gift for the father of the groom, then maybe a professional grade set of mixologist tools is more up his alley. The convenience of having all the necessary tools at his fingertips (and neatly sorted when not needed) make this one of the most amazing father of the groom gifts imaginable. Maybe add a reasonably sized cocktail shaker that's been engraved to the equation in order to finish the set in grand fashion.
15. Amazing Ashtrays- for the Father of the Groom Who Smokes Cigars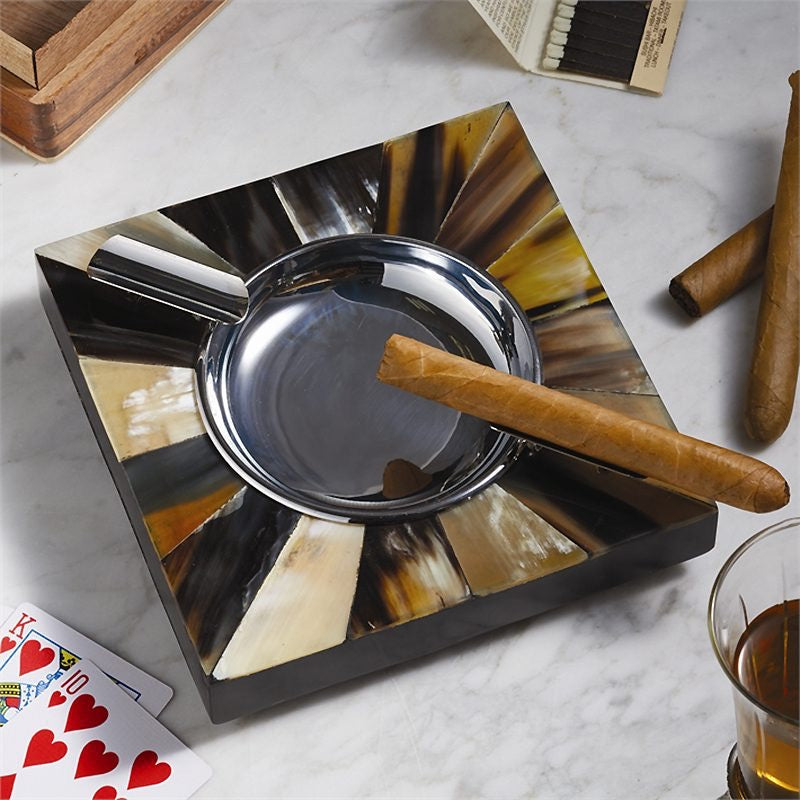 Nothing screams "father-figure" quite like a man smoking a premium cigar. The guys who always gravitate toward good tobacco deserve an ashtray that matches their elite taste, and we've found one heck of an amazing option. Made from a blend of wood, stainless steel, and natural horn, this amazing handmade ashtray is in a league of its own. A few notables are the fact that each ashtray is unique unto itself due to the natural materials used, and because of this, your old man will enjoy looking at it even when it is not in use.
16. Custom Built Mountain Bikes- Trail-Ready Father of the Groom Gifts From Sons
Does dad have a passion for plowing down dusty trails and hopping over tree stumps while riding atop his mountain bike? If that sounds like his idea of a good time then maybe you should consider getting him a custom built mountain bike! We really like how these REEB Cycles are built per order and include all manner of add-on, and that they are the brainchild of Oskar Blues Brewery, the guys who make Dale's Pale Ale!
17. Custom Glass German Steins- Big and Bold Beers Deserve Mugs to Match
The king of the castle deserves a mug of beer that has been designed for royalty. While there are many kinds of German beer steins on the market, upping your game and getting the father of the groom one that has been finished with a coat of arms and his initial is the way to go. Check out how the designer added tons of detail to the edges of the attached pewter plaque, and how the mug has been fashioned out of real German glass for instant beer mug bar cred.
18. Essential Whiskey Set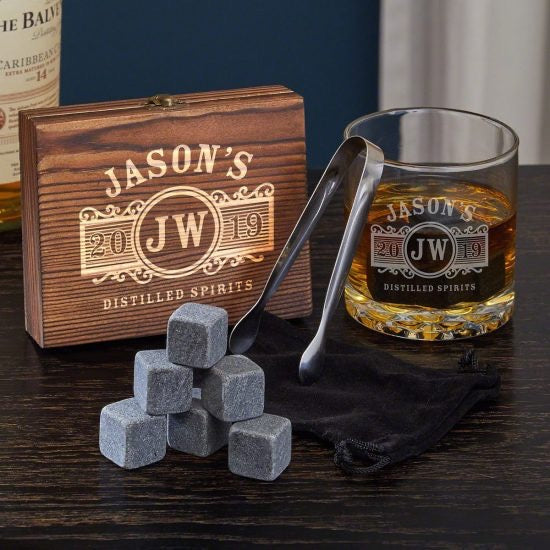 Your dad has taught you the ins and outs of drinking since the day you turned 21. Thanks to him, you know the differences between bourbon and scotch, the many different types of beer, and helped create your signature cocktails for the wedding reception. You want to get him a nice gift to thank him for all his knowledge and guidance from the day you were born until your wedding day. How about a personalized essential whiskey gift set? He'll love the personalized rocks glass and the whiskey stones to enjoy a nice chilled bourbon after work. The design on the set is customizable, too, so that it's a one-of-a-kind gift that he'll use and keep forever.
19. The Best Gift for the Dad Who Loves Cigars and Scotch
You've followed in your dad's footsteps your entire life. He's your role model, after all, and he deserves a great father of the groom gift to thank him for being your example and how to be a good future husband. If you're struggling to find a good gift, think about what he likes. If he's a scotch and stogie kind of guy, get him this awesome personalized gift set! He'll love the suave cigar case and lighter for bringing his favorite kinds of stogies with him wherever he goes. The gorgeous twist glass is the classiest way to enjoy his evening scotch. He's sure to love everything in this set and use them for years to come.
20. Genuine Cut Crystal Whiskey Glasses- for the Hard to Impress Patriarch in the Family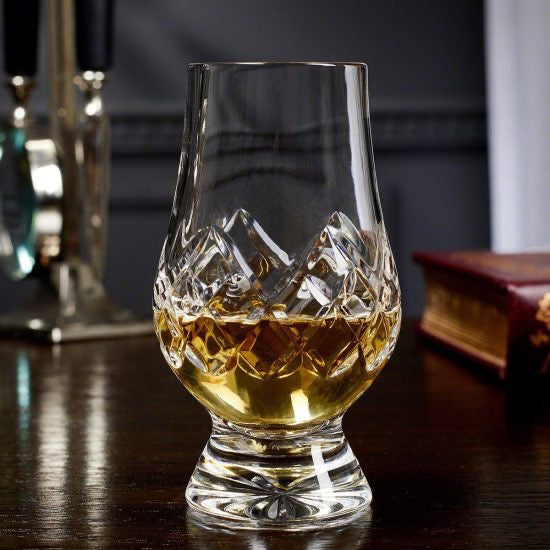 It may not be for everyone, but if the father of the groom has impeccable taste and tends to lean more toward single malt scotch whiskey than mixed drinks, this next gift is for him. Cut from lead-free crystal, and finished with a diamond design, these Glencairn whiskey glasses are a thing of beauty. Traditional in form, yet unique in how they have been cut from crystal, this is a gift that is best bought in sets of two for optimum enjoyment.
21. Awesome Manly Gift Set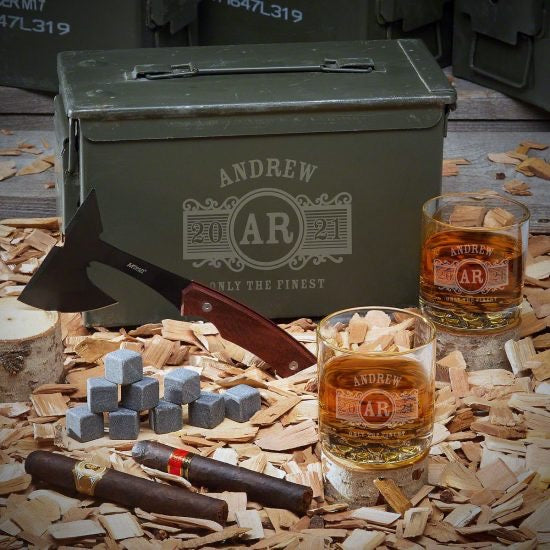 Your father taught you everything you know about being a manly man. He's shown you how to hunt and fish, to enjoy fine liquors, and even how to shoot a gun. You even used all of these skills to impress your fiance, and you have him to thank. He's also played a big part in planning your wedding, and you want to get him a nice gift to thank him for everything. This manly ammo can gift set is the perfect gift for the father of the groom! It comes with all of his favorite things: custom whiskey glasses, whiskey stones, a hatchet, and a matching personalized ammo can. The two of you can enjoy a cool glass of Jack Daniels together with the awesome glasses and whiskey stones every time you come over to visit. He'll love using the hatchet for yard work and various outdoor trips. The ammo can also has tons of different uses from storing ammunition to carrying his hunting gear! He'll love everything about this incredible gift set.
22. Kegerators- Father of the Groom Gifts From Sons Who Also Love Beer
Our final gift option for the day is one that will keep on giving just as long as there are suds left in the barrel inside it. Kegerators are now more affordable than ever, making them one of the best surprise gifts imaginable. Remember, father of the groom gifts from sons don't always have to be sentimental. Practicality is also a great selling point, especially when there are cold beers involved.