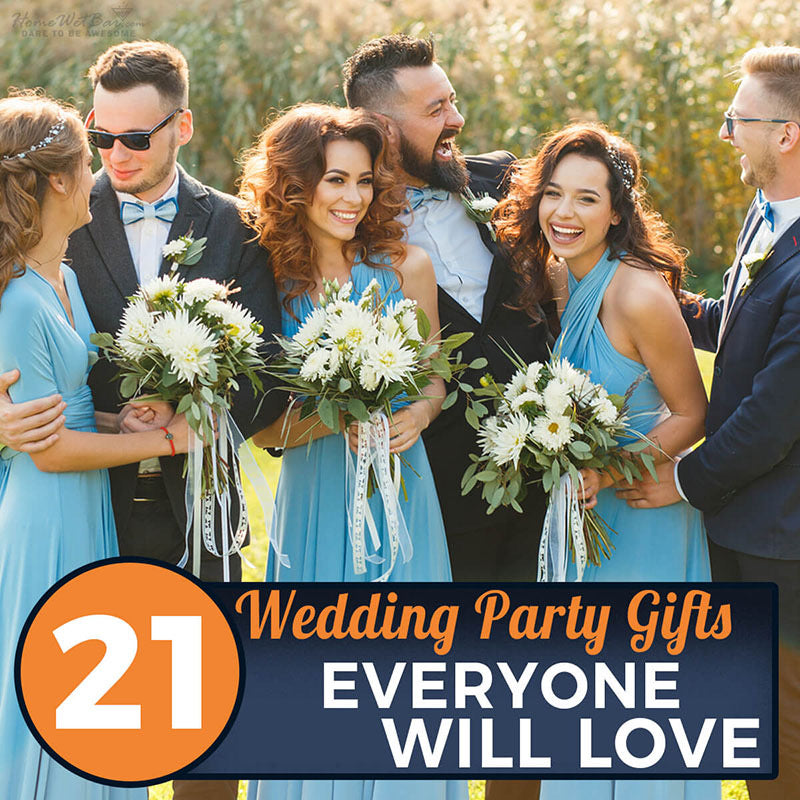 21 Wedding Party Gifts Everyone Will Love
Get Awesome Wedding Party Gifts Everyone Will Love
You've booked the venue, sent out invitations, and even have your wedding cakes ready for the big day, but you still need to find wedding party gifts for everyone involved in the wedding. The best gifts for a wedding party are something they'll use long after the ceremony has ended. Are the gifts available for the entire wedding party? Do groomsmen and bridesmaids need separate gifts? Are there gifts available in all price ranges? Stuff your worries in a sack. We tackle all those questions to make sure you find something that your wedding party will surely love.
Amazing Boxed Decanter Set
Out of the best wedding party gifts available is something that accentuates their home décor and alcohol set-up. With this wood box decanter set, the groomsmen will love finally being able to drink out a real rocks glass personalized just for them. The bridesmaids can rotate between vodka, tequila, or whatever liquor they prefer to display each month. Even the father-of-the-bride and father-of-the-groom will realize what they've been missing in their lives when they receive this handsome set. They can even use the box to store mementos from the wedding. They might even make it a tradition to use the glasses on your anniversary.
Personalized Ammo Cans Wedding Parties Will Love
If you're looking to get your groomsmen some wedding party gifts that they will love then this set of 5 ammo cans is perfect. The Maverick logo is ideal for your collection of wingmen. You can even personalize each one individually for them. The set of whiskey stones and whiskey glasses included in each ammo can will be in use long after the ceremony is over. You may be going home with the perfect bride, but this is a nice consolation prize for your friends.
Sleek Engraved Wine Box
Having the right tools for the job is key to avoiding frustration. That especially applies to opening a bottle of wine. This wine gift box has 3 lines of personalization so you can tailor it for anyone in your wedding party. Add in a bottle of wine of your choice and with the included tools this becomes one of the wedding party gifts they'll always remember. Bridesmaids, groomsmen, and ushers will delight in trying out everything included with the bottle of wine you generously gifted.
Whiskey Loving Gifts for Wedding Party
There's a ton of stuff to remember before you get hitched. If you can get a gift that takes care of the entire wedding in one swoop that's one less thing on your plate. It's even better if it's a gift that they'll love. Anyone in your wedding party can combine whiskey stones with their favorite drink for a taste that remains chilled and unspoiled by not being watered down. Choosing what's on the box for the whiskey stones and glasses is just a nice bonus.
Custom Cutting Board Wedding Parties Will Love
Custom cutting boards make for great gifts for a wedding party. It doesn't matter if members of your wedding party prefer salads or steaks. Everyone needs a cutting board. Having a cutting board that is worth displaying and not tucking away in some cabinets is a simple way to upgrade the kitchen of your closest friends and family. Just make sure they invite you over for a homecooked meal so everyone can see the cutting board in action.
Instant Camera to Capture Wedding Memory
Instant cameras are a big hit at weddings. This is one of those wedding party gifts that you could even give to the ring bearer and flower girls. Being able to take candid and posed photos of everyone having at your wedding is something that everyone will have fun with. People will be lined up to have their picture time. Everyone can take home memories of your wedding or share them with you years later. Your wedding party will start taking these cameras with them anytime they want to instantly capture and share a moment. The mother-of-the-bride and mother-of-the-groom will insist on seeing these photos at least once a year.
Handsome Presentation Serving Set
On your wedding day, you're presenting yourself as best as you can. Get gifts for wedding party that reflects the style and liveliness of your wedding. A monogrammed presentation set tells the world this is going to be a classy affair with booze involved. It's an excellent melding of two worlds. The best man, maid of honor, or even the father-of-the-bride will look for any excuse to use this personalized gift around friends. Don't be surprised if they invite you over just to share a drink.
219+ WEDDING PARTY DECANTER SETS>
Modern Monogrammed Beer Gift Set
Everyone loves beer. Groomsmen, bridesmaids, even the father-of-the-bride has been known to knock back a few. Upgrade everyone's beer drinking with these awesome wedding party gifts. A monogrammed growler will let them get their favorite craft beer filled at a brewery or give them a chance to take it with them whenever they're outdoors. The matching pint glass lets them drink it how it should be consumed. The included bottle opener ensures the glass can stay full even with the growler's tapped. It's also the perfect excuse to have your rehearsal dinner at your favorite brewpub.
Stylish Sunglasses That Work For Bridesmaids & Groomsmen
Custom sunglasses are always a hit as wedding party gifts. Maui Jim makes sunglasses that will guarantee that your wedding party will be dressed to kill at your ceremony, at least from the neck up. They offer several options for men and women, so you can carefully find which style best fits each member of your wedding party.
Personalized Sign To Hang in the Home
Cocktails, beer, and wine are the three pillars where anyone can find a drink. That's why this is one of those wedding party gifts that are perfect for all types. Personalize each sign to match the personality of every member of your wedding party. They will love this gift if they have a home bar, bar cart, man cave, or just love to have people over for drinks and some good times. It's a personal touch that really shows how much they've meant to you over the years while they support you on your big day.
Hammered Moscow Mule Mugs to Celebrate Wedded Bliss
It's time for your wedding party to get back to the good life with a set of stately Moscow Mule mugs. Bridesmaids and groomsmen will love toasting to your pending nuptials with an authentic set of copper mugs for one of the world's tastiest cocktails. Ginger beer, vodka, and your best friends gathered around to celebrate can't be beat. Each person in your wedding party will appreciate no longer have to enjoy their favorite cocktails in pint glasses, plastic cups, or straight from the bottle.
Customized Rocks Glasses So Everyone Can Toast in Style
Your wedding party is going to raise a glass to your honor. It might as well be a personalized rocks glass expertly engraved with the name and title of every person in your wedding party. Have every kind of spirit ready when you give these incredible wedding party gifts so everyone can enjoy their favorite drink while they marvel at this generous and personal gift before the toast. This is the kind of glassware that will become a centerpiece in their home.
Dynamic Scented Candles Bridesmaids & Groomsmen Will Love
Nice candles are classic gifts for a wedding party. D.S. & Durga create candles that will appeal to everyone in your wedding party. Women will love the scent of "Big Sur after Rain". The manliest of your groomsmen will be shocked by how much they want to smell "'85 Diesel". Even the parents of the bride and groom will want to walk away with "Portable Fireplace". You can easily find a creative scent that your wedding party will want to purchase after the final flame has gone out. Talk about a fantastic set of gifts for your wedding party!
Eye-Catching Whiskey Cigar Glass
Some folks in your wedding party love to have a cigar, even more so when it's in celebration. Pair that with some whiskey and they're in for a grand evening. This unique glass is one of those distinct gifts for wedding parties that will always be remembered. The usher, best man, or even the father-of-the-groom will be able to easily enjoy whiskey, bourbon, or whatever they prefer while having a comfortable place to rest their cigar and having a free hand available for high fives, handshakes, or one-armed hugs.
Custom Champagne Glasses so Everyone Can Have Some Bubbly
What's a wedding celebration without champagne? A somber one at best. It's almost a guarantee that everyone in your wedding party needs their own champagne glass. If it's personalized that's even the better. Come equipped with a bottle so everyone can enjoy some of the bubbly goodness meant for a celebration. Your wedding party will love finally having a reason to pop a bottle in their home and celebrate for all occasions, big and small.
Elegant & Refined Gift Box Parents of the Bride & Groom Will Love
If your wedding party considers themselves individuals of refined tastes then they will a cultured gift box with carefully curated items for their life. These gift boxes have a nice balance between indulgence and refinement. Simone LeBlanc's gift boxes are available for men and women. They've even handpicked high-end boxes for pet lovers. There's a perfect box for everyone in your wedding party.
Personally Engraved Wine Glasses
Before and after you say your vows, wine is going to be poured, consumed, and spilled. It might as well be in custom stemless wine glasses for your wedding party. Each glass will rest comfortably in their hands while they chat with wedding guests or enjoy a nice glass at home while they relax on the couch. These gifts for wedding party are perfect for all types of wine. Your wedding party will probably ask where you got them so they can add an entire set to their house.
Monogrammed Coffee Mug
Coffee is the lifeblood of countless people across the world. Getting wedding party gifts that ensure your friends and family will have that extra pep needed in their step is never a bad idea. Everyone needs a go-to coffee mug. Adding a monogram to a stylish black mug that's perfect for hot and cold beverages will be something your wedding party will reach for every morning.
Custom Pint Glasses for Every Member of the Wedding Party
Everyone has a favorite beer. The groomsmen all swear by IPAs. The father-of-the-bride only drinks pilsners. Some of the bridesmaids have discovered a new love of wheat beers. That's why personalized pint glasses are incredible gifts for your wedding party. Everyone from the best man to the maid of honor will appreciate the expert craftsmanship and thought you put into getting them a pint glass engraved with their name, role in your wedding, and date of your ceremony. It will be a pleasant reminder of the love and camaraderie in the air that day.
A Bouquet of Delicious Beef Jerky
Bouquets are fine. No one's going to be disappointed when they're given an arrangement of flowers. However, there's a better option out there. Jazz up your wedding party gifts with a bouquet made entirely out of beef jerky. It certainly tastes better than a traditional bouquet. Some might even say it looks and smells better. Your wedding party will appreciate a gift that makes them laugh and is also delicious. It's a winning combo, just like the bride and groom.
Classic Ceramic Beer Stein for a Surprising Wedding Party Gift
If anyone in your wedding party likes traditions and beer then a personalized beer stein is one of those fantastic wedding party gifts. Blending the traditions of your wedding with a classic ceramic German beer stein is bound to be a hit. Having your own beer stein evokes strong emotions of celebrations where the beer is free-flowing. They'll want to find any chance to toast with their own custom beer stein.