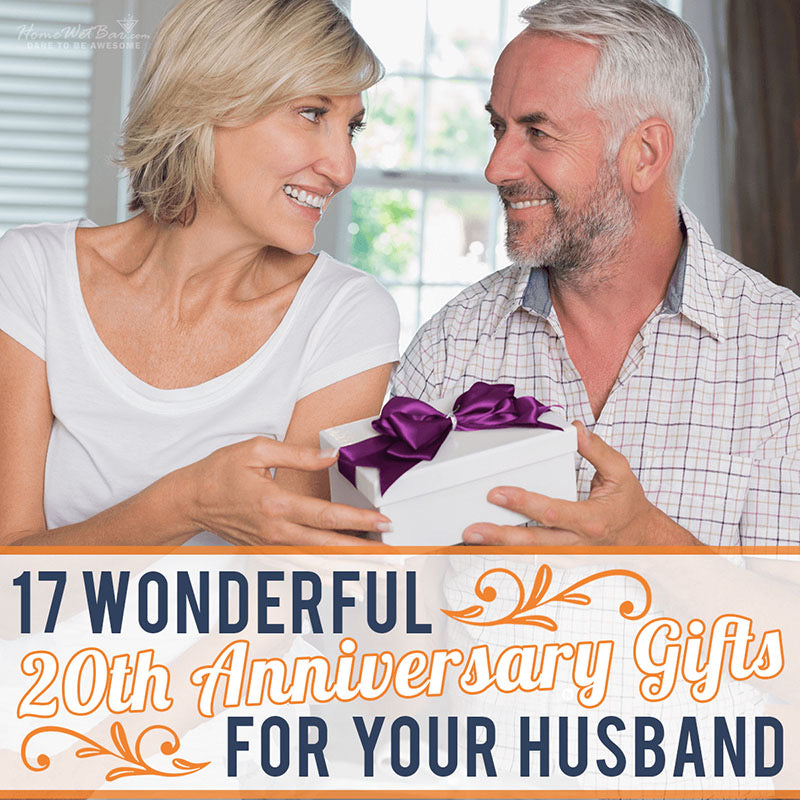 17 Wonderful 20th Anniversary Gifts for Your Husband
Celebrate His Anniversary With the Best 20th Anniversary Gifts for Husbands!
Few couples can take pride in being married for two decades. It's your twentieth anniversary and you want to give your husband an incredible gift after everything you two have built together. Finding the perfect anniversary gift ideas for husband doesn't have to be stressful. You just need to find something that will elevate the little things in life that your husband cherishes. The traditional gift of china is extremely dated, but we've found a ton of great modern 20th anniversary gifts for husband that he's guaranteed to love. So, celebrate the love of your life with any of these awesome 20 year anniversary gifts for him that he is sure to love!
All the Cigar Essentials Set
Want a completely unique gift to give your husband this anniversary? He'll feel like a kid on Christmas when he sees what's inside this cigar lovers gift set. It has all the essential tools and even a stylish box to store everything in, but the star of the show is the whiskey-cigar glass. In just one hand, your husband can enjoy his whiskey and puff on a quality cigar in the same glass. The only problem with this gift is you'll be wondering how to top it for the next major milestone.
Romantic 20th Anniversary Gifts for Husband
Is there anything more romantic than a beautifully etched decanter set that says, "Come sail away with me," with its delicate glass-blown ship and beautiful rocks glasses? Your husband will happily fill up the unique globe decanter and pour the two of you a couple of drinks as you relax together on the couch and reminisce the past twenty years together. In fact, this decanter set might inspire him to plan your next vacation together! Even when you're not using the set for enjoying drinks together, these stunning 20th anniversary gifts for husband look spectacular on display anywhere in your home. This gift is so good, you may even want to give it as a 25th wedding anniversary gift for him in a few years too!
The Coolest 20th Anniversary Gift Ideas for Husband
You'll win the "Wife of the Year" award on your 20th anniversary with this incredible gift! Seriously, there is nothing cooler than a bar cart designed to look like an antique globe. Your husband will feel like a million bucks each time he pours himself a drink with his favorite fine spirit from this awesome bar cart, and he'll be so excited to have a neat place to store your barware and liquor. In fact, he'll want to throw a party right after your anniversary so that he can amaze all of his friends with his incredibly cool new bar cart!
Your husband is a whiskey aficionado, and he is a big fan of using unique glassware. These Glencairn glasses make up a fantastic whiskey gift set that he will absolutely love. These glasses are very classy and unique, with the shape designed specifically to enhance the aromas and flavors of whiskey. These glasses come with a small engraved pewter crest on the sides along with personalization, so your husband will feel extremely proud to drink from such an amazing, personal set. He'll feel like an absolute King, and his glasses will be the envy of all his friends.
Impressive Anniversary Gifts for Him
Your husband already has a bar cart? Well, he certainly doesn't have a decanter set as stunning as this one! By far some of the most impressive 20th anniversary gifts for husband, this elegant decanter set is quite a sight to behold. He will be in awe when he opens up your amazing gift and, once he recovers from the surprise, he will want to fill up the decanter with his finest top-shelf whiskey so that he can pour the two of you a round of drinks in the matching glasses. This lovely set is sure to be the site of many anniversary toasts, date night drinks, and relaxing cocktails from now on!
Custom Ammo Can – A Unique Anniversary Gift Idea
Looking for exceptional 20th anniversary gifts for husband that has everything? Buck the traditional anniversary gift with this .50 caliber ammo can was used by the United States military and contains everything your guys need to enjoy his vices. It's one of those anniversary gift ideas for husband that he'll still be talking about for the next twenty years. There's even room for you to add a couple cigars so he can enjoy everything inside immediately.
Beer Anniversary Gift Ideas for Husband
Is your husband a beer fan? Then this beer mug gift set is the perfect gift for him! He will love having his own brewery-style beer mug to gulp his favorite brews from, and the new bottle opener is definitely a welcome addition to his collection. Once he tries out the awesome, hefty mug, he'll never want to drink his favorite beer any other way from now on because it tastes better and makes the experience more enjoyable. Talk about awesome 20th anniversary gifts for husband who likes beer!
Finest Glassware in All the Land
Fine glassware are your husband's favorite collectible items, and he's grown that collection a lot over the past 20 years. Make this 20th anniversary fantastic by buying him some special glassware pieces for his collection. The items that comprise this boxed decanter set will greatly impress him. The four glasses have awesome bubbles in the bases that reflect light and prevent condensation from getting all over your husband's hands. The stately decanter has sharp, squared edges – a man's decanter if there ever was one. The handsome maple wood box these items come in is beautiful, and your husband will be extremely grateful for this awesome set.
For the Husband That Loves to Grill
When it comes to anniversary gifts for men, you should stick to things that you know he'll like such as gifts related to his hobbies rather than something cheesy. The best 20th anniversary gifts for husband who enjoys grilling are these personalized bamboo grilling tools! He will love how lightweight, professional, and heat-resistant these high quality BBQ tools are as he cooks up a delicious anniversary dinner for you two. He will especially enjoy the fact that he can bring his trusty new tools anywhere from the lake to his parents' house for the next family reunion so that he can grill wherever he wants!
Unique Anniversary Gifts He'll Enjoy Forever
When it comes to finding the perfect 20th anniversary gifts for husband, you want to get him something special that represents your love for him but it should also be something that he'll enjoy for a long time. For the husband who likes to have the occasional glass of whiskey and a stogie, this incredible humidor whiskey gift set is one of the coolest gifts you can give! He will be amazed by the unique ammo can-turned-humidor as well as the personalized whiskey glasses. Because of your awesome gift, he'll make sure to enjoy a drink and a cigar more often so that he can enjoy each and every piece of this set for years to come.
745+ WHISKEY GIFTS FOR HUSBAND >
Take A Trip for your 20th Anniversary
Your 20th is a really big deal. What better way to celebrate than with a vacation with the person you love? Your husband will not be able to believe that you surprised him with a trip to the Caribbean. It's even better that the resort is all-inclusive, so you both can just enjoy your time there without having to worry about anything else. This is one of the best anniversary gift ideas for husband because it's a celebration of the two decades you've spent caring for another.
Create His Own Whiskey Label
Anyone who's had Jack Daniels or Jim Beam has looked at the cool labels on the bottles and wondered what their own namesake whiskey label would look like. For your 20th anniversary, you can make your husband's dream finally come true with this customizable whiskey label decanter set! By far one of the coolest anniversary gift ideas for husband, he will love using the set for drinks with you and his friends. He'll especially enjoy having the entire set on display when he's not using it because it looks impressive on his home bar, and the sign will be the coolest new addition to his bar decor. This anniversary gift is one he'll definitely treasure forever.
Elegant Watch
One of the things that made you fall for your husband was his appreciation of fine style. He always knew how to dress for whatever occasion you both were attending. He put a lot of care into what seemed like a natural ability. Make it a little easier for him with this Hamilton watch that works with any outfit. Hamilton makes premium watches that will stand the test of time, just like your marriage.
337+ GIFT SETS FOR YOUR 20TH ANNIVERSARY>
Classy Anniversary Gifts to Make Him Feel Special
One of the sweetest ways you can show him how much you love and appreciate him is by getting 20th anniversary gifts for husband that make him feel special. This suave cigar and whiskey gift set is so classy that he'll feel cooler than James Bond as he uses it! He will love that you got him something so incredibly unique for your 20th anniversary. You can be sure he will be using his new whiskey glass for a toast as well as having a celebratory stogie on your anniversary night, too!
One-of-a-Kind Vinyl Record
Looking for a gift your husband will never expect? Get him a personalized vinyl record this anniversary. He may have original printings, test records, and flexi-discs, but he'll never have anything as special as a vinyl record made custom just for him. You can record or add whatever audio you'd like to both sides of the record. You even get to customize the sleeve and label. The toughest choice for your husband will be whether to frame this gift or have it on constant rotation.
The Latest in Wireless Headphones
Need an anniversary gift for a tech lover? Apple Airpods have been all the rage the moment they were released. They are fantastic 20th anniversary gifts for husband if he's looking for a simple and convenient way to get some of the best wireless sounds out there. He can use his Airpods to listen to music while he mows the lawn, watch a video on the computer, or even get directions from his GPS. This is the go-to anniversary gift for any tech junky this year.
Customizable Beer Gift Set
You want to get him something special that comes from the heart, but you also want your gift to be something related to the things he enjoys. You can't go wrong with this customizable beer gift set! He will be so touched by your personalized message on the ammo can and beer glasses that he might not even see the cool knife and bullet bottle opener at first. Once he sees everything in your amazing anniversary gift, he'll want to pour the two of you a couple of beers using his new bottle opener and glasses to celebrate 20 years together. Now he has everything he needs to be a true beer connoisseur!
215+ MORE ANNIVERSARY GIFT IDEAS FOR HIM>