Whiskey is a liquor that is meant to be experienced slowly rather than chugged like a beer or taken as shots like vodka. Whiskey taster glasses are best for analyzing whiskey: its composition, ingredients, aromas, and strength. Some enthusiasts prefer to do their whiskey tastings at home, while others join local clubs and discuss each whiskey in detail. Either way, a proper set of tasting glasses will make you a connoisseur! Whiskey tasting glasses are specially designed glasses that enhance the flavors, direct the aromas, and allow the whiskey to breathe so that the drinker can fully experience every ingredient. Don't worry, we'll talk all about each different tasting whiskey glass and how it compares to the others in our complete guide to the best whiskey taster glasses to deliver the best whiskey experience of your life every time.
The Ultimate Whiskey Decanter Set
For those of you looking for a great starter set to get into whiskey tasting, this is it. This incredible, engraved decanter set comes four glasses and a decanter for enhancing the taste of every glass of whiskey whether you love a glass on the rocks or a mixed drink. Thanks to the classic square rocks glasses, you can enjoy any drink with ease, and better still, since there are four of them you get to share these delicious drinks with friends and family. If you're on your way to becoming the whiskey connoisseur that you've always dreamed of being, you simply must-have a decanter. Not only does it make your whiskey look gorgeous when it is on display, but the aeration it causes will make every whiskey taste better than you could have ever imagined!
The Basics
Looking for something just for you to enjoy a private tasting session at home? This is it! This set is all about the individual experience. The double old-fashioned glass is perfect for a hefty serving of Buchanan or Woodford Reserve on the "rocks" with the whiskey stones. The little wooden box holds nine whiskey stones, a pair of tongs for dispensing, and a handy travel pouch so that you don't have to leave home without your whiskey stones. A double old-fashioned glass is a slightly larger lowball or tumbler that can hold a few ounces more than a typical old-fashioned. Also called a DOF for short, the glass is designed to be easy to hold and decent-sized enough for a cocktail, but you shouldn't fill it all the way to the top for straight whiskey. Your scotch or bourbon should be allowed to breathe, so it needs room in the glass to do so. When sipping from this glass, you'll have a good amount of aroma going straight into your nose so that you can detect the subtle notes of vanilla or oak. The best thing about a DOF glass is that you can use to taste anything from classic Scottish whisky to Kentucky bourbon! See? Whiskey taster glasses don't have to be super fancy to properly enjoy the tasting experience.
Add a New Element to Your Tasting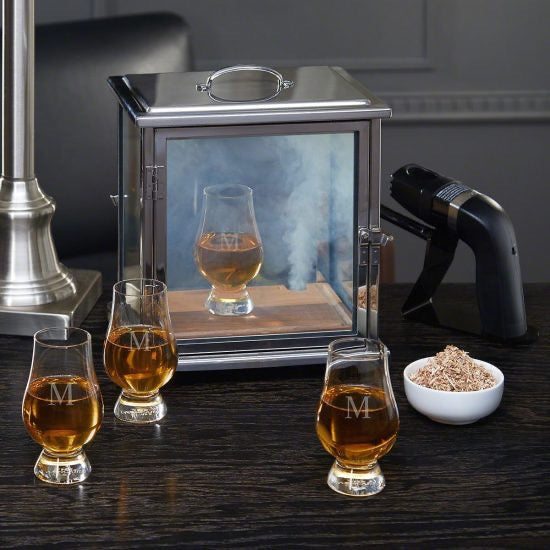 You've probably heard of the Glencairn glass. Designed in 2001 to be the whiskey taster glass with its small size, delicate curves, and narrowed rim, it's certainly become the standard taster. While Glencairns are great and all, you should bring something totally new to your whiskey experience: the smoke box system. This nifty gadget actually infuses your drinks with a subtle new smoky flavor that will change the whole experience! How awesome is that? Simple place your Glencairn glass inside the box, choose your wood chips and light them, press the button, and voila! You've got a glass of Bulleit Bourbon infused with a fresh new cedar flavor. This set of four Glencairn whiskey taster glasses and the smoke box system ensures that each of your fellow whiskey lovers can try their own favorite whiskeys with a different smoke and discover new flavor combinations like never before.
Classic Rolling Taster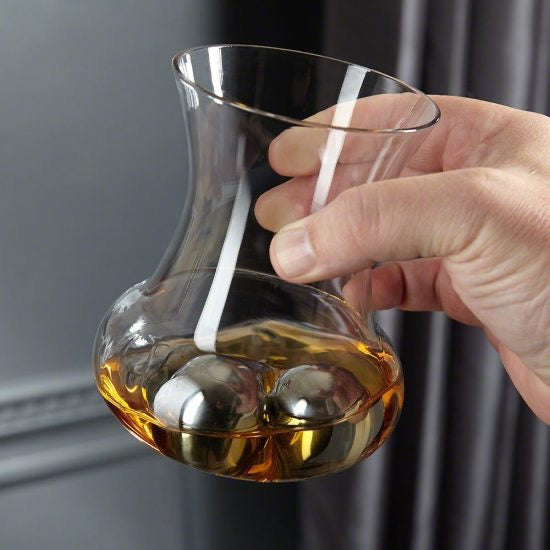 Is this what you were thinking of when looking for whiskey tasting glasses? You'll often see these used at official tasting events, but as you've seen, others can be used as well. The reason this style of taster is so common is that its large carafe-like design allows for the whiskey to swirled thoroughly, opening up the flavors and directing them through the glass straight into your nose. While this taster glass is quite large, it can be used in a group by pouring into smaller glasses from the taster. This unique glass also comes with a set of steel chilling stones which will chill the whiskey but not affect the flavor as ice would. To properly taste whiskey, you should first begin by whiffing the aroma gently to absorb the aromas. After all, your nose is just as useful in tasting as your tongue is. After you enjoy the aromas enough, you can gently tip back the glass and capture a small amount of liquid. Don't swallow it immediately, though, swirl the liquid around and take note of what you taste. After a few swishes, you'll have gathered some flavors and the taste is starting to dilute, which is when you then swallow. Some whiskey clubs don't allow their members to actually drink the whiskey, they spit it out after swishing.
Flight of Whiskey
Another kind of whiskey taster glasses you may have seen is a set of the same glass arranged on a tray of some kind, like this set. The four snifter-like glasses nestle perfectly in the wooden paddle and it is called a flight set. You can use this set either for individual or group tastings. Some tasting experts recommend a snifter glass because the wide bowl shape allows you to swirl the whiskey while the narrowed rim directs the aromas to flow effortlessly to your nose with each sip. This way, you inhale the aromas while you sip and experience both scent and taste at the same time. Ideally, this is what you want from every sophisticated scotch glass for tasting.
433+ PERSONALIZED WHISKEY GLASSES YOU NEED>
The Neat Glass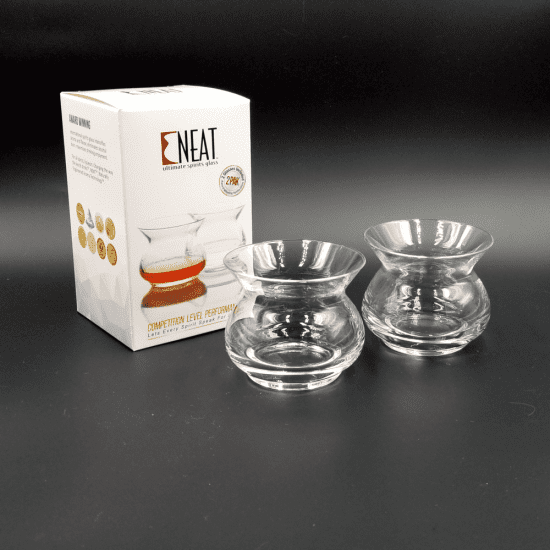 Besides the Glencairn, another glass is considerably popular for whiskey tasting: The NEAT glass. Created by accident, NEAT stands for Naturally Engineered Aroma Technology. The unique design actually creates a stronger aroma profile and smooths the typical burn you get when tasting so that you can identify more flavors. This unique glass is often used in competition and is as strongly recommended and reviewed as the Glencairn. In order to properly use the glass, you should fill the bowl with 1.5 ounces of your chosen whiskey, swirl, and then inhale the aromas from the center of the glass. You will be able to detect each ingredient without much of the aroma of the alcohol interfering. This glass is available on its own or in a set of two so that you can have a tasting with a friend. Overall, the NEAT glass is one of the best whiskey taster glasses out there if you're looking for something professional.
A Unique On the Rocks Approach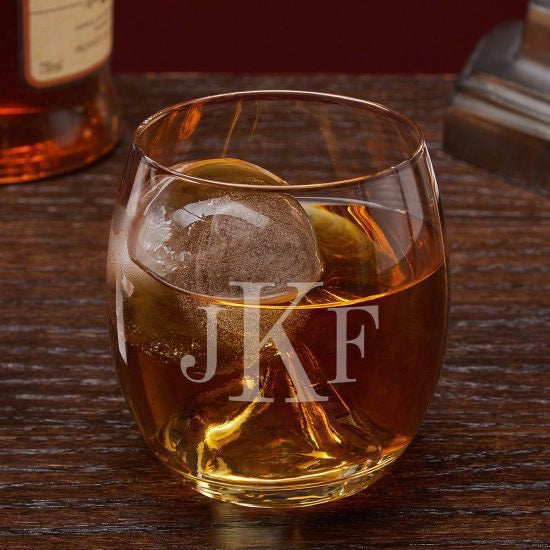 Are the kind of whiskey lover who enjoys having ice in your bourbon? You're not alone. While whiskey tasting is usually done neat or with whiskey stones, some still prefer to add water or ice to help tone down the alcohol taste. If you're the latter, you need a proper glass! This unique lowball glass has an inverted peak in the center and comes with a spherical ice mold. The large, uniform shape will melt much slower than a typical ice cube or two so that you can enjoy the flavor of your scotch to the fullest. The peak in the center naturally swirls the ice around, unlocking those exotic flavors you're searching for. As far as whiskey tasting glasses goes, this one is best for individual tastings for those of you who enjoy ice in your whiskey.
Unique Whiskey Tasting Glasses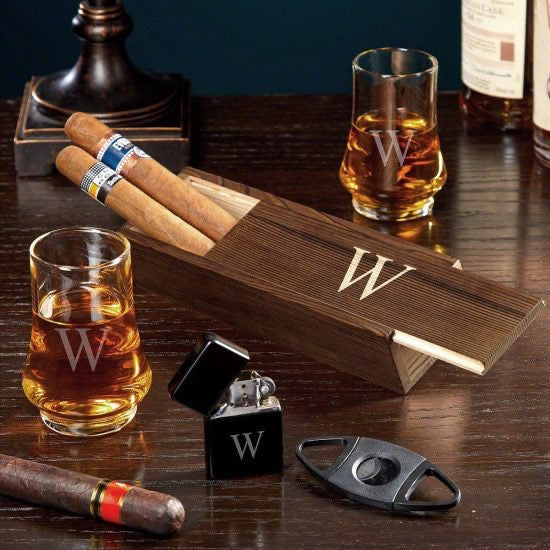 Some whiskey taster glasses, like these, feature less of a bowl in the base and a taller mouth. The smaller bowl shape will still open up your aromas as you swirl, but it will take longer for them to reach your nose. Some say that this feature creates a less prominent smell, so you would need to really stick your nose in it further to fully get the aromas. However, for those of you who prefer to taste more than whiff, this feature is perfect. Pour yourself and a buddy a glass of Seagram's, light up a couple of stogies, and enjoy these unique glasses in your own personal tasting.
The Canadian Glencairn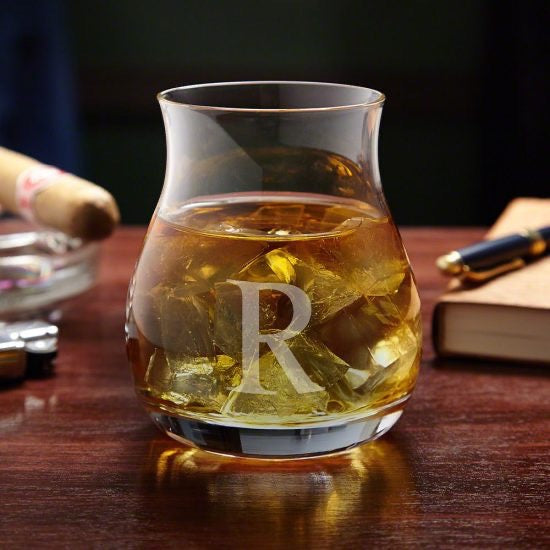 Glencairn released a new glass called the Canadian Glencairn, designed specifically for Canadian whiskys and ryes. The large shape is great for swirling, allowing the deep earthy and wood notes to unleash. Some Canadian whiskys have more spices than others, and you'll certainly want a glass that lets it have plenty of room to evaporate and smooth that taste so that you aren't practically knocked in the teeth with the flavor! The tapered shape, much like the original Glencairn, is great for nosing so that you can fully appreciate the aromas before tasting. If you prefer malts, ryes, and Canadian whisky, this is the perfect whiskey taster for you.
Go Big or Go Home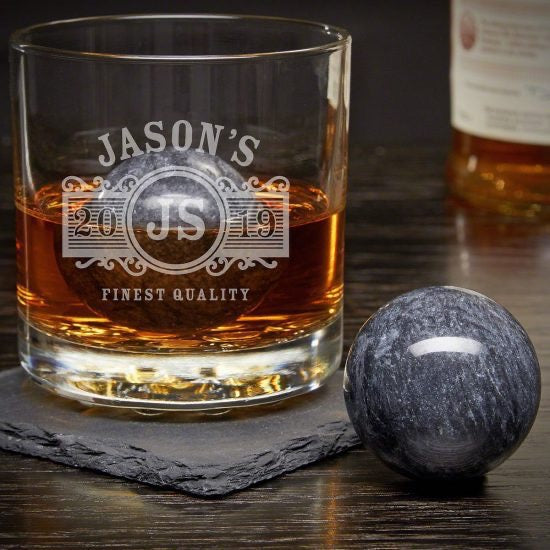 Do you enjoy your whiskey stones? Get a load of this awesome set! These large spherical whiskey stones are 2" in diameter and will certainly keep your whiskey chilled without watering it down. The old-fashioned glass in this set is one of the best whiskey tasting glasses out there because its size is great for both tasting a classic scotch or a proper Old Fashioned cocktail. Lowball glasses are the most popular for both neat whiskey tasting and cocktails due to their size and ounce capacity. This one in particular has a 10.25 ounce capacity, but it has one very unique feature unlike any other: the base is extra thick and features a bubble-like layer that creates a brilliant illuminating effect throughout your whiskey, showing off the deep golden hues as if it's being held up to a light. After all, many whiskey connoisseurs like yourself factor in the color of the whiskey to discover how long it has been aged. If the color is quite deep and more brown, then it has been aged longer.
Crystal Tumbler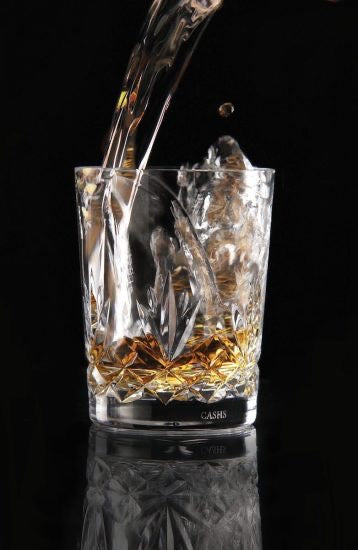 Looking for whiskey taster glasses that are more formal? Then you need a set of crystal tumblers. This set of four crystal tumblers are perfect for formal whiskey tastings with an exclusive club or for entertaining fellow connoisseurs. These Waterford glasses are great for tasting because, like the other lowball glasses and old-fashioned glasses mentioned previously, they have plenty of room for swirling. The gentle narrowing from the base to the mouth guides the aromas to your nose but won't have that overwhelming alcohol smell that you encounter in other glasses. Appearance-wise, the delicate cuts of the rosettes throughout the glass beautifully reflect your whisky so that you can enjoy all of its golden hues.
Must-Have Set of Glencairns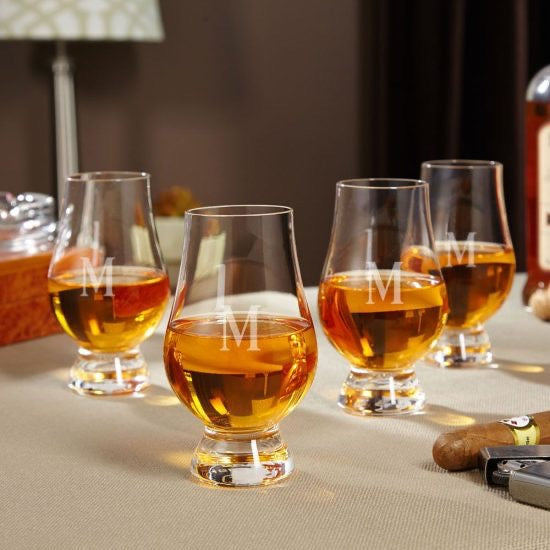 Not the type of whiskey drinker who wants anything fancy? Then you should go with a set of Glencairn glasses. As mentioned previously, the Glencairn was invented in 2001 after extensive research with the most prominent distilleries in the world. It's the perfect nosing glass as its small shape is easy to hold and your nose goes directly into the glass when sipping so that you get a full aroma experience. As for the taste, you should fill your Glencairn halfway and gently swirl the whisky. You'll see that it will naturally swirl at the fattest part of its base, letting the flavors be revealed before you sip. Any whiskey drinker can tell you with absolute certainty that Glencairn glasses are the absolute best whiskey taster glasses you can get. This set of four is ideal for formal or informal whiskey tastings with friends or whiskey club members.
Shot Glass Set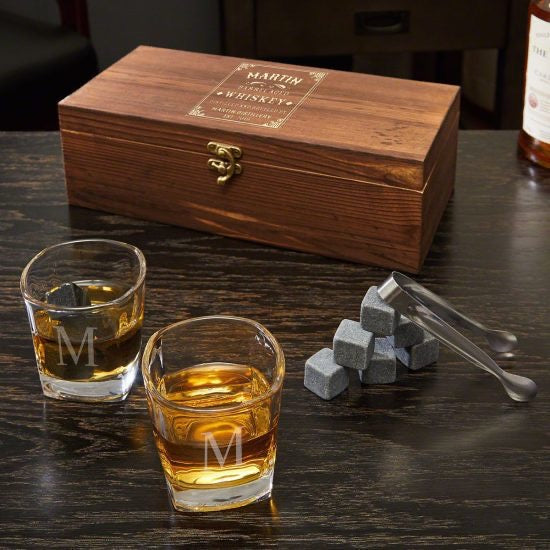 Yes, you read that correctly. This classic whiskey set includes two 6 ounce shot glasses and a set of whiskey stones. These unique whiskey tasting glasses have a thick, square-shaped base and a wide round rim. Most whiskey tasting doesn't involve a lot of whiskey because you're supposed to pour a small amount and sip very slowly. With these shot glasses, you can enjoy the perfect amount of whiskey for your tasting with or without the chilling stones. Ideal for top-shelf whiskey such as Midleton Irish Whiskey or The Yamazaki Single Malt. Whether you're just starting out with whiskey tasting or you consider yourself an expert, you can't go wrong without this set.