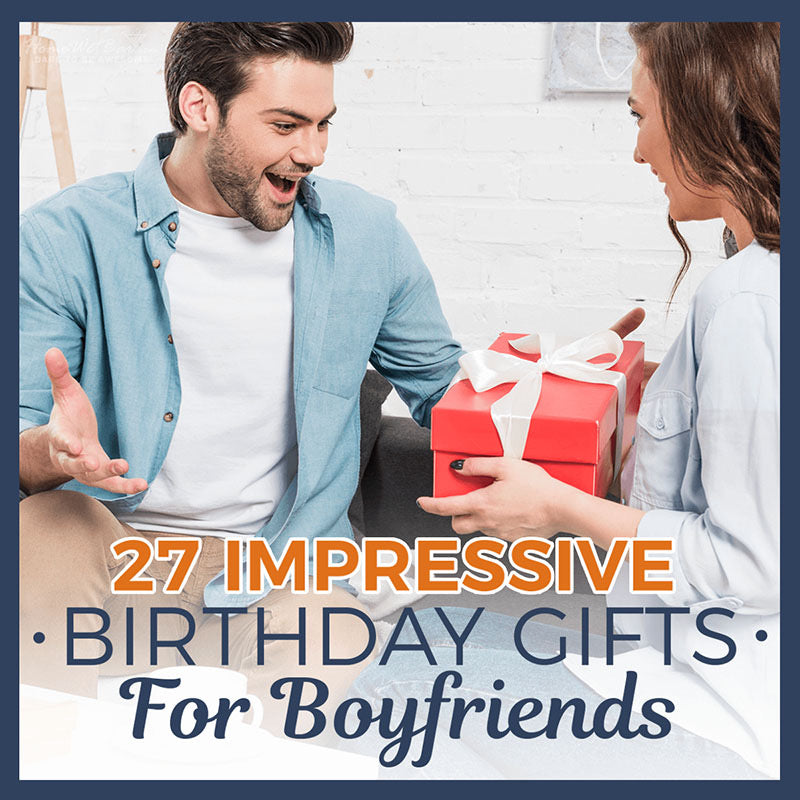 27 Impressive Birthday Gifts for Boyfriends
Impress Your Guy with These Epic Birthday Gifts for Your Boyfriend:
It's your boyfriend's birthday and you have no idea what to get him. Guys can be picky about what they want, and some guys don't even like their birthday! As his girlfriend, you're determined to get him a really great gift that he's definitely going to love. What makes a good birthday gift for your boyfriend? What birthday gifts for boyfriend that every guy would like? Fear not! We will help you get him something that's related to things he likes, solves a problem, and above all other things, is useful. Whether you're searching for his 21st birthday gift ideas or his 30th, we've got you covered!
Awesome Personalized Ammo Can Set
Your boyfriend is an amazing guy who deserves only the best, right? This incredible whiskey ammo can gift set says it all. Complete with a genuine military-grade ammunition can, two rocks glasses, and a set of whiskey stones, this set is the perfect birthday gift for your boyfriend. He will love the super cool engraving of his name followed by "The Man. The Myth. The Legend." on the two glasses and ammo can. He'll feel like the coolest guy in the world every time he enjoys a drink with this set thanks to you. He can use the ammo can to store his ammunition, tools, liquor, or anything else he wants, but he'll definitely want everyone to see the ammo can itself. Don't forget to include a bottle of his favorite scotch to make it a complete gift and you two can toast to his awesomeness right after he opens it.
Beer Mug Gift Set Best Birthday Gifts for Boyfriend
There's nothing like an ice cold beer served in a big, classic mug whether it's his 21st or 51st birthday. This beer gift set comes with two large mugs made of extra thick glass that insulates the beer inside, ensuring a longer lasting head and a better, colder beer overall. Also included is a bottle opener, which can be hung on the wall for easy access, and a gift box to store his new bottle cap collection. This set is definitely one of the best gifts for a boyfriend who loves beer!
Gift Set for the Boyfriend Who Travels
Whether he travels for work or for fun, your boyfriend will love this awesome travel gift set! He'll love having a nice new insulated tumbler to keep his morning coffee piping hot until he has to refill after lunch. After work, he can treat himself to a drink of his favorite liquor from the hip flask. When he's on vacation at the lake or camping with the family, the cool survival knife will come in handy. He will love everything about this set and this is definitely one of the coolest birthday gifts for boyfriends yet!
Cigar and Whiskey Gift Set
Is your beau a cigar and scotch kind of guy? Look no further, this is the ideal birthday gift for him! This set comes with an awesome whiskey glass with a built-in lip to hold his cigar while he's playing poker with his buddies or enjoying a relaxing evening with you. The whiskey stones will keep his drinks chilled, but never watered down so that he can enjoy each sip. Thanks to the handy cigar cutter and lighter, he'll be prepared for a nice stogie whenever he wants. Thanks to you, he'll feel like a million bucks on his birthday with this classy set!
Man's Best Friend
For a fantastic boyfriend, only the most impressive birthday gifts will do. This dog decanter set is so impressive, his jaw will drop! He'll fall in love with the awesome pooch holding his favorite liquor, and he'll be a big fan of the added touch of the customization on the glasses. He'll feel happy every time he looks at the cool pup keeping his whiskey tasting fresh and delicious. He'll be so appreciative of the novelty of this gift and treasure it forever!
287+ MORE BEER GIFTS HE'LL LOVE>
Google Daydream VR Set
Virtual Reality is more popular than ever in 2019! Give your boyfriend the gift of virtual gaming, exploration, and immersive video experiences unlike anything else with his very own VR headset. The Google Daydream VR headset is compatible with Google Pixel smartphones so that he can watch Netflix, play unique VR games, and more. This is one out-of-this-world birthday present!
Man Cave Sign
Got a boyfriend who wants his very own man cave? Help him get started on his birthday with a custom man cave sign! After all, it's not official without proper decor. He'll love that you are both supporting his dream and got him such a thoughtful gift. You could theme all of his presents around his man cave: a cool lounge chair, new TV, mini fridge, foosball table, and more!
Glencairn Decanter Set for the Boyfriend Who Loves Whiskey
Is your boyfriend an aspiring whiskey connoisseur? Then he needs the proper glassware. This classy Glencairn set will give him everything he needs to enjoy a quality glass of bourbon on his birthday: two Glencairn glasses, a decanter, and a set of whiskey, the best birthday gifts for boyfriend. The two of you can share a round of his favorite whiskey in the glasses and marvel at how great it tastes in the Glencairn glasses with the chilled whiskey stones compared to his other glasses. Glencairn glasses are specially crafted to bring the full flavors of the whiskey to the top, ensuring the perfect taste with each sip. He'll love having a decanter to display his scotch in as well as a classy new addition to his home bar area.
Go All-In On This Gift
Think he is wondering "What do I want for my birthday?" Help him have a great time on his birthday with buddies with this poker set! This classy, personalized set makes playing cards a blast, which your boyfriend will definitely enjoy doing both on his special day and on many days to come. As he's checking, raising, and going all-in, he'll feel so grateful for a gift that helps him create fun memories that will last a lifetime.
Skull Whiskey Decanter
This whiskey decanter is for the boyfriends who love horror movies, unique glassware, or just skulls in general. This Indiana Jones-esque decanter has a genuine crystal skull inside, producing a very unique piece of decor. He'll feel like James Bond with this awesome piece of glassware on his home bar and will want to use it to pour guests a drink just to show it off.
Motorola Fitness Watch Birthday Gifts for Boyfriend
Remember when the Motorola Razr was the phone to have? Their smartwatch is the 2019 version of that. This awesome watch tracks your boyfriend's sleep, heart rate, exercise, gets his phone calls, texts, has a built-in GPS, and even adjusts the brightness of the screen for optimal display. How cool is that? Your boyfriend will be so thrilled about getting the latest tech gadget for his birthday.
Give Him a New Hobby to Start
Fact: guys like to collect stuff whether it's cigar bands, ticket stubs, bottle caps, or shotgun shells. Why not give him a cool shadow box so that he can show it off? This awesome birthday gift for boyfriends who like to collect is also engraved with a name and his birth date. Now he can free up the top of his dresser or get rid of that shoebox he was using to store his collection!
The Perfect Birthday Gift for a Whiskey Fan
This whiskey set is one of the absolute best birthday gifts for boyfriends who drink whiskey! Complete with a cool rocks glass and a whiskey stone box set, he can enjoy his scotch and feel like the most interesting man in the world. Move over, Dos Equis guy! The set is engraved with his name followed by the bold statement "The Man. The Myth. The Legend." He'll never want to drink out of any other glass again!
Coffee Gift Set
Does your boyfriend talk about his Keurig almost as much as he talks about his video games? Then he'll love getting this awesome coffee gift set for his birthday. This set comes with a classic coffee mug and a stainless steel travel carafe that are both personalized with his name. Now he can bring his daily dose of coffee in one container to work and not have to leave his desk for a refill. The carafe is double walled and vacuum-insulated so that his beloved caffeine stays piping hot through his whole work day.
Spiegelau IPA Glass
A Spiegelau IPA glass or two are the best birthday gifts for boyfriends who love their pale ales. The unique shape of the glass enhances the flavors and aromas and makes it taste 10 times better than in the bottle or can. The two of you can enjoy a couple of high-quality cold ones over his birthday dinner with a couple of these neat glasses!
PlayStation 4
For boyfriends who love video games, a gaming console or a new video game is the perfect birthday gift. The PlayStation 4 is one of the most sophisticated consoles in 2019 with its Blu-Ray player, wireless controller, 1 TB of storage, and customizable platform. He can enjoy classic games such as Grand Theft Auto V or the newest fan favorite, Red Dead Redemption 2. Gaming has never been so awesome!
Classiest Cigar Sign
Is your man a stogie fan? This incredibly classy cigar lounge sign will be the stunning piece of home decor he never knew he wanted! He'll love hanging it up on the wall in his cigar lounge, home bar, on the back patio, or anywhere else he pleases. As he smokes a cigar on his birthday, he'll feel incredibly grateful for such a personal, attractive gift that brightens up his home in the best way.
399+ MORE WHISKEY GIFTS FOR HIM>
Personalized Ammo Can Set
Help your man feel like a total badass on his special day! This ammo box set is one of the most incredible birthday gifts for boyfriends that he's ever seen. Not only are the pint glasses and ammo can customized just for your boyfriend, but they'll come in handy all the time. He'll love popping open a bottle of his favorite brew with the bullet bottle opener and pouring it into his new pint glass. The ammo can is perfect for storing drinking accessories, fishing tackle, or anything else he wants to store inside it. He'll feel so cool owning this awesome gift set!
Rocks Glass and Unique Whiskey Stones
This set is a unique birthday gift for boyfriends who like whiskey. The two round whiskey stones are just large enough to keep his drink ice cold through every sip, and he'll have an extra one to share with you or a friend! He'll also love the personalization on the glass of his name and the special bubble design of the base, which is both attractive and practical as it helps prevent condensation. The best part about this birthday gift is the fact that the stones can also be heated to keep his coffee or tea piping hot. How cool is that?
Beer Bottle Cap Sign
This cool bottle cap collector sign is the perfect birthday gift for boyfriends who love beer. He'll love being able to show off all of his favorite kinds of beer in such a unique way. This sign will look great displayed in his man cave, bar area, dining room, or kitchen. Don't forget to include a six-pack or two of his favorite beer so that he can get his collection started on his birthday!
Original Star Wars Collection
Any boyfriend who loves Star Wars will love this incredible complete collection of Episodes I-VI on Blu-Ray. The digitally remastered version will enable him to watch his favorite Sci-Fi series like it was made today. Be prepared to have a marathon immediately after he opens his gift because he'll want to see it all!
Glassware Set of Best Birthday Gifts for Boyfriend
On his birthday and every other day, your amazing boyfriend deserves to enjoy his favorite drinks to the fullest extent. That's why this custom decanter set is the absolute best gift to get him for his birthday. He'll love seeing the personalization on the decanter as it stores his favorite spirit, and the super unique, sculpted glasses will make drinking that spirit a fantastic experience! He'll raise a glass to you and your phenomenal gift-giving skills!
Custom Cutting Board
A custom hardwood cutting board is the perfect birthday gift for boyfriends who love to cook! He will love that you got him such a cool cutting board that's personalized just for him. Now he has a dedicated place to do all of his chopping, seasoning, and prepping! Whether he's an amateur or a professional, he will love this handsome cutting board. Plus, it will look great in the kitchen!
Crown Him Grill King
He deserves to feel like royalty on his birthday, so get him this BBQ tool set so he can feel like the King of the Grill! He'll love taking these high-quality tools out of the customized box and using them to grill up brats, burgers, sausage, or any other food he wants! He'll really appreciate such a useful gift that makes him feel like the most awesome griller ever.
An Essential Gift Set for the Boyfriend Who Enjoys Cigars and Fine Liquor
Is your boyfriend a cigar guy? With this cool set, he has everything he needs to enjoy his favorite cigars in style. He'll never be without a cigar cutter or lighter again with this set, and even have a handy liquor flask to enjoy a sip of his favorite liquor. Make sure you include a pack of cigars to make it a complete birthday present!
Cards Against Humanity Game
You've probably played this hilarious card game with friends before, and it's certainly a crowd pleaser. Your boyfriend will laugh his pants off at some of the hysterical cards in here! Cards Against Humanity is one of the best birthday gifts for boyfriends with a sense of humor. If he's having friends over for his birthday, this is the perfect game to play with everyone. It has various expansion packs as well so that you can keep the hilarity going and make even better card combinations.
Ultimate Beer Lover Gift Set
This is the ultimate birthday gift for boyfriends who love everything beer. The set comes with a super cool travel growler, two bottle-opening coasters, two pint glasses, and a wooden gift box. Everything in this set is even personalized with a cool design featuring his name, a title or phrase, and his birth date. He'll love being able to share a classic pint of beer with you at his birthday dinner. The two handy coasters will ensure he never has to track down a bottle opener ever again! When traveling, he'll have plenty of cold beer to share with you all day long as you're vacationing at the lake, beach, or camping. Everything about this set makes it the best possible gift you can give!