A new year means all new presents to buy for your loved ones on special occasions, and your boyfriend's birthday is coming up! You're determined to make this year the best birthday he's ever had, but what makes a good boyfriend birthday gift? Guys can be picky, but you can never go wrong with a gift related to things he already likes, such as a beer-themed set for the beer lover or a new video game console for the gamer.
A Birthday Gift Set as Cool as He Is
Is your boyfriend a super manly guy? This totally awesome gift set is the ideal boyfriend birthday gift because of how practical each item is as well as the cool factor of the personalization. Now he'll have the perfect tumbler to house his daily coffee for work as it will keep his brew piping hot for several hours. When he feels like a drink after 5, he'll have his handy flask at his side. Flasks are also great for having around when you two are on a romantic picnic or on your annual camping trip in the nearby mountains. Speaking of camping, the tactical survival knife will ensure that he's prepared for anything. Can it get any better or cooler than this? Keep scrolling to find out!
A New Go-To Beer Mug
Finally, a beer glass big enough for your boyfriend's beers. This hefty mug holds up to 25 ounces of beer, which is just over two standard bottles' worth. Now he can relax in his chair, watch his game, and not have to get up every commercial break for a refill. He'll love that it will keep his beer cold, too, thanks to the extra thick glass. Make sure to include a case of his favorite beer to make it a complete boyfriend birthday gift!
Whiskey Set for the Game of Thrones Fan
Is your boyfriend into the popular HBO TV show Game of Thrones? Look no further, this three piece whiskey set is one of the coolest boyfriend birthday gift ideas ever! And even if he's not a fan, the engraving is a fun phrase that any guy will appreciate. This three piece set is perfect for the two of you to enjoy a romantic after-dinner drink together. You could even include a nice bottle of aged scotch so that he can try out the set as soon as he unwraps it on his birthday.
Flask Gift Set for Him
For the guy who likes to travel: a unique flask gift set inside a cigar box. He'll love having a cool liquor flask to bring along when he's out at the lake with you and his buddies to enjoy a shot or two of his favorite spirit. The cool pocket knife will never leave his side because of how easy it is to use for opening packages, whittling, cutting threads or wires, and just about anything else. The cigar box is the only stay-at-home part of this set and will keep his stogies fresh and organized. Everything about this unique set makes it one of the best boyfriend birthday gifts for guys who are always traveling.
Impressive Crystal Decanter Set
Your boyfriend deserves only the best for his birthday, but that doesn't mean you have to break the bank for a really nice gift! In fact, this stunning crystal decanter set may look like it costs hundreds of dollars, but it's actually more reasonable than you'd think, and the custom engraving of his name is even included! Your boyfriend will be so impressed by such a priceless birthday gift that he'll be showing it off to everyone he knows! Plus, it may inspire him to get you something as equally impressive for your birthday!
275+ AMAZING WHISKEY GIFTS FOR YOUR BOYFRIEND >
The Ultimate Birthday Gift for a Gamer Boyfriend: A Nintendo Switch
The Nintendo Switch is the newest and coolest gaming console on the market, and if your gamer boyfriend doesn't have one already then his birthday is the perfect time to get him one! The Switch is a unique console in that it can be used as a portable gaming device and as a stationary console at home. How cool is that? Now your boyfriend can keep playing his game while on the go and not have to wait until he gets home to continue his progress!
A Proper Decanter for His Liquor of Choice
Does your boyfriend have a home bar or has always wanted one? Here's his new centerpiece! This gorgeous decanter has the upscale, classy look of the decanters in his dad's home bar but is stepped up a notch with the engraving of his initials. Your boyfriend can store any liquor of his choosing inside, such as whiskey or gin. He will love using the fancy decanter to make you a Manhattan after dinner and himself a classic scotch on the rocks.
The Coolest Home Bar Sign
The perfect gift for the boyfriend with a home bar: his own official bar sign! This incredibly customizable sign features the rules of your choice as well as his name. He will love the cool sign and how much thought and effort you put into it. He will proudly display his incredible birthday gift in his home bar for everyone to see, and brag about how you were the one that made it!
Badass Boyfriend Birthday Gifts
Is your boyfriend the manly dude who loves adventures and the great outdoors? Then this rugged ammo can set is one of the coolest boyfriend birthday gift ideas you can get! He will be so amazed by the badass hunting knife, compact but razor sharp hatchet, the repurposed ammo box straight from the US military, and the super cool cigar holder flask that he'll be absolutely speechless. Once he's recovered from the shock of such a spectacular gift, he'll want to go hiking or hunting so that he can try out every piece!
Date Night Grooming Set for Him
Give your boyfriend the gift of smelling amazing! This delicious set from Blind Barber comes with a 2-in-1 shampoo and body wash, conditioner, pomade, and even a mood-setting candle. Thanks to you, he'll smell better than the Old Spice guy, and not just for his birthday or date night! He'll enjoy this scent so much that he'll wear it every day until he runs out.
A Fun Way for Him to Show Off His Beer Bottle Cap Collection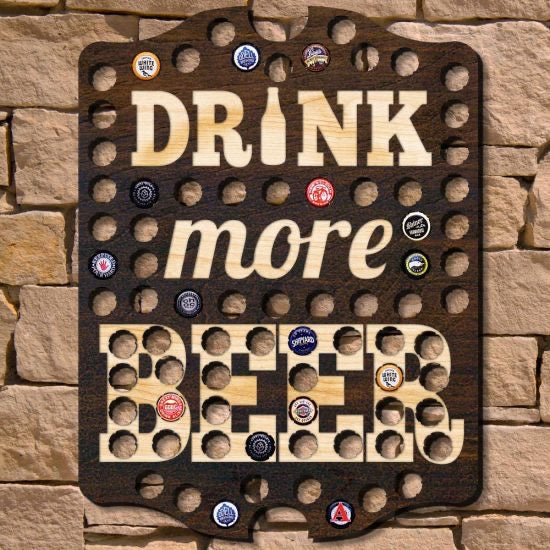 This year, give your boyfriend a fun new hobby: collecting bottle caps! This unique sign is a great way for him to show off his taste in beer. He'll love filling up the sign and watching his collection grow. It'll look great in his home bar or kitchen, and he'll look forward to opening a bottle of beer even more now that he's collecting the caps! The sign holds 77 bottle caps, which will take him a while to fill up. Once completed. He'll have a personalized sign showcasing his favorite beers as a one-of-a-kind piece of decor, making it one of the best boyfriend birthday gift ideas.
Practical Boyfriend Birthday Gifts He'll Use All the Time
For the man who loves to cook and grill, this custom set of grilling tools is one of the best boyfriend birthday gift ideas ever! He'll be so impressed by the high quality rosewood and stainless steel of the grilling tools that make him look like a professional chef (that is, if he isn't one already!) and the gorgeous cherry carrying case they come in! He'll finally be able to enjoy tasty grilled dishes at home, his buddy's house, his grandparents' house for the family reunion, and even at the campground thanks to this handy gift that he can take anywhere!
For the Boyfriend Who Enjoys Whiskey and Traveling
Speaking of boyfriends who like to travel, this handsome globe decanter set is the ideal birthday gift for the guy who enjoys exploring the world. He will be amazed by the beautiful and professional custom Glencairn glasses, which will enhance his nightly glass of scotch to whole new levels that he's never experienced before. The exquisite globe decanter will definitely become his new favorite centerpiece that will always be on display in his office, home bar, or living room so that everyone who visits can admire it!
413+ UNIQUE WHISKEY GIFTS HE WILL LOVE >
Personalized Coffee Cup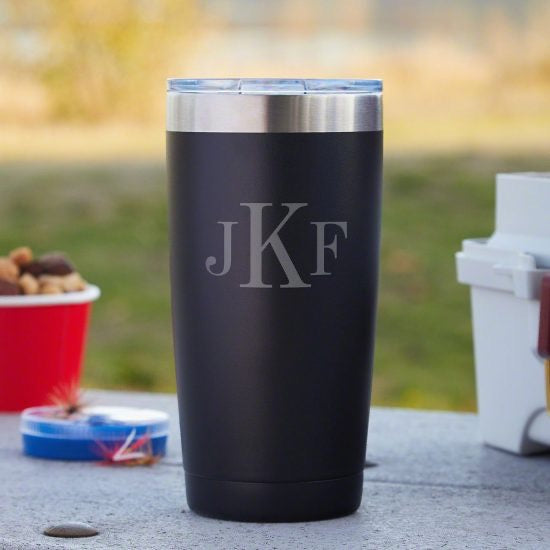 What can you give your boyfriend that will help make his early morning drive to work during rush hour more bearable? An insulated tumbler that ensures he has plenty of piping hot coffee to keep him energized and alert! Made of double walled, vacuum-insulated stainless steel, he will love being able to bring his favorite coffee to work with him and not worry about it getting cold. If he prefers iced coffee, the tumbler will keep it perfectly chilled. Either way, he'll be a lot happier each morning thanks to this thoughtful boyfriend birthday gift idea.
A Beer Mug Finally Big Enough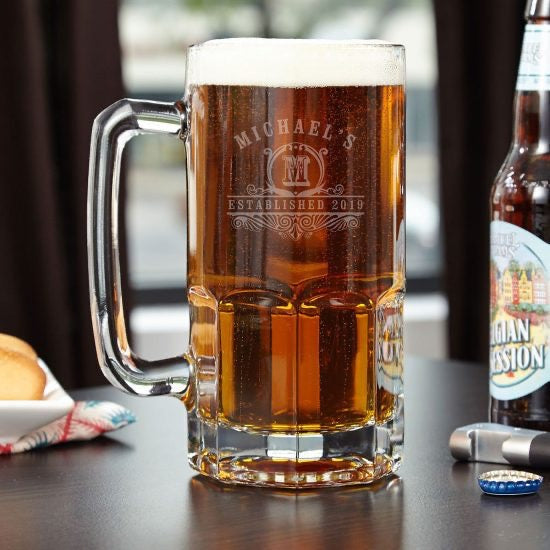 Never again will your boyfriend have to get up for a refill thanks to this gigantic beer mug! This colossal mug holds up to an entire liter of beer! Now he can kick back, relax, and watch an entire football game without needing a refill of beer. Pair this awesome boyfriend birthday gift with a case of his favorite beer and you've made his birthday the best ever!
A Cool New Grill for His Birthday
Is your boyfriend into cooking or has always wanted a grill? This year, give him his very own portable charcoal/gas grill! Shaped like a classic toolbox, he will love being able to grill up some hot dogs or a steak whenever he wants. You could make it a complete birthday present and give him a set of grilling tools or spices!
Manly Birthday Gift Set for Him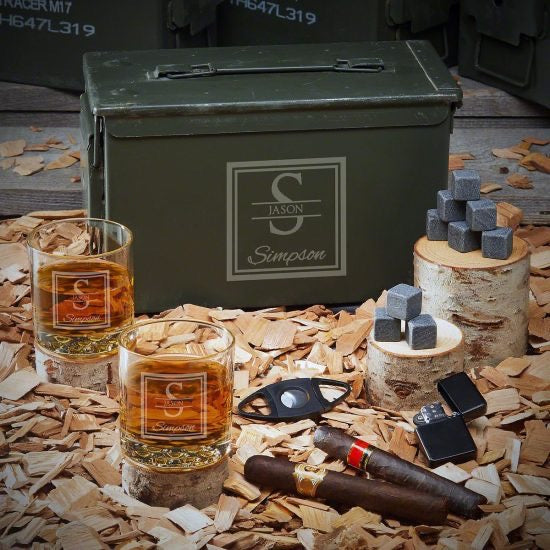 Is your SO a manly guy who drinks whiskey, frequents the shooting range, and smokes cigars? Then this gift set is one of the best boyfriend birthday gift ideas you can give! Included in this incredible set is a genuine military surplus ammunition box to store and carry his ammo to the range, two double old fashioned glasses, a set of whiskey stones, a lighter, and a cigar cutter. He will love having fancy glasses to enjoy a scotch on the rocks or a cocktail with you on date night. And thanks to the whiskey stones, his drinks will never be watered down by melting ice ever again! Seriously, you won't find a better gift set than this.
An Engraved Cutting Board for the Boyfriend Who Cooks
Another perfect boyfriend birthday gift idea for the guy who loves to cook: a custom hardwood cutting board! He will love having a designated place in his kitchen to prepare his weekly lunches and make a delicious dinner for you. Plus, it will look great in the kitchen. For the home chef boyfriend, this is one of the best birthday gifts ever.
Awesome Drink Tank for Transporting His Beer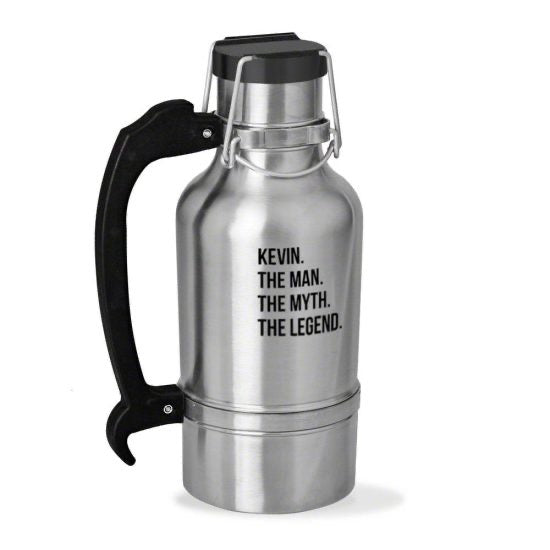 Does your boyfriend enjoy bringing his favorite beer to parties, the lake, camping, and tailgating? Then he needs a drink tank! With this insulated growler, he can bring plenty of beer wherever he goes without the hassle of carrying a six-pack. The drink tank is made of double walled,vacuum-insulated stainless steel and is designed to keep anything inside ice cold all day long. Once he tries this out on his birthday, he'll want to use it all the time!
A Birthday Gift Set for the Boyfriend With Many Tastes
Is your boyfriend a guy who enjoys various liquors, beer, and cigars? Then he'll really enjoy this unique variety gift set! He'll reach for the double old fashioned glass when he feels like sipping bourbon or his new flask for a shot of Fireball whiskey. When he's in the mood for a beer, his handy bottle opener will be there to open them. When your dad asks him for a light, he'll have the flip-top lighter in his pocket to smoke a couple of cigars together. Talk about a great boyfriend birthday gift!
An Automatic Tuner for the Musical Boyfriend
This high-tech, unique gift is ideal for boyfriends who play string instruments. What does it do? It tunes any stringed instrument automatically for him so that he never has to wear out his fingers trying to turn the pegs ever again. Whether he plays acoustic guitar, electric bass, or even the ukulele, he'll be able to tune his instrument in seconds. Now his jam sessions will be better than ever thanks to you!
Must-Have Boyfriend Birthday Gift Ideas
With this sophisticated whiskey gift set, you and your boyfriend can enjoy quality drinks together in style on his birthday! By far one of the most unique boyfriend birthday gifts, the stunning glasses and handy whiskey stones will allow him to enjoy perfectly chilled drinks without the hassle of ice ruining them! The two of you can take birthday shots or indulge in romantic date night drinks after dinner with his finest scotch with this set!
Cool Beer Growler Set
The ultimate boyfriend birthday gift idea for a beer lover: a set of four pint glasses and a copper growler! He'll want to use the glasses right away for him and his friends to knock back a couple of cold ones on his birthday, so make sure you have plenty of his favorite beer on hand. The growler is perfect for bringing his own beer to parties, camping, or his friends' houses. He'll want to use the pint glasses for all of his beers and other beverages, especially since they have his initials on them!
301+ GREAT BOYFRIEND BIRTHDAY GIFTS TO GIVE THIS YEAR >