Enjoy These Unique and Witty Anniversary Quotes for Couples Who Drink Together!
The secret to a happy marriage is really no secret: laughter. The couple who laughs together, stays together. This is true every day, every year, and anniversaries are no exception. The longer a couple lives together as one, the more they understand one another, and can appreciate a mutual sense of humor. Anniversaries are a time to reflect on the joys of a relationship, and even though it's an occasion for reverence and romance, it's the perfect opportunity to make your husband or wife laugh, too. Whether it's a toast over dinner, or a post to their social steam, here's our favorite funny anniversary quotes to make the occasion memorable.
First, a Little Poetry
I mean, I love Milton as much as the next guy, but sometimes poetry needs to make us laugh. Here's a few funny anniversary poems, worthy of a mid-day email or a chuckle over dessert.
Roses are Red
Violets are Blue
Vodka is Cheaper
Than Dinner for Two
∇∇∇
A day of loving
A week of quarrel
A month of war
A year of marriage
Happy Anniversary!
∇∇∇
A man on his third anniversary
Bought a rose from a hip local nursery
Though the stem was all thorny
His wife thought it most corny
Saying all but fine jewelry is cursory.
Marriage Is…
Publish this image on your own site by using the html below:
Scottish Wisdom
Prolific writer and famed Scottish Nationalist, Compton Mackenzie, was most well known for his essays and fiction. He also had some advice on romance that's one of the best anniversary quotes we've seen:
"Love makes the world go round? Not at all. Whiskey makes it go round twice as fast."
When a Couple Really Works
Publish this image on your own site by using the html below:
Traditional Irish Toast
Here's to the wine we love to drink, and the food we like to eat.
Here's to our wives and sweethearts, let's pray they never meet.
Here's champagne for our real friends And real pain for our sham friends.
And when this life is over, may all of us find peace.
Honesty, Understanding, and…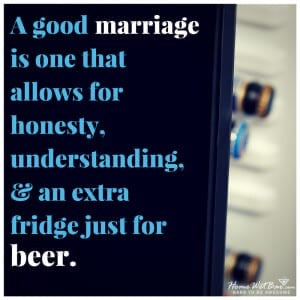 Publish this image on your own site by using the html below:
Anniversary Gifts for Drunk Husbands
We all know the traditional gifts associated with wedding anniversaries, but after 25 years of marriage, some guys really aren't interested in silver jewelry. Here's a guide for them.
1st – Paper
5th – Wood
10th – Tin
15th – Blended Whiskey
20th – Bourbon
25th – Single Malt Scotch
Funny Anniversary Quotes for Husband
Okay guys, not all quotes are created equal. Here's our favorite funny wedding anniversary quotes for husbands, packed with whiskey, shots, and humor only a loving couple could enjoy.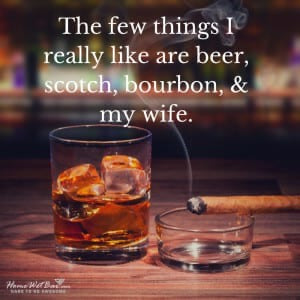 Publish this image on your own site by using the html below:
Marriage is like a friendly bartender: you think that the other is flirting but all they really want is some cash.
Marriage is like an expensive bottle of whiskey: it gets better with age, but some people just prefer vodka.
Marriage is like having cocktails at Applebees: It's not exactly cheap, but you never have to drink alone.
Thank you for standing by me all these years, and holding me up after the 4th round of shots.
Our wedding was many years ago. The hangover continues through today.
Funny Anniversary Quotes for Wife
Now, it's the ladies' turn. Guys seem to have no problem making jokes about their wives (ex: every one-liner about bad driving ever), so the husbands deserve a few jabs in return. We thought these funny anniversary sayings would be the perfect ammunition.
Publish this image on your own site by using the html below:
I'm so grateful that all those years ago I found that one amazing person I want to mix my martinis for the rest of my life.
I never knew what real happiness was until I got married; then I always had someone to pour my wine.
Anniversaries are an occasion to express your love, have an incredible dinner, and then ask for a huge favor after your husband is feeling buzzed.
If love is patient, why do we always have shots on our anniversary?
If your wife or husband truly has a great sense of humor, and loves to laugh more than anything in the world, here are a few of our best funny anniversary gifts, ready to bring a smile to their face.