Celebrating one year together is the first major milestone in any relationship whether it's a dating anniversary or a wedding anniversary. After being together for a year, you've got a good idea of what kind of gifts he'd like to get. But what are good 1 year anniversary gifts for him? You should get him something related to his favorite things, but also shows that you love and appreciate him. What does that mean? For example, if your guy loves beer, he'd love a personalized mug with his name on it. For the guy who's into tech or music, a new pair of headphones is the best gift you can give. You're probably stressing about what to get your SO for your first anniversary, but don't worry! We've considered all of your possible questions and concerns when tracking down the perfect first year anniversary gifts for your man.
A Gift Set Just as Cool as He Is
Your and your husband dated for a couple of years before tying the knot, so you know by now the kinds of things he likes. You know that he enjoys drinking whiskey once he gets home from work and has a weekend routine of going to the shooting range with his dad. What's the best 1 year anniversary gift for him? This awesome gift set. Complete with a custom ammo can and two matching rocks glasses, your husband will love showing off this amazing set to his friends when they come over for a drink or go hunting together.
A Cool Sign for His Home Bar
Your boyfriend has always wanted his own home bar. He's made a place for it, put in the bar, shelves, and just bought a set of glasses. He's got almost everything he needs, but something is missing. Bar stools? Check. Tap handles? Check. Decor? Nope! Your 1st anniversary is a great time to surprise him with a totally awesome custom bar sign. He will love that you provided the finishing touch for his home bar and that you had it custom made just for him.
Custom Growler Set for the Craft Beer Lover
Your man loves drinking beer. He goes to his favorite bar so much that the patrons and owner greet him by name when he walks in the door. For Christmas, you got him a beer-making kit and now he's turned into an official home brewer! After a whole year together, what can you give him that is both meaningful and related to beer? How about a personalized growler and a pair of pint glasses engraved with his name? He will love having his very own pint glass to drink from when he's relaxing at home, and another to share with you or a friend. The glass growler is perfect for storing his latest home brew or to take to his favorite craft brewery to fill up. This set is truly one of the best 1 year anniversary gifts for him!
Unique Whiskey Stone Set
You and your husband have loved going to the shooting range together since the day he taught you how to shoot a gun. It's become a weekly activity on Saturday mornings and you two love to go to brunch afterward. Your 1 year anniversary of being married is coming up, and you want it to be something he'll like but also is meaningful. This unique whiskey set is your solution! The bullet whiskey stones are a nod to your favorite weekend activity and you two can enjoy a glass of scotch on the rocks together with the monogrammed glasses. Is this the coolest 1 year anniversary gift for him or what?
A Beer Cap Sign of His State
Whether he's from a different state or just has a lot of pride for where he lives, some guys just like to show off where they live. Sometimes it's through their favorite college football team, their own alma mater, or with a piece of decor. One of the most thoughtful and cool first year anniversary gifts you can give him is a bottle cap collector sign shaped like his home state! He'll display the unique piece of decor with pride in his home bar or kitchen. He'll love filling the sign with the bottle caps of his favorite beers, but the perfect companion to this sign is a six-pack of craft beers made from his home state!
A Unique Gift He'll Never Forget
The wonders of technology are at an all-time high in 2019 with long-distance touch lamps and virtual love letters sent through a cute box, but this custom soundwave print beats them all! Simply record a personal message such as "Happy 1 Year Anniversary", a snippet of a special song, or even a line from the first movie you watched together and turn it into a beautiful work of art! You can also show him what the soundwave is with their super cool app, which can play the audio of the print or even a video! Your boyfriend or husband will be in awe of this incredible anniversary gift.
Date Night Wine Gift Set
Can you believe it's been 365 days since you and your husband tied the knot? It's crazy how time flies when you're having the time of your life. The past year has been full of adventures, romance, and great memories. You want to give your hubby something nice for your anniversary that's romantic and maybe something you can use together, like this wine gift set! It has everything you need for the most romantic dates for your next year together. You can pop open the bottle of wine for date night with the handy corkscrew, pour them in the two wine glasses engraved with your last name, and drop the cork into the shadow box. You and your love will enjoy filling up the shadow box with the wine corks from every date night, after-dinner drink, and special occasion. With every cork you save, you also save the memory from that night. Can a 1 year anniversary gift for him be any more romantic?
Game of Thrones Beer Mug
The man in your life has been a big fan of Game of Thrones since it aired in 2011. He's had an annual tradition of re-watching the previous episodes before every new season, and this year he went all out for the last season. He got you hooked on it too in the year you've been together, and you love watching it with him and discussing the differences between the books and the TV series. One of the best possible 1 year anniversary gifts for him is a personalized beer mug that's engraved with "Beer is Coming," inspired by the famous Stark words, followed by his name. He'll get a kick out of it for sure! Just don't forget the beer to fill it up with!
A Gift Set with The Whiskey Essentials
Your husband prefers whiskey over beer or cocktails. Every time you go out, he always orders the same thing: scotch on the rocks. He also enjoys a glass after dinner most evenings. As his wife of 1 year, you know his routine by now. One of the best 1 year anniversary gifts for him is a whiskey-themed gift to improve his favorite drink, like this essential decanter set! Now he can show off his finest scotch with this gorgeous crystal decanter. Thanks to the whiskey stones, his drink will be chilled but never watered down ever again. With the gift box, he can store anything from his watch collection to bar tools. The engraving of his name on this set is just the cherry on top!
A Place for His Stogies
Your husband has been a classy guy who smokes cigar since the day you first met. Now that you're a year into marriage, you know by now the kinds of cigars he likes and you love to surprise him with a pack from time to time. However, you've noticed that he doesn't have a proper place to store them. He's got a little cigar case that holds two or three that goes with him everywhere, but he doesn't have a humidor or box at home to speak of. For your first anniversary, you should get him a proper cigar box to store them in! Engraved with his name and initial, it'll look great displayed on the coffee table or his dresser. You could fill it with a couple of his favorite stogies to make it even better. Now he'll be able to pick and choose what kind of cigar he wants to enjoy instead of being stuck with whatever he has in his pocket!
A Bouquet He's Sure to Love
You know your boyfriend or husband is getting you a lovely bouquet of flowers, so why not get him one too? These unique beef jerky flowers are as delightful as they are delicious. He'll be so surprised that you got him something so unique and awesome, and it's sure to get a few laughs. Bonus: the vase doubles as a glass! He'll want one of these arrangements for every anniversary.
A Nice Set of Whiskey Glasses

Your husband has a couple of lowball glasses for his evening scotch, but he mentioned that he doesn't have a nice set of whiskey glasses to use for special occasions. With your 1 year anniversary coming up, it's the perfect time to surprise him with these beautiful monogrammed whiskey glasses! The genuine 22k gold rim is eye-catching and gives the glasses a fancy touch. He'll love using these handsome glasses to serve a round of Old Fashioned cocktails or straight whiskey to friends and family members on New Year's, Christmas, Thanksgiving, and other special occasions.
The Best Gift for the Guy Who Loves Coffee
The love of your life loves coffee almost as much as he loves you. He can't function properly without it, and always has a vast collection of K-Cups on hand. After being together for a whole year, you know what kinds of coffees he enjoys by now and always get him some for holidays and occasions. For your first year anniversary gift, you should step it up a notch with this personalized coffee set! Thanks to you, he can bring 64 ounces of his favorite blend on the go with him to work. He can also take the personalized coffee mug to work so that he finally has his very own coffee mug and doesn't have to use one of the communal office mugs. He'll never be without his precious java again!
Personalized Flask Set
Your boyfriend is the kind of guy who enjoys all spirits from vodka to absinthe. He doesn't have a favorite, and has an incredibly high tolerance for it. Since you first started dating, he's mentioned now and then that he's always wanted a flask so that he can bring his own liquor to his friends' parties and have a sip whenever he wants. For your 1 year anniversary, a custom flask set is the best gift for him! He'll love that you remembered him saying he wanted one, and this one is custom made just for him. It even comes with two steel shot glasses, a funnel, and a matching engraved flask box.
Help Him Start His Own Home Bar
Your anniversary is the perfect time to surprise him with his own custom pint glasses and a tap handle! He'll love that he can write on the handle what kind of beer he's serving in his awesome home bar and that the set has his name on every piece. Helping him add to his custom home bar is one of the most thoughtful first year anniversary gifts you can give, especially if he's either just finished it or is in the process of building it.
Headphones as Durable and Long-Lasting as Your Relationship
Your man is always on the go. Whether he's out running or on a business trip out of state, he loves to have his music, audiobooks, and podcasts to keep him entertained while being out and about. He's got a cheap pair of headphones, but has to replace them every few months. With your anniversary coming up, you want to give him something nice that he'll definitely use. What's a better first year anniversary gift than a pair of high quality headphones? These wireless Bose earbuds have incredible sound, a secure design, and hours of battery life. They won't fall out while he's running or working out, and he won't be bothered by any crying kids on the plane ever again. Thanks to you, he can enjoy his music and podcasts better than ever before.
Finally, His Own Man Cave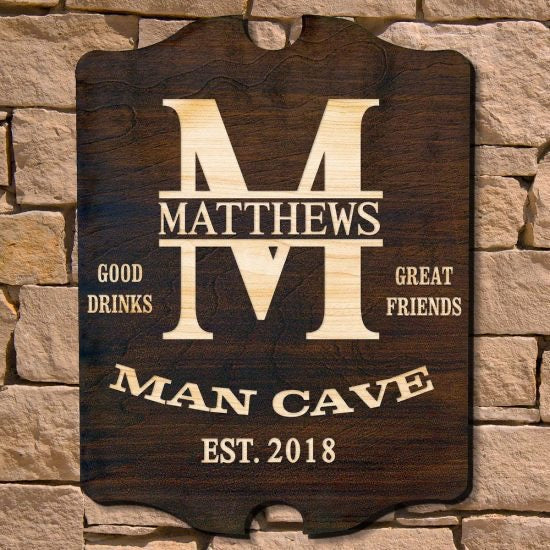 After being together for a whole year, your boyfriend has told you many times that he's always wanted his own man cave. He's even started putting it together! He's got the room, the TV, the couch, and the mini fridge. With this custom man cave sign, you can put the finishing touch on it and make it official on your first anniversary. He'll be so surprised that you got him such an amazing and customized gift! He'll want to hang it up right away so that all of his friends who visit can see it. You'll definitely be bragged about as the best girlfriend ever after this awesome gift!
269+ PERSONALIZED SIGNS FOR HIM>
Unique Whiskey Gift Set
The man in your life is a cool guy whose legendary tales of adventures are unmatched. He's an outdoorsy guy who loves to go camping and hiking with you and his friends, and always comes home with a crazy story to tell. Your first anniversary is coming up, and you're struggling to find a gift that's cool enough for him. He's the kind of guy who has everything and never wants anything for gift-giving occasions. However, he hasn't seen this set yet! This awesome personalized whiskey set is the perfect 1 year anniversary gift for him. He'll get a kick out of the unique whiskey stones and custom whiskey glass, but the coolest part of this set is the cigar flask. He'll want to have this flask and a stogie in hand when he's regaling his friends with his latest story as it makes him look even cooler than before.
Monogrammed Beer Stein
Nobody loves beer as much as your husband does. He would have majored in beer if he could! The shed in the backyard has become his own home brewery and he's seriously considering opening his own microbrewery in town. As his wife of one year, you've been to various antique shops together as he searches for vintage beer signs and glasses. With your anniversary coming up, you're looking for something beer-related to give him. This monogrammed ceramic beer stein is the perfect anniversary gift! It's a personalized, vintage beer glass, it can't get any more perfect than that! He'll love adding this beautiful stein to his collection. Just don't forget to get a case of his favorite beer as well!
A Game Set He'll Use All the Time
The guy in your life loves to have game nights with his friends whether they're playing video games, poker, board games, billiards, or card games. He's got tons of each, but you've noticed that the poker set he picked up at a garage sale a few years ago has gotten kind of worn out and some pieces are missing. Why not surprise him with a brand new personalized poker set? The perfect gift for your 1st anniversary, he'll be so happy to have a nice new game set. It's not just for poker after all, he can use the cards and dice for other games like Wichita. The best part is that the set comes in a handsome faux leather case that's personalized just for him.
The Best Paper Gift: Book of the Month Club Subscription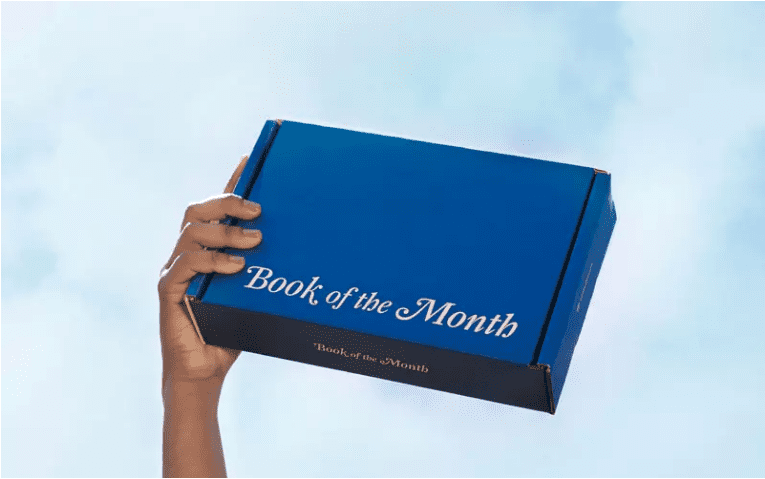 You and your boyfriend or husband love to read. You're both nerds who love Harry Potter, Game of Thrones, Lord of the Rings, and other classic series. One of your favorite date nights is where you two go to the used bookstore and come home with an armful of books. What's a better 1 year anniversary gift for him than a book of the month subscription box? Each month, he'll get a brand new book that you pick from the five suggestions. This is the cutest paper anniversary gift for guys who love to read!
Make Your Boyfriend's Commute Easier
One of the most thoughtful first anniversary gifts is something that helps or solves a problem you've noticed your boyfriend dealing with. It could be something as simple as not having a travel cup for his long morning commute! This insulated travel tumbler will hold 32 ounces of his favorite coffee and will keep it piping hot for hours. That's right, hours! Thanks to your sweet gift, he'll have plenty of coffee to keep him energized until lunch time.
A Cool Whiskey Decanter
Your husband is the kind of guy who enjoys a classic scotch on the rocks after dinner every day. It's become a routine of his to unwind after a long day with his favorite glass in hand. You don't mind, of course, but having the bottle on the counter isn't exactly attractive decor for the kitchen or dining room. You've been married for a year now, so why not get him a whiskey decanter? This will not only solve your problem, but will actually add a lovely touch of class to the room while giving him a great 1 year anniversary gift. He'll love being able to display his favorite scotch and pour his evening drink with style. The engraved monogram of his initials is just the cherry on top of this incredible decanter!
Personalized Flask
Your husband is a cool guy who enjoys a stogie now and then to unwind after a long day after work. He's known by all of his coworkers and friends as a connoisseur of fine liquors and they often ask him for recommendations. Your 1st wedding anniversary is coming up, and you're not sure what to get him. He's got a full home bar, a cigar humidor, and says he doesn't want anything. But does he have a flask or cigar case to bring with him on the go? This cool flask is both in one! Now he doesn't have to wait until he gets home to enjoy a stogie and a drink. You can even make it extra amazing with a customized engraving of up to three unique lines of text, such as "Benjamin Jones, Coolest Husband Ever, Since April 11th, 2018." You can make it as romantic or as cool as you wish, and he'll love that you made it unique just for him.
Whiskey Set for Two
You enjoy drinking whiskey just as much as your husband does. The two of you love to have an Old Fashioned or a Whiskey Sour together after dinner. He enjoys trying new brands and cocktails, and you're always willing to try his newest concoctions. For your 1 year anniversary gift, you should get him a proper whiskey tasting set that the two of you can use together! The two glasses are the perfect size for a shot or a classic cocktail and the whiskey stones will keep your drinks cold without the hassle of ice. Best of all, you can customize the engraving on the box to be anything from "1 Year Down, Forever to Go" to "Anderson's Whiskey, Since August 11th, 2018."
Concert Tickets to His Favorite Band as His Paper Anniversary Gift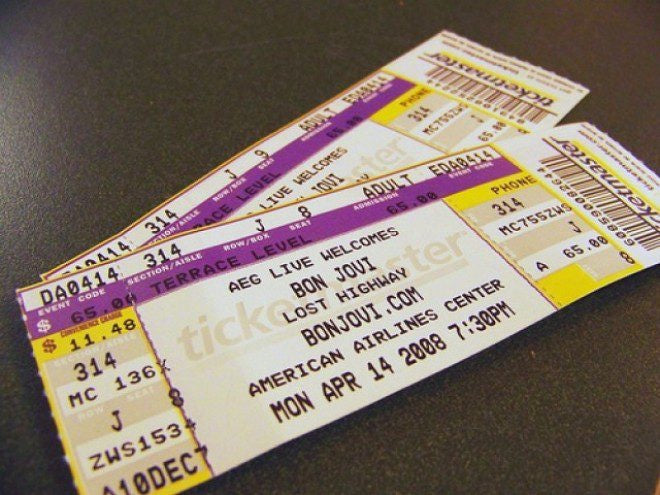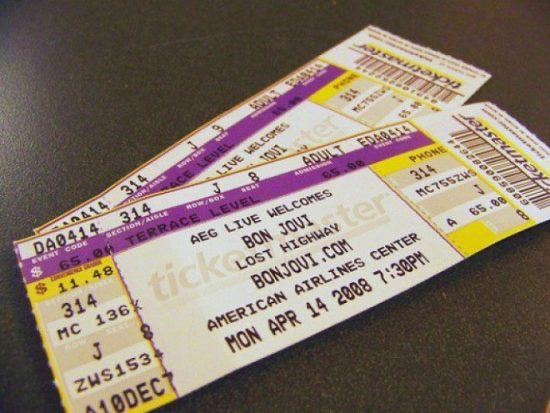 According to etiquette, the traditional 1st anniversary gift is paper. It might sound boring and weird, but you can get really creative with it! You could make him a custom card, a picture to display if you're an artsy woman, or event tickets! Surprising him with concert tickets to his favorite band would be one of the sweetest first year anniversary gifts you can give. It doesn't matter when or where they're playing, even if it's months away and a cross-country trip. He'll love that you got him such an amazing gift for you two to attend together! After the concert, you can save the ticket stubs in a photo album so that he can always remember your amazing first anniversary.
The Ultimate 1st Anniversary Gift for a Beer Lover
Is your guy a total beer lover? He's a cool guy that always gets free drinks from random people, wins drinking competitions, has the record for staying on the bucking bull the longest, and has the most knowledge about beer than anyone else in the city. What can you get a guy like that for your 1st year together? You want it to be meaningful, of course, but it should also be cool and useful. That's where this ultimate beer gift set comes in! Complete with a beer growler, bottle-opening coasters, and two pint glasses that are all personalized with his name, he'll be in awe! He'll never be without a bottle opener or a proper pint glass ever again thanks to your amazing gift. He'll love that he can bring plenty of beer with him when he goes to a BBQ or a party, too. This incredible gift set will for sure make you the best girlfriend or wife ever!
139+ AMAZING 1 YEAR ANNIVERSARY GIFTS FOR HIM>