You've gotten your husband some pretty amazing gifts over the years. Now that your 10 year wedding anniversary is here, you're probably trying to figure out what to get that could top your previous gifts. According to etiquette, the traditional 10 year gift is aluminum or tin while the modern gift is diamonds. Of course, non-traditional gifts are always a good idea if diamonds or aluminum isn't his style. What kind of unforgettable 10 year anniversary gifts for men can you get? Don't worry, we found plenty of unique gifts that are as amazing and thoughtful as they are practical and useful for your husband.
Personalized Ammo Can Whiskey Gift Set
A 10th anniversary is a big deal, so you should get your husband a special gift like this awesome ammo can gift set. It comes with two whiskey glasses for you to share a glass of scotch together at dinner, a new axe for him to use for yard work, a cigar cutter, and a cigar-holder liquor flask for when he feels like a sip of his favorite spirit and a cigar. Plus, the ammo can is made of aluminum so that you have a little bit of the traditional gift included! The best part about this set is definitely the engraving on the glasses, ammo can and flask: " [His Name] The Man. The Myth. The Legend." Every time he uses a piece from this set he will feel like the coolest guy in the world. He'll love every piece in this set and use them all the time. This incredible 10 year anniversary gift for him is both thoughtful and practical, making it the perfect gift.
A Handsome Whiskey Decanter Set for Him
While this set doesn't have anything made from diamonds or aluminum, each beautiful piece is made from the finest crystal glass. He'll love this amazing 10 year anniversary gift for him and will want to keep the whole set on display. The decanter is personalized with his name while the handsome twist glasses feature his initial. He can use the set for celebrating special occasions such as this, or use it every day! He'll love having a cool decanter to display and serve his favorite liquor, which will look lovely in the dining room, lounge, or home bar.
Personalized Cutting Board
Does your husband enjoy cooking? Then a gorgeous raw acacia wood cutting board is one of the best 10 year anniversary gifts for him! This hardwood board is perfect for everything from chopping to seasoning, and will look very nice in your kitchen. He'll love using it for every meal, and will want to use it immediately to prepare a delicious anniversary dinner for you. The included engraving of his last name and initial is just a sweet bonus to this awesome cutting board!
A New Diamond Wedding Band
The modern 10 year anniversary gift is diamond jewelry, and by now it's probably time for a new wedding band. This handsome ring is made of tungsten carbide and has 1 total carat weight diamonds. Why tungsten carbide? Tungsten is one of the most durable and strongest metals, which is why it is becoming more and more common for men to wear. Your husband will love getting a gorgeous new wedding band and proudly tell everyone that it signifies 10 years together with you.
Anniversary Date Whiskey Set
This whiskey gift set is simple, but elegant. Your husband will love having a nice new set of glassware for his nightly glass of bourbon and for serving guests who come over. He can display his favorite whiskey in the decanter on his home bar or lounge area, which will add a touch of class to the room. Each piece in this set is personalized with your wedding date and names as a thoughtful touch. Everything about this lovely set makes it one of the best 10 year anniversary gifts for men!
Beer Mugs for Two
Do you and your husband enjoy sharing a beer over dinner or while watching your favorite sport together? Then a set of two beer mugs is the best 10 year anniversary gift for him. The two of you can now enjoy a classic, big mug of beer whenever you want. These mugs are large, insulated, and even personalized with a unique Mr. and Mrs. design. You could pair these mugs with some of his favorite snacks or a six-pack to make it a complete anniversary gift.
163+ MORE BEER MUGS HE WILL LOVE >
Unique Silver Whiskey Set
Want to give your husband a gift somewhat traditional? These glasses have handsome silver rims, which are not quite aluminum or tin, but close enough. He will love these unique whiskey glasses and a cool decanter to enjoy his evening scotch with class. This 5 piece set is elegant enough for formal occasions but not too fancy for everyday use. A high quality set of glassware such as this one is one of the best 10 year anniversary gifts for men you can give!
Beer Growler Set for the Home Brewer
Does your husband enjoy craft brew or making his own beer from home? Either way, a quality growler gift set is the perfect 10 year anniversary gift for men who love beer. The amber glass growler is specially designed to store his beer and keep it both fresh and unaffected by sunlight. It even holds up to 64 ounces, which is perfect for him to bring to BYOB parties, cookouts, or on vacation and have plenty to share with you. Also included are two pint glasses for you two to share a couple of cold ones over your anniversary dinner or taste test his latest batch of home brew.
Mr. and Mrs. Whiskey Glasses
Why not celebrate your anniversary like it's your wedding day all over again? You probably got a set of champagne flutes or wine glasses that have "Mr." and "Mrs." as a wedding present, but nothing like these! You two can toast to your happiness and love for one another with these two his-and-hers whiskey glasses. These unique glasses feature a silver base, which keeps the glasses elevated to prevent condensation rings. He'll love the using these at your anniversary dinner, evening drinks together after work, and date nights.
Brandy Warmer Set
There's nothing like a warm glass of brandy on a cold day. Your husband has grown to love his brandy over the years, and knows it is best when warmed, but he doesn't have a quality warmer set like this! This unique gift comes with a large brandy snifter, a stand to hold the glass, and a tea light candle at the bottom which will gently warm the brandy to the perfect temperature. Now he doesn't have to drink subpar brandy that's barely warmed from holding it! He'll love being able to enjoy brandy like a true connoisseur. Make sure you include a bottle of his favorite cognac and a set of cigars to make a complete 10 year anniversary gift for him!
Wedding Song Soundwave Tin Sign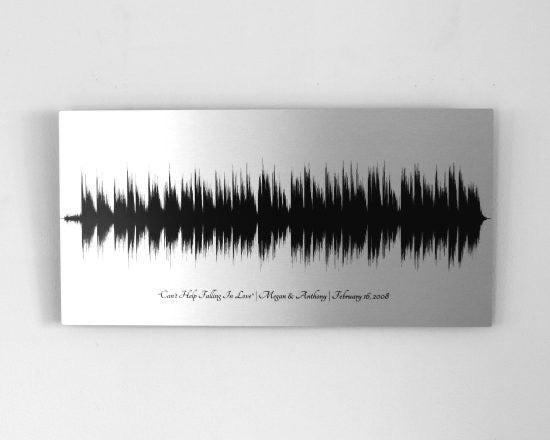 What's a good 10 year anniversary gift for men that is cool, thoughtful, and unique? A custom tin sign printed with the soundwaves of your wedding song! He'll be so surprised that you found him such an incredible gift. Every time he looks at it, he'll remember your wedding day and dancing with you for the first time as your husband. This sign is one of the most thoughtful and personal gifts that you both can treasure forever. Plus, it'll look super cool wherever you hang it!
Awesome Cigar Gift Set for Him
Is your husband a cigar fan? Then you've found the coolest 10 year anniversary gift for him! This cigar gift set comes with an incredibly cool whiskey glass that has a special groove for holding his cigar, a cigar cutter, lighter, and a set of whiskey stones. He'll absolutely love using the glass for his evening scotch, poker night with friends, and for a romantic evening with you. He'll want to try out the cigar holder, cutter, and lighter right away, so make sure you also include a couple of his favorite stogies!
Diamond Liquor Decanter
Want to give your husband a cool gift inspired by the modern tradition of giving diamonds? This super cool liquor decanter shaped like a diamond is the perfect 10 year anniversary gift for him! He'll love the unique, regal design of the decanter, which will look great displayed anywhere in the home. He can use it to hold his favorite whiskey, rum, tequila, or vodka, and will want to pour all of your guests a drink with it. You could include a bottle of diamond vodka or double diamond whiskey to make it a complete themed anniversary gift!
275+ MORE AWESOME LIQUOR DECANTERS FOR HIM >
Personalized Sign
Want to get your soulmate something simple and sweet? This beautiful sign is one of the most thoughtful 10 year anniversary gifts for men like your husband. He'll love that you took the time to get him something so personal that you both can keep forever. He can hang it in the living room, dining room, entryway, anywhere! This lovely piece of decor will go with anything in your house and make it feel a bit homier and will last another decade until your 20th anniversary.
Beer Stein with Pewter Crest
With this handsome beer stein, the love of your life can drink his favorite beer like a true connoisseur. Based on traditional lidded steins from Germany, this stein is perfect for enjoying all kinds of beers like a king and makes it the best 10 year anniversary gift for him. He will want to use it for drinking beer all the time as the mug will keep his beer colder than your average glass and the lid helps extend the life of the head, making an overall better beer. You could pair the stein with a beer bucket or a couple of packs of his favorite beer to make a themed anniversary present!
Bluetooth Record Player
Does your husband love his vinyl collection but could use an upgrade to his record player? This incredible 6-in-1 record player will replace not only his record player, but also his CD player, speakers, cassette player, and radio! That's right, this is the ultimate 10 year anniversary gift for men who love their music. It's also Bluetooth compatible so that he can stream his Spotify station from his phone through it! The vintage style will look great in your home or his office, and he will be so happy to have such a great all-in-one music player.
Beer Gift Set for Two
Are you and your husband beer fans? This gift set is for both of you to enjoy! With two pint glasses, two bottle-opening coasters, and a shareable growler, you and your man have everything you need to enjoy a couple of cold beers. The growler is perfect for bringing his favorite beer (or yours) along when you two go to a cookout, the lake, camping, and more. It's insulated so that anything inside will stay cold for hours! He'll love the cool wooden coasters with the hidden bottle openers so that he never has to hunt for a bottle opener again. Raise a pint together and toast to 10 wonderful years together!
Start A New Collection Together
Starting a collection together whether you're newlyweds or have been married for 10 years is a romantic, relationship-building exercise that is also tons of fun. With this shadow box, you can start a whole new collection together! Whether it's ticket stubs, wine corks, bottle caps, fortunes from fortune cookies, or shotgun shells, you two will have so much fun building up a collection together. Your husband will love watching the shadow box fill up starting on your 10th anniversary until the next. You could gift him movie or concert tickets to start collecting ticket stubs, or a bottle of wine and save the corks! The possibilities are endless for this amazing 10 year anniversary gift for him.
Travel Mug for Him
Whether your husband is always on the go for work or for fun, he needs a quality travel mug to hold all of his coffee, tea, or water. This stainless steel mug is one of the simplest and most thoughtful 10 year anniversary gifts for him. While not a big extravagant present like some of the others here, you know it's something he needs and will appreciate. He'll use it every single day and think of you, his beloved wife, who has been by his side for over 10 years now.
Globe Whiskey Set
Whether your husband already has, is, or wants to travel the world, this globe whiskey set is one of the most incredible 10 year anniversary gifts for men. He'll marvel at the finely detailed etching in each piece and the delicate glass ship sailing inside the decanter. The two of you can share an exquisite glass of scotch with the two glasses at your anniversary dinner and reminisce about your vacations from the past 10 years. Plus, this amazing set will look gorgeous anywhere in your home!
A Samsung Galaxy Smartwatch
Smart watches are all the rage in 2019, which makes it a great gift for your husband! After 10 years together and growing up through the fast-paced technology era, it's time to check it out. The best part about this Samsung Galaxy watch is that it looks like a regular men's watch, so you know he'll love it. His new watch will track his sleep, exercise, heart rate, stress, receives his texts and calls, and is even swim-proof! The Galaxy smartwatch is by far one of the best 10 year anniversary gifts for men in 2019.
Unique Whiskey Glass Set
Your husband of 10 years probably has a couple of rocks glasses, but he doesn't have anything like these. The two uniquely sculpted glasses are crafted to fit comfortably and securely in the hand, and will make him feel like they were made just for his hands. Also included is a set of whiskey stones that will chill his scotch, but won't water it down so that he can enjoy the full flavors. This set comes with two glasses and plenty of stones for you two share a nice drink at dinner together for your anniversary.
Anniversary Wine Glasses
133+ MORE INCREDIBLE 10 YEAR ANNIVERSARY GIFTS FOR HIM >