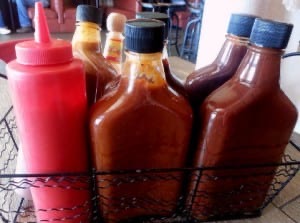 Steak is the gold standard of dinner party fare. Chicken breast is passable, shrimp is nice too, but nothing says, "This is an awesome dinner," quite like a juicy slab of grilled beef. Everyone has their own secret steps for cooking a great steak, from proper seasoning to knowing that exact moment when glistening cut of meat is ready to be removed from the flame. Equally important, though, is how the steak is served at the table. Side dishes are important, but let's not lose our focus. Nobody leaves a dinner party and updates their Facebook status to say, "Awesome party! The green beans were rockin'!"
Buying a quality cut of beef is a good start, but flavor has to be considered from start to finish. Nothing ruins a beautiful platter of grilled perfection faster than a cold bottle of ketchup pulled from the refrigerator door and squirted all over the place. Some people consider steak sauce to be a cop out; a lazy person's attempt to add flavor, and if you are a terrible cook, that's true. So we searched for the best steak sauces to make at home. A great mixture of fresh, tasty ingredients adds a finishing touch that makes meat truly memorable. If you don't know how to make steak sauce, you're in luck. Here's list of great steak sauce recipes, suitable for all cuts of meat. You'll probably want to spoon a little onto the green beans, too.
Red Wine Steak Sauce
Red wine is a classic companion for beef dishes, and steak is no exception. Red wine steak sauce is extremely easy to make, especially if you're grilling on the stovetop. After you've finished cooking your steaks, remove them from your skillet or grill pan, and place them on a platter to rest. Using the drippings that are still in the pan, slowly pour in about half a glass of red wine. If you've been using an outdoor grill, simply melt a little butter and olive oil in the pan, since you won't have any drippings. Stir the mixture frequently over medium heat until it gets just a little thicker, then add half a cup of beef broth. Continue to heat for a few more minutes while the sauce gets slightly thicker. For an added touch, use wine from the bottle you plan to serve with dinner so that the flavors will blend perfectly.
Balsamic Butter Sauce
Another easy steak sauce to make is balsamic butter, and the recipe is almost as simple as the name. Heat 2 tablespoons of butter, along with 2 tablespoons of olive oil, over medium high heat. Once the melted butter starts to brown, remove from the heat and add three quarters of a cup of balsamic vinegar. Stir in a few pinches of salt and pepper, and you're done! If you've got minced garlic, or fresh herbs, these can be added for a little extra flavor, but the combination of butter and balsamic vinegar is hard to beat.
Habanero Peanut Sauce
Peanut sauce is a long time favorite in chicken dishes, but spice it up a little and it's perfect on steak. Start with a cup of all natural peanut butter. Avoid the kind that has lots of added preservatives, because it won't blend easily. To your peanut butter, add 2 tablespoons of soy sauce, 2 tablespoons of sugar or honey, and 5 or 6 dashes of your favorite hot sauce. Habanero hot sauce pairs wonderfully with the peanut butter, but any pepper sauce will work. Keep stirring until all ingredients are well blended. Minced garlic is a nice addition, as well.
Mushroom Bourbon Steak Sauce
Sweet, smoky bourbon is great for bringing out the natural flavors in a good steak. For this mushroom steak sauce, start by heating 2 tablespoons of butter in a pan, then add a quarter cup of chopped onions, and one clove of minced garlic. Chop four, medium sized fresh mushrooms as finely as possible, and add to your pan once the onions have started to turn transparent. After cooking for another 5 minutes, remove from the heat, and add half a cup of your favorite bourbon and 2 tablespoons of balsamic vinegar. Stir the sauce for about 1 minute, then add nutmeg and freshly ground pepper. After another minute of stirring, add one cup of heavy cream to the mixture. Truly one of the best steak sauces to make at home, this creamy delight is awesome with pork chops, too.
Triple C Sauce – Creamy Chipotle Cilantro
It took me a long time to perfect the Triple C Sauce, but it's one of my favorites. This creamy sauce has a smoky flavor that makes even hamburger steak taste like a blue ribbon dish. In a mixing bowl, blend a small can of chopped chipotle peppers in adobo sauce, with one cup of plain greek yogurt. If your local market has fresh chipotle peppers, even better, but don't forget to clean out all of the seeds. After stirring for a couple of minutes, add 2 cloves of minced garlic and just a pinch of dried cumin. Squeeze in the juice of one fresh lime, and stir until completely mixed. Sometimes, I add 2 or 3 dashes of Cholula chipotle lime hot sauce as well. Fold in one quarter cup of fresh chopped cilantro, and chill for about 30 minutes before serving. A little goes a long way with this homemade steak sauce.
Brandy, Tomato & Peppercorn Steak Sauce
A great twist on commercially available products, this brandy peppercorn steak sauce is perfect to make in advance and bring along for camping and tailgating. Mix together one quarter cup of each of the following: raspberry jam, brandy, tomato sauce, and white wine vinegar. Add 2 tablespoons of worcestershire sauce, and 5 drops of sriracha. Finally, stir in one and a half teaspoons of freshly ground black or green peppercorns, and a pinch of salt. This sauce will last for up to 2 weeks in the refrigerator, but we recommend serving it at room temperature.
Juniper Gin Sauce
This is the most unusual steak sauce on our list, but it's absolutely worth a try. Start by heating 1 cup of chicken broth over medium heat. If you've cooked your steaks in a skillet, add the drippings to the broth or use the same pan. Add one teaspoon of ground allspice, and one teaspoon of freshly ground black pepper. Once you're starting to see a few bubbles coming up from the bottom of the pan, add a quarter cup of gin. If you can find dried juniper berries, grind a few in a spice mill and add them to the mixture, up to 4 teaspoons worth. After simmering for 5 minutes, remove from the heat and allow to cool for another 5 minutes. Carefully mix in three quarters of a cup of heavy whipping cream, and stir until completely blended. This creamy steak sauce has a surprising flavor that varies greatly, depending on the gin you use. It makes a better story, though, when you tell your guests you used Beefeater.