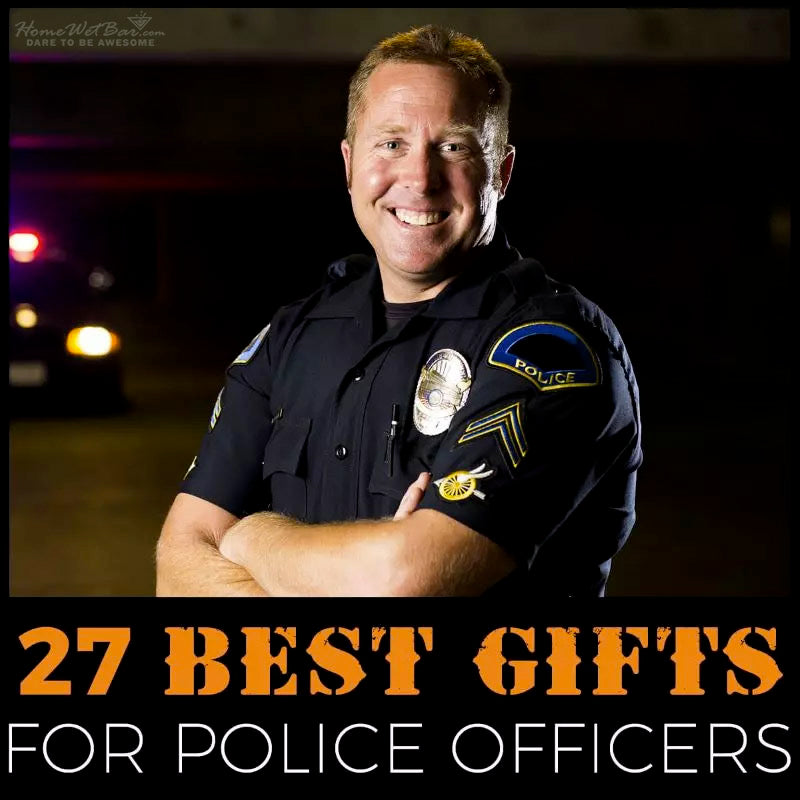 27 Best Gifts for Police Officers
Honor Those Who Protect and Serve With One of These Amazing Gifts for Police Officers:
Every day, police officers all over the country risk their lives to protect and serve their communities. Our boys and girls in blue deserve our appreciation, and giving gifts for police officers is a great way to show the officers in your life that you care and thank them for their hard work. However, finding an appropriate gift can be a difficult task. You want to give the police officer in your life a nice gift that will not only show your appreciation and respect for him/her, but you also want them to genuinely enjoy and use your gift. You might be wondering: What are good gift ideas for police officers? What kinds of gifts help an officer relax when they are off duty? What makes a good police retirement gift? What is a nice thing to do for police officers? Whether you're looking for academy graduation, promotion, birthday, retirement, or an appreciation gift, we have everything you need and more to find your police officer the perfect gift.
The Perfect Police Gift
Fill the officer in your life with joy with these police gifts they'll want to fill just as quickly when you get them a personalized decanter set that has their name and badge number engraved right into it! This is the perfect gift that lets them celebrate milestone occasions in their career or even enjoy a relaxing night in. A cocktail or neat glass of whiskey from this police gift set is a great way to celebrate catching a baddy or even as a way to relax and put their feet up after a day of hard work. In fact, they'll love this set so much, they'll make you stop in the name of the law to give you the biggest "Thank you," ever!
Thin Blue Line Customized Wooden Sign
You're looking for police officer gifts that are unique and show your appreciation for their service. This handsome personalized wooden sign is what you've been searching for! Handcrafted from birchwood, this personalized sign features a vintage-looking black and white American flag with the signature thin blue line over two lines of text of your choosing. A lieutenant or captain would love this custom sign for their office or it would be an awesome birthday or appreciation gift for the officer in your life.
Classy Police Officer Gift Basket
Show the cop in your life how amazing you think they are with this classy whiskey gift basket! They'll feel like the coolest and most important police officer as they sip their favorite scotch from their new elegant whiskey glasses. They'll especially enjoy sharing a drink with their spouse or their partner using this set after a long shift. Thanks to your impressive gift ideas for a police officer, they will be able to enjoy a nice relaxing drink in style to help them unwind.
Take a Shot at Giving the Coolest Police Gift
Looking for multiple gifts to give to the cops in your life? look no further than these badass .50 caliber bullet bottle openers. Seriously, these are made from real bullets! How cool is that? Aside from having their name engraved on the side of the shell, you know for a fact this will be one of the coolest gifts that the whole squad can use to crack open a cold one at home or even to pop open a bottle of cola at the office too!
Personalized Whiskey Decanter – Promotion Police Gift
Does the cop in your life enjoy fine spirits? Then he'll love this whiskey decanter to display his favorite cognac, bourbon, or single malt whiskey. The decanter will be the statement piece of his home bar to pour his fellow officers a glass from after a grueling day. Just as beautiful as it is functional, the decanter is made from the finest crystal and personalized with a police badge design. This custom gift for police officers has the name and badge number of your choosing laser etched on the decanter forever.
Arm Them With Badass Police Officer Gifts
Ensure the officer you're getting a gift for has everything they could ever need to celebrate a bust in a big case with this badass engraved ammo can police gift set! They'll be using these glasses every time they need to toast to a job well done with you or their partner! Better still, you won't even need to wrap these police gifts because it comes inside this awesome ammo can that makes a fantastic gift box that they can also use to store their gifts, ammo for the range, or even to keep their tools in too!
Personalized Insulated Travel Mug Gift for Police Officer
Police officers survive on coffee to ensure that they are awake and energized for the entirety of their shift. This vacuum insulated mug is made of stainless steel and double-walled for maximum temperature stabilization. This mug will keep his coffee piping hot for 6 hours or his ice water chilled for 24 hours! Your officer and his partner will never mix up their drinks again with the engraved police badge emblem that has his name and badge number on it. A travel mug is one of the best gifts for police officers you can get for any cop.
A Tactical Whiskey Decanter
This police gift will put a whole new spin on taking shots off the clock. Every officer will love this unique shotgun decanter for their home bar, officer, or as a display piece for their work office. It is not only a ton of fun to look at, but the shotgun shells in the glasses make it a blast to have shots or whiskey on the rocks from! Whether they're hanging out with family, friends, or fellow officers, you can be sure they'll want to take this decanter out to enjoy a few shots together!
300+ WHISKEY GLASSES COPS WILL LOVE>
Smith & Wesson Police Watch
Working 10 or 14 hour shifts a day, police officers can easily lose track of time. Give the officer in your life a Smith & Wesson watch that has a handsome blue face and a small police badge design. This tactical watch has everything an officer needs: date, back light, glow in the dark hands and markings, an adjustable and durable nylon band, and it is water resistant up to 90 feet. This watch would be a great gift for a police academy graduate or as an occasion gift for an active duty officer.
Thoughtful Police Officer Gift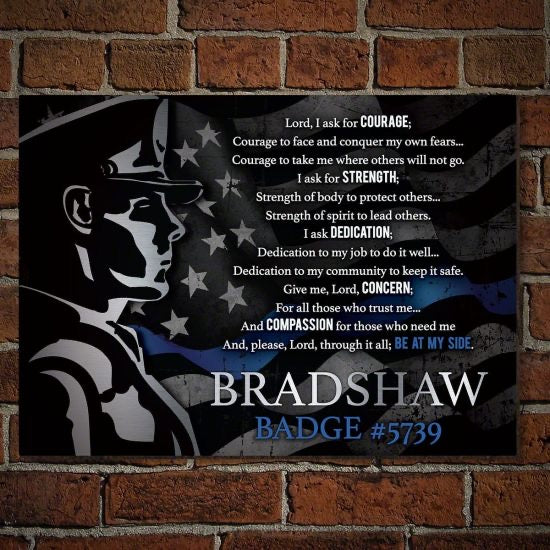 What is a nice thing to do for a police officer? Show them that you're always thinking of them by giving them this personalized police officer's prayer sign! With this awesome sign displayed in their home, they'll be reminded of you and your thoughtfulness for such a nice gift every time they see it. In fact, they might read the sign's prayer to themselves every time they're about to leave for work. Any officer currently serving or even a new police academy graduate will appreciate this amazing sign as a gift.
A Fun Gift to Enjoy After Work
After a long shift, every cop just wants to come home and relax. One of the best police gifts you can give an officer is something fun to enjoy with their friends and family, like this cool poker set! Perfect for starting up a weekly poker night with their fellow officers or their buddies, this poker set has everything they need for all kinds of poker from Blackjack to Texas Hold 'Em as well as family-friendly games to enjoy with the kids such as Farkle and Go Fish. This versatile gift is even portable so that they can take the fun anywhere!
Everyone needs a wallet to hold their money and ID, but police officers especially need them to also hold their badge. This bifold wallet has plenty of space for cash, cards, and a slot for his police badge with a cover to keep it hidden while undercover and protected from wear. Made from genuine leather, this simple but incredibly useful gift for police officers is something they will definitely need and greatly appreciate. Undercover gear make the best gifts for police officers who are detectives or secret operatives.
An A.P.B. on a BYOB Gift
Not all awesome tactical tools need to come in a nifty matte black finish; in fact, some can be as rustic looking as this fantastic beer caddy. You never want to have a police officer under-prepared for any situation they could be facing, and when they're heading to a picnic, BBQ, or tailgate, you want them to be ready with their beer. This gift even has a built in bottle opener right above their engraved name, how cool is that?
A Car Seat Organizer for the Tidy Police Officer
Believe it or not, squad cars can become cluttered very quickly. Help the police officer in your life with this handy adjustable car seat organizer! With a dozen pockets for everything you can think of, this organizer will help any officer have everything in order to make his job a little bit easier. The attached strap secures it to the seat's headrest or it can be used as a shoulder strap to carry when needed. This is a great gift for detectives, troopers, and all officers who like to be organized. Organizers for the car or the office are always nice gifts for birthdays, holidays, and appreciation.
Unique Gifts for a Police Officer
Do you know a police officer who enjoys the occasional cigar? This humidor gift set will make sure that they can enjoy a stogie whenever they want! The humidor keeps their favorite cigars in perfect condition so that they can stock up or even share a few cigars with their friends while the cigar case makes it super easy to take a few stogies on the go. This cigar gift set is one of the coolest and most unique gifts you can give a cop, and makes an especially great promotion or retirement gift so that they can celebrate with a nice stogie as soon as you give it to them.
Appreciation Gifts for Police Officers You Can't Beat
Go all out with this stunning whiskey decanter gift basket to show the officer in your life just how much you appreciate everything they do as a cop! By far one of the most impressive personalized gifts for police officers, this decanter set is great for any cop to enjoy a relaxing drink with their fellow officers off duty or to celebrate special occasions and holidays with their friends. The best part is that you can get creative with the personalization so that it's especially unique for them, which makes it even more meaningful.
A Police Gift to Show Off Their Pride
Give them a reminder of their source of pride that they can display in their office or home with this engraved flag case. With a plaque and that has their name on it they can fill the case with the American flag or Thin Blue Line flag to have a constant reminder of what they put their life on the line for each day. This flag case has got to be one of the most sentimental gifts you can give an officer.
Bulletproof Sunglasses for Police Officers
Everyone needs a good pair of sunglasses, but police officers need a pair that is comfortable, anti-fog, impact-resistant, and bulletproof. These tactical sunglasses meet all of the requirements a police officer needs: the polarized lenses block 99.9% of UV Rays, the durable frame is impact resistant and contours to your head, and the entirety of the sunglasses are bullet and scratch proof! Sunglasses like these make nice police officer gifts for birthdays or holidays. These sunglasses are the best gear for police officers of all ranks from academy graduate to captain. Even veterans and retired officers still swear by them and only want to wear them instead of regular sunglasses.
500+ GIFT BOXES COPS WILL ENJOY>
Unique Gift for Cops to Share with Their Loved Ones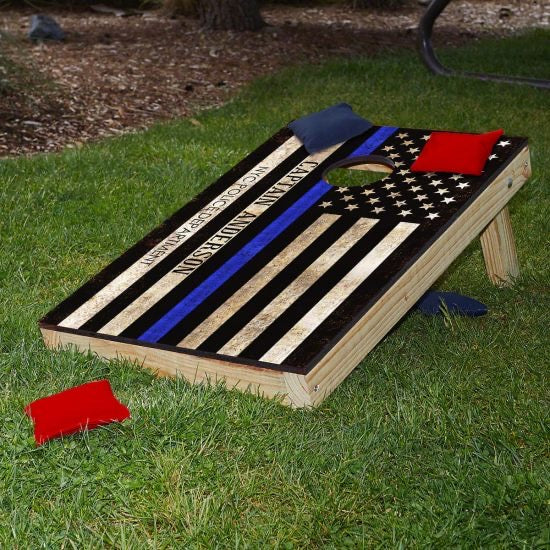 As a police officer, they don't get a lot of time to spend with their family and friends due to their ever-changing schedule and long shifts. When they do have some spare time, make sure they're making the most of it by playing a game with this unique gift! Cornhole is a classic, easy-to-play game that even the kids can enjoy so that it's great for family game nights, reunions with the whole extended family, parties with friends, and just hanging out with their fellow officers off duty. Thanks to your thoughtful gift, they'll be making all kinds of fun memories with their loved ones every time they're off the clock.
Take a Swing at Getting a Great Gift
Novelty gifts for police officers are always well-received, and they're a lot of fun to give. One thing that officers have been famous for over the years are their activities outside of the force, one of which has long been a baseball league! However, you can step things up a notch in the world of classy gift-giving with this baseball bat decanter set! This is the perfect way for them to have a toast with their fellow officers after beating the firemen in their annual baseball game!
Personalized Beer Gift for Police Officers
You can never go wrong with personalized beer mugs as gifts for police officers. It's a classical gift that anyone can use, even if they don't actually drink beer. These mugs are nice, large glasses for any beverage if your officer is more of a soda kind of guy. This beer mug is personalized with a police badge engraving featuring the badge number and name of your choice. Any cop who loves a big ol' mug of beer after a day at work will enjoy this unique gift for police officers.
Engraved Ammo Can Humidor
Police serve and protect, right? So, you should serve and protect their cigars for them! This way, while they are clearing the streets of bad guys and locking them away, your engraved ammo can humidor can lock away their cigars from any humidity or dry air that could potential spoil them. Humidors are great gift ideas for police officers when they're retiring, getting promoted, or even having a birthday!
Tactical Gift Set for Police Officers
If there is one thing that police officers are not, it is stationary. They are always on the move. So get them a gift that they can always keep on their person with this awesome travel set. Aside from being a sweet gift set, they'll love that you think of them as a legendary figure in their life! Now, when they have early morning or graveyard shifts, they can be kept alert and awake thanks to their coffee tumbler and they'll always be ready with their knife too. Is there a cooler, more unique set of police officer gifts out there?
A Sign of an Awesome Police Gift
After being out all day on patrol, sometimes the last thing they want to do is go out to relax. One of the most thoughtful ways you can help them out is by making their home the place to be when they want to de-stress. With this home bar sign, you've made it a breeze for them to officially claim their house as the unofficial police bar. Or, it could be the help they need to finally make the home bar they've been talking about for all these years!