Every day, police officers all over the country risk their lives to protect and serve their communities. Our boys and girls in blue deserve our appreciation, and a gift is a great way to show the officer in your life that you care and thank them for their hard work. However, finding an appropriate gift can be a difficult task. You want to give the police officer in your life a nice gift that will not only show your appreciation and respect for him/her, but you also want them to genuinely enjoy and use your gift. You might be wondering: What is a good gift for police officers? What kinds of gifts help an officer relax when they are off duty? What makes a good police retirement gift? What is a good police dad gift? Whether you're looking for an academy graduation, promotion, birthday, retirement, or an appreciation gift, these 27 Best Gifts for Police Officers have everything you need and more to find your police officer the perfect gift.
Police Badge Custom Whiskey Box Set
Want to show appreciation for the police officer in your life, but don't know what to get? A boxed gift set is always a great gift idea, especially if they love to relax with a drink after a long day. This custom engraved box set has a matching engraved whiskey glass, a 9 piece set of whiskey stones, and a matte black flask that can also be personalized to make a matching set. To make this gift set really great you can include a few miniature sample bottles for him. Your officer will never have a watered down glass of scotch again with the whiskey stones and he'll be able to bring his favorite liquor with him on the go with the handsome flask. He can also reuse the nice wooden box to store gear for work or display at his home bar. Boxed sets are always thoughtful retirement gifts for police officers.
Personalized Whiskey Decanter – Promotion Gift for Police Officers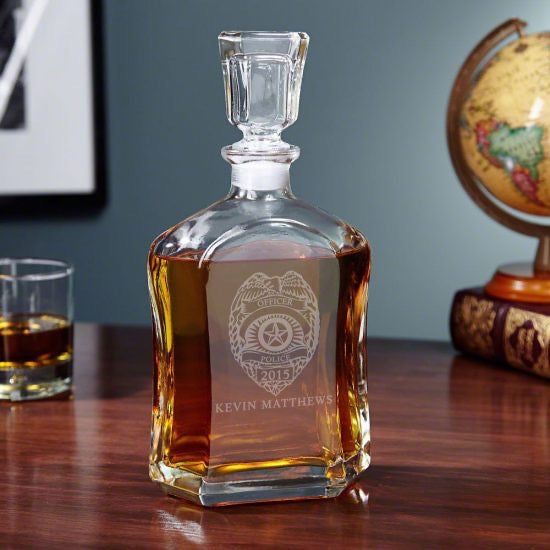 Does the cop in your life enjoy fine spirits? Then he'll love this whiskey decanter to display his favorite cognac, bourbon, or single malt whiskey. The decanter will be the statement piece of his home bar to pour his fellow officers a glass from after a grueling day. Just as beautiful as it is functional, the decanter is made from the finest crystal and personalized with a police badge design. This custom gift for police officers has the name and badge number of your choosing laser etched on the decanter forever. Decanters make beautiful gifts for police officers who have just been promoted.
Thin Blue Line Customized Wooden Sign
You're looking for police officer gifts that are unique and show your appreciation for their service. This handsome personalized wooden sign is what you've been searching for! Handcrafted from birchwood, this personalized sign features a vintage-looking black and white American flag with the signature thin blue line over two lines of text of your choosing. A lieutenant or captain would love this custom sign for their office or it would be an awesome birthday or appreciation gift for the officer in your life.
Celebration Gifts for Police Officers
Give him some non-standard issue gear that he won't be able to wait to field test with this cigar case and old fashioned glass! These are the perfect gifts to reward him for a major accomplishment or for his service as well as being the ideal way for him to feel like the classiest guy as he celebrates. Plus, the sleek cigar case is easy for him to fit into any pocket and keep on his person at all times. These awesome gifts for police officers will ensure that he can protect and serve his own right to party or to relax.
Personalized Insulated Travel Mug Gift for Police Officer
Police officers survive on coffee to ensure that they are awake and energized for the entirety of their shift. This vacuum insulated mug is made of stainless steel and double walled for maximum temperature stabilization. This mug will keep his coffee piping hot for 6 hours or his ice water chilled for 24 hours! Your officer and his partner will never mix up their drinks again with the engraved police badge emblem that has his name and badge number on it. A travel mug is one of the best gifts for police officers you can get for any cop.
Ultimate Gift for Police Officers
Policemen are often manly men who enjoy drinking beer and smoking cigars when they're off-duty. What's a better gift than a set with their favorite things? This patriotic beer and cigar gift set comes with a personalized beer mug, a cigar cutter, lighter, and a custom tactical knife. The cop you're giving this set to will be ecstatic about having his own custom beer mug and a cool new knife to use for work. Thanks to you, he'll always be prepared for a cigar as well! This awesome gift set is a great police gift for any occasion whether he's a retired cop or is currently on the force.
Smith & Wesson Police Watch
Working 10 or 14 hour shifts a day, police officers can easily lose track of time. Give the officer in your life a Smith & Wesson watch that has a handsome blue face and a small police badge design. This tactical watch has everything an officer needs: date, back light, glow in the dark hands and markings, an adjustable and durable nylon band, and it is water resistant up to 90 feet. This watch would be a great gift for a police academy graduate or as an occasion gift for an active duty officer. Watches are classic staple police officer gifts for birthdays or promotions.
All The Vices 30 Caliber Ammo Can Gift Set

Does the officer in your life love whiskey and cigars? The two go hand in hand after all. This 30 Cal Ammo Can Gift Set for Police that has everything an officer needs for a nice evening of relaxation with his favorite stogies and scotch or to bring with him to cookouts and share with his friends. The reusable 30-caliber personalized ammo can is engraved with a name, badge number, initials, and phrase all of your choice. Inside, the set has two matching engraved whiskey glasses, a Zippo-style lighter, and a cigar cutter. Your cop will love this set to relax at home with and show off to his fellow officers. This gift set has a reusable ammo can that would be a nice storage case for his ammo or duty gear that would fit well in his squad car. Gift sets are always good ideas for police officer gifts, especially for birthdays, retirement, promotion, holidays, or appreciation occasions! Cigars not included.
Hidden Badge Wallet
Everyone needs a wallet to hold their money and ID, but police officers especially need them to also hold their badge. This bifold wallet has plenty of space for cash, cards, and a slot for his police badge with a cover to keep it hidden while undercover and protected from wear. Made from genuine leather, this simple but incredibly useful gift for police officers is something they will definitely need and greatly appreciate. Undercover gear make the best gifts for police officers who are detectives or secret operatives.
Custom Whiskey Gift Set
Fill the officer in your life with joy with a gift they'll want to fill just as quickly when you get them a personalized decanter set that has their name and badge number engraved right into it! This is the perfect gift that lets them celebrate milestone occasions in their career or even enjoy a relaxing night in. A cocktail or neat glass of whiskey from this police gift set is a great way to celebrate catching a baddy or even as a way to relax and put their feet up after a day of hard work. In fact, they'll love this set so much, they'll make you stop in the name of the law to give you the biggest "Thank you," ever!
300+ WHISKEY GLASSES COPS WILL LOVE>
A Car Seat Organizer for the Tidy Police Officer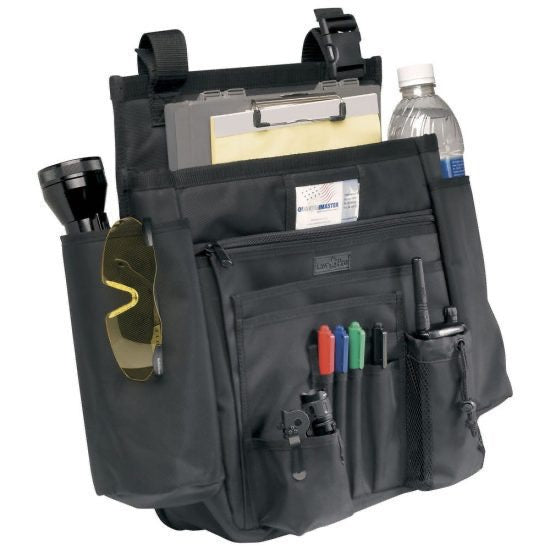 Believe it or not, squad cars can become cluttered very quickly. Help the police officer in your life with this handy adjustable car seat organizer! With a dozen pockets for everything you can think of, this organizer will help any officer have everything in order to make his job a little bit easier. The attached strap secures it to the seat's headrest or it can be used as a shoulder strap to carry when needed. This is a great gift for detectives, troopers, and all officers who like to be organized. Organizers for the car or the office are always nice police officer gifts for birthdays, holidays, and appreciation.
Manly Police Beer Gift Set
Looking for a really awesome police gift? This custom beer gift set is it! Whether your husband just got promoted to Captain or your father is retiring from the force, this set is one of the most impressive gifts. He'll love displaying the personalized pint glasses on his home bar and sharing a drink with his fellow officers after a long day. He'll love showing off his cool new bottle opener, which is made from a real .50 caliber bullet! He could also use it as a paper weight at work. The handsome pocket knife is a sweet bonus gift that he's sure to love as you can't ever have too many pocket knives. Best of all, the matching military surplus ammunition box can be reused to store all kinds of things from work gear to his live rounds for the range. Seriously, have you seen a cooler police officer gift than this amazing gift set?
Officers Mean the World to You
Police officers risk their lives every single day to ensure that you can have the liberty, safety, and freedom to explore the world as you please, so why not give them a cool symbol of them protecting your world with this unique decanter? This is the perfect novel gift that will bring a smile to their face each time they see it. This could even make a great desk ornament that everyone at the station will be raving about!
American Heroes Personalized Decanter Set for Retirement Gift
America's Finest are our heroes, and they deserve a nice gift that they will be proud to show off. This American Heroes Personalized Decanter and Whiskey Glasses set are all customized with an engraved American flag above their name, title, and date of your choosing. These gorgeous glasses are one of the best gifts for police officers that have just retired, especially if you engrave the date that they graduated the academy or retired so they can show off their years of service.
USA Beer Cap Map for Cops Who Like to Travel
Does your officer like to travel and try local beers? Well we've got the perfect gift for him! This large Beer Cap Map of America has plenty of space to display the souvenir bottle caps he kept from his favorite local brews while on vacation or training across the country. A beer cap map that simultaneously displays bottle cap collections and shows off extensive traveling is one of the coolest police officer gifts for the beer aficionado.
Bulletproof Sunglasses for Police Officers
Everyone needs a good pair of sunglasses, but police officers need a pair that is comfortable, anti-fog, impact-resistant, and bulletproof. These tactical sunglasses meet all of the requirements a police officer needs: the polarized lenses block 99.9% of UV Rays, the durable frame is impact resistant and contours to your head, and the entirety of the sunglasses are bullet and scratch proof! Sunglasses like these make nice police officer gifts for birthdays or holidays. These sunglasses are the best gear for police officers of all ranks from academy graduate to captain. Even veterans and retired officers still swear by them and only want to wear them instead of regular sunglasses.
Cool Beer Gift Set
You can never go wrong with a personalized gift that's related to a cop's interests. If he or she enjoys drinking beer, get them this cool gift set! It comes with two matching custom pint glasses and a personalized bottle opener made from a real .50-caliber bullet. Seriously, any cop would enjoy this simple but thoughtful gift set. Plus, it's great for any occasion!
200+ PINT AND PILSNER GLASSES COPS WILL ENJOY>
Whiskey Gift Set for Cops
There's nothing like a glass of bourbon after a long day on patrol. When your officer gets home, all he wants to do is relax. What's a better gift to give than one that will help him do so? This whiskey gift set is perfect for officers who enjoy the fine spirit. The custom double old-fashioned glass is great for a classic scotch on the rocks or a cocktail. The unique whiskey stones will chill his drink without watering down the flavor. How cool is that? He will love the cool patriotic badge on the glass and box, especially since it's personalized just for him.
Custom Engraved Hatchet for New Police Officers
When you're in law enforcement, sometimes you really need a hatchet. If a large tree limb falls and blocks the road, only a hatchet will help an officer clear the way. This hatchet isn't just any old hatchet, though, it's a Custom Engraved Tactical Hatchet! One of the best gifts for police officers you can give, this handsome axe is sleek, lightweight, and comes with a snap-on nylon sheath for safekeeping. You can engrave the hatchet with the officer's name, title, and badge number for a nice personal touch. Hatchets are great gifts for academy graduation gifts so that the new officers are prepared for anything
Engraved Presentation Set Gift for Police Officers
Got a big event coming up that you need to get one of the coolest and classiest gifts for a police officer that you can find? Well, look no further! This presentation set is the perfect way to honor an officer who is retiring or maybe even congratulate them for the promotion that they've been after forever! Now, you just need to make sure there is their favorite liquor at the ready, this way you can have a toast toward their career success!
Personalized Ammo Can
If the officer in your life is an avid outdoorsman, then he needs this personalized ammo box. Some police officers like to have a hobby to take their mind off of their job when they get home every day. For some, that is camping! The ammo box is personalized with a name, title, and number of your choice.
An A.P.B. on a BYOB Gift
Not all awesome tactical tools need to come in a nifty matte black finish; in fact, some can be as rustic looking as this fantastic beer caddy. You never want to have a police officer under-prepared for any situation they could be facing, and when they're heading to a picnic, BBQ, or tailgate, you want them to be ready with their beer. This gift even has a built in bottle opener right above their engraved name, how cool is that?
Personalized Beer Gift for Police Officers
You can never go wrong with personalized beer mugs as gifts for police officers. It's a classical gift that anyone can use, even if they don't actually drink beer. These mugs are nice, large glasses for any beverage if your officer is more of a soda kind of guy. This beer mug is personalized with a police badge engraving featuring the badge number and name of your choice. Any cop who loves a big ol' mug of beer after a day at work will enjoy this unique gift for police officers.
Personalized Rocks Glasses for the Retired Police Officers
Sometimes after a long day at work, all you really want is a glass of scotch. A gift set for the sophisticated police officer who enjoys finer liquor, this personalized set of 4 rocks glasses are a handsome addition to the bar. The glasses are each personalized with our signature police badge design with the badge number and full name of your choosing on each glass. These glasses would be especially good retirement gifts for police officers or a handsome new set for a lieutenant or sergeant.
Tactical Gift Set for Police Officers
If there is one thing that police officers are not, it is stationary. They are always on the move. So get them a gift that they can always keep on their person with this awesome travel set. Aside from being a sweet gift set, they'll love that you think of them as a legendary figure in their life! Now, when they have early morning or graveyard shifts, they can be kept alert and awake thanks to their coffee tumbler and they'll always be ready with their knife too. Is there a cooler, more unique set of police officer gifts out there?
Personalized Boxed Pint Glass Set for Policemen
One of the best gifts you can give a police officer is a custom boxed set of his favorite things. If your officer is a beer lover, then this is the set for him! Inside the handsome engraved wooden box are 4 matching pint glasses and a beechwood bottle opener. The engraving on the box and glasses is a police badge design with his badge number on it and his full name below. Boxed sets like this one make really nice gifts for police officers who have just been promoted to sergeant.
The Perfect Decor for His Home Bar
You're looking for a gift for the cop in your life and you're stuck. You want to give him a nice gift that shows your appreciation for his difficult job, something personal, but you want him to like it as well. How about a personalized police bar sign to decorate his home bar? This awesome Thin Blue Line bar sign is customizable to be a fun piece of decor for the officer in your life that he'll surely keep forever. This would make a fantastic retirement or birthday gift for police officers.
105+ MORE GIFTS FOR POLICE OFFICERS>