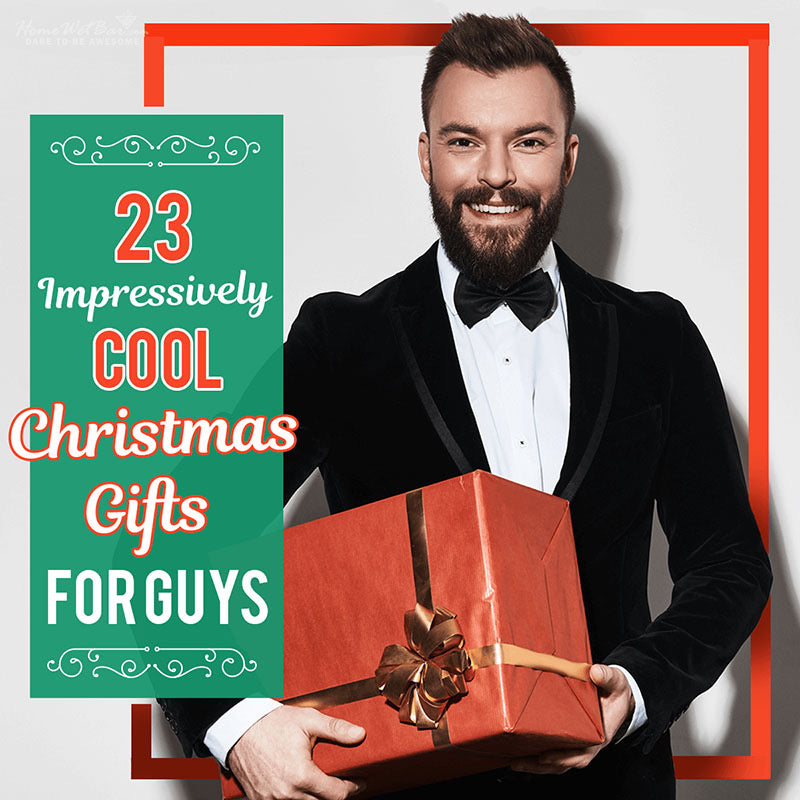 23 Impressively Cool Christmas Gifts for Guys
Cool Christmas gifts for guys get harder to find each year. Thankfully, we know the secret. The gift needs to be something that elevates his lifestyle, has a personal touch, and is exciting to unwrap. That's why we've put together the coolest Christmas gifts out there in one impressive list. You'll be able to find something perfect for your husband, brother, dad, boyfriend, or any guy in your life.
Awesome Seven Seas Decanter
What's a cool Christmas gifts for guys that's also a real showstopper? This Seven Seas decanter certainly fits the bill. Your guy's jaw will drop to the tree skirt when he unwraps this gift. He'll make sure this decanter is never empty with its radical design and he'll love pouring a drink into one of the glasses it comes with. He may even get rid of his dining room table so everyone can gather around this fantastic Christmas gift.
Personalized Hunting Knife for Christmas
A personalized hunting knife is certainly an impressive Christmas gift for guys. It doesn't matter if you're shopping for your brother or boyfriend, they'll love having a multi-tool knife that can easily fit in their pocket that's engraved just for them. Once they open this gift, they'll be chomping at the bits for someone that needs help opening a box. This gift won't ever leave their side.
Custom Billards Sign for Guys
If your guy loves to spend his time playing billiards or at the pool hall then he'll appreciate the thought you put behind this personalized wood sign. The holidays are about bringing friends and family together and when your guy hangs this sign in his man cave or home bar, it will do just that. He'll love having even more people that want to come over and play pool. Just make sure you have your favorite quotes from Rounders prepared before you join a game this Christmas.
Stainless Steel Coffee Carafe

Coffee is the fuel that keeps everyone moving. That's why an engraved, portable coffee carafe is one of the coolest Christmas gifts for guys out there. If your husband, brother, or whoever has a long commute to work or always needs a cup of joe by his side he will thank his lucky star for this gift. Throw a gift card to his favorite coffee place or a bag of his favorite coffee beans to make this gift stand out even more.
Complete Grilling Tools Gift Set
Want a Christmas gift for guys that will make everyone else envious? A sleek wood box containing every grilling tool he needs will turn others green. Any man will love busting out this set and turning steaks a mouth-watering brown. In fact, you could probably have a pack of steaks waiting in the fridge to give him an extra nudge to make an incredible Christmas dinner.
Portable Charging Station for Outdoorsy Guys
Need a Christmas gift for guys that love the outdoors? This Ecoflow portable power station is an awesome choice. More efficient and green than a gas generator, this device can power drones, laptops, even projectors so your guy can create a one-of-a-kind experience in the great outdoors. This is the kind of Christmas gift for your guy where memories can be made.
Incredible Wine Glasses
Your guy shouldn't be enjoying his wine like it's the dark ages. This Christmas welcome him to the modern age with a set of stainless steel wine glasses. His favorite red or white will stay the ideal temperature much longer with this impressive holiday gift. He'll uses as an excuse to have a glass of wine or two for Christmas dinner. This gift is especially perfect for wine-loving dads.
Engraved Ammo Cannister
Looking for a unique Christmas gift this holiday season? Consider this personalized ammo can. Not only can you tailor both lines so its ideal for your man, but he'll love the endless possibilities of this gift. It's a de facto tool box, tackle box, liquor storage, camping supply container. This gift is so versatile that your guy will find a use for it on Christmas day. He'll probably stick everything else he unwraps inside this cool gift.
American Heroes Custom Whiskey Glasses
Cool Christmas gifts for guys can honor what they've done for this country. If you have a loved one currently serving or having served in the military then these Benson rocks glasses will be a treat to unwrap. He'll love having a set of rocks glasses that are great for any kind of liquor or cocktail. With a set of 4, he can toast with friends, family, or even his brothers-in-arms.
Amazing Wine Subscription He'll Love
A wine subscription is a Christmas gift any guy would like. But what makes this subscription service so unique is that you can tailor it any guy in your life based on your palate. That means you could make a perfect gift for your dad and your brother where they still get a unique bottle just for them each month.
Personalized Whiskey Stones Gift Set
A fine whiskey isn't like a Christmas present under the tree. With whiskey, you'll savor each drop. A Christmas present you'll tear the wrapping to shreds in seconds to see what's underneath. However, you can surprise your man with this excellent Christmas gift for guys. Being able to enjoy his whiskey chilled, without the flavor being muddled, and having a classy set of tongs to drop each cube into his new personalized whiskey glass is something to be remembered. Just make sure he paces himself so he can help you clean up all the wrapping paper afterward.
Classic Engraved Beer Tankard
What's the best beer gift for Christmas? A ceramic beer tankard is easily one of the best options. Beer drinking is supposed to be fun and joyous and this customized gift has that in spades. Even your brother-in-law would love the way his beer tastes and looks from a Christmas gift this cool.
Stylish Cigar Lovers Gift Set
Cigar smokers aren't easily impressed. But this Christmas you can easily wow them with this engraved, monogrammed cigar lovers gift set. Being able to enjoy whiskey and a cigar in one stylish class is a really cool Christmas gift for guys. Your cigar-loving man can even take down the Christmas decorations while enjoying some whiskey and a cigar in the other.
The Best Bill Murray Book
Need one of those cool Christmas gifts for guys that they'll talk about for years? Consider the book The Tao of Bill Murray. From his time on Saturday Night Live's Weekend Update to captaining a ship in A Life Aquatic, this book is filled with incredible stories that will have your guy enthralled and dying of laughter. It also gives him the perfect excuse to boot up Scrooged for everyone to enjoy on Christmas.
Snifter Glass for Beer Aficionados
Beer connoisseurs swear by a single glass to enjoy beer: a classic snifter beer glass. This Christmas elevate your craft beer drinking husband or boyfriend to that status with this clever gift for the holidays. Any guy will love experiencing subtle flavors and notes of beers they've already tried multiple times in a regular pint glass. Be sure there's beer in the fridge because he'll want to notice the differences as soon as he can.
Personalized Jager Bomb Shot Glasses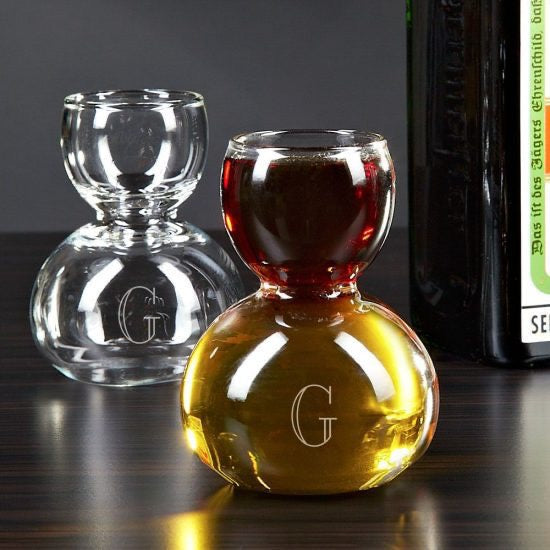 Searching for a Christmas gift for guys attending college? These Jager Bomb shot glasses are sure to be hit on any campus once the spring semester begins. This holiday season you can make sure your little brother returns as the big man on campus with this gift. It's perfect for any shot that's improved by a chaser. Only this is done in style without all the mess. Don't be shocked if your brother tries to convince Grandma to do a Jager Bomb.
Boxed Decanter Set for the Holidays
Want a box your man won't just toss aside this Christmas? This boxed decanter set's presentation is certainly one of those cool Christmas gifts for guys. He'll be able to enjoy his liquor in style with his own rocks glasses and decanter. The box is something he'll put on display to store whatever brings him joy. He'll love this gift much more than a cardboard box containing an ugly sweater.
251+ GIFT BOXES FOR CHRISTMAS>
Tailored Cologne Gift Set
A great Christmas gift for guys will have them being their best self throughout the year. Scentbird has put together several awesome collections of colognes based off your guy's personality. Does he himself more as a billionaire or a superhero? How about a secret agent? Don't worry. Scentbird has scents suited just for him he will love to unwrap. And with your guy always smelling his best, this holiday gift is a win for everyone.
Roly Poly Liquor Glasses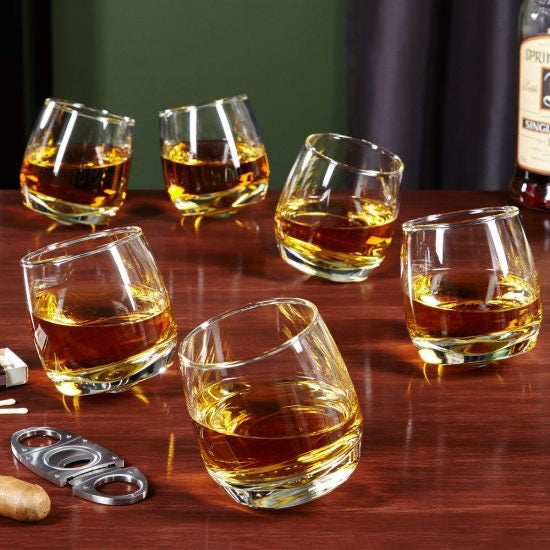 These old fashion glasses are of the best Christmas gifts for guys they won't expect. Not only are these glasses great for any kind of liquor, but they're a lot of fun. Whenever your man sets one of these glasses down they'll roll, seemingly carelessly, before finding their balance. Pretty soon your guy will be using these for water, juice, soda, whatever excuse he can find to give this awesome Christmas gift a whirl.
Massive Cocktail Shaker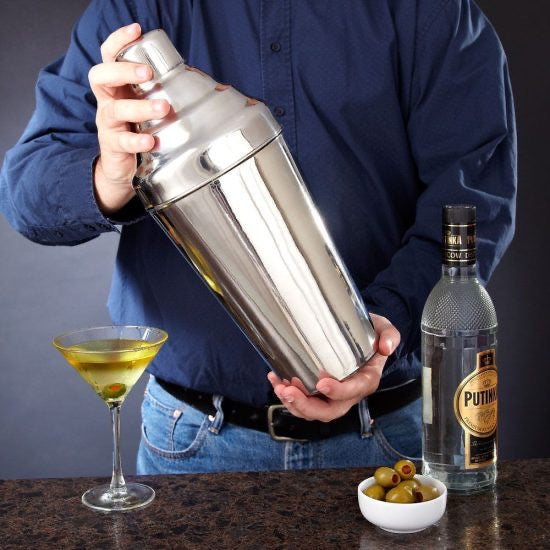 Want a Christmas gift that will impress your guy and his friends? This massive cocktail shaker is destined to be a hit. It's perfect for boyfriends or any guy that wants to make sure everyone's having fun. Like Optimus Prime, it's more than meets the eye. The shiny, stainless-steel shaker holds a whopping 110 ounces. Your guy will love trotting out this Christmas gift whenever he gets a chance.
Striking Cognac Gift Set
Looking for a Christmas gift for brandy lovers? A personalized cognac set is just what your guy needs. He can sip favorite brandy in a glass specifically meant to elevate the flavor. He can even have cognac's ideal companion, the cigar, with the included gifts in the set. This is one of those cool Christmas gifts for guys that will impress him and anyone who wants to share a glass with.
Incredible Speaker Showerhead
Does your guy fancy himself a lead singer whenever he takes a shower? Impress him with this cool Christmas gift that will liven up his showers. The showerhead itself is incredible, but what makes this gift truly special is the Bluetooth speaker built directly into the showerhead. He can connect his phone and have his own backing band when he pretends to be James Brown while he baths. He can even practice his Christmas carols for next holiday season.
Manly Custom Cutting Board
Some guys were born to wield a knife in the kitchen or around the grill. This manly cutting board is a cool Christmas gift for any guy that loves steak, pork chops, or prepping a meal for friends and family. When he unwraps this under the twinkling lights of the Christmas tree, he'll insist on prepping every meal on this personalized X-Mas gift.
303+ CHRISTMAS GIFTS FOR GUYS>