Updated: 5-14-2019
Finding the ideal boyfriend gift is no easy task. From bar-ware to basketball shoes, the amount of options available online are staggering to say the least. So what makes a good boyfriend gift? How much should you spend on a gift for your boyfriend? What are the best boyfriend gifts for 2019? In order to answer these questions, while guaranteeing that your man gets something special, here's a list of gifts that are ideal for any boyfriend.
1. Oakhill Decanter Set – for the Whiskey-Loving Boyfriend
He may be the perfect guy for you, but he's also the world's greatest liquor aficionado amongst his friends. Now that 2018 is gone, and 2019 is here, secure his place at the top by gifting him the ultimate decanter set this year. With 4 perfectly sized whiskey glasses, a handsome decanter, and an expertly crafted wooden box, typical boyfriend gifts can't even come close to this complete custom decanter set. Finally, he'll be able to enjoy his whiskey the way his reputation precedes him.
2. Personalized Axe
Your boy that loves the outdoors isn't complete without the right tool in his hands. Surprising your boyfriend with a gift that both represents his love of the outdoors and will be by his side anytime he goes camping, does yardwork, or just to show off to friends. Available with custom lines of your choosing, this personalized axe is an unforgettable boyfriend gift.
3. Grilling Tool Sets Engraved with Your Boyfriend's Name: The Perfect Pitmaster Present
Guys can be pretty picky about their tools, especially when it comes to something as time-honored as grilling. A sleek barbecue tool set that is designed to be both useful and stylish is what he wants, even if he doesn't know it yet, making this personalized wooden carrying case perfect for your "pitmaster." Packed with a meat fork, tongs, and a serving spatula, this set features unique finishing touches like wooden tool handles, stainless hardware, and a black velvet interior finish for unparalleled practicality and appeal.
4. Cigar Wrapper Shadow Box – A Distinguished Boyfriend Gift for Cigar Smokers
May they be intended as anniversary gifts for boyfriends, or are unexpected early Christmas presents, surprising the cigar smoker in your life with a cigar wrapper shadow box is always a smart bet. He can save the wrappers from all of his favorite cigars and the memories that go with them, making his affinity for tobacco indulgence an upscale affair is easily one of the best boyfriend gift ideas for 2019.
5. Personal Signage and Man Cave Tackers
A man cave isn't complete without a little decor on the walls. Surprising your boyfriend with a gift that both represents his personal preferences and looks sharp anywhere he hangs it means that both of you will be happy with what hangs on the wall for years to come. Available in a myriad of different designs and materials, decorating his "man space" for him with a personalized man cave sign has never been more agreeable for both parties.
6. Liquor Set – For the Boyfriend Who Loves to Fly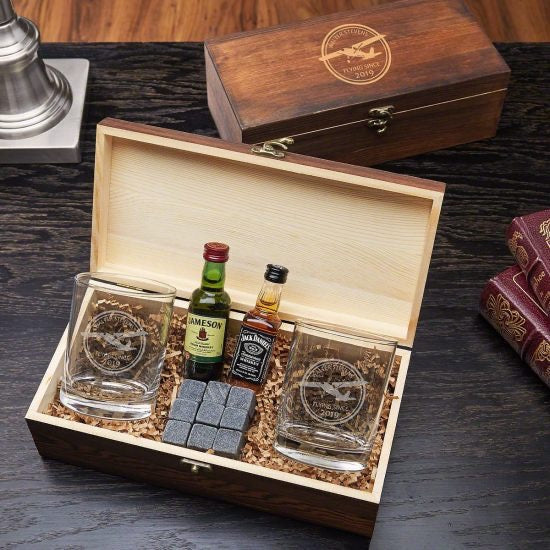 Giving personalized glassware to your boyfriend as a gift is one thing. Giving him a matching liquor set that is just as unique as he is taking things to a whole new level. While there are plenty of options out there for guys who are happy with laser engraving, giving an aviator etched box set will make any bottle of booze look spectacular. Whether he's a pilot, frequent flier, or loves aviation, he will love this gift.
7. Colossal Beer Mug – for the Casual Boyfriend
Drinking straight from the bottle may not be desirable for ideal beer drinking. We suggest getting him a colossal, personalized beer mug so he can upgrade one of his joys in life. He's going to enjoy beers anyway, right? You might as well help him do it style.
8. Engraved Wedge Rocks Glasses – Help Him Take the Edge Off
His ability to stand out is what makes him special to you, and his glassware should mimic this mantra. Forego the traditional approach and get your boyfriend the Whiskey Wedge rocks glass. This unique design features an integrated triangular silicone insert for easy preparation and slower melting speeds, and can be engraved with a wide array of styles and designs.
9. Watch Collector's Box – for the Sharply Dressed Boyfriend
Ladies love a sharp dressed man, but that doesn't always mean that his accouterment arrangements back home are as dapper as his evening attire. Giving your boyfriend a gift box that organizes his accessories and looks stellar on the shelf offers him the best of both worlds. You're not just going to want to look for something with room for all of his wristwatches either, but a valet box that packs a plethora of extra compartments for things like cuff-links, tie clips, and more.
10. Clever Cooking Upgrades – for the Boyfriend Who Loves Bacon
The best boyfriend gifts come in the most unexpected form sometimes, because even though he may think he's hot stuff behind the grill, but sometimes he realizes he skimped on the bacon. Enter the bacon connoisseur sampler pack, which not only prevents bland burgers but encourages experimentation with cooking, while allowing several of his favorite dishes to be upgraded with that distinct bacon flavor.
11. Unique Beer Glasses for His Favorite Suds
From the classic German stein and the enormous Oktoberfest "Beer Boot," to laser-etched pilsner glasses and beer flight paddles, there's something out there for every kind of beer guy. If you don't know what kind of glass to get him don't worry. Just find out what his preferred style of beer is, and then do a quick search online in order to determine what the best beer glass is for his personal taste.
12. Custom Flask – for the World's Best Boyfriend
Beer isn't for everybody. Some men really enjoy liquor, and for those kinds of boyfriends, gifts like the personalized hip flask seen here are a spirit fanatic's dream come true. Personalized to his liking and sporting handcrafted looks that are impossible to replicate, a custom flask is a must upgrade for that special guy in your life.
13. Whiskey Decanter Box Sets – for the Educated Liquor Connoisseur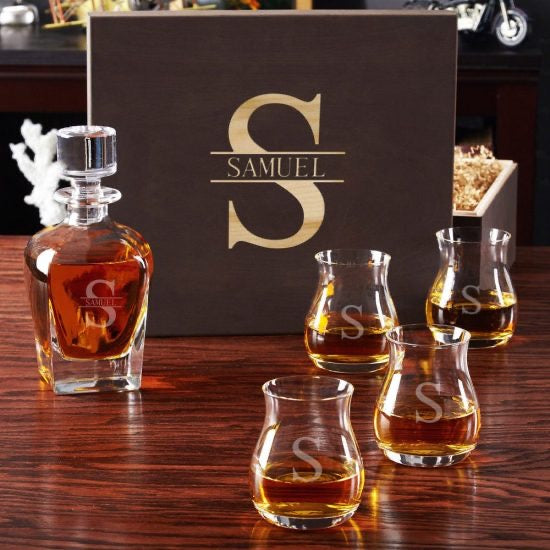 He may appreciate good sipping whiskey, but your boyfriend has no idea what he's been missing, especially when you surprise him with a customized liquor decanter set. Boxed in genuine maple wood that has been engraved with his name and initial, with matching inscriptions adorning decanter and Glencairn Canadian whiskey glasses alike make this box set a great gift for the world's best boyfriend.
14. Rocking Rocks Glasses – for the Iced Liquor Lover
Sometimes understanding exactly what he doesn't want will work in your favor. Knowing that he likes his liquor on the rocks but complains how quickly the ice waters down his beverage opens up options that he may never have considered. Snagging him something like a roller rock glass, with its unusual base giving the unique ice ball the chance to cool and melt slowly proves that thoughtful gifts for your boyfriend don't always have to be complicated or overly expensive.
15. Guys Love Beer Bottle Caps 
While glassware is a good gift, it doesn't always lend itself to building memories. Boyfriend gifts rocking a legendary design to create a beer bottle cap shadow box that keeps his favorite beer caps and handsomely displays them is a solid bet for any man who likes to pocket the caps when visiting their favorite local brewery.
16. Custom Hip Flasks – for Stealthy and Classy Boyfriends
For retro alcohol consumption fans, there is no substitute for the traditional hip flask, except maybe when it's wrapped in real rosewood and etched with one's initials. The best boyfriend gifts are typically the ones that go beyond basic, so getting him something stealthy and sturdy like an engraved Matterhorn flask is always a safe bet.
17. Custom Bottle Openers and Beer Caddies –  for Party-Hopping Boyfriends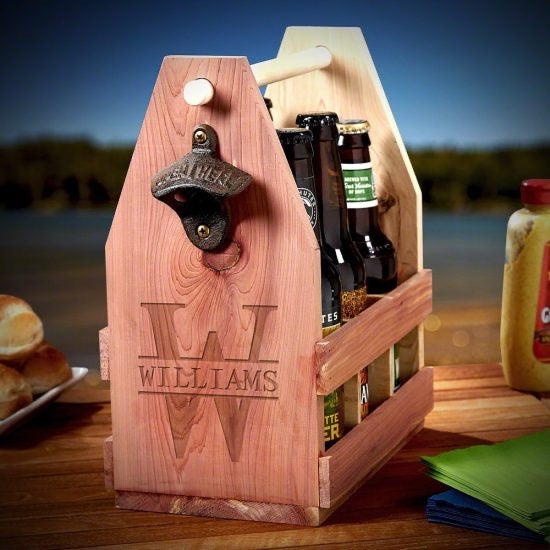 Gifts for men don't always have to be large in order to make a big impact. Small gifts sometimes make the biggest impression, especially when said presents are for a new boyfriend. Getting him a custom engraved beer tote and bottle opener won't set you back a whole bunch and will make an impressive statement when he hands a bottle of suds to a buddy.
18. Noise Canceling Headphones
If your boyfriend loves listening to music then these wireless Bose noise canceling headphones are a perfect boyfriend gift.  A favorite gift suggestion from our 2018 guide, they are just as relevant in 2019. He can listen to his favorite music with ease and unmatched quality wherever he might be.  No matter if he likes to play games on his computer or listen to audiobooks in peace, this boyfriend gift idea is one that speaks volumes; pun intended.
19. Beer Cap Maps – for Decorating His Place Tastefully
You two may or may not be from the same state, but there's no denying the decorative appeal provided by the land of his birth being decorated with colorful bottle caps. A beer cap state map sign doesn't just look great in his man cave, but it will also give him a fun excuse to save his bottle caps, especially if they happen to be from that particular state.
20. Bar Tools for Car Guys
Let's admit it, guys love cars. So why not bring the hot rod fun indoors with something retro and unique? A gas pump liquor dispenser creates a fun way for your boyfriend to pour drinks and talk cars at the same time. Designed to be a useful conversation piece, going with an unusual present is a guaranteed way to make sure that your boyfriend is grinning when you give him his big gift.
21. Legendary Decanter Set – for the Boyfriend Who Loves Whiskey 
When it comes time to pour a glass of whiskey certain guys will always prefer the right glassware. So if your man is a whiskey fanatic this custom decanter set is sure to make him happy. Crafted from premium glass, and then engraved with your boyfriend's name, this decanter makes for a very unique boyfriend gift that elevates how he displays and enjoys his favorite spirit.
22. Wet Bars – for Small Spaces and Old World Romantics
Not everyone has the room for a full wet bar in the basement, with most men making due with whatever kitchen real estate is available. Clear up the counter top and classy up your man's place with a 16th Century Italian globe bar, a must-have gift for boyfriends with an affinity for classically styled old world ways. These bars typically come in a range of sizes and are designed to secretly hide bottles and glasses within their confines for a polished look when unneeded.