You've made it half a decade with your guy and now it's time to find him an awesome gift. Wood is the traditional gift for the 5th anniversary. You could go with the traditional gift and get silverware. But no guy wants to unwrap a box of spoons. Luckily, for your guy there are a ton of great options out there that involve wood. You don't have to learn how to whittle or hope your guy likes a nice chess set. A lot of people have questions about 5-year anniversary gifts. What do people normally give as wood gifts? Are wood gifts expensive? Can you personalize a gift crafted from wood? We have assembled an awesome list that has a wide variety of gifts, all involving wood, that will remind your guy how lucky he still is after all these years.
Custom Decanter Presentation Set
Even having one piece be wood still goes with the traditional theme of a 5-year anniversary gift for him. Presenting your guy with a handsome decanter serving set on a monogrammed tray is an awesome way to show how much you care after all these years. This is the perfect gift if your husband would love a sharp way to display his liquor and be able to easily share it with friends and family. Every item in this set can be personalized just for him.
Engraved Glencairn Decanter Gift Set
5th anniversary gifts need to be something far from average, after all, you've been with him for 5 years, that is pretty impressive! Stick with tradition by ensuring there is wood with his gift, but bet creative by getting him the most gorgeous whiskey gift set you've ever seen. Contained inside a personalized keepsake, he'll be in awe when he sees just how sharp this gift is once he takes each piece out. Perfect for celebrations or a nightly drink, these crystal Glencairn glasses and decanter will have him experiencing his favorite liquor like never before. Just make sure to have some liquor in the house so you and he can have a toast out of his new gift set!
Personalized Knife for a 5 Year Anniversary Gift
Personalizing a hunting knife is a really cool twist on the traditional wood theme for a 5-year anniversary gift for him. If your guy is the outdoors type, he will love having a knife to bring with him when he goes hunting, fishing, or camping. He can even use it around the house. With a seatbelt cutter and window breaker, this knife is worth carrying around wherever your man goes. His friends will be wondering where they can get one of their own.
Exotic-Looking Cutting Board He'll Love
Celebrate your man's culinary-side with an engraved cutting board. Whenever a meal needs to be grilled or friends and family are craving a homecooked meal your guy can bust out this impressive cutting board. It's perfect for prepping hunks of meat, whole vegetables, or the mise-en-place for the meal. Grab a couple of filets so he can try out this awesome 5th anniversary gift immediately. You'll both love having a reason to have more home cooked meals.
Stylish Wine Gift Box
It wouldn't be an anniversary without wine. Get the evening started right with a swank, personalized wood wine box. It comes with every tool needed to ensure a bottle of wine gets opened and tastes great once you've removed the cork. You'll have to include the wine yourself. But we doubt your guy will mind having you personally pick out a bottle of wine for the two of you to share. Plus, he'll love trying out all the new tools this wine box includes.
Unique Wooden Bluetooth Speaker
For a clever twist on a traditional wood gift, these unique speakers give your guy unparalleled sound quality while also having an appealing wood design. Made from natural bamboo, these Bluetooth speakers have a wireless range of 30 feet and a 15-hour battery life. They're perfect for any room in the home as the rustic appearance fits in seamlessly with all of his decor. Your guy will feel like he's hearing some of his favorite songs for the first time!
Engraved Decanter Box Set
A really cool 5th anniversary gift is the kind that has a surprise inside while still sticking with the traditional wood theme. This striking wood box comes personalized with his name and initial. He'll be able to store watches, ties, or whatever he likes. He'll be pleasantly surprised when he opens the box to find a decanter with a matching pair of rocks glasses. Finally, he can enjoy his favorite liquor like it was intended with this gift box. You'll have to stop him from throwing away all of his other glasses.
Sleek Black Flask Set
If you've been together for five years and your guy still doesn't have a flask then it's time to fill that void in his life with a personalized flask set. Personalize the flask and the wooden gift box with his initials to make a standout 5th anniversary gift. The wooden gift box is perfect to store things in. He can even put it on his night stand to conveniently hold anything. You could even add a miniature bottle of liquor next to the flask to get your guy started.
211+ AWESOME FLASKS FOR AN ANNIVERSARY>
Concealed Portable Putting Green
Some guys have to spend all day in the office. That's why they'll be exceptionally grateful for a 5-year anniversary gift for him that lets him blow off some steam and have some fun in the office. Tucked away in a wood box, keeping with the tradition, this executive putting gift set has everything your man needs to improve his handicap while he's in the office. The sleek design conceals the golf set so his coworkers will be none the wiser.
Beer Cap Shadow Box
An original take on wood for a 5-year anniversary gift for him is a custom shadow box. Your boyfriend or husband can now collect beer bottle caps from every one of his favorite breweries. He can even add them when he's enjoying a beer for occasions worth celebrating. Did his favorite team win? Add a bottle cap. Celebrating another birthday? Add a bottle cap. Got a promotion at work? Add a bottle cap. Pretty soon he'll be asking for another shadow box because his will be full overflowing with all the good memories he added.
Standout Wooden Watch for a 5 Year Anniversary Gift for Him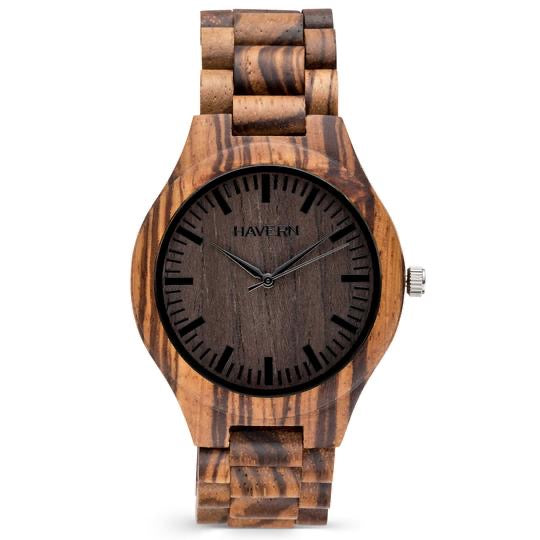 An eye-catching watch is something a man loves to have on his wrist. This watch, crafted from wood is an excellent 5th anniversary gift that elevates your man's style. The watches unique design pairs well with any style. It doesn't matter if your guy wears a suit every day or spends his afternoons by the beach. They'll be glad to have such a cool watch on their wrist.
Legendary Cigar Box
Show your guy you still think he's the same legendary man from when you first met. A wooden cigar box is an awesome 5th anniversary gift, especially after you pack it to the brim with cigars. Let your guy celebrate this anniversary with a cigar. He'll always want to keep this cigar box filled so he and his friends can have a cigar at any time. He'll love every chance he gets to open this box and share the experience with anyone that wants to join.
The Perfect Beer Gift Box
Give your husband or boyfriend one of the manliest 5th anniversary gifts for him you can think of with a customized beer gift set just for him. This set comes with everything any man could ever need to enjoy his favorite cold one. The only way he could even think of this gift getting better is if you include a sixer of his favorite beer so he can put that badass bottle opener and his pint glasses to use right away!
Striking Wooden Sunglasses
Yes, they even make wood sunglasses. And, as a bonus, they look clean-cut and dapper. This stylish eyewear has UV protected lenses and comes with a protective carrying case so your guy can take them whenever he needs to shield his eyes. With their unique design you might have to remind your guy that people shouldn't wear sunglasses at night and it's time to take them off.
Personalized Home Bar Sign for a 5th Anniversary Gift
If, after 5 years together, your man has a home office or garage he likes to spend time in then he's going to need a personalized sign to give it that classic bar feel. This signature series bar sign is a classic design that looks great in any home. Personalize the top line of text and year to make it the ideal gift for his favorite spot in the house.
Ultimate Whiskey and Cigar Gift Set
After being with your guy for half a decade, you probably know what he likes by now. You know that he enjoys a glass of whiskey after work whether it's Crown Royal or Jim Beam. He usually lights up a cigar as well. What's a better 5 year anniversary gift for him than a personalized gift set that will make his evening routine more enjoyable? He will be so surprised when he opens up the custom made ammo can to find two matching rocks glasses and a top-notch quality flip-top lighter and cigar cutter. He'll want to pour the two of you a glass right away to admire his new personalized whiskey glasses, so make sure you get him a bottle of his favorite kind too! He will also enjoy using the ammo can for storing his ammunition, fishing gear, or even tools.
Beer Lover Box Set
Your husband or boyfriend has been a beer lover for as long as you've known him. He loves going to craft breweries and sampling new concoctions with you and his friends. As a 5th anniversary gift, you should surprise him with this personalized beer lover gift set! He'll be so excited to take his new custom growler to his favorite breweries and fill it up so that he can enjoy the newest brew in the comfort of his own home. The matching personalized pint glass is ideal for pouring from his new growler or simply enjoying a cold beer in a proper glass instead of a bottle. He can even use the wooden gift box to store all kinds of keepsakes such as a bottle cap collection, photos, or the whole set for safekeeping.
A Chill Custom Whiskey Gift Set
Give your man a gift that you know he can enjoy for years to come with a timeless 5 year anniversary gift. This whiskey stone gift set is perfect for cocktails, neat glasses of whiskey, and more! The standout engraving is the perfect way for him to show off his awesome gift to any friends or family that come over, and the two of you can even celebrate your 5 years together with a toast from his new gift!
Vintage-Inspired Traditional 5 Year Anniversary Gift with a Modern Twist
Over the years, your guy has amassed a large vinyl collection. He still plays them on his old record player that he's had since high school, and it's about time for an upgrade. Your anniversary is coming up and you want to get him a traditional 5 year anniversary gift, but you want to get him a new turntable too. Why not combine the two with this vintage-inspired record player? This awesome gadget looks like a radio set from the 50s, and is actually a high quality turntable, CD player, and radio!
Personalized Pub Sign
In the 5 years you've known him, he has always had a fascination with his own home bar. Whether you have the space for a fully stocked bar or simply want to create a spot he can call his own, this sign is perfect! The custom engraving means you can put your anniversary date on it, as the perfect way to commemorate when he opened his bar in the first place. Now, he can enjoy a drink and maybe even serve a few while he proudly has this sign hanging on the wall behind him.
Not Your Ordinary Wooden Cufflinks
Wood seems like a difficult and boring 5 year anniversary gift, right? Wrong! You can get a lot of great gifts that follow the theme, like these wooden cufflinks! They may look like ordinary cufflinks, but they're actually made from the seats of Lambeau Stadium, home of the Green Bay Packers! How cool is that? Now your husband or boyfriend can proudly show off his style and love for his favorite NFL team at the same time.
Unique Gift Set with All of His Favorite Things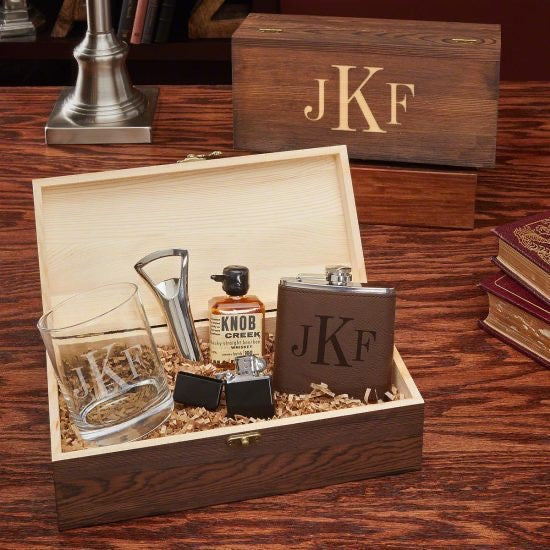 You've been married to your husband for half a decade now, but he can be difficult to buy for. He's the kind of guy who always says he doesn't need anything and has various interests. Think about his favorite hobbies: Does he drink liquor or cocktails? Is he a beer fan? Does he drink cigars? If you answered "Yes" to any or all of those questions, look no further because this is the perfect 5th anniversary gift! This incredible gift set comes with all of his favorite things: a personalized whiskey glass that's great for straight liquor or cocktails, a new bottle opener for his beers, a lighter for his cigars, and even a handy liquor flask to bring his favorite spirit on the go. Plus, the monogrammed wooden gift box can be used to store his watches, ties, and more! Could a gift for him be any more perfect?
Beer Mugs for the Two of You
You and your man have been together for five years now, that's pretty amazing! One of your favorite dates is staying in and having a couple of beers while you watch a movie or a new Netflix show. With this mug set, you two can enjoy a large mug of beer like you do in your favorite bar in the comfort of your own home! These hefty mugs can hold up to 25 ounces a piece, which is about two beers' worth! Now you can both enjoy plenty of beer for the first half of the movie without needing to get up for a refill. Plus, both mugs and the bottle opener are engraved with your last name!
117+ 5TH YEAR ANNIVERSARY GIFT IDEAS>