29 Unique Christmas Gifts for Dads Who Have Everything
If your dad already has a ton of stuff, then shopping becomes even more difficult. You have probably asked yourself, "What does he want that he doesn't already have?" and you end up with no ideas that would make him happy besides a new pair of socks or a towel he pointed out at Bed Bath and Beyond. This year, keep it simple when searching for Christmas gifts for dads who have everything. You need to get him something unique enough that he uses all the time or something that enhances his lifestyle even if he didn't realize he needed it. This year, we have you covered on unique Christmas gifts for dad because we chose some of the 29 best personalized items available.
Ammo Can Gift Set for the Outdoorsy Dad
If your dad likes to spend a lot of time outdoors, then he'll love this ammo can gift set. This set is perfect for any man who likes to fish, hunt, or go camping. The genuine military ammunition can, which is personalized with two lines of text, can hold all kinds of things from ammo to fish bait. The hatchet is perfect for chopping firewood to warm up the house on a cold winter day. He can have a drink from his trusty new hip flask to warm up as he's out shoveling snow or making snow angels with you. On Christmas day, you can pour him a glass of his favorite beer in the new custom pint glass. Everything about this set makes this one of the coolest Christmas gifts for dads who have everything.
Legendary Whiskey Gift Set for the Legendary Dad
A dad who has everything and enjoys whiskey probably has a whiskey glass or two, but he most likely doesn't have anything like this whiskey gift set. Engraved with your dad's name followed by "The Man. The Myth. The Legend.," this incredible whiskey gift set includes four rocks glasses, a whiskey decanter, and a reusable wooden gift box. You can pour a round of drinks for everyone in the family to toast to dad's awesomeness with the decanter and glasses at Christmas dinner. Then, he can use the super cool gift box to store all of the Christmas pictures from this special holiday. Dad will want to show off this amazing set for everyone to see in his home bar, office, or dining room. This whiskey gift set truly is one of the coolest, most unique Christmas gifts for dads who have everything.
Travel Growler for the Dad On the Go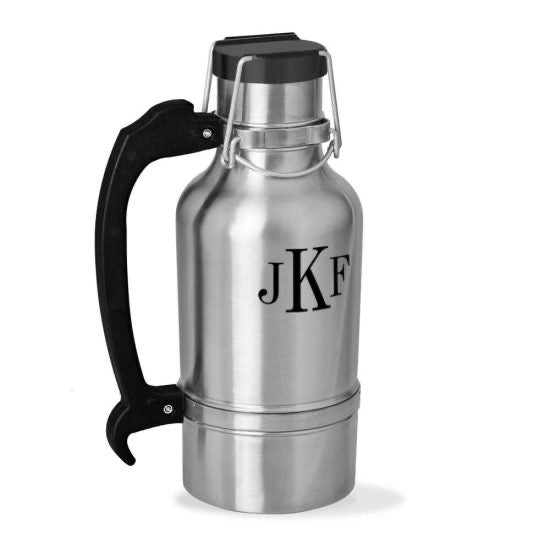 Is your dad always on the go? Then he needs a quality travel growler to keep plenty of his favorite beverage cold all day long. Whether it's beer, tea, coffee, water, or whiskey, the double-walled stainless steel will keep anything inside chilled for 24 hours. It's perfect for having plenty of hot chocolate for everyone when the family goes to look at Christmas lights or watch the parade. After this Christmas, your dad will never be thirsty again when he goes camping, to work, fishing, hiking, backpacking, or to the lake. The growler is even engraved with his initials, making it even more thoughtful and personal. A travel growler is one of the best Christmas gifts for a dad who has everything because now he can be prepared wherever he goes with 64 ounces of his favorite drink.
Elegant Presentation Set for Christmas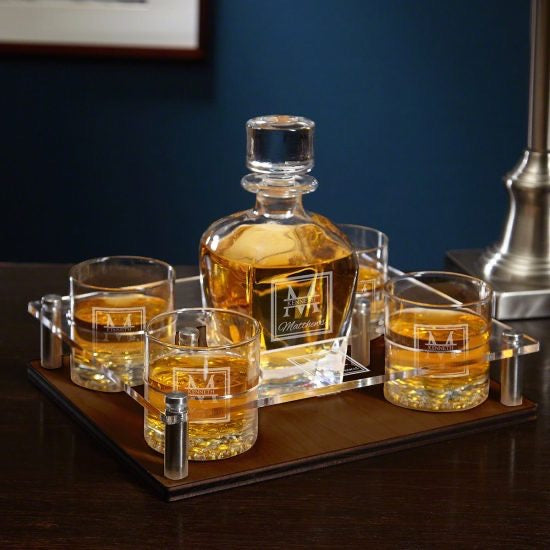 Has your dad always wanted a nice decanter set for his whiskey? Then he'll love this handsome presentation set. This set comes with a glass and wood tray, four rocks glasses, and a liquor decanter. Each piece in this set is personalized with his name and last initial. This set will look beautiful in his bar area, lounge, man cave, or home office. He can serve himself and three family members or friends a glass of scotch, bourbon, or rum after dinner from this lovely set. This gorgeous presentation set is one of the most unique Christmas gifts for dad because it doubles as an attractive decoration and is perfect for entertaining.
Stainless Steel Growler Set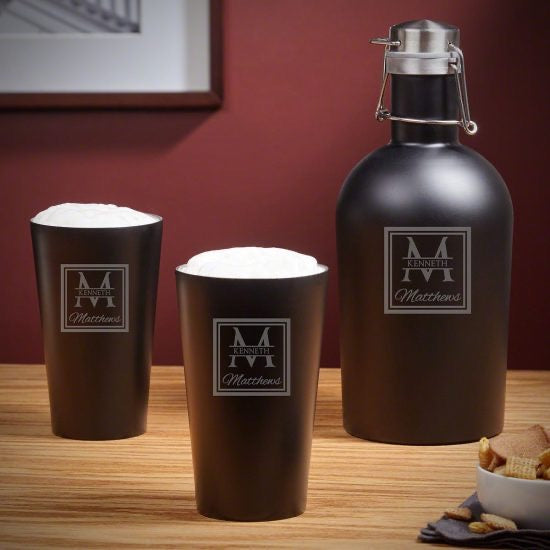 The beer-loving dad probably already has a pint glass or two, but he sure doesn't have this stainless steel set! Made of stainless steel, this growler and set of two pint glasses are perfect for beer lovers because the steel will keep cold beverages fresh for hours. The two of you can share a nice cold beer at Christmas dinner with the two pint glasses and then fill up the growler with your favorite beverage to bring along for singing carols or strolling through Christmas lights. The growler can hold up to 64 ounces and will keep anything inside cold or hot for several hours. The durability of this set is ideal for using all year long, especially when traveling, at the like, camping, anywhere!
189+ MORE BEER GLASSES DAD WILL LOVE>
Beer Subscription for the Beer Loving Dad
If your dad loves craft beer and has all of the pint glasses, bottle cap collectors, and bottle openers in the world, then you need to get him a beer subscription! Each month, he'll get 12 bottles of various kinds of craft beers from microbreweries all over the country. If he finds one that he absolutely loves, you can get him a six pack as an add on gift for every gift-giving occasion. This gift just keeps on giving! Included in each delivery is the monthly newsletter, which is full of fun facts, details about the beers in that shipment, and more. This subscription is one of the most unique Christmas gifts for dad you can give because it's a fun surprise each month!
Cigar Flask for the Holidays
Is your dad the kind of guy who likes to enjoy a stogie and a drink when he's out and about with his friends? Now he can have both whenever he wants without any hassle thanks to this cigar flask! Engraved with "Great Men Like (your dad's name) Smoke Cigars" on its handsome leather exterior, this flask is both a personal and practical gift. For example, your dad is celebrating Christmas at your grandma's house and someone proposes a toast. Now your dad has his own favorite cigar and spirit ready to go! Make sure you include a bottle of his favorite liquor and a case of his favorite cigars so that this is a complete, unique Christmas gift for dad.
Watch Case – A Classy Christmas Gift for Dad
If your dad has a handful of watches but is always leaving them all over the house, help him keep his prized timekeepers organized with this handsome watch case. This is an elegant and unique Christmas gift for dad whether he collects fancy watches or just has one for every occasion. You can also give him a cool new watch for Christmas so that he can display it in his new watch case right away. This leather case holds six watches and even comes with a key so that he can keep them secured.
Awesome Ship in a Bottle Liquor Decanter
Whether he's a Navy Seal, a ship captain, or just loves the idea of the sea, this amazing liquor decanter will blow him away this Christmas. Has he always expressed a desire for a cool whiskey decanter or wanted to try his hand at building a ship in a bottle? Now he can have both! This decanter is made entirely of hand-blown glass and sits atop a hand wooden base with a built-in spigot for easy pouring. The decanter itself is a piece of art with its delicate glass ship inside, sailing through the seas of his favorite whiskey or rum. It even comes with two shot glasses that neatly fit in the bottom of the wooden base. This will be a beautiful addition to your dad's home office, dining room, lounge, or man cave. It's easy to use and a fun liquor decanter that everyone who comes over will want to try. This decanter is an incredibly unique Christmas gift for dad that he'll treasure forever and use for years to come.
Beer Set for the Golf Loving Dad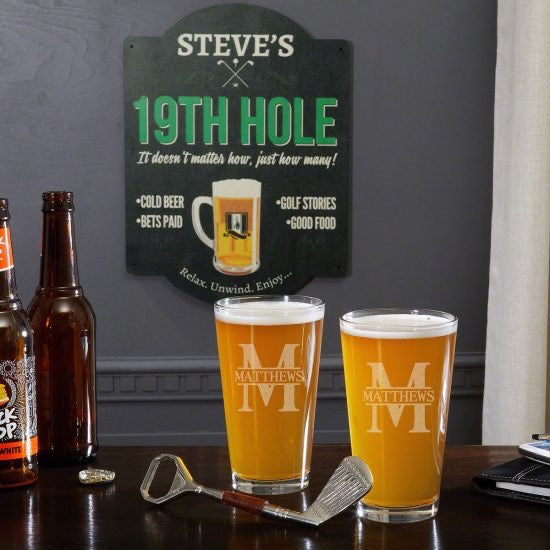 If your dad is a golf fan, then he'll love this awesome golf gift set! Included is a fun personalized sign, two engraved pint glasses, and a neat putter-shaped bottle opener. The sign will look great in dad's bar or lounge area as a fun symbol of the last stop after a round of 18 holes with the guys. He can share a pint with you, a friend, or his wife with the handsome pint glasses after a long day on the course. The nine iron bottle opener is a fun little novelty gift that he'll love to use to open a six pack for his friends. Dad will be so surprised at such an awesome gift set when he unwraps it on Christmas Day!
An Adventure He'll Never Forget This Christmas
If you're stumped at what to get dad for Christmas, why not give him an incredible adventure? With a Cloud 9 gift, dad can ride or race in a genuine NASCAR race car, go skydiving, take pilot lessons, and so much more. If he's a huge fan of race cars, then the incredible ride along with a will NASCAR driver will be a huge hit. Or if he's a thrill-seeker, he can drive it himself! Simply pick the nearest city that offers these once-in-a-lifetime experiences and take him to enjoy something awesome that he's always wanted to do. This will be fun for you, too, as you get to join him in something incredible. With this awesome gift, dad will feel like a kid again and be able to treasure an amazing memory with you. You could even make it a tradition and give him something new to try each Christmas! This incredible adventure gift is one of the best Christmas gifts for a dad who has everything.
Incredible Globe Bar – A Unique Christmas Gift for Dad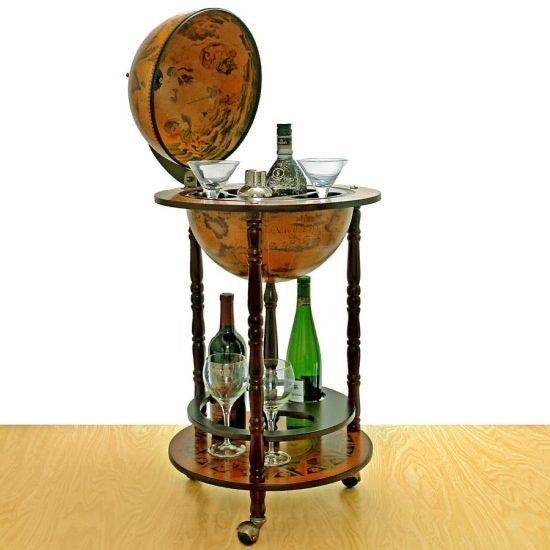 If your dad appreciates the finer things in life, then he'll love this amazing globe bar. Designed with 16th Century Italian details, this beautiful globe is a gorgeous decoration and functional bar all-in-one. Dad might say he has everything, but he doesn't have anything as incredible as a globe bar. Now the whole family can have their favorite liquor or cocktails on Christmas Day. This will look fabulous in dad's dining room, kitchen, or living room and will add a touch of luxury wherever it goes. He can store glasses and wine or liquor bottles both inside the globe and at the base, which both frees up counter and cabinet space. With all of this space, this unique bar is ideal for entertaining be it a wine-tasting party, holiday event, or a family gathering.
Whiskey Gift Set for Dad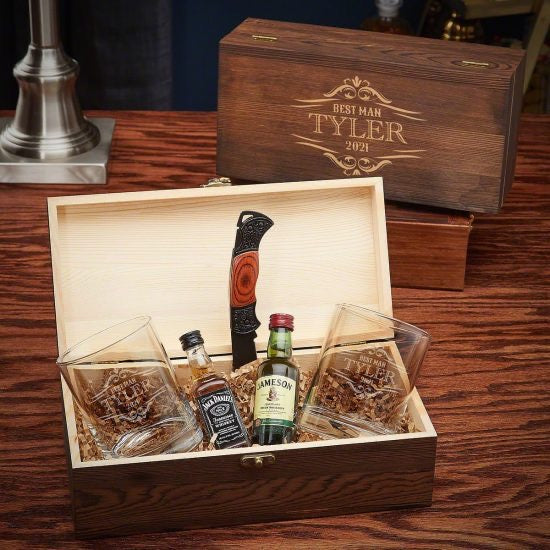 Your dad says he doesn't really need or want anything for Christmas, but you're determined to give him a great gift this year. This awesome gift box set has it all for whiskey lovers. The two of you can share a glass of bourbon to warm up with after spending the morning shoveling snow out of the driveway. The glass breaker at the end of the knife's handle is also perfect for breaking up pesky ice buildup on those especially cold winter days. He can repurpose the gift box to store Christmas cards, watches, jewelry, ticket stubs, and other small items. The versatility of this great gift set makes it a unique Christmas gift for dad.
199+ MORE GIFT SETS TO GIVE DAD>
World's Best Dad Beer Gift Set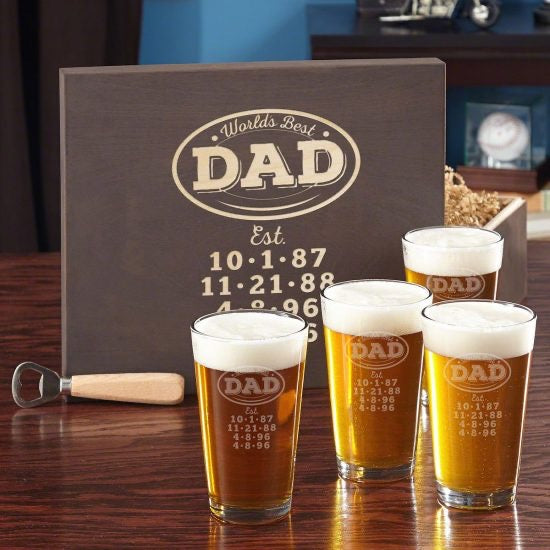 You can never give too many "World's Best Dad" gifts. This Christmas, you and your siblings can get together and give this awesome beer gift set to your dad. The set contains a beautiful wooden gift box and four pint glasses that are all engraved with "World's Best Dad" followed by each of your birth dates. If you're all of drinking age, you can pop open a six pack with the included bottle opener and share a couple of beers together with dad on Christmas day and for years afterward with this cool gift set. This set is a great Christmas gift for a dad who has everything from all of the kids. Bonus: He'll always remember your birthdays now!
Bottle Cap Collection Shadow Box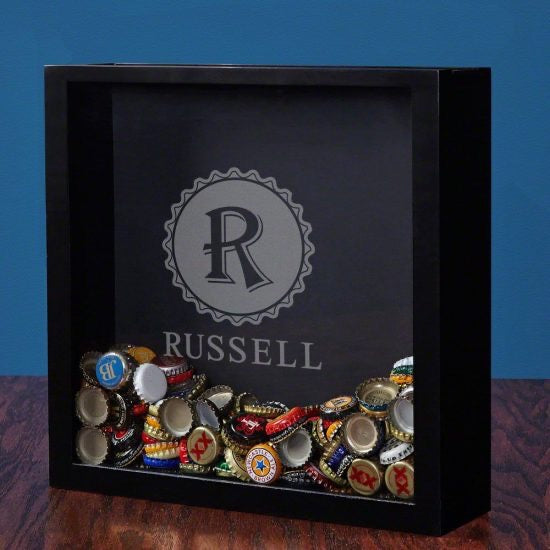 The beer companies would have you believe that with every bottle a new adventure begins, but if you want dad to remember those times with friends and family, you will need a way to store those memories. This fun shadow box is a unique way to display the many memories you will create with every beer you share with dad. It's both a cool decoration and a unique way to collect bottle caps! He can hang it in the kitchen and toss in every bottle cap he gets from his beers or bottled sodas rather than throwing them away. The shadow box can hold hundreds of bottle caps so that he'll be able to watch his collection grow little by little for years. Make sure to include a couple of bottles of his favorite beer or soda so that he can get started right away on Christmas Day!
Custom Cutting Board for the Dad Who Cooks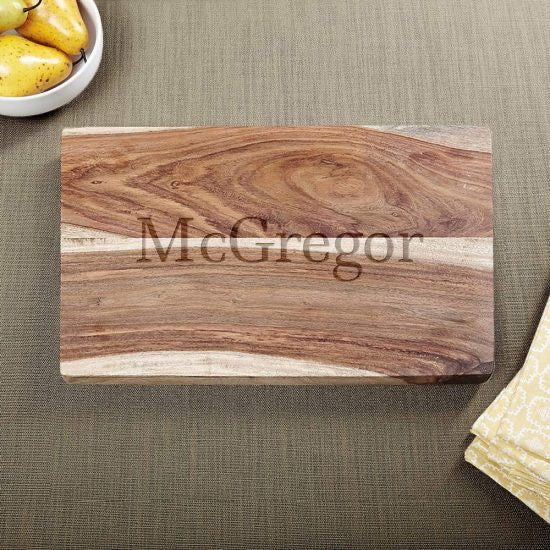 Whether he's a professional chef or enjoys cooking for everyone at home, this beautiful cutting board will be a hit this Christmas. The cutting board is made of exotic hardwood and the grain pattern will be entirely unique so that no two boards are alike. It's also engraved with your dad's name for a personal touch. Now your dad can chop, slice, season, and shred without making a mess of the counters with this lovely cutting board. It'll look beautiful in his kitchen and will last for years, but make sure to get some board oil to keep it smooth. If dad is in charge of cooking for Christmas Day, this would be a great surprise gift to have out in the kitchen on Christmas morning. Don't forget the bow on top!
Cozy Warm Slippers – An Underrated Christmas Gift for Dad
If your dad is the kind of guy who always has cold feet at home but doesn't like to mess with socks or the thermostat, you should get him some slippers for Christmas. Winter will last for many more months after the holiday season after all. These lovely slippers are made with supersoft suede and lined with cozy fleece to ensure your dad's feet are warm and comfy all day long. Slippers are a simple but thoughtful gift for this Christmas but he'll wear them every day, every winter until they wear out and you can get him another pair. Slippers are simple and sweet go-to Christmas gifts for the dad who has everything because everyone gets cold feet in the winter time, even dad.
Personalized Red Wine Glasses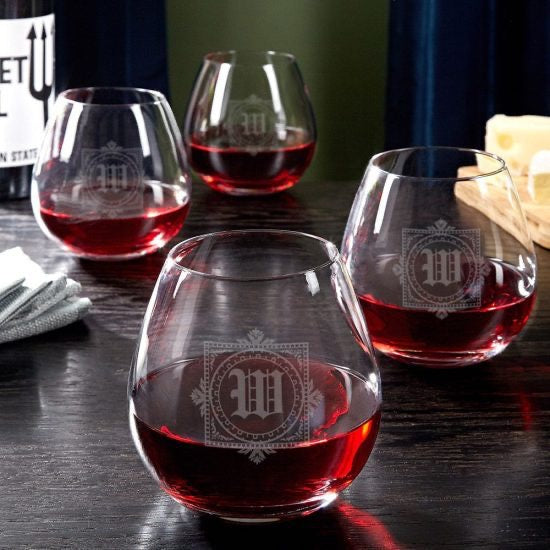 Does your dad enjoy a glass of merlot or cabernet now and then? He might already have wine glasses, but these are not ordinary. This set of four stemless wine glasses are specially designed to aerate red wine through the unique bulb shape, aided through the warmth of the hand when held. They are also engraved with a gorgeous and elegant monogram design. Better than his plain old cheap wine glasses, huh? He'll be so impressed at the difference in the taste and aromas of his favorite reds that he'll never use his old glasses again. The set of four is ideal for entertaining his friends and family, such as wine tastings or movie nights. These wine glasses are wonderful unique Christmas gifts for dad this holiday season, but make sure to include a bottle of his favorite wine to make this an amazingly unique gift.
Brandy Snifter Set for the Brandy-Loving Dad
If your dad is a brandy guy, then he knows the difference between cognac that is gently heated through the warmth of his hand and a thoroughly warmed glass. This brandy set comes with a genuine brass stand, a votive candle, and a personalized brandy snifter. This warmer set makes having a glass of brandy so much better. His hands can only get so warm, so a gently flame with the candle is perfect for unlocking the hidden flavors and aromas. This set is the perfect Christmas gift for cognac-loving dads who are hard to buy for or already have everything. Make sure to include a bottle of his favorite kind of brandy so that he can have a warm drink on a cold Christmas Day.
Beer Tap Handle for the Home Brewer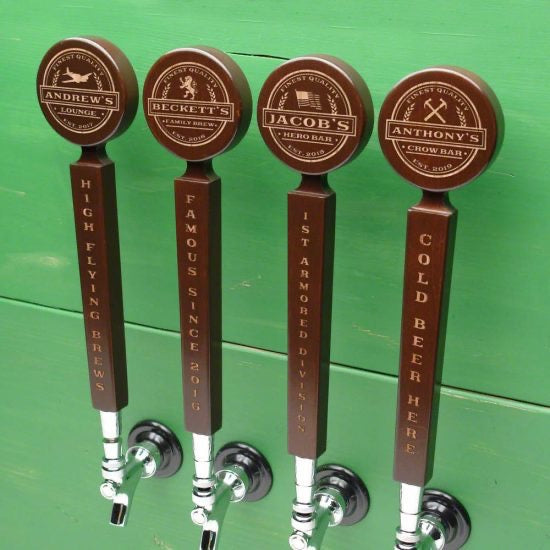 Is your dad an aspiring home brewer? Then he'll absolutely love having his own beer tap handle to serve his concoctions! Now he can host beer-tasting parties and entertain with style. This handle hooks up to any keg with ease and is even personalized with your dad's name, a symbol of your choosing, a year, and two lines of any text. Now he'll feel like an official home brewer or bartender! This beer tap handle is an awesome and unique Christmas gift for a dad who already enjoys making his own beer and wants to get into it.
Ultimate Grill Set for Christmas
If your dad is a grill master already or is just getting into outdoor cooking, then he needs a complete tool set. This ultimate set has everything he could possibly need for a BBQ: a heavy duty carrying case to keep everything in one place, a spatula, tongs, fork, a basting brush with 2 silicone heads and mop brush attachment, a silicone heat resistant glove, 6 stainless steel skewers, 10 burger flags, 8 corn holders, a grill scraper, bottle opener, grilling guide, and magnetic thermometer. Now your dad will be the best prepared cook in the family and want to be the cook at all of the family BBQs so that he can utilize this incredible tool set. If they want burgers, kabobs, hot dogs, or corn on the cob, he's got everything he needs to cook everyone in the family what they want.
Whiskey Stone Gift Set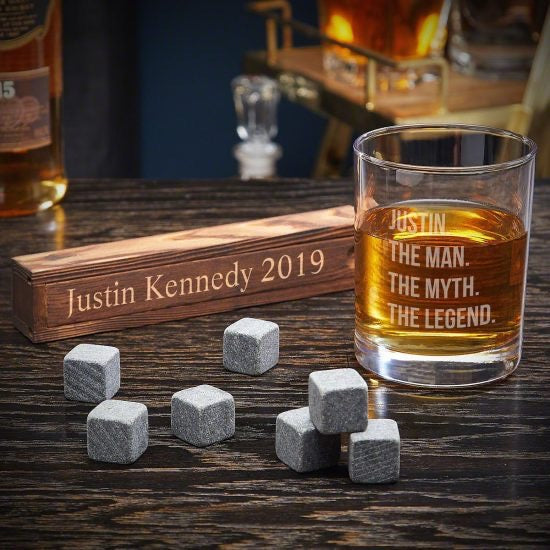 Looking for a unique gift for a dad who loves whiskey? This great gift set comes with a set of 9 chillable whiskey stones, a wooden gift box that holds them, and an awesome rocks glass that is engraved with his name followed by "The Man. The Myth. The Legend." These whiskey stones are made of genuine rock and will ensure that his drink is cold but never watered down ever again. The awesome glass is just the cherry on top of this great gift set that he can enjoy his favorite eggnog, scotch, rum, or a cocktail in style. This cool set is one of the best Christmas gifts for a dad who has everything because it can be used over and over for many years.
Copper Mug
If your dad likes moscow mules, other cocktails, iced coffee, or cool drinkware, then he'll love getting this giant copper mug for Christmas. Made of genuine copper, this beautiful mug is unlike any other. The natural coolness of the copper helps keep the drink inside cold and is ideal for any cold beverage. It's also engraved with a monogram, making this a more personal gift. Copper mugs also provide a different, crisper taste for beverages like moscow mules. If your dad really loves it, then you can get him a new copper mug or other drinkware every Christmas and build a beautiful copper collection.
Cigar Holding Glass – The Coolest Christmas Gift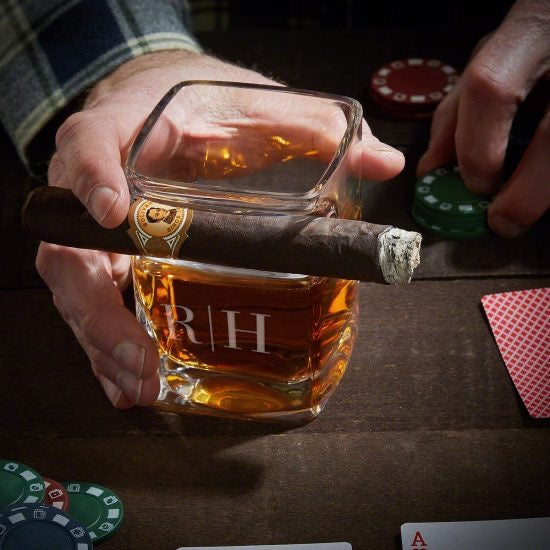 If your dad is a classy guy who enjoys a cigar and a glass of whiskey, then this glass will be the coolest Christmas present he's ever received. This awesome glass is engraved with his initials and has a specially designed indentation that perfectly holds his cigar. Now he can smoke and have a drink all with one hand, freeing up the other to hold his cards during poker nights with the guys. This gift is unlike any other and he'll love showing it off to his friends and family. Make this a complete, unique Christmas gift for dad with a couple of stogies and a bottle of his favorite liquor so that he can try it out after Christmas dinner.
Custom Wine Glasses for the Dad Who Loves Wine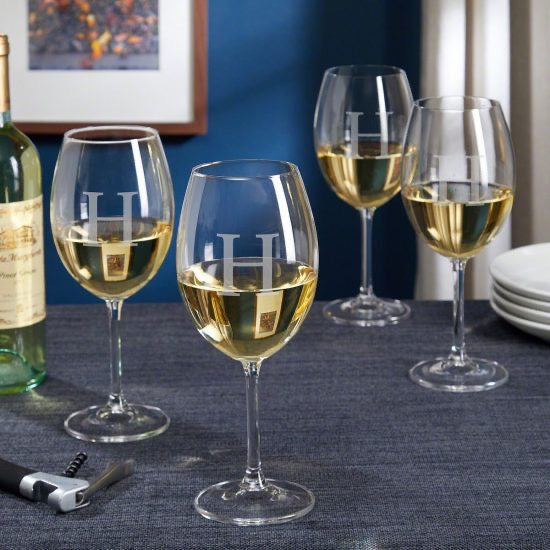 If your dad is a white wine lover, then these beautiful stemmed wine glasses will be the perfect gift for him on Christmas Day. This set of four wine glasses are monogrammed with a single initial and are perfect for enjoying a bottle of Moscato with friends and family. Now he'll have plenty of wine glasses to entertain with and host wine tasting parties for his fellow wine lovers. These are beautiful and simple Christmas gifts for the dad who has everything but personalized wine glasses.
Shaving Kit
Have you noticed your dad scratching at his face or his overused razor? Then a quality shaving set is the perfect Christmas gift. This great set comes with facial soap, shaving oil, and a soothing aftershave that will give him the smoothest shave of his life. Now your dad will look forward to shaving rather than dreading it. If he loves this set, you can get him a new one every gift-giving occasion or even a subscription of it so that he always has it on hand. This problem-solving shaving kit is one of the most thoughtful and unique Christmas gifts for dad.
Custom Grill Master Wooden Sign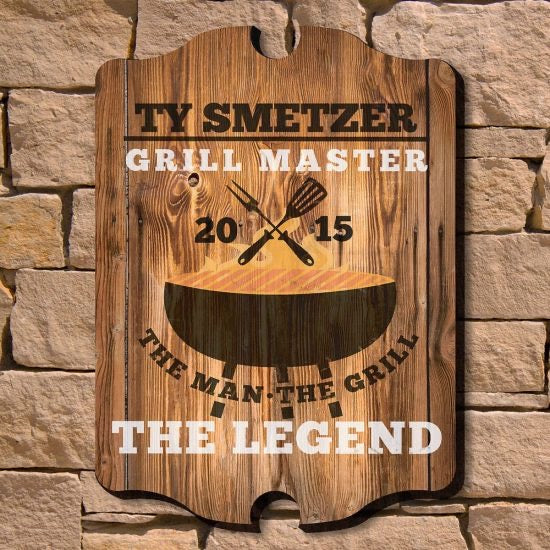 Is your dad really awesome at grilling? Show your appreciation for his incredible barbeque this Christmas with an equally amazing wooden sign that he can hang in the kitchen or the patio. This unique sign is even personalized with your dad's name followed by "Grill Master. The Man. The Grill. The Legend." His cooking is famous in the family, and now you can celebrate it with a fun piece of wall decor that boasts his grilling prowess. He might have everything and says he doesn't need anything this Christmas, but he'll love this awesome wooden sign that celebrates his master grilling skills and love showing it off when company comes over at the next BBQ.
To Dad from Daughter Decanter Set
This Christmas, get your dad something that will show him just how much you love him. As his daughter, the two of you have a special bond that no man can compete with. This lovely decanter set is one of the most unique Christmas gifts for dad as each piece is engraved with "Dad: You will always be the first man I ever loved, [Your Name]." The two of you can share a special holiday toast with this set right after he opens it, which will be so sweet that he might even cry. He will proudly display this beautiful decanter set for everyone to see that you are and always will be his little girl.
161+ MORE CHRISTMAS GIFTS FOR DAD>