You've been invited to a wedding which is right around the corner and as excited as you are, you still need to find a gift for the happy couple. While there are plenty of good safe gifts out there like bottles of wine, why not go a step further with your gift? A wedding gift basket is one of the coolest ways to give them a whole gift set that works together while giving them a unique experience. Whether your basket is all about a tasty snack, a spa day, or a fun activity the two of them can do together, wedding gift baskets are sure to be a memorable gift every set of newlyweds will be grateful for!
An Engraved Decanter Wedding Gift Basket
There is something about getting an extremely up-scale gift that simply sets a marriage off on the right foot. When the newlyweds get home and are opening presents, they'll instantly feel so much classier when they find this engraved decanter gift basket among their wedding gifts. Now, when they're writing thank you cards or having a date night, they'll always reach for this gorgeous gift set when they need a relaxing drink.
Present Wine in Style
A wine bottle is a classic gift for a wedding. There is no denying that. However, you want to give a gift that is not only remembered but lasts. That is why this wine toolset is the ideal wedding gift basket! It dresses up an already good gift with extras like tools for their wine and a great space for them to store their wine. They may even use it as a keepsake for special bottles they plan to enjoy on their milestone anniversaries.
Help Them Unwind After the Wedding
Few things are as stressful as planning and going through a wedding. A new job and moving are the only things comparable. While this should be one of the happiest times of their life, they're still all knotted up from the stress. Help both halves of the couple relax with a spa day gift basket to blow all the other wedding gift baskets away! With this basket, they'll be able to feel like they're at a day spa for days on end!
Celebrate with Champagne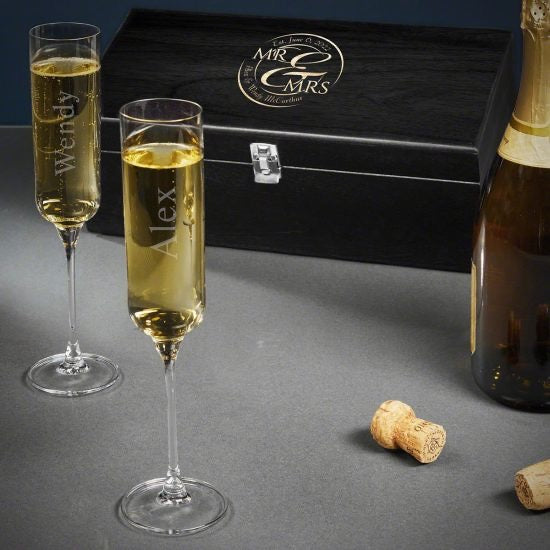 There is no celebration quite like the day you get married. After all, it is one of the few times where all eyes are on you and everyone is excited for you. Make sure the newlyweds can remember that feeling for every celebration such as each anniversary or New Year's with a personalized champagne flute gift box set! If you want to take this the extra mile, you can even give it ahead of the wedding so they can toast together with their matching custom glasses!
A Wedding Gift Basket as Elegant as Her Dress
A great thing about weddings is that no gift is too extravagant for them. This is the perfect time for you to go all out for a couple you absolutely love. So, try and make sure they can remember the elegance of their wedding or how her dress looked as it twirled on the dance floor with a custom twist decanter set. Perfect for daily drinks or special occasions alike, the gorgeous glassware, as well as the engraving, will always have the couple think of the best day of their lives each time they see it!
667+ WHISKEY GIFTS FOR NEWLYWEDS>
Spice Things Up
Ensure that their marriage starts off extra-spicy with a gift basket full of more spices than anyone ever thought they needed! Now, each meal they make together will be popping with flavor. Plus, when they try new recipes or want to alter old ones, they'll have everything they need to flavor their food!
Personalized Wine Gift Basket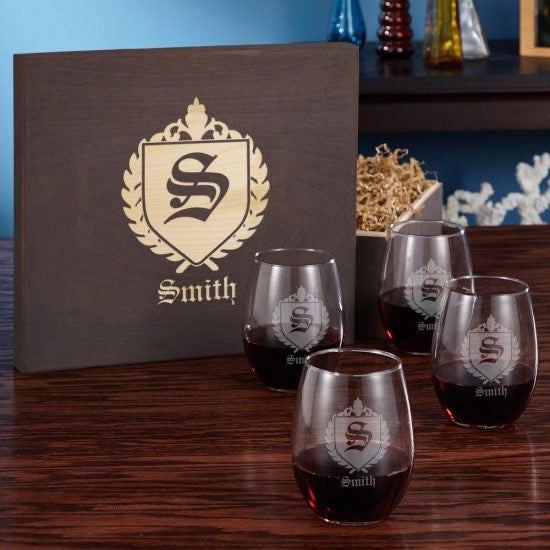 When they lift the lid on this gorgeous wooden lid, they'll wonder why all the other wedding gift baskets weren't this classy! Inside, they'll find a set of stemless wine glasses that are so good-looking their old wine glass set will surely be pushed so far back into the cupboard that they'll never see the light of day again! With their shared last name and initial on the glass, they'll feel so proud and happy to enjoy a glass of merlot as a newlywed couple!
The Coolest Picnic Basket
Could anything be more gift basket-like than an actual wicker gift basket? Inside it has everything secured so the newlyweds can easily take a picnic anywhere they want. With plates, silverware, and glasses, they can truly enjoy a full meal while sitting lakeside or at the foot of their favorite mountain!
A Gift Set for the Memories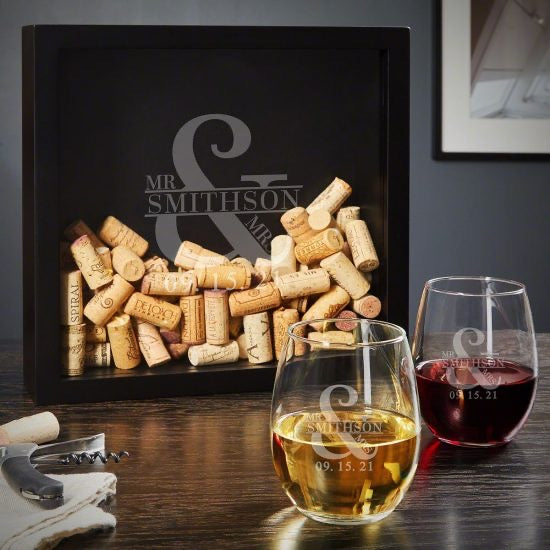 While an engraved shadow box gift set slightly stretches the definition of "basket" you know no couple can resist this set! Aside from being able to share their favorite wine together, the matching shadow box will set this gift apart from everything else they will get. Inside, they can keep some of their best memories or times like her bouquet or polaroids they took together. This way, every time they look at their shadow box or have a glass of wine, they'll be transported back to one of the best days of their lives together!
The Cutest Wedding Gift Basket for Couples
Not every wedding gift basket needs to be a massive tower of edible food or crazy gifts. Some can be special simply because they are made just for the couple. Take this classy black gift box with rocks glasses for example. It comes engraved just for them while also allowing them to toast together during their anniversary or it may become their go-to set for having an end-of-week drink together.
The Most Caffeinated Out of All the Wedding Gift Baskets
After weeks and months of constant planning, the newlyweds may be running a little on empty. Instead of having to resort to energy drinks, ensure that they get a tasty but highly-caffeinated gift with this coffee wedding basket! Now, they'll have plenty of pep in their step when they're out on their honeymoon or writing thank you gift cards to everyone who showed up at their wedding!
Magnificent Moscow Mule Set
There is nothing quite as cool as having a copper set of mugs in your house. Is there even any other way to enjoy a good old Moscow Mule? Don't answer that because the answer 100% of the time is a resounding "No!" With this wedding gift, the couple who can't get enough of their mules won't just be prepared to have their own set at home but they'll also be able to share every time the in-laws come over too!
For the Love of Cheese!
Check out this cool wedding gift basket that has everything they need to serve things like gourmet Gouda or Muenster cheese as easy as it is to spread a good Brie. To top this gift basket off, include some of their favorite cheeses so they can indulge right away!
Custom Cognac Gift Set for Newlyweds
Picture this: The happy couple curled up together watching their favorite show or by a fireplace on a cold winter night, with these gorgeously personalized cognac glasses in their hands. It will make the perfect evening every time they want to romantically enjoy a drink together. This set even comes with a cigar cutter and lighter since cigars pair so well with cognac!
Every Wedding Needs a Wine Gift Basket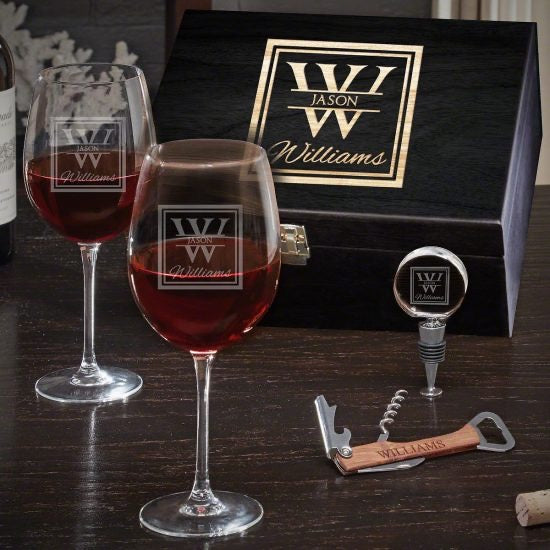 Update their wine glass set to top-tier level with this classy, custom gift basket. Enjoying bottles of wine they were gifted at the reception has never been easier! Plus, they'll feel more sophisticated than Gatsby himself each time they reach inside the box to get their glassware!
A Tasty Breakfast Wedding Gift Basket
There is nothing like a good breakfast and thanks to your wedding gift basket, they'll be enjoying theirs in luxury on the morning of their honeymoon or whenever they decide to tear into this wonderfully tasty gift basket! With waffles in flavors like vanilla, chocolate, cinnamon, maple, as well as fruits, syrups, and pastries, what more could there be for a couple to want to enjoy for breakfast?
Top-Tier Personalized Decanter Gift Basket
A classy decanter set is always one of the best wedding gift baskets you can give. Not only because it can be enjoyed for celebrations and special occasions but because it is a gorgeous gift that will fit any style of couple or home! Something like this personalized decanter box set is sure to become a centerpiece on the home bar or coffee table. This way, they can always be prepared to share a drink with a guest or unwind together when they get home from work.
A New Experience for Every Glass
New experiences help keep couples strong. There is something about learning and experiencing things with someone that makes a shared experience better than one on your own. Let them have new experiences every single day with this personalized smoker set for their liquor! They may have found their favorite flavors of liquor before, but now they can create their own! With smoke from things like cedar or thyme, they can get creative with new tasty twists on classic drinks!
Fill Your Own Custom Wedding Basket
Still not sure what kind of wedding gift basket you're after or maybe you just want a badass basket that will have their jaws collectively on the floor while you have some creative homemade gifts inside? This engraved gift box is exactly what you need! The classy engraving paired with the simple, but gorgeous wood stain finish is the best way to gift anything to some of the most important people in your life!