Wondering how to ask groomsmen to be in your wedding in a unique and awesome way? We know that it can be tough figuring out the best way to ask that important question. When you ask "Will you be my groomsmen?" you want to show your closest friends how important they are to you with one awesome, unique gift. Oftentimes, groomsmen gifts are also items that your guys can use before, during, or after the wedding. When you use any of these fantastic gifts to ask your best friends to be your groomsmen, there's no way they will say, "No!"
Request Their Service in Your Wedding
When you're asking a question as important as, "Will you be my groomsman?" you need a gift that they can't say, "No," to. This groomsman set has a 100% "Yes," success rate. Your groomsmen will feel so classy getting this personalized gift box, stuffed to the brim with fantastic wedding accessories. They can use their new flasks on your wedding day for a few drinks when they want or even celebrate at your bachelor party with their personalized glass.
How to Ask Groomsmen Who Smoke Cigars
This personalized cigar humidor is a fantastic gift for your groomsmen to go along with that important question you're going to ask them. You may even throw in some tasty cigars to go inside this humidor so they'll have perfect stogies that they can use to at the bachelor party, wedding, and reception fresh. Your groomsmen will cherish this unique, personalized gift forever. 
Take a Drink . . . or Two
One of the best ways to ask someone to be in your wedding party is to give them a gift that they can use leading up to, during, and after the wedding. This set of black flasks are the perfect gifts because they'll fit snugly in your groomsmen's pockets and blend in flawlessly with their wedding day outfits. They'll love being able to take a few drinks of their favorite liquor throughout the business of the wedding day!
Can't Go Wrong with a Bottle
You know you can't go wrong with buying them a bottle of liquor, but you want a more unique gift to give when you ask, "Will you be my groomsman?" to your closest buddies. Present them their bottle of liquor inside these handsome customized wooden gift boxes and they'll say, "Yes," immediately! They'll love the thought and effort put into these awesome boxes that they can use to store mementos from the wedding, and they'll promptly open up the liquor bottle so they can do a toast to you and your friendship.
Ask "Will You Be My Groomsman?" with Ease
When they see this personalized box, they won't even need to hear your ask before they say "Yes." As soon as your friends open it, they'll feel a rush of happiness realizing that you want them to be groomsmen in your wedding. They'll absolutely love the drinking accessories in this set, and they'll want to use them to do a toast to you at the reception.
Stylish Groomsmen Only
Weddings typically mean getting all dressed up in fancy clothing. Whether your future groomsmen like dressing up or not, they'll be dying to put on their groomsmen outfits after you gift them these stainless steel cufflinks! These classic round cufflinks are the perfect way to ask your closest friends to be your groomsmen because they won't know how to resist their beauty! These cufflinks will be the finishing touch to their outfits on the big day, and they'll really enjoy looking so dapper.
Axe Them the Question
When you're "axing" one of the most important questions you'll ever ask, you need to accompany it with a gift that will knock their socks off. This set of customized hatchets make phenomenal gift ideas when you aren't sure how to ask groomsmen to be in your wedding. Not only are they insanely cool and badass looking, but the personalization of these groomsmen gifts makes them very special to each of your buddies who are sure to treasure their axe forever.
To Have a Drink on the Big Day
The perfect gift to use to ask the significant question to your groomsmen is this beer tankard. The novelty of this vintage-looking stein makes it a really cool drinking or even display gift. Plus, your groomsmen will be SO excited to have a drink with you at your bachelor party or on your big day with their new tankard!
Gift-Giving is Your Strong Suit
Let your guys know to "suit up" with this creative groomsmen crate! They'll immediately be up to the task as soon as they see this super cool gift set. Your best friends will feel so honored that you want them to stand up next to you as you marry the love of your life while they sport these handsome bow ties.
489+ ULTRA AWESOME BOXED SETS FOR MEN >
The Classy Groomsmen Gift
The men you want in your future wedding party are classy gentlemen, so you want to give them a classy gift when you ask them to be your groomsmen. They'll definitely want to toast to you and enjoy a cigar immediately upon receiving this pint glass and cigar gift. You and your boys will have a blast together enjoying your favorite beer and stogies.
State Your Business
When you aren't sure how to ask groomsmen to be in your wedding, the best way is to think about something they love. Your guys love beer, so these beer cap maps are the perfect gifts for them. When you present each of them with a beer cap of their home state and ask them to stand beside you on your big day, they won't be able to turn you down. Each time they add a cap to their state, they'll think of how awesome your wedding was!
Pack Your Bags
Being a part of a wedding party often means having to do a little traveling. After all, there are many essentials such as toiletries and other items that will help everyone look their best on the big day. Help your groomsmen out by getting them these cool travel kits. These kits are the perfect gifts to use when asking your friends to be your groomsmen because you're immediately giving them not only a cool item they'll use for a long time, but something that will make their time as a groomsmen easier.
Stunning Groomsmen Box Sets
These customized groomsmen gift boxes are the perfect choice for showing those friends how important they are when asking, "Will you be my groomsman?" The stunning box sets are personalized to make each guy in your wedding party feel special with their individualized gift box. At your wedding reception, they'll each use one of their new glasses to do a toast to you and the talented gift-giver you are.
The Gift Set that Conveys the Right Message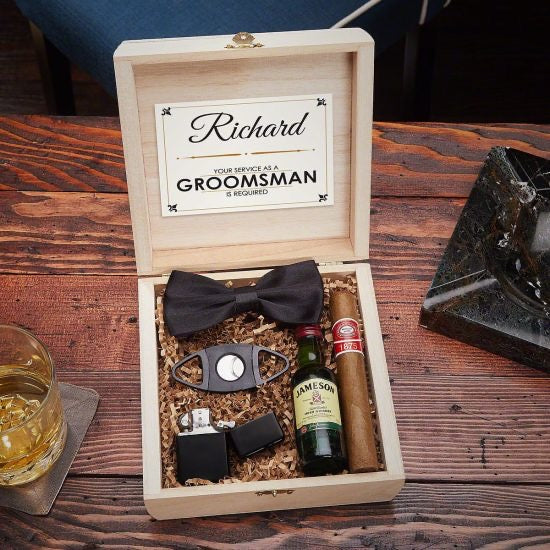 When it comes to how to ask groomsmen to be in your wedding using gifts, the message the gift sends is more important than the gift itself. For example, this groomsmen gift box set shows your buddies that you took the time to make each box customized just for them. Throw in a small bottle of their favorite booze or a stogie or two of their favorite brand to make it even better.
Unique "Will You Be My Groomsman?" Gift
This set of bamboo tools are a fantastic keepsake gift for your future groomsmen. With the personalization on the box, they'll remember your wedding vividly every time they see it. Also, with the fantastic grilling tools, they'll feel more confident in their barbecuing skills, which means tons of super fun backyard barbecues from here on out.
Watch You Tie the Knot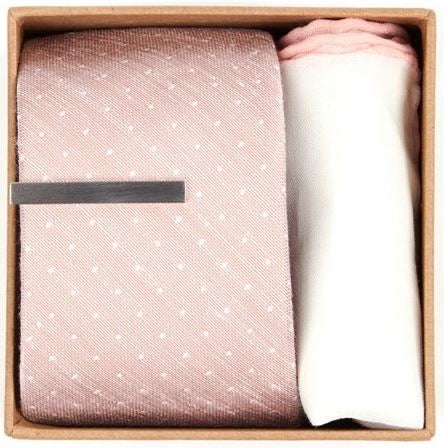 Wondering how to ask groomsmen who hate dressing up to be in your wedding? It's simple: give them a tie they actually want to put on! This tie gift set will have them begging to try on their suit as soon as possible. They'll love the way they look in these ties, and they'll love seeing the matching ties in your wedding photographs that they'll have for the rest of their lives. It will mean so much to them that you found an attractive tie set that everyone loves.
Remarkable Custom Beer Mugs
The all-time perfect combination: your friends and beer mugs. Your future groomsmen will never want to put these remarkable mugs down, and with the personalization, they'll know that you spent so much time and effort on making them the best groomsmen gifts ever. They'll definitely want to use them at the reception when they propose a toast to the happy couple!
Liquor Lovers Groomsmen Gifts
A phenomenal way to ask them to be your groomsmen is with a gift box stuffed with goodies. If they accept, they'll be able to enjoy their favorite liquor both when they're relaxing at home as well as when they are out and about. On your wedding day, they can easily have a few drinks of their favorite tequila, vodka, or whiskey with this flask that'll fit perfectly in their pocket. How could they say, "No?"
How to Ask Groomsmen in a High-Caliber Way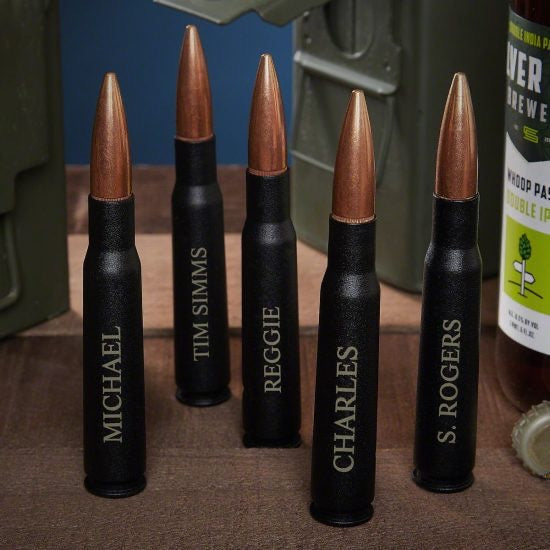 Ask your closest friends to be your groomsmen with these super unique bullet bottle openers. They'll think these real 50-caliber bullets with their names on them are insanely cool, and they'll love that you took the time to find a gift as novel and useful as these bottle openers.
Raddest Groomsmen Gift Set
Your friends are the absolute coolest, so they deserve the absolute coolest gift when you ask them to be your groomsmen. This bull decanter set is a super rad present that your groomsmen are sure to be impressed by due to its ruggedness and novelty. They'll greatly appreciate using this gift and seeing it displayed in their home.
639+ AMAZING WHISKEY GIFTS FOR MEN>
How to Ask Groomsmen with Beer Bottles
For you, giving a bottle of beer to your potential groomsmen is a must. You know they'd really appreciate it and probably say, "Yes," but how do you make it an even better gift? These custom beer labels will really spruce up their favorite bottles. Your groomsmen will think they're so creative and unique that they'll want to crack open the bottle immediately to toast becoming part of your wedding.
Excitement-Inducing Gift Box
Sometimes, the greatest questions are asked with no audible words. With this gift set, you can ask your closest buddies to be your groomsmen without even having to speak. As soon as they open this box and see the personalized card and other accessories, they'll begin vigorously jumping up and down in excitement and tell you how honored they are to be asked to stand beside you on the biggest day of your life.
The Coolest Ammo Can Gift Set for Asking Groomsmen
Ask, "Will you be my groomsman?" to your closest friends with an extremely impressive ammo can gift set. These ammo can gift sets will absolutely stun them because of how amazing they are, and your friends will know how much they mean to you. With their new glasses, they'll give a toast to you, and they'll store mementos from your wedding inside the ammo can.
Decor for How to Ask Groomsmen to Be in Your Wedding
This groomsmen gift set is such a phenomenal gift for your closest friends. The attractiveness of this handsome gift set will greatly impress your groomsmen, and they'll love using the whiskey glass to do a toast to you at the reception. They'll be so excited to stand beside you on your big day!
It's Time to Be Your Groomsmen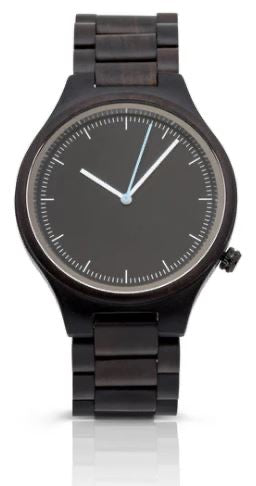 This attractive ebony watch is a fantastic groomsmen gift that will make them immediately agree to be in your wedding party. They'll love sporting these handsome, durable watches on your big day and every day after that!
Gift Set for Popping the "Will You be My Groomsman?" Question
Popping the groomsmen question may be a lot easier than popping the marriage question, but it can still give you a little bit of anxiety. All those nerves will wash away when you see this phenomenal groomsmen gift set. You know your groomsmen won't be able to resist the awesomeness of the personalized card and drinking accessories in this set, so you can all but guarantee that they'll be by your side on the big day.
The Importance of Beer
A personalized gift set will make your groomsmen feel absolutely legendary! That's why this beer mug set is the perfect gift to give when asking them to be your groomsmen. They won't be able to resist the awesomeness of this beer gift, so they'll without a doubt say, "Yes." They'll raise their glasses to you as a toast for one of their closest friends of all time.
463+ WAYS TO ASK WILL YOU BE MY GROOMSMAN >