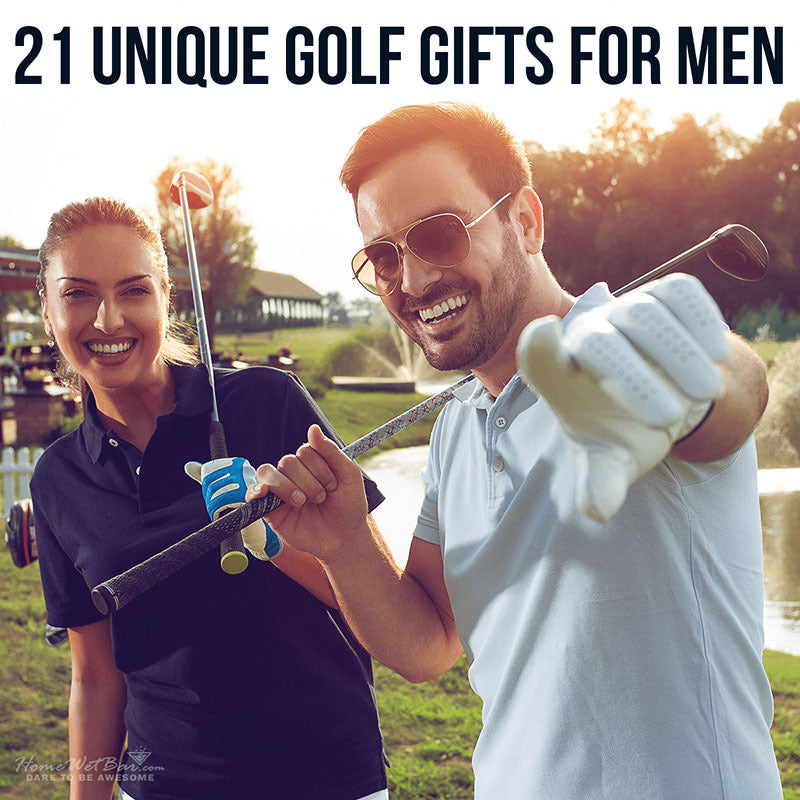 21 Unique Golf Gifts for Men
Whether he considers the fairway his second home or he only goes golfing once in a while, he's passionate about the sport, so you know he'd love a golf-related gift. Golf gifts for men are ideal gifts he can use on the golf course, after his round, or even as a way to remind him of his beloved sport on the days he can't make it to the green. These gifts for golfers will make the guy in your life who loves golf feel so appreciative that you support one of his favorite hobbies. Want to give him these golf gifts just because? In search of a birthday gift for the avid golfer? How about a set of outdoor gift ideas for men? Whether you're looking for golf gifts for dad, your husband, or any other man in your life, we've found the perfect golf gifts for him.
An Above Par Sign
Every golf lover needs a golf sign hung up in their home bar, kitchen, or garage! This handsome, personalized bar sign is one of the coolest gifts for golfers that they'll enjoy, especially after finishing a round of golf. It'll look awesome hung up in their home bar, man cave, or kitchen, and they'll have a great time on the 19th hole, enjoying a cold glass of beer.
One of the Most Useful Golf Gifts for Men on the Course
Help him to make sure that the golf course always stays in tip-top shape with this custom divot tool! This tool makes it easy to fix any dents in the green, and it also makes a terrific ball marker. These ingenious tools make great golf gifts for dad, your husband, or any other grilling golfer you know.
Perfect Shoes for Gifts for Golfers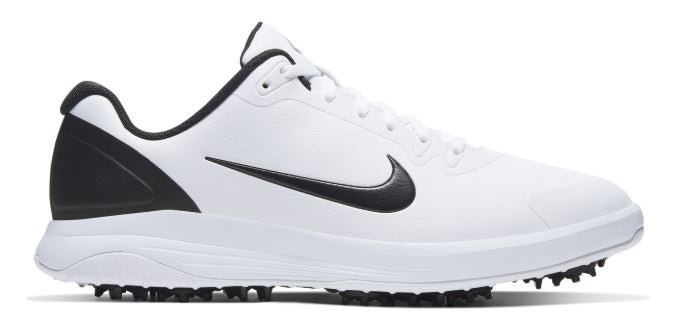 Make sure he is the most stylish golfer on the course during his next outing when you get him the newest and sleekest set of golf shoes on the market! As he swings, he'll have perfect grip with these shoes, meaning his drives will be even better! Talk about an awesome gift!
Take a Sip on the Course
When he's grinding on the golf course, he's bound to need a drink. After you give him this golfer hip flask, he'll always be fully equipped for a quick nip! He'll love the included tees and golf ball markers outside of the leather cover, making it a super awesome golfer gift. Even when he's not golfing, he'll use this flask to indulge in his favorite spirit and dream about his next golf outing. Talk about an awesome set of retirement gifts for men!
Perfect Relaxation Golf Gifts for Men
After a long morning or afternoon on the golf course, nothing sounds better than a delicious glass of his favorite chilled spirit. With this whiskey stone box set, he'll be fully equipped to do so, and he'll love being able to have the cold drink in hand seconds after walking through the door. The personalized wooden box is a great place to store mementos from his time on the golf course too. Now, thanks to this awesome golf gift, he can be ready to celebrate his new course record every time he breaks it!
495+ INCREDIBLE BOX SETS FOR MEN>
Don't Lose Sight of the Ball!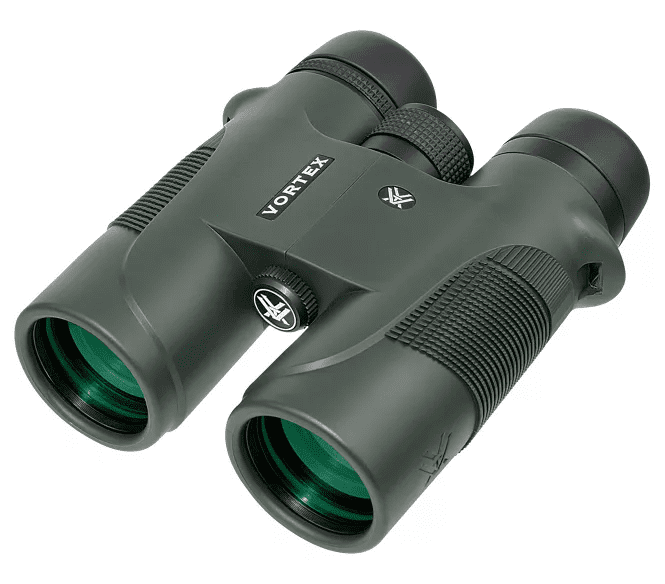 Binoculars are a must for serious golfers which is why this set is one of the most useful golf gifts for men. He is sure to truly appreciate and use these cool binoculars every time they go golfing! He will be really thankful for this awesome gift that helps him always know exactly where his massive teeshot went!
Practice Putting All the Time
Sometimes, he just wants to play golf but can't make it to the club. That's what makes this golf putting set such an excellent gift idea! Whether he's at home, at the office, or anywhere else, with this gift he can easily get at least a few puts in to keep his short game sharp! He'll love improving his game, even when he's not able to play a full round. He'll consider this one of the coolest golf gifts for men that exist!
An Ace of a Gift
Why have the normal version of something when there's a golf version? This set of golf ball shot glasses is such a unique and cool gift that's so much cooler than any other shot glasses out there! He'll love using them for drinks when he's with his golf buddies or just when he wants a taste of his favorite liquor. He'll be obsessed with the crystal golf ball base, making these awesome golf gifts for dad or any other man in your life!
Protect the Polo
Through rain or shine, he wants to be on the green, so make sure he's dressed appropriately with this light jacket! Not only will it protect his nice polo from rain, but he'll look awesome wearing it! He doesn't have to only wear this jacket when he is playing either, this sleek water-proof jacket is good enough to wear around town too!
Set Full of Golf Gifts for Men
The ultimate gifts for golfers are found in this ammo can gift set! He'll feel like a legendary pro golfer using the personalized ammo can to store all his golf accessories, and he'll feel awesome taking it to the club when he's golfing. After a long round of golf, he'll love using the custom pint glasses to sip on his favorite brew. He'll love feeling like the best golfer ever and dream about someday playing in a big tournament.
Don't Lose the Balls
There is nothing quite like getting a hole in one, or an eagle on the difficult hole you've been working on for years. You know the feeling of pride that comes with any major golf accomplishment, and so does the guy you're shopping for. Make sure he is able to show off his greatest golfing feats with this shadow box! Anytime he does something memorable, he can keep the ball in his custom display case which is perfect to show off in his office or man cave!
New Favorite Set of Golf Balls
The best golf gifts for men make them feel like pros. So, don't make him wait any longer to feel like the golfer he has always wanted to be. Step up his game with his own personalized set of balls and tees! He'll feel his golf game rise to a whole new level when he's using these awesome golf balls, and he'll definitely want to keep them forever!
Kiss His Putt
Whether you're looking for golf gifts for dad, your husband, brother, or any other man in your life, you can rest assured that he will love these personalized whiskey glasses! The golf pun, along with their name engraved onto these glasses, will make him laugh and feel like a pro golfer with their very own glasses. This is the perfect set when he's attending the 19th hole with his buddies or even when he just wants a night cap!
Boomerang Golf Balls
Improve his game as well as his time at the workplace with this electric putting green! He'll love taking breaks from staring at the computer screen or making calls to practice his short game. This putting green is electric, so the ball will come right back to him whether he misses or makes the ball in the hole, making it an even more awesome golf gift!
Protect His Eyes

Few things are worse than trying to play golf with the sun in your eyes. With these Maui Jim sunglasses, he'll never have to worry about the sun affecting his shot ever again! Not only will he look great cruising down the course in the golf cart with these stunning shades, he is sure to save a stroke or two on his game now that he'll always see the fairway clearly!
Gifts for Golfers When They're Writing
Even the smallest golf gifts will make him happy every time he uses them. These golf pens with a golf bag are great gifts for golfers because every time he writes down a note for work or a list for the store, he'll be dreaming about being on the golf course again. He may even bring one of his club pens with him to keep score during his next round!
Hear From the GOAT
You can't think of golf without thinking of Tiger Woods. That's why every golfer needs a copy of his book How I Play Golf. He'll love getting into the mind of the greatest to ever play the game, learning the secrets of Tiger's success, so he can improve his own golf game. He'll be so thankful for such a creative gift and chance to still enjoy an aspect of golf even when he's not on the course.
Classiest Glassware Ever
Golf is a classy sport, so those who play it need classy glassware to drink from when they're finished playing. This sculpted glasses and decanter set is one of the classiest gifts for golfers that will help them relax after a long round of golf. Any other time he wishes to relax with a drink, or celebrate a special occasion, this gift set will be his go-to.
Coolest Sign for the Golf Fan
A wooden, personalized golf sign is just what he needs to make his home bar or man cave the most awesome room ever! He'll love hanging out with his golf buddies while they all admire this super cool piece of decor. This sign will always remind him of all the fun times he's had on the golf course as well as make him look forward to the next time.
Golf Gifts for Men for His Head
You can't really look the part of a golfer without a visor! This white visor is part of the classic golf look and is perfect for shading his eyes while he's trying to birdie on the 17th hole. He'll feel like a stylish pro golfer sporting this sweet visor every time he is on the course; in fact, he'll probably never want to take it off!
Tag His Bag
Making sure his golf bag doesn't get mixed up with others is important. That's why this handsome golf bag tag is one of the best golf gifts for dad or any other man you know. He'll love that no one will mistake his bag for theirs with this attached to it, and the tees inside it are a nice bonus for when he is out on the green too!
41+ UNIQUE GOLF GIFTS FOR MEN>