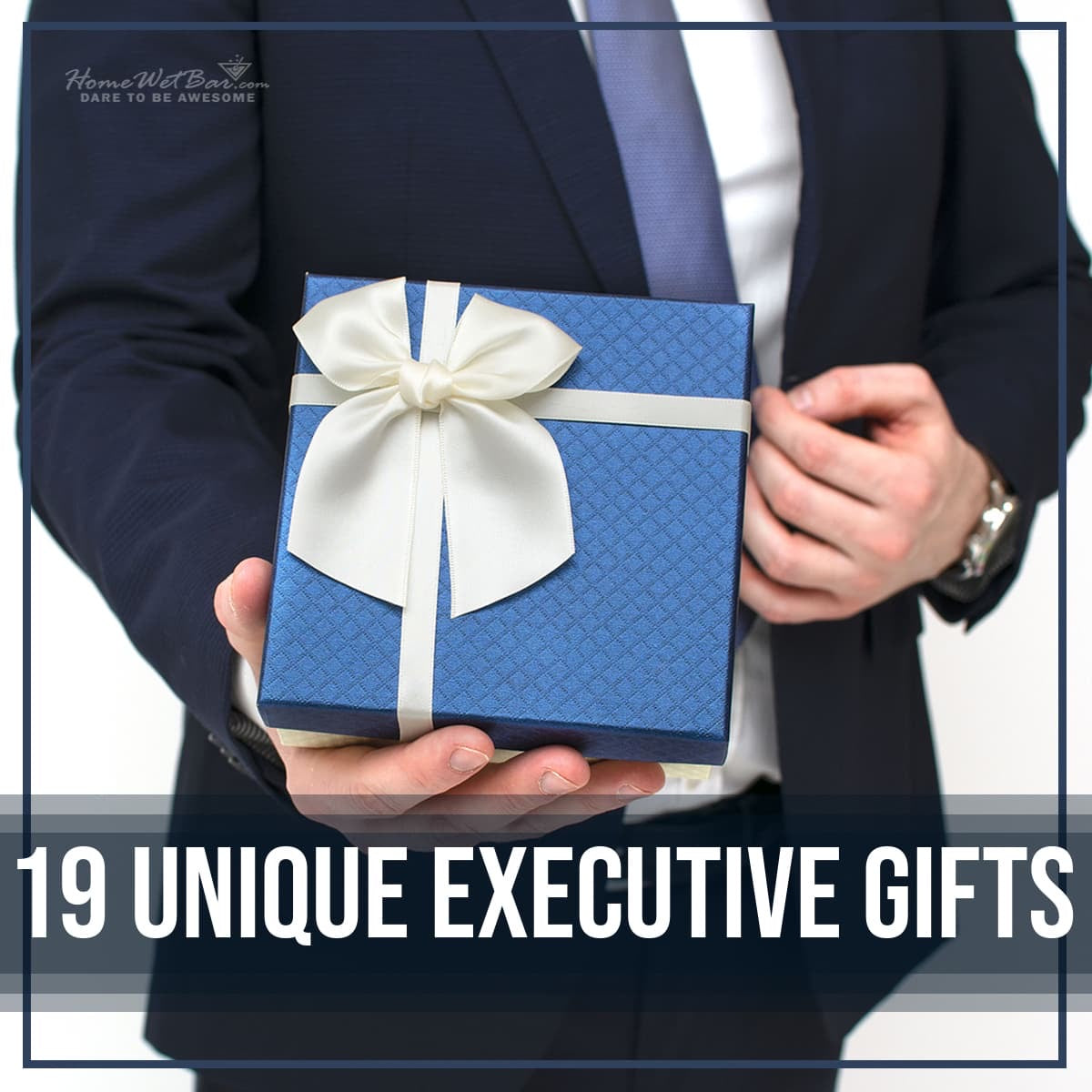 19 Unique Executive Gifts
Make Them Feel Like the CEO with Top-Notch Unique Executive Gifts
Executives are the people who are at the top of your company. Over the years they've given you countless parties, bonuses, holiday gifts, and words of inspiration. Now, it is time for you to give back. Thank them for everything they've done for your and the company with unique executive gifts. There are high-end creative gifts as well as items you may know they want for their office. But what exactly does that mean? You may still be wondering what should I gift to my CEO? What is the best gift for a workaholic? Or even, what should I give to my manager? Well, we're here to help! While finding gifts for executives may seem tough, we have the experience and fortitude to have a curated list of the best gift ideas for top executives out there!
Monogrammed Presentation Set of High-End Executive Gifts
Make them feel like they're the true CEO of the company with a monogrammed whiskey presentation gift set as the ultimate high-end executive gift. Perfect for their desk, they'll love having this on display when meeting with high-end clients or employees during important meetings. After all, nothing seals the deal quite like sharing a toast toward good fortune with one another!
Custom Valet Tray
Executives already have it all which makes finding unique executive gifts extremely difficult. However, what if you could improve their life with one simple gift? This engraved watch case and valet tray is the perfect gift for any executive. They already have gorgeous watches, tie clips, bracelets, earrings, and more. But with this gift, they can easily keep all of their accessories organized, which will make looking their best every day easier than ever!
Personalized Wine Set of Gifts for Executive
Keep things classy in your gifts for executives search with a gorgeous, custom wine glass gift set. Sure, every executive has a few wine glasses in their home, but this set will be incredibly memorable due to the engraving on each piece. Nothing makes a CEO feel more special than when they get to see their name on every part of their gift. Add in a bottle of their favorite Riesling or Merlot, and you'll give the ultimate wine gift for an executive!
Cigar and Whiskey Set of Unique Gifts for CEO
Every executive needs their celebratory kit for closing big deals, having amazing quarters, or for general celebrations. With this personalized whiskey cigar glass, they can go from business as usual to full-blown party mode in no time! They'll especially love that the glass allows them to hold both their cigar and whiskey in one hand which leaves their other hand open for fist bumps around the office!
Time for a Unique Executive Gift
Is there anything more classic as a gift for executive than an acrylic clock? These simply scream "I am awesome" as an executive. They classily show an award as well as the time. Perfect for their desk, mantle, or anywhere else in their office, they simply go with any kind of decor. Make your boss feel like the winner he is today with a personalized acrylic clock award.
67+ UNIQUE AWARDS AND PLAQUES >
Keep a High-Class Portfolio
Organization is a key component to success. No matter how good someone is, if they can't keep their notes straight they will struggle in the business world. Never let your executive be disorganized by gifting them this alligator skin writing portfolio. This simple and classy portfolio will always keep his notes in order and ready for every meeting.
Custom Cognac & Cigar Gift Set
Cognac is the perfect drink for the higher-ups. Most people associate it with luxury and fine decor, which is perfect because that is the idea you want to come across when you give this engraved cognac and cigar gift set. After a thrilling quarter, the executives will love taking this set with them to the Alps and warming themselves with a stogie and a drink after a long day on the slopes.
Signature Stogie Holder
One of the classiest gifts you can give to an executive is their own personalized ashtray. But don't just get any old ashtray, get one that makes them feel special. This custom brown marble tray will do the trick. Not only does it function but it looks great too! And as a bonus, it easily holds their stogie. That means when they've got to cut checks and sign hands, they can rest easy setting their Padron down for a few minutes.
The Tastiest Unique Executive Gifts
Gifts for executives tend to need to be something a little bit more next level. These engraved Glencairns for example are the highest esteem they can hope for if they are a fan of whiskey. Now, they have a glass that will elevate the flavors and aromas of their favorite whiskeys. In fact, these glasses may even reveal a few scents they never even knew were in a drink they've enjoyed for years. Talk about a unique gift for CEOs that keeps on giving!
Present Wine in the Classiest Way Possible
A bottle of wine is always a practical gift, for anyone, at any level of the job. However, this is an executive, they aren't just anyone. So make your gift more unique with this personalized wine presentation gift set. This wine gift then becomes a unique executive gift. As they are getting a bottle of wine, a presentation box, as well as top-tier wine tools. This is the ideal gift to give when you show you're an employee who goes the extra mile.
Bookend Their Gift
Have their office looking as regal as the Coliseum with these white onyx bookends. Every office has a collection of texts and there is no better way to display that knowledge than by having them stand up straight and sandwiched between two gorgeous bookends.
Celebrate Success with Champagne
Champagne is just what CEOs need when they're celebrating an all-time high quarter or year. An engraved champagne gift set is the ideal way to make that celebration even more memorable. Personalized with their last name and initial, the bubbly will taste all the sweeter when they're toasting and celebrating using this gorgeous gift set.
An Engraved Decanter Gift Set
A custom decanter set is one of the best gifts for executives when you aren't quite sure what to get. With a decanter set like this, you don't even have to know what their liquor of choice is because this set is perfect for whiskey, bourbon, scotch, and even vodka! You can already see these luxury gifts for the CEO on their desk. It'll always be ready for a celebratory post-work drink.
Best Executive Gift in the World
CEOs often want to feel like they've conquered the world, while that may not always be feasible, you can at least get them this awesome vintage globe bar cart. Now, they'll be kings of their own world. And, in this world, they have all the booze they need! This is an extremely unique executive gift that they will be proud to have in their home bar or even in their corner office.
A Great Gift Box for Their Liquor
Turn a simple gift into one that is extraordinary with a personalized liquor gift box. These make for amazingly unique executive gifts. Sure, the bottle inside is great, but now they have a keepsake for when the bottle has long since been drunk. They can even store another bottle inside for a special occasion or put keepsakes inside too!
Best Business in the World
Give a luxurious gift that still has them feeling like a kid at heart with a model of their favorite city. This example is a Lego Architecture model of New York City where if they've made it here they can make it anywhere. This is the perfect gift for an executive to appreciate on their office desk, mantle, or even in the comfort of their own home.
Keep it Classy with Crystal
Crystal is a classic gift and with these engraved whiskey glass gifts, you're making your executive feel like he's an entrepreneur who built this company from the group up (and maybe they actually did)! This is a great small gift for an executive that also carries an incredible amount of meaning. The whiskey stone case with the engraving is the perfect reminder of the awesome gift they got from their favorite employee!
A Modern Aerator
Executives don't need or want standard wine decanters. They want something they have never seen before which is why this unique aerating decanter is the perfect unique gift for a CEO. After all, it still pours just right but what makes it better than other decanters is the unique aesthetic design that also makes sure that the wine is as aerated as possible. With a decanter like this, their bottom-shelf wine will start tasting just as good as their top-shelf bottles used to!
A Luxury Set of Gifts for Executive
Not every executive is all uptight and only drinking the finest scotches and bourbons, some still love beer! Give him the down-to-earth beer gift set that still has an element of class to it with a gorgeous beer mug box set. The black gift box with their name on it will let them know right away that you went the extra mile to get them something incredibly unique for their birthday, the holidays, or for a fantastic quarter!