There are many ways to enjoy the crisp taste of vodka, whether neat, on the rocks, mixed with other ingredients to form a classic cocktail, or any other way you like it. No matter how they like to enjoy it, an awesome vodka gift set will help them enjoy it even more! From the proper glassware to tools for making their vodka delicious to drinking games, these vodka gifts sets are awesome and unique, and they'll help them enjoy their favorite liquor in a new way with not just one useful glass or tool, but an entire set. Whether you need a decanter, box set, or simply a vodka glass, these gift ideas make awesome gifts for anyone in your life who enjoys drinking vodka from time to time!
One of the Most Stunning Glassware Vodka Gifts Baskets
Decanters aren't just for whiskey and wine! This custom vodka decanter set is an absolute must-have for any vodka lover. As soon as they buy a new bottle of vodka, they'll greatly enjoy pouring it into this decanter to keep it tasting fresh and delicious. The glasses are perfect for them and their friend or spouse to enjoy a glass with them on occasion, especially with the unique customization that'll make them feel special!
Moscow Mule Set
One of the best ways to enjoy vodka is in the form of a classic cocktail—the Moscow Mule. It's so famous that it even has its own type of glass designed specifically for it! This Moscow Mule gift set is one of the greatest vodka gifts sets because it has four handsome copper glasses that will make their drinks taste delicious and stay cold. Any vodka lover will be a big fan of these amazing glasses, whether they're using them for a Moscow Mule or other vodka-based cocktail like a Great Gatsby or Vodka Cranberry, making their favorite vodka drinks taste delicious.
Stainless Steel Vodka Gifts Baskets
A personalized stainless steel tumbler set is a good idea for anyone, but it's a phenomenal idea for a vodka lover! They'll be obsessed with the fact that these handsome tumblers pair perfectly with their icy cold vodka cocktails. Not to mention that they're totally shatter-proof, so when the party gets a bit too wild, they can rest assured that their glasses are safe.
Delicious Vodka Gifts Baskets are Beloved by All
Vodka gifts baskets don't have to be all about the glassware. This vodka mixer gift basket is an awesome present because it includes four different syrups or mixes to make the most delicious vodka cocktails of all time, like Vodka Tonics or Bloody Marys. They'll be so excited to use this set to whip up mouth-watering cocktails with ease.
Create Any Cocktail
Speaking of whipping up vodka cocktails with ease, get them a set of high-quality bar tools to help them create delicious cocktails that are just as tasty (if not better than) their favorite veteran bartender. With this bar tool set, they'll feel like a bartender themselves in no time! Thanks to the tools found in vodka gifts sets like this, the possibilities for different vodka cocktails are endless! Who knows, they may even try making a new cocktail every night now?
Most Unique Glassware Set
Imagine getting them that expensive bottle of vodka they've been eyeing only to just put the bottle on a counter or shelf like it is a bottle of Grey Goose or Smirnoff. Don't let the vodka lover in your life do that any longer! Their beloved vodka deserves an equally magnificent place to be kept, such as inside this diamond decanter set! They'll love the way it looks poured into this handsome decanter, and drinking from the similar, beautiful glasses will make them enjoy vodka more than ever before. This has got to be one of the coolest-looking gifts for vodka drinkers out there!
One of the Most Clever Vodka Gift Sets
Help them travel with their favorite drink with sleek style with this leather DOPP kit. Perfect for smuggling in a bottle of their favorite vodka in their bag along with four glasses, this is the ideal way to share top shelf drinks! It doesn't matter if they want to keep this at home for their emergency vodka set or take it on the road when they visit a friends place, this is definitely one of the coolest vodka gift sets out there!
A New Flavor of Vodka Gifts
Their passion for vodka is so strong that you know they'd have a blast infusing their favorite vodkas with various flavors! That's why this advanced smoker system is such an excellent gift! Experimenting with different flavors in their vodka will become one of their favorite hobbies, and they'll appreciate how easy it is to simply put the glass of vodka inside the box and begin adding flavor, such as fruits or spices. Before you know it, they'll have invented a whole new cocktail!
Shot Glass Vodka Gifts Sets are Awesome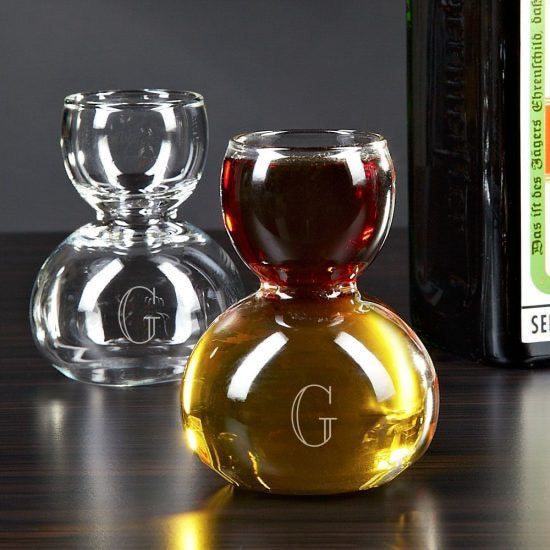 If there's one thing vodka lovers look for, it's the perfect shot glasses to use when they want a quick shot (or two) of vodka! With these unique shot glasses, they can enjoy a shot of their favorite vodka as well as their favorite chaser to follow! They can make lemon drop shots, kamikazes, or any other vodka shot recipes they desire. These glasses are perfect for any party or get-together.
Pair of Cocktail Glasses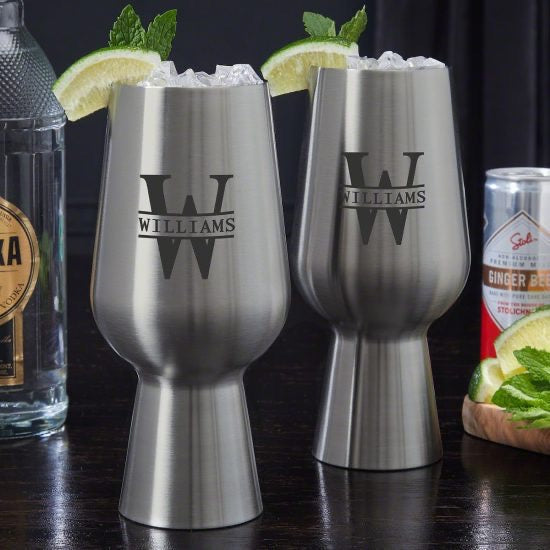 Few things are a bigger bummer than taking a sip of your vodka cocktail and finding that it's gotten watered down or become room temperature. Help them avoid that altogether with one of the best vodka gift sets—these stainless steel cocktail glasses! Their Cosmopolitans, Screwdrivers, Bloody Marys, or any other vodka cocktails will stay ice cold four hours inside these uniquely personalized glasses. They'll really like the silver, classy look of these glasses too, from the unique shape to the customization everything about these glasses will make them the perfect gift set.
Super Unique Cocktails
They definitely enjoy ordering a fancy cocktail at a bar, but sometimes they want to stay home and drink something a little bit different. This vodka cocktail kit is awesome because they can use the special tools and flavors to create their own cocktails! It's one of the greatest vodka gifts baskets because they'll have a great time using it to enjoy some unique yet delicious vodka mixed drinks from the comfort of their own couch. They'll feel like a professional mixologist! Nothing beats a gift that's both delicious and fun!
For Vodka On the Go
Being able to enjoy their vodka with ease is important to avid vodka drinkers. That's why this flask gift set is one of the greatest vodka gift sets out there! The handsome, personalized flask will always be in their pocket or bag when they're camping, hanging out with friends, or anywhere else they'd like a sip or two. Plus, the shot glasses are perfect for when a couple friends want to get involved in the drinking, too!
Awesome Vodka Dispenser
Life's too short to have to pick up a heavy glass bottle and pour every time you want to enjoy a drink. That's what makes this revolving liquor dispenser so incredible! With this unique contraption, they can dispense their vodka fountain-style, making it so much more convenient for them to fill their glass. They'll feel like a professional bartender instantly!