They've just completed a major milestone in their life whether it be a promotion, buying their first house, having a child, or anything else that marks a moment in life deserving to be remembered. The best way for you to show how excited you are for them is by selecting the perfect present for this big moment in their life. These congratulations gifts are a great way to ensure they know you care about the big accomplishments in their life! These gifts are important because they capture the essence of their big day of excitement, and when they use them, they get to relive the emotions of that day! Get them a gift they will always want to use so that they can reflect on a major accomplishment in their life!
A Unique Celebration Box Set
A fantastic way to bookmark a memorable moment in a person's life is by having a toast with them. Make this toast unique by giving it to them with their very own personalized gift set for their favorite spirit! This box full of congratulations gifts is a great idea whether they love neat glasses of whiskey or if they want to fill it with some of their favorite goodies. They'll love celebrating with their unique glasses, and what is even better than that, is this set will be a great way to drink nostalgically to their awesome accomplishments!
A Personalized Humidor
Take a unique approach to promotion gift ideas with a humidor they've never seen the likes of before! This humidor is made from a real ammo can and will keep their valuables at the ideal humidity for storage. So, if they love art, cigars, collectables, or anything sensitive to the daily changes of weather, get them a personalized humidor that they can take with them on the go and look like a badass while doing so! This gift is a great way to make them feel classy and like an unstoppable action hero all at once!
A Milestone Wine Gift
Celebrating the birth of a child, buying a house, or any other milestone often comes with a bottle of wine. So, what better gift to get them than this decanter set as their congratulations gift? Every time they see their new gift, whether it is on their end table or in their hand with a drink, they'll think of their awesome accomplishment. Give them a gift that keeps on giving with this custom wine decanter gift set!
Game Time Sign
What shows a celebration more than a game night? Mark the occasion for them with their own custom sign for the room they love to go into for billiards, poker, video games, and more. They'll love getting this sign for their game room as a way to mark their biggest accomplishment in life so far. Each time they go into the room, they get to look up at their awesome gift on display as a constant reminder of them making it in life!
The Best Beer Stein Promotion Gift
A beer stein is the coolest gift to give when congratulating someone. They not only look great if someone is drinking out of them, but they can also make fantastic display pieces in people's homes! This is the perfect gift to congratulate anyone with because who doesn't want an awesome beer stein in their home? Give this to a friend, family member, even a boss and you know they will absolutely love it!
Congratulations with Cake, Chocolate, and More
A congratulation gift that everyone will always be excited for is a box stuffed full of delicious treats! No matter the occasion for rejoicing, people like food. If there is an excuse to cheat on a diet or indulge yourself, you know you would; so, get them a gift box you'd be excited for with this one full of delicious treats. Get them a gift box that tastes as sweet as the victory in life they just had!
A Toasting Set for Promotions
Use this whiskey gift box as the perfect way to give them a full set of promotion gifts. Include a bottle of their favorite whiskey and they can have a toast to their most recent crowning achievement using your great gift. Ideal for a celebratory drink for getting the job they want, or for future celebrations, you can be sure that this is a gift they won't soon forget.
The Classiest Decanter
Make them feel classier than ever with a wine decanter as the perfect congratulations gift. This is the perfect present for their first housewarming, anniversary, or any other milestone. Get them this decanter to make them feel as good as the major event in life they are celebrating! You know they won't help but want to show this off to anyone who comes into their house.
A Bulletproof Congratulations Gift Set
When they've just gotten the promotion they've been after for years, it may be hard to come up with the right promotion gift ideas. Fret not. This custom ammo can gift set has everything they could ever want! They've been busting their hump for a while, so you know they can't wait to celebrate all their hard work, and with this gift set, that'll be super easy! Tucked inside their new ammo can, they have everything they will need to celebrate their work.
When They're Thirsty for Success
The perfect way to tell someone "Congratulations," is with their favorite beverage, but you know you can do better, that is why this growler gift set is the ideal present! You can top it off with their favorite drink from the local brewery or grocery store, and give them a full 64 ounces of their beverage and all the drinking accessories they could ever need! Long after they've drank the full growler, you know they'll still be using the set to bring their favorite drink back home to relax or celebrate!
Send the Right Message with a Messenger Bag
A fantastic way to mark a monumental change in life is with attire. As people get promotions, become parents, or have other huge things in life happen, they tend to change their style to match the new and improved selves they've become; well, get them an accessory that is classy and will go with any of their styling with this classically styled messenger bag. From day to day use to important meetings, a stylish messenger bag will make the look and feel like the most organized and important person in the room.
A Gift That Means the World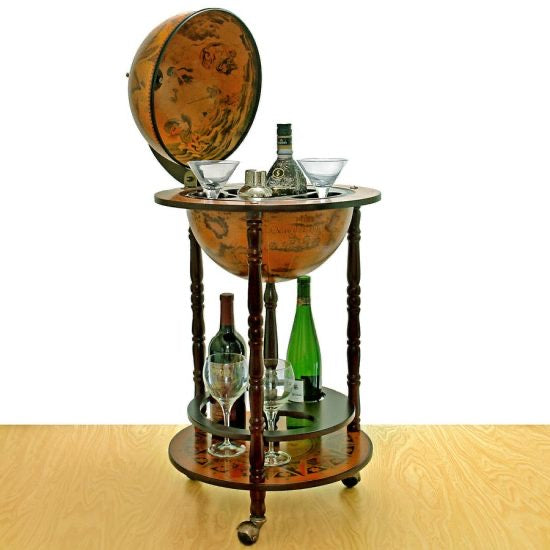 Use their recent promotion as a way to justify making them feel like the new high-class executive they've always wanted to be! This globe bar cart is a great way to add some style and old-school cool to their office or home. They'll always be ready to serve up a drink for guests or even to make one as a reward for a major accomplishment with their new fantastic bar cart!
Engraved Tumblers for Any Drink
You feel they've hit a perfect moment in life, they've just had the promotion that meant the world to them. Now, they are getting ready to move into a new house or possibly celebrate the birth of a child, let them celebrate in perfection with a tumbler set that makes them look as cool as it keeps their drinks! These tumblers make a great gift because they can use them around the house, or even pack them back up in the display box and enjoy their favorite wine or cocktail on an adventure!
The Perfect Congratulations Gifts for Spirits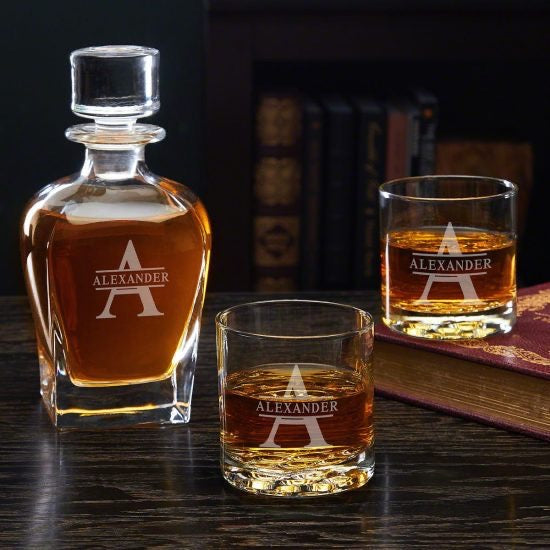 Tell them congratulations in the best way you can, by gifting them with a decanter set that is perfect for their favorite drink! The personalized decanter and glasses are a great way for them to share a drink and talk about their huge accomplishment. This is a congratulations gift they just won't be able to get enough of. They are sure to have it on their desk or at home in their home bar where it is always ready to be poured for another congratulatory drink!
A Small Gift for a Big Occasion
Use these congratulations gifts to show how excited you are for the person deserving some support! This versatile monogrammed gift box comes with a little bit of everything for them, they've got a flask and knife, so they can always take their gift with them but they've also got a great display box to store some of their favorite memorabilia too.
A Gift That Shows You're Really Listening
So, you've "heard" they are in need of some good promotion gifts; then take this pun as the perfect opportunity to get a gift they can appreciate every day (and possibly even while they're at work) with a set of wireless headphones! Keep their favorite jams or podcasts coming in loud and clear, with a no strings attached gift, literally! This promotion gift is a great way to make their work life even better by simply improving their ability to listen to their favorite things!
A Sign of a Promotion
Unwinding after work at the bar is always a fun and social thing to do; however, making their home feel like a bar is even better! This personalized sign is a great gift to make a house feel like celebration central. They'll love coming home to see their home adorned with a sign that has their name on it! Each time they pour a drink it'll be like a night out at the bars.
Promote Their Sense of Taste
Nothing says, "Congratulations," quite like a custom gift box full of whiskey gifts! They've got a monumental occasion to celebrate on the horizon and this engraved whiskey gift set will show them that you went out of your way to get them something special. With an awesome gift set like this, they'll always remember how they felt on their big day! The personalized glasses and box set will have them feeling classier than ever! They'll love experiencing all the subtle flavors this whiskey gift set will enhance from their favorite drinks!
Ultimate Wine Congratulation Set
Their big moment has finally come, they've just had a child, bought a house, or hit a major milestone anniversary. Make their night awesome with a set of congratulation gifts selected just so they can enjoy their wine in style! They'll love the look and feel of their very own custom wine set. Using this gift, you know that all night they plan to pop corks and have toasts toward a happy future! Make their celebration feel monumental with this awesome gift!
The Classiest Promotion Gift Idea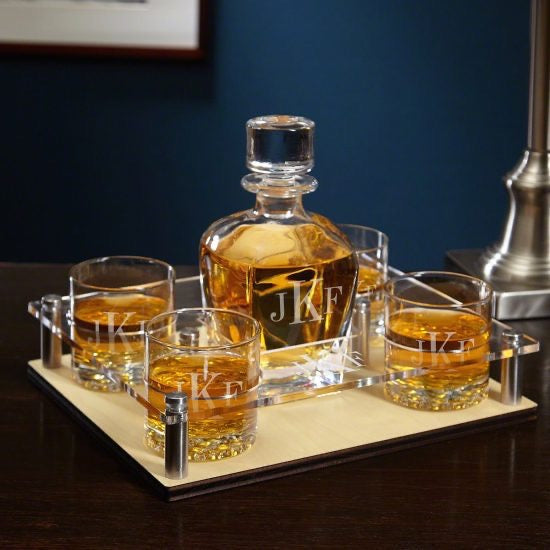 Nothing makes a big promotion feel even more official than these classy promotion gift ideas contained in one awesome serving tray! No matter if they want to keep this gift in their office or at home, this monogrammed liquor set is the ideal way for them to feel sophisticated as they enjoy a career accomplishment. The impressive set will really make them feel like all the hard work and long hours they've put in were worth it. Help them start the celebration as soon as possible by including a bottle of their favorite drink with the set, and watch them want to use this right away!
Their Hottest Promotion Gift
A fantastic way for you to give a gift for their promotion that stands out is to make sure that it makes their life easier. For a simple, yet life changing gift, look no further than this tumbler that keeps their coffee at the perfect temperature! You know that they've come back to their desk to a lukewarm cup of Joe, or worse yet, stone cold. Never again! This electronic thermos will keep their drink at their exact temperature no matter how long they are away from their coffee.
This Gift Is a Cut Above the Rest
Congratulate them on their big achievement with a gift unlike any other they've ever seen—this personalized cutting board! You know they take great pleasure in cooking, so make it an even more personalized experience for them, as they mince, dice, and julienne all of their food! This dense wood will last them for thousands of meals and will look great in their kitchen as it waits to be used for another one of their awesome meals!
Aesthetic Aerators for Their Promotion
Make their promotion gift idea something that they will love seeing everyday as a reminder of their accomplishment. This gorgeous aerator set won't just be functional for their wine but will be fantastic to look at every morning! Each time they have a drink or even happen to glance at this set, they'll think of you and how their major accomplishment, what is cooler than that? Plus, thanks to your great gift their wine will taste better than ever!
A Gift for Moving Topside in Life
They'll feel like the head honcho of their office with this promotion gift idea; this ship decanter set will be the crowning piece of decoration for their office that both looks great and is functional! Make sure to get them this gift when they have something big to celebrate! They won't be able to wait to have big wins with clients, their boss, or fellow coworkers; this way they can break out the glasses and share in a celebratory drink. However, first they'll want to share a drink with you for getting them this awesome drink for their promotion in the first place!
The Perfect Victory Drink
Great gifts are in order when someone finally gets that promotion, new house, or job they have been after. Give them the gift you know they've been wanting with this custom beer mug set! The engraving on the whole set will make them feel like their accomplishment has been memorialized; plus, they now have everything they could ever want to enjoy their favorite beer!
The Most Worldly Promotion Gift
With this big promotion, they feel like they've just been given the world, use your awesome gift as an opportunity to make them feel like they have been! This multi-layered map is a great piece of home decor that they can add to their life. Plus, it is 3-dimensional, how cool is that? The raised map makes the perfect unique piece of home or office decor for the person who feels on top of the world!
A Taste of the Good Life
Their big promotion will have them wanting to celebrate with a drink. Get them a drinking set that will change their perspective of what a drink of their favorite spirit can be like by indulging their taste buds. A decanter set with whiskey stones and Glencairn glasses will change how they experience their liquor for the rest of their lives; they'll likely go from the casual connoisseur to the aficionado!
489+ THOUGHTFUL CONGRATULATIONS GIFTS>