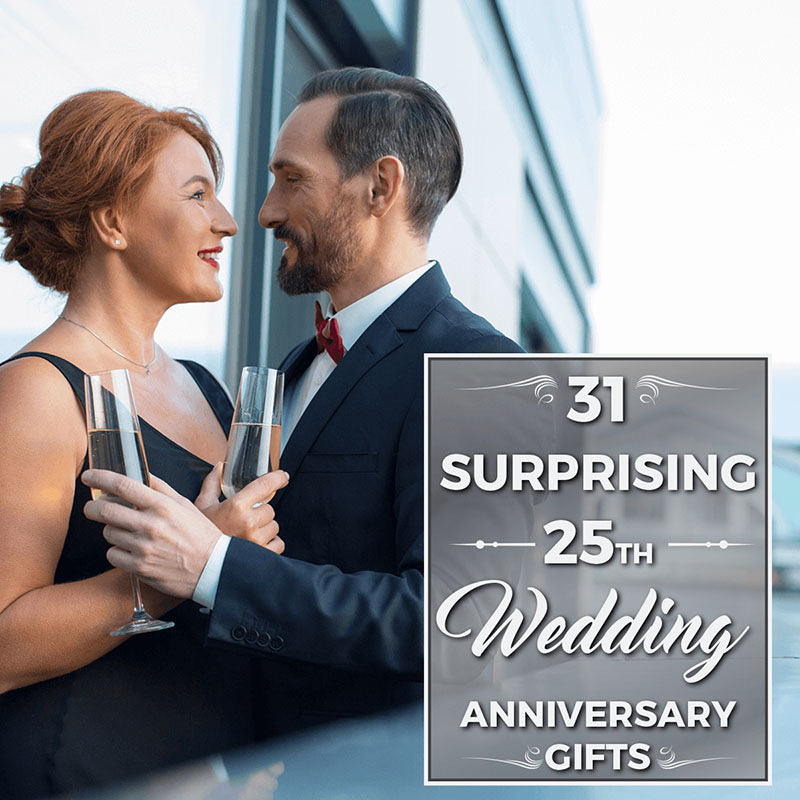 31 Surprising 25th Wedding Anniversary Gifts
Check Out These Stunning 25th Wedding Anniversary Gifts They'll Cherish Forever:
It seems like it was only yesterday when you and the love of your life tied the knot! It's hard to believe it's been 25 years since that wonderful day. But what kind of presents make great 25th wedding anniversary gifts? Well, for starters, the 25th anniversary is known as the silver anniversary because both the traditional and modern gift is silver. By now you'll know what your husband or wife likes, but you should get him or her something nice that shows how much you love your partner, celebrates your long marriage, or even a gift for the two of you to enjoy together. For example, many couples get new wedding bands, new household items, or luxury items that they've been eyeing for a while. Don't worry, we've got plenty of traditional, modern, and unique gifts that are perfect for your lifelong love.
Beautiful Decanter Set of 25th Wedding Anniversary Gifts
You want to give your husband or wife something spectacular for your 25th wedding anniversary, right? This gorgeous decanter set is truly breathtaking. Such a beautiful set belongs on display where everyone can admire its beauty. You two can pour a couple of glasses of top-shelf whiskey to sip on after a romantic anniversary dinner. You'll want to show this off to your husband or wife's friends when they visit, they'll definitely be impressed that you found such an incredible 25 year anniversary gift!
A Fun Sign for Your Home
You and your husband have been married for a quarter of a century now, and have had your fair share of nights where you drank a few bottles of wine, tried out new cocktails, and shared a row of shots. Now that you're older and wiser, you two usually just have a glass of wine or whiskey from time to time. Why not give your husband a fun piece of decor that celebrates the good times together? This unique sign is the perfect decor for your husband's home bar, the kitchen, or even the dining room. You could throw in a top-shelf bottle of wine to share together on your anniversary to make it a complete and themed 25 year anniversary gift.
Make Their Home Bar Dreams Come True
You've always known your partner has wanted an amazing home bar, but they just haven't had the time to make it happen, or the homes you've lived in just haven't had the space they wanted. Well, for your 25 year wedding anniversary, you can finally make their dream come true. This incredible globe bar cart is the coolest home bar that money can buy, and your partner will be so excited to try it out that they'll want to throw a party and invite all of their friends so that they can show everyone the cool hidden bar inside the globe. As far as luxury 25th anniversary gifts go, this globe bar cart is by far one of the best.
A New Way to Drink
Your husband enjoys drinking fine liquors such as whiskey, rum, absinthe, and tequila. He even collects rare liquors! For one of the most creative 25th wedding anniversary gifts, you should get him this incredibly cool smoke box system. Included are four Glencairn glasses which are perfect for sipping his finest liquors and a unique gadget that infuses his drink with a new smoky flavor that transforms his regular whiskey into a whole new drink. He'll love trying out the different wood chips with his favorite liquors, and his friends will too! This smoke box system is a whole new way for him to drink!
A Beautiful Decanter Set to Share
Even though you've been together nearly a quarter of a century, you're not quite sure what kind of gift to get your partner. One of the best 25th anniversary gifts is something you both can enjoy together, like this beautifully personalized whiskey decanter set! When you give this incredible decanter set to your partner, they will be in awe of each and every stunning piece of glassware and how you made the whole set uniquely personalized just for them. With the gorgeous decanter set on display, you and your partner can repurpose the walnut gift box into a keepsake box full of mementos and special memories from your long life together.
His and Hers 25th Wedding Anniversary Gifts
For the couple you know approaching their silver anniversary, no gift is sweeter than this adorable his and hers set of personalized glasses! Ideal for a couple where one person enjoys wine and the other enjoys whiskey, they can enjoy their favorite drinks in their own unique glasses together. The matching design represents the fact that, while they have different tastes, they belong together forever. They'll be using these lovely glasses to celebrate their 25th anniversary and every anniversary, special occasion, and holiday together from now on!
129+ WINE GIFTS TO CELEBRATE YOUR ANNIVERSARY>
A New Wedding Band for Your Husband
After being married for two and a half decades, your husband's wedding band could use an upgrade. He's worn it all day, every day and has probably gotten a few scratches and dents in it. This beautiful eternity ring is made of rhodium-plated platinum and features a row of round diamonds in the center. It may not be strictly silver, but is close enough to qualify as one of the more traditional 25th wedding anniversary gifts!
A New Addition to the Décor
After being together for so long, it's likely been some time since they decorated their home with something new. This gorgeous personalized sign is the perfect way to give their home a refreshing new addition on their 25th anniversary! The beautiful marble will add a modern element to their décor and the art deco design is a subtle nod to their many years of marriage. The couple will feel like newlyweds all over again as they hang up this unique sign in their home just like they did when they first moved in together.
For the Best Spouse on Earth
Since they mean the world to you, get them an anniversary present that symbolizes that! This globe decanter set is a fantastic gift idea because they'll love knowing that they're still your favorite person on earth even after all these years. They'll feel so special sharing a drink with you using these unique glasses on your anniversary, making this set one of the most meaningful 25th wedding anniversary gifts.
Silver Anniversary Gifts They'll Never Expect
25th anniversary gifts don't always have to be something big and expensive. Sometimes, the best gifts come in small packages. This adorable set of silver marble coasters is a small but sweet gift that the happy couple will enjoy using for years to come! Whether they keep them in the dining room or living room, they will make sure that they get plenty of use and that they can be admired while they're on display. Every time they lift their cup and see the lovely engraving of their names and the date of their wedding, they'll be reminded of that wonderful day they said "I do." Plus, they count as silver anniversary gifts thanks to the beautiful gray marble so they're even traditional!
Beer Growler Set with Silver Crests
Your husband loves beer, and that's usually all he ever wants as a gift. For your past anniversaries, you've given him a beer bucket gift set, a craft beer subscription, a beer-making kit, and plenty of cool bottle openers. However, you want to give him something that's a traditional silver anniversary gift as well. How can you combine the two? With this growler and pint glass set! Each item in this three piece set bears an ornate pewter crest engraved with the initial of your choice. Your husband will feel like the king of beer whenever he enjoys a cold one from one of the pint glasses. He'll love using the growler to store his latest batch of home brew or to fill up with his favorite craft beer from the local brewery. Is this gift set the coolest 25 year anniversary gift set for beer lovers or what?
Classy Wine Tumblers Set of 25th Anniversary Gifts
Once you give your spouse this wine tumbler box set, they'll be more in awe of your gift-giving skills than they have been for your entire marriage! They'll love how sleek and classy the wine tumblers are and how they'll keep your anniversary drinks cold for hours as the two of you talk, laugh, and reminisce on all the memories from throughout the years. They'll even want to use the handsome box to store mementos from your anniversaries!
An Eternal Silver Rose For Her
Your wife is a woman of practicality and doesn't want anything big and fancy for your 25th anniversary. You know that she's getting you a pair of courtside tickets to your favorite basketball team as your anniversary gift for you and your best friend to attend next week. What kind of thoughtful gift can you give a woman who doesn't want anything? Something simple, but meaningful, like a silver-plated rose that will last forever! This beautiful rose is a real flower that has been dipped in pure silver so that she can treasure it for the rest of her life. Plus, it ties in with the silver anniversary tradition! This thoughtful 25 year anniversary gift is a win-win all around for the wives who don't want anything.
New Glassware for Their Home
What do you give the couple who has everything as gifts for their 25th wedding anniversary? This unique whiskey glass gift set! The beautifully sculpted glasses fit perfectly in their hands and the handy chilling stones ensure that their drinks stay perfectly chilled until the last drop. Unlike any other glassware they own, this unique pair of glasses is sure to leave them speechless when they open such a lovely anniversary gift. They'll love using their new glasses to toast to their 25th anniversary and have celebratory drinks with their friends since there are plenty to share. Rest assured, they'll be using these unique glasses for years to come.
25th Anniversary Gifts for Making Memories
Over the past 25 years, the two of you have made so many amazing, long-lasting memories. You want to cherish those great memories forever as well as the memories you'll make in the future! This engraved shadow box and wine glasses gift set is one of the best 25th wedding anniversary gifts because it gives both of you handsome matching personalized wine glasses to enjoy wine together with. Also, the custom shadow box can be filled with bottle caps, photographs, flowers, or any other small items that each represent a memory you two share.
A Decanter Set for The Home Bar
Your husband is a classy kind of guy who drinks only top-shelf whiskey, smokes the finest cigars, and has an impeccable sense of style. He's got a couple of rocks glasses, but has yet to get a decanter or a matching set of glasses for his home bar. This anniversary, surprise him with something truly special: a complete matching decanter and whiskey glasses set! This five piece set is even engraved with his last name and initial. The gorgeous crystal decanter is meant to be the centerpiece of his home bar where he can show off his fine whiskey and the glasses are perfect for sharing a drink with his friends and cigar club. He'll be in awe of this incredible 25th wedding anniversary gift set!
Make Your Home Theater Official
You and your husband love to watch movies together and have an extensive collection of DVDs, Blu-rays, and even some VHS tapes. You have a huge 4K television and the comfiest couch that is fully-loaded with recliners, cupholders, and even outlets to charge your devices. Together, you and your husband could spend an entire day just watching a movie marathon. What is the best kind of 25 year anniversary gift for a guy who's a movie buff? A custom home theater sign! Designed to look like the marquee of your favorite drive-in from back in the day, you get to customize what the sign says so that it fits your home theater perfectly.
25th Wedding Anniversary Gifts for Wine Lovers
There are few pastimes you enjoy together more than enjoying a glass of wine. This wine glass and tool barrel set will definitely become your spouse's favorite set to use when having a drink with you! They'll love the matching customization of these glasses and how handy it is having all the tools they'll need in this convenient barrel. Using this set to celebrate every anniversary for the rest of your lives will bring them so much joy every year!
Silver Fossil Smartwatch
Remember when cell phones were bigger, chunkier, and you couldn't do much on them? Today, a smartwatch has nearly all of the same capabilities as a smartphone. In the modern age of technology, perhaps it's time to upgrade those watches for a more functional (and stylish!) smartwatch. Fossil makes an incredible watch that is swimproof, has GPS, tracks heart rate, stores music, has a flashlight, microphone, and is fully customizable to be ideal for you. You and your wife could get one for each other with the silver band as your silver anniversary gift! You'll be amazed at the capability of these unique 25th anniversary gifts and won't ever want a basic watch ever again.
Unique Silver Anniversary Gifts
Like the sign you saw earlier says, "the couple that drinks together, stays together." After 25 years together, you and your significant other know exactly what each other's drinks of choice are. For a whiskey drinker, no 25th wedding anniversary gifts are better than this unique whiskey gift set! Both in line with the traditional silver theme with the stainless steel interior and a modern design, this set is something they'll definitely never expect. They will love how much more flavorful their favorite whiskey tastes in the unique glasses, but they will love that you got them such an amazing gift that you two can enjoy together even more.
Wine Box and Tools are Amazing 25th Anniversary Gifts
Your spouse isn't a complicated person. You know a bottle of their favorite wine would be much appreciated, but you want to spice up the gift a little bit. This wine gift box set is fantastic because not only is it a handsome box perfect for storing a bottle of wine inside, but it includes all the wine tools they'll ever need for enjoying some wine. They'll be so appreciative of one of the most creative 25th wedding anniversary gifts they could ever think of, and they'll definitely want to enjoy a glass of wine with you to celebrate!
Unique 25th Wedding Anniversary Gift: USA Map Wine Cork Holder
This USA map wine cork holder is an incredibly unique gift! Your wife will love that you found something fun as well as decorative that the two of you can enjoy together as her awesome gift. She'll love filling up the sign with the corks from her favorite wines, and it's a great piece of decor for the kitchen or dining room. Just make sure to get her absolute favorite wine along with this unique wine cork collector for a complete gift!
203+ INCREDIBLE ANNIVERSARY GIFTS FOR HER>
A Gorgeous Jewelry Set for Your Wife
You can never go wrong with jewelry as an anniversary gift. This gorgeous three-piece diamond set is a showstopping, eye-catching set that she will love to show off. Intricately detailed with baguettes and round diamonds that add up to 8 total carats, this incredibly sparkly set is sure to become her new favorite jewelry to wear. While the 25th wedding anniversary gift is typically silver, this set is made of white gold and will last much longer than sterling silver.
A Complete Whiskey Glass Set of 25th Anniversary Gifts
Are you looking for a nice 25th wedding anniversary gift for your parents? You can never go wrong with a complete decanter set. Each piece in this five piece set is engraved with the family name and initial. The set will look great on their home bar and they can use it for serving drinks to guests, raising a celebratory toast with you and your siblings, and for evening drinks together after dinner. They'll be so touched that you gave them such an incredible gift for their wedding anniversary!
A New Cutting Board
Your wife loves to cook and bake. She's always in the kitchen experimenting with new recipes and swapping ingredients to see what tastes best. Her party snacks are legendary, but her breakfast foods are a family favorite. After 25 years, her cutting board is starting to look a little worn and shabby. It's been well-used, after all! For your anniversary, you should surprise her with a gorgeous new cutting board that is engraved with your last name and wedding date. She'll be so touched that you got her something she needs and that is uniquely personalized. You could also get her a set of new knives or a high tech cooking gadget like an Instant Pot to go with it!
Personalized Wine Glasses
After being together for 25 years, there are probably some things in your home that could use an upgrade. These beautiful engraved stemless wine glasses will make your old ones look subpar! Engraved with your names, wedding date, and the milestone anniversary you're celebrating, this set of four glasses are the perfect 25th wedding anniversary gifts. You and your children can enjoy a celebratory toast together with these lovely glasses and then display them in the china cabinet for everyone to admire. You'll definitely be holding onto these for another 25 years!
Antique Silver Serving Tray
Do you and your wife enjoy scouring antique shops for unique, vintage items? Then this beautiful silver serving tray will blend in perfectly with your home. She will love using this gorgeous tray to serve snacks to her friends, breakfast in bed for you, and to present her amazing turkey on Thanksgiving. Made of sterling silver, this tray is the perfect silver 25th wedding anniversary gift!
Anniversary Gift Set for the Man Who Drinks Cognac
The man you love is a sophisticated gentleman who enjoys a glass of cognac and a cigar instead of a beer or whiskey after dinner. He's a classy guy who has impeccable style and charisma. His role model is, of course, James Bond. After 25 years of being married to such an awesome guy, you know what he likes and dislikes, but that doesn't make him any easier to shop for. Relax, we found the perfect 25th wedding anniversary gift for him! This cognac gift set comes with two top-notch quality snifters, a cigar cutter, lighter, and a wooden gift box. He'll love having connoisseur-level snifters to drink his brandy and cognac from every evening, especially since they are engraved with his name and initial. He can use the box to store his cigars, bar tools, or his watch collection in. You can't find a better anniversary gift for your suave husband than this set!
A Wine Glass Gift Set for Her
Your wife is an amazing woman who is the chair of the local wine tasting club. She has her own wine cellar built into the house with dozens of rare, expensive bottles that she collects. You want to give her something wine-related for your 25th anniversary, but you want it to be nice too. Look no further than these wine glasses! These beautifully etched stemless wine glasses will become her new favorite. She'll love the elegant design bearing her name and that the glasses aerate her cabernets with ease. Make sure to include a nice bottle of wine she's been eyeing to make it a complete anniversary gift!
Sterling Silver Picture Frame
One of the simplest and most heartfelt gifts you can give is a picture of the two of you. Whether it's a photo of your wedding day or a collage you made of pictures from every anniversary, you should frame them in these sterling silver frames to give as 25th wedding anniversary gifts. After a quarter of a century together, you know what means the most to the love of your life and that he or she would prefer something simple as an anniversary gift. You could frame your favorite picture in one of the frames along with a custom photo album themed around your anniversaries to make a truly special gift. After all, a picture is worth a thousand words!
Ammo Can Set Your Husband Will Love
Show him how much you love him with an equally amazing present! This engraved whiskey ammo can gift set is one of the best 25th wedding anniversary gifts of all time that your man will be so thankful for! He'll love enjoying whiskey and cigars more than ever before with these incredible accessories. You can even fill the ammo can with some awesome goodies like a bottle of his favorite whiskey or some of his favorite snacks. He'll be so thankful for such a unique, creative present!