It's the most wonderful time of the year, and that means it's time to buy gifts for people you love to show them how much you care! While bigger gifts under the tree are important, it's those stocking stuffers, those first small-but-significant gifts they open first on Christmas morning that make the first impression and set the tone for the rest of the day. For any man in your life, finding the best stocking stuffers can be a tall task, but it doesn't have to be. Stocking stuffer ideas for him aren't extravagant or complicated gifts; rather, they're small, simple gifts that you know they'll enjoy just as much, if not more, than any big gift they might get underneath the tree. Take a look at these stocking stuffers for him that will make this Christmas the best one yet.
Super Cigar Stocking Stuffers for Him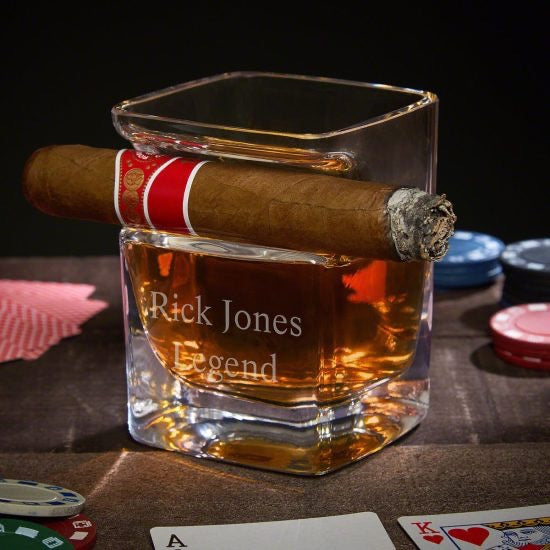 When it comes to stocking stuffers, you want to see the joyful, surprised look on his face as soon as they open their stocking up. You'll definitely recognize that look on his face as soon as he sees this personalized cigar glass! He'll love having such an awesome glass with his name on it, and he'll appreciate the novelty of the glass as well that makes it so easy to enjoy whiskey and cigars simultaneously.
For His Christmas Liquor
Any flask can make a pretty good gift, but what kind will make the perfect stocking stuffer ideas for him? How about one just like this personalized blackout flask! He'll feel like the coolest guy ever sporting this handsome flask, especially with his name and initials engraved on the side. Enjoying his favorite spirit anywhere he wants will never be better!
Best Stocking Experience Ever
Some of the best stocking stuffer ideas for him are three-part gifts, just like this whiskey stones gift set. He'll love seeing his stocking stuffed full with these awesome goodies, and he'll want to use them immediately to enjoy a delicious glass of Christmas whiskey. He won't be able to remember a better stocking experience!
The Brightest Stocking Stuffer Gift Ideas for Him
When it comes to the greatest stocking stuffers for him, don't pick something that everyone else probably got for him. Pick something that's both unique and terrific, such as this cool customized flashlight! He'll feel really grateful for this unique gift the next time it's dark out and he needs to see on a camping trip or even just in the backyard. Seeing his name on it makes it an even more awesome gift!
He'll Feel Like a New Man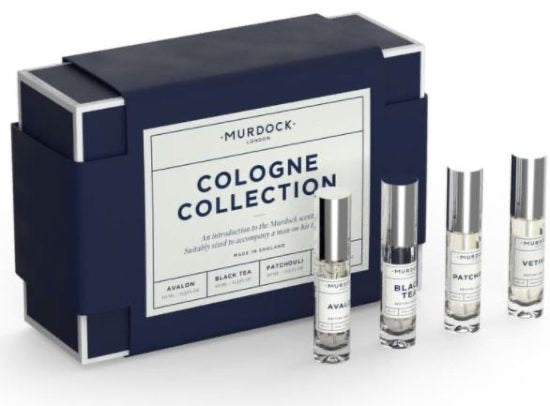 Is there a better stocking stuffer that'll make him feel super fancy than a cologne box set? Not only will he smell great with each fragrance, but each bottle is small enough that they can fit in his pocket, backpack, or briefcase so he's always prepared to smell good. He'll be really grateful for this unique, useful stocking stuffer!
Amazing AND Engraved
Just imagine: he reaches into his stocking and feels not one, but two amazing items that make up this personalized gift set! These stocking stuffer ideas for him are awesome. He'll love that both the handsome black flask and the bamboo sunglasses are personalized just for him. With the glasses on his face and flask in his pocket, he'll be ready no matter where he goes.
557+ AWESOME PERSONALIZED WHISKEY GLASSES>
The Best Stocking Stuffers for Him Save Lives
Men tend to love knives. It's just a fact. But a cooler stocking stuffer than a normal knife is this tactical survival knife! This unique knife could save their life someday because of its miniature survival kit hidden inside, so they'll definitely appreciate the usefulness of this gift. The fact that his name is on it makes it even more unique and awesome!
Steins are Better Than Mugs
When it comes to drinking beer, it's made so much better when you use an awesome glass as opposed to a plastic cup. Make sure he is able to enjoy beer more than ever before by getting him this German beer stein! With his monogram on this super-fancy stein, he'll feel like the coolest person ever, and he'll be extremely appreciative of such an impressive gift.
A Gift with His Name on It
Sometimes, personalization makes all the difference between a gift that's pretty good and a gift that's absolutely fantastic. This custom whiskey glass and stones set is one of those fantastic stocking stuffers for him because he'll feel so classy sipping whiskey from this glass with his name on it, and he'll feel even classier taking whiskey stones from their personalized box and using them to make his whiskey deliciously chilled.
Give Him the Power
Candy and chocolate are classic stocking stuffer gifts for a reason. Delicious gourmet chocolates make phenomenal stocking stuffer ideas for him, especially if they're as delicious as these dark chocolate peanut butter cups! His eyes will grow wide and his mouth will immediately start to water when he opens up this box. He'll be really thankful for such a scrumptious gift!
A Rocks Glass for Him
There's nothing quite like enjoying your favorite drink from your favorite glass, so for Christmas, let him find his new favorite glass in his stocking along with super unique whiskey stones! This personalized rocks glass is a fantastic gift that he'll love using, no matter what drink he's having, and the round whiskey stones will keep his drink cold for hours! He'll feel insanely special seeing the personalization, and he'll want to use it every time he drinks something delicious.
Defend Against Condensation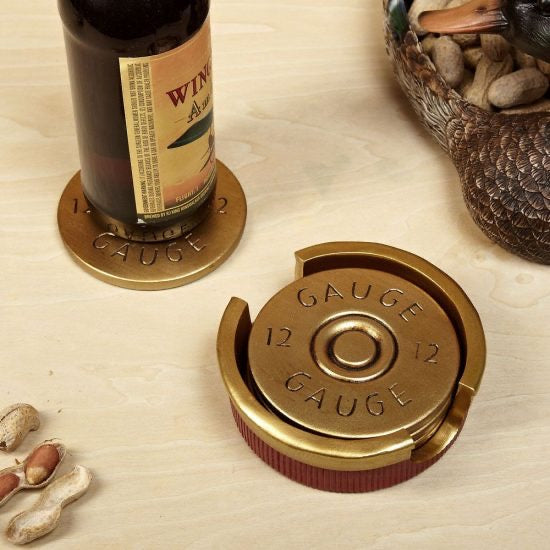 Coasters are great because they keep condensation off the table, but coasters that look really cool are totally awesome! As stocking stuffers for him, these shotgun shell coasters are going to be the coolest things he's ever found in his stocking for Christmas. He'll really enjoy the way these coasters look on his coffee table or home bar, and he'll love showing off these unique coasters to guests.
Wine Tumbler Stocking Stuffer Ideas for Him
Wine is the perfect beverage to enjoy on Christmas, but those that have awesome wine tumblers are enjoying more than everyone else. Make sure he falls into that camp by putting these stainless steel wine tumblers in his stocking! He'll love drinking holiday wine from these glasses that keep his wine chilled until the last drop, and seeing his name and initial on these glasses will make him smile every time.
Pop Open Bottles
Why have a standard, ordinary version of a bottle opener when a totally awesome version exists? That's why this bullet bottle opener is awesome. It's a phenomenal stocking stuffer idea for him because it's incredibly useful, of course, but it's also super unique since it's made out of a bullet AND it has his name on it! He will want to open so many bottles with this unique gift.
Protect His Eyes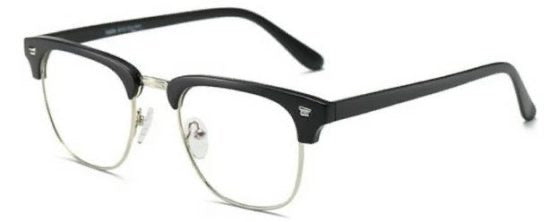 Staring at screens all day isn't good for anybody's eyes, which is why blue light glasses make fantastic stocking stuffers for him. When he's wearing these, he won't get any headaches looking at his computer or phone for work, or while he's enjoying video games and movies, and his eyes won't feel strained either.
Make Him the Most Stylish at the Golf Course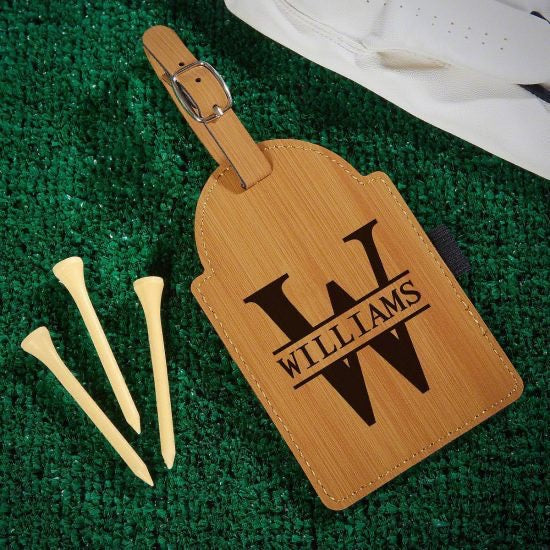 Help him show up to the country club in style with this personalized golf bag tag, one of the most creative stocking stuffer ideas for him! He'll feel like the coolest guy in the course, and feeling good while playing golf which means he may even shave a few strokes off his round! He will absolutely be delighted when he sees this in his stocking, and he'll have the urge to go golfing ASAP so he can use it!
Beverage Transport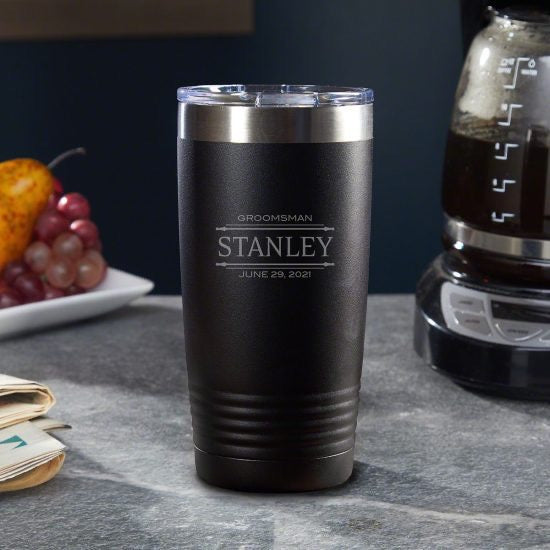 When it comes to gifts that everyone needs, a good quality tumbler is at the top of the list. Get him the best tumbler that exists— this personalized stainless steel tumbler. In this awesome tumbler, he'll carry coffee, water, or any other beverage inside it, and he'll love that it keeps his beverage at its ideal temperature. With his name on it, he'll feel really cool using it, too, and he'll definitely consider it his favorite holiday gift he's ever gotten.
Keep Wine Fresh With One of the Best Stocking Stuffers for Him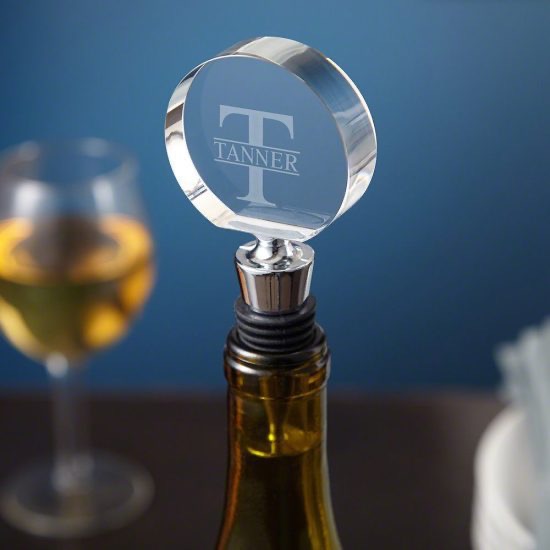 No one ever wants to waste a drop of wine, let alone let it spoil. You know he wouldn't dare, so a stocking stuffer gift for him that helps keep his wine fresh would be a great one. This engraved wine stopper is absolutely stunning, and he'll really like how it will keep his wine fresh for much longer than if he didn't use it.
Give Him a Good Laugh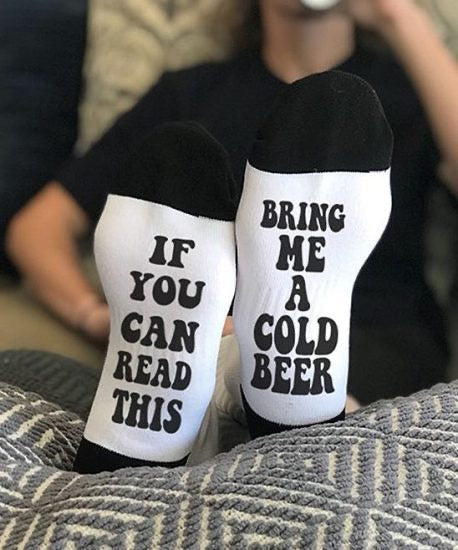 Some of the best all-time stocking stuffers for him are hilarious presents. These hilarious beer socks will crack him up, and he'll wear them all the time! You might also have to bring him a cold beer once in a while, but hey, it will be worth it when you see the smile on his face!
A Set With His Name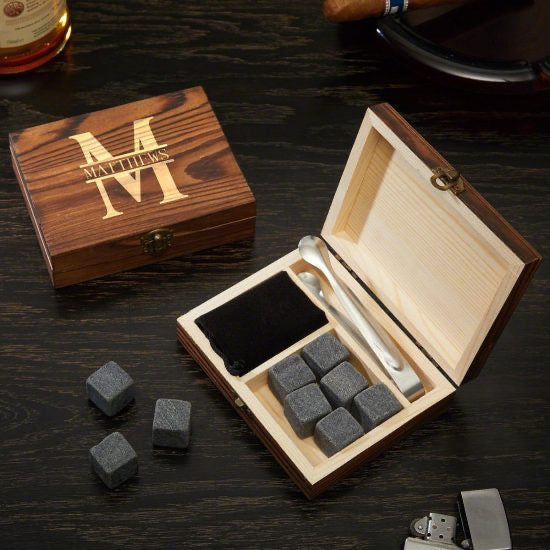 As soon as he sees this gift, he'll immediately declare this year the best Christmas ever! This set of whiskey stones is such a small, yet phenomenal, stocking stuffer that he'll immediately be obsessed with it. He'll feel so special using this engraved box to store his prized whiskey accessories, and he'll be so grateful for such a unique, cool gift.
175+ PERSONALIZED FLASKS HE WILL REALLY LIKE>
A Boot That is Not For His Feet
Drinking out of a normal glass or mug is so pre-Christmas. Put the shoe inside the stocking this year and get him this German beer boot! He'll have a blast filling this boot with beer (and probably every other beverage he wants) and drinking gleefully! In fact, he'll never want to use another glass for as long as he lives.
Grill At a Moment's Notice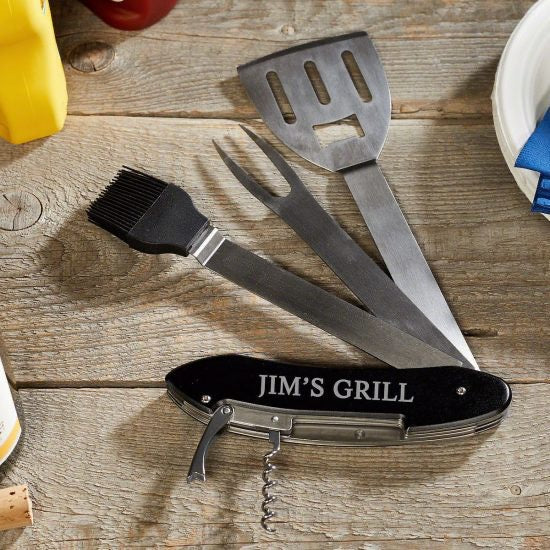 There's a reason men carry a pocket knife, they like to be equipped for any situation. The best stocking stuffer ideas for him are similar useful gifts. That's why this set of barbecue tools is the perfect gift to put in his stocking. When he needs to barbecue something, open a bottle of wine, or do pretty much anything else food and drink related, he'll have you to thank for how prepared he is!
A Personalized Stand for Cigars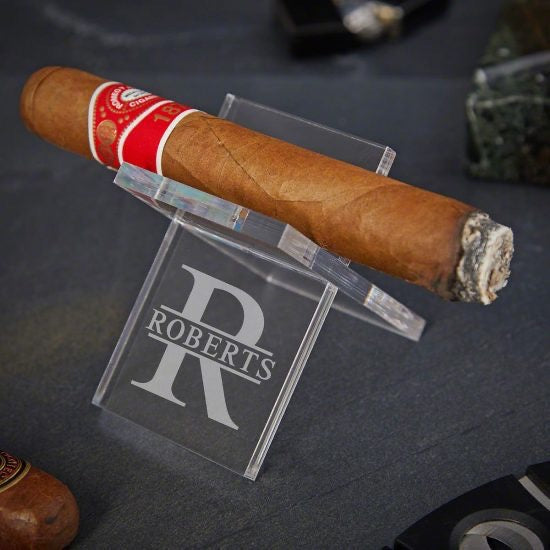 It's the little conveniences in life that can make or break your day. That's why this portable cigar stand is such a phenomenal stocking stuffer. With his name and initial personalized on the stand, he'll feel like a total stud setting his cigar on it to free up his hands. He'll be a huge fan of this simple yet unique gift.
Hot Coffee Stocking Stuffer Ideas for Him
Few things in life are more irritating than reaching for your cup of coffee, taking a sip, and realizing that it has gone cold. Make sure that never happens to him with this incredible heating pad for cups! His coffee, tea, or any other warm beverage will stay at whatever temperature he wants when he adjusts the settings on this incredible gift. He'll have you to thank every time he takes a warm sip!
Write With a 9 Iron
Sometimes, those cute little knick-knacks inside their stocking absolutely makes their Christmas morning! This set of golf pens is a unique, creative gift that's small but awesome, and any guy will absolutely love it. He'll love taking these tiny golf clubs out of the miniature golf bags and taking notes, and he'll have you to thank for such a cool gift.
The Best Things Come in Small Packages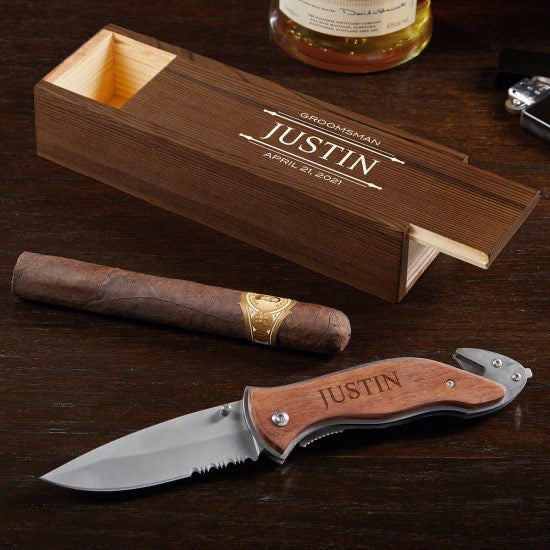 Big gifts don't fit inside stockings, but sometimes, the best gifts are stocking stuffers for him that come in small packages! This custom cigar box and pocket knife gift set is a simple, small, yet really cool gift that he'll really love! Storing his cigars in this classy box with his name on it will make him very happy, and whipping out this engraved pocket knife to cut something will make him feel cool as well.
On His Wrist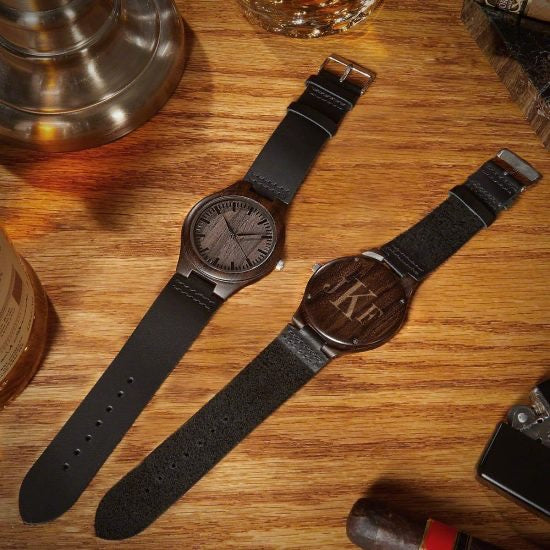 You want to get him a stocking stuffer that he'll use pretty much every single day. As soon as he sees this monogrammed wooden watch, he'll put it on his wrist and never want to take it off! It'll look so fantastic on him, and he'll be reminded of how much you care about him every time he looks down on him to see the time.
Don't Lose the Keys
When he's constantly losing his keys, a gift that helps him keep track of them is perfect. This compact key holder is the ideal stocking stuffer that will make every day easier! With his keys and other essential tools attached to his pocket, he won't lose them, and he'll owe that all to you!
Multi-Purpose Stocking Stuffer Idea for Him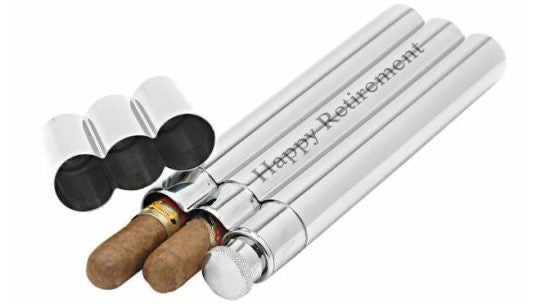 A normal flask? Pretty cool gift. A cigar holder? Pretty cool gift. A gift that combines the two that's also personalized? Now that is an amazing gift! He'll be so happy when he sees this incredible flask and cigar tube in his stocking. He'll love using it when he's out and about, hanging at a buddy's house, or even when he's at home simply relaxing. He'll love seeing his name on it every time he uses it.