Bourbon is an all-American type of whiskey that many people enjoy straight, in cocktails, or even for tastings. When it comes to giving bourbon gifts, you might think that the only bourbon-related gifts you could give are glasses. Actually, gifts for bourbon lovers come in glassware, food, and even decor! But the best of all is the bourbon gift set with multiple items and accessories related to bourbon that make the spirit even more enjoyable. You can also give a bourbon gift basket if you want to give a truly impressive gift! We have gathered a few of the best gifts for bourbon lovers so that you can easily find the perfect gift to suit the person you're shopping for.
Essential Bourbon Gift Set
There's nothing like a double of Knob Creek on the rocks after dinner. However, your ice tends to melt and ruin your drink! Solve your problem with this essential bourbon gift set, which comes with a set of whiskey stones and a couple of custom rocks glasses. The whiskey stones will keep your drink chilled to perfection, but won't melt or water down your bourbon. Plus, the custom glasses are the ideal size for a single, double, or cocktail! Your evening glass of bourbon will be better than ever, and there are plenty of whiskey stones and an extra glass so that you can enjoy a nice drink with your spouse or a friend. Every bourbon drinker needs this gift set, it's a must-have!
For the Bourbon Fan Who Also Loves Cigars
Do you like to have a stogie with your bourbon? With this unique bourbon gift basket, you can enjoy your two favorite things like never before. The rocks glass in this set actually holds your cigar for you, freeing up your usual cigar hand so that you can hold your poker hand or a good book. Thanks to the whiskey stones and cigar accessories, you'll always be prepared for a refreshing drink and relaxing smoke whenever you like! You can even use the wooden gift box to store the entire set for safekeeping, keep all of your stogies in one place, or even to keep your mementos! Such an impressive set is the ideal gift for a bourbon lover who also enjoys stogies for any occasion.
Spectacular Bourbon Gift Set
For a bourbon connoisseur who takes pride in their top-shelf tastes, the best way to show it off is with a decanter set. Give the bourbon lover you know their own custom presentation set! This luxurious set is both an impressive way to serve the finest American bourbon to guests and a stunning display piece. It will look great in an office or home bar when not being used to entertain, especially if it's in a central part of the room. This exquisite gift set is ideal for giving to celebrate special occasions such as a promotion, retirement, or a housewarming.
The Ultimate Set of Bourbon Tasting Glasses
The ultimate gift for bourbon lovers is this incredible bourbon gift basket with every popular tasting glass! While bourbon is exclusively made in America, there are plenty of varieties with different tastes. This complete set has a variety of glasses meant for different types of bourbon and whiskey so that the bourbon lover you know always has the perfect glass. Each glass has a different effect on both flavors and aromas, creating a unique experience every time. Every bourbon fan needs to have this impressive set!
Novelty Whiskey Stone Set
Have you ever seen a more American bourbon gift set than this? Pair this set with a bottle of Bulleit bourbon and you've got the coolest, most 'Murican gift for a bourbon lover. The fun bullet whiskey stones are a unique novelty item that's sure to get plenty of laughs every time it's used, mostly because the stones look a lot like real bullets! This fun gift is a great gift idea for any bourbon lover, but it's especially ideal for someone who likes guns as well. 
785+ MUST HAVE BOURBON GLASSES>
Impressive Bourbon Gift Basket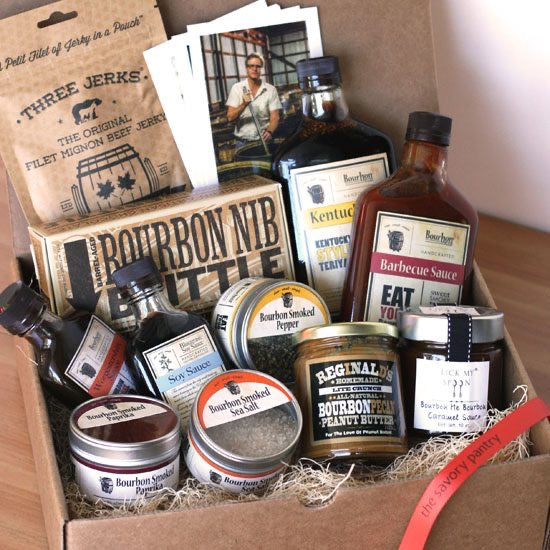 Bourbon isn't just enjoyable to drink, but it's great in food, too! This incredible gift basket is all about bourbon-infused and bourbon-flavored foods like peanut butter, barbecue sauce, spices, brittle, and more. The unique flavors of these delicious snacks are a whole new way for a bourbon lover to enjoy their favorite spirit! Once they've tried these gourmet treats, they'll want to try even more bourbon-flavored things!
Luxurious Crystal Decanter Set
Bourbon isn't usually thought of as a classy liquor, but it can be! With this exquisite crystal decanter set, every bourbon you consume from it will taste like a top-shelf blend. The crystal Glencairn glasses are designed to enhance the flavors and aromas of your favorite bourbon while showing off the beautiful golden hues all at the same time. Your prized bourbon will stay secure and fresh in the decanter thanks to the sealed stopper so that you never have to worry about it evaporating over time. When you feel like a stogie with your Four Roses, you'll be prepared with the included cigar accessories. Everything in this luxurious set will make you feel like a million bucks!
Give Your Bourbon a New Flavor
The best gifts for bourbon lovers make the experience of drinking the popular American liquor more enjoyable. One way to do that is with a smoke box system, which infuses their drink with a unique smoky flavor. This awesome gadget is a lot of fun to use, especially with fellow bourbon drinkers. Once they get this unique gift, they'll want to try all of their favorite bourbons with different flavored wood chips to figure out which combinations work best. They'll also love showing off their cool gadget to everyone who comes over, making it a fun piece to use at parties.
Unique Bourbon Decanter Set
Bourbon lovers will especially enjoy this unique decanter set! The unique bull decanter is a badass piece for anyone's home bar as it grabs the attention of anyone who walks in the room. It's certainly a conversation piece that is sure to spark many unique discussions on bourbon! The decanter also comes with personalized glasses and a set of whiskey stones, making it the ideal set for a glass of bourbon with a friend or loved one. This unique bourbon gift set is an impressive gift for any occasion and is sure to be enjoyed for many years.
Your Own Custom Bourbon Label Gift Set
Every fan of bourbon has imagined what it would be like to have their own distillery and label. You might not be able to make that happen, but you can give them a decanter set with their own customizable label! With this awesome bourbon gift set, the bourbon lover in your life will feel like they have their own official brand. The beautiful crystal set is absolutely stunning, and great for displaying in a home bar. Everyone who sees it will be impressed by the official look of the set, thinking that it really is an actual brand!
Classic Bourbon Sampler Set
Why just give a bottle of bourbon as a gift when you can give a tasting set with samples of five different kinds? This set is a must-have for bourbon lovers who enjoy trying new kinds. This set contains five unique blends of bourbon in a sample size. If they really enjoy them, you can get them the full-sized bottles for the next gift-giving occasion. This set is a great gift for bourbon drinkers who want to get into tasting or expand their palate.
The Perfect Bourbon Tasting Glasses
Speaking of bourbon tasting, the aspiring connoisseur in your life needs the proper glasses to get the fullest experience when trying new blends. These unique double snifters are perfect for bourbon tastings! The curvy design, similar to the Glencairn glass, helps smooth the sharp alcohol flavor and enhance the true flavors. The aromas are directed to the nose so that with every sip they get a full inhalation, making it the perfect, flavorful sip every time. This tasting set is a must-have for anyone who enjoys experiencing bourbon instead of casually drinking it, just make sure you get a sampler set like the one above or a bottle of unique bourbon to complete the gift!
Make Your Own Bourbon Gift Set
Looking for something really spectacular to give the bourbon fan you know? The most meaningful gift you can give them is a gift set that you put together yourself! For example, if you want to give them a nice bottle of Elijah Craig and a few other things, the first thing you need is a custom liquor bottle gift box. You could also get a flask, some gourmet bourbon truffles, or even a cigar holder if they like a stogie with their bourbon. The items might look a little mismatched, but it shows that you went to all the effort of putting together a basket themed around their favorite things!
Unique Decanter Set for Bourbon and Cigar Fans
Do you know a bourbon drinker who always has a cigar with their drink? You can make their two favorite things even more enjoyable with this awesome decanter set! The glasses hold both their bourbon and their cigar so that they can puff and sip with ease. They will love indulging in their favorite vices with this set, especially since they can do so with a friend or loved one who also enjoys bourbon and cigars! Plus, the cigar glass frees up a hand so that they can flip through the TV channels or hold their smartphone.
Out of This World Decanter Set
Bourbon is a unique, stylish liquor that should be enjoyed in equally unique and stylish glassware. With this decanter set, the bourbon connoisseur you're shopping for will have a set unlike anyone else's! The futuristic design of this three piece set isn't just for looks, but the shape actually enhances the flavors of the bourbon and directs its aromas to the top of the glass. This way, they get a proper sip and inhalation at the same time.
Bacon and Bourbon Gift Basket
Typical bourbon gift baskets just have a bottle of bourbon and an assortment of random snacks, but you can do better than that! Surprise the bourbon lover in your life with a truly special basket, like this bourbon-flavored one! Everything in this scrumptious basket is either infused with a delicious bourbon flavor or is a perfect companion to a glass. This tasty assortment will be devoured quickly, but it'll certainly be memorable. In fact, they might request it for their upcoming birthday or even for Christmas!
The Ultimate Bourbon Lover Gift
Now this is a bourbon gift set. From Glencairn glasses to attractive decor, this set has it all! The bourbon lover who receives this set will have everything they need to be the ultimate connoisseur: a set of six Glencairn glasses for tastings with fellow bourbon drinkers, a cool piece of decor for the home bar, a unique decanter, and handsome wood coasters. Everything in this set is personalized, too, to make it extra special. When you give them this spectacular rustic-themed bourbon gift, they'll be speechless!
The Manliest Bourbon Gift Basket
You don't necessarily have to have a classic wicker basket for a set to be considered a gift basket. In fact, you can make it even cooler with an ammo box! This unique, manly bourbon gift basket is the ideal gift for the man you know who loves his bourbon. After all, there's nothing like a refreshing glass of Jim Beam, especially after a long day. These custom glasses and handy whiskey stones will make his favorite way to relax even better! Such an awesome gift is great for his birthday, Father's Day, or any other special occasion.
Monogrammed Tasting Set
Looking for a bourbon tasting gift set? This classy, simple set is a great gift for bourbon lovers who enjoy trying new kinds of bourbon. The unique glasses are specially designed to enhance flavors and tone down the sharp alcohol taste as well as encourage the aromas to go straight to the nose with every sip. The set also comes with cigar accessories so that you're always prepared for a stogie with your bourbon. Best of all, the custom gift box can keep the entire set secure in between tastings, or you can use it to store your prized bottle of Woodford Reserve that you only drink on special occasions.
599+ SPECTACULAR BOURBON GIFT BASKETS AND SETS>