23 Perfectly Personalized Gifts for Grandparents
Without the love and sacrifices of your grandparents, you wouldn't be who you are today. Whether it's their anniversary, Christmas, or just because, you want to find the perfect personalized gifts for grandparents that conveys just how much they mean to you while also making sure that your gift is something that you know they will enjoy too. Seeing the personalization will make your grandparents feel incredibly special, making these gifts even better. We've searched far and wide for the perfect personalized grandparent gift that will show your grandparents how much you love them.
An Elegant Twist Gift for Them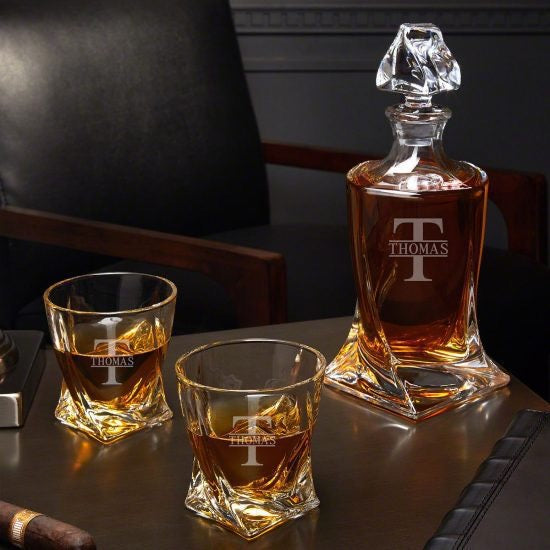 Your grandparents are elegant and classy individuals, so you want the gift you get them to reflect that. Some of the best personalized gifts for grandparents are these beautiful twisted glasses and decanter! This glassware set is not only special and classy because of the personalization but because of the lovely, novelty twisted design of the crystal. Your grandparents will love using this stunning set for special occasions and date nights alike!
Gift on the Wall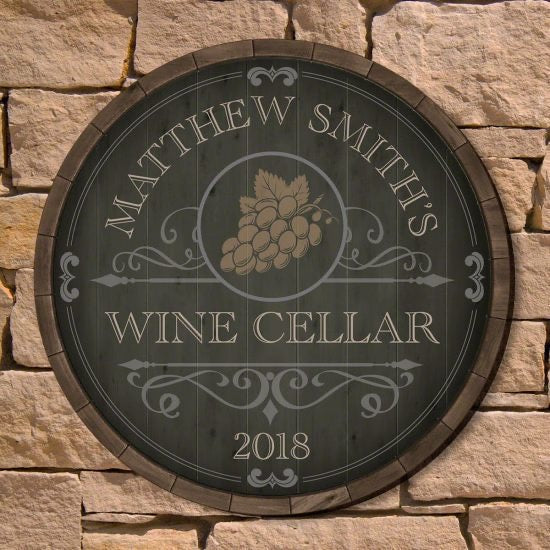 Whether their walls are relatively bare or even if they are filled with decor, this customized wine cellar sign will look fantastic hung up on the wall in their home! As a second part to the gift, help them hang the sign! This way, they can enjoy their anniversary or birthday with their favorite Merlot or Riesling in hand as they gaze upon their favorite gift ever from their grandchild!
Wine Set of Personalized Gifts for Grandparents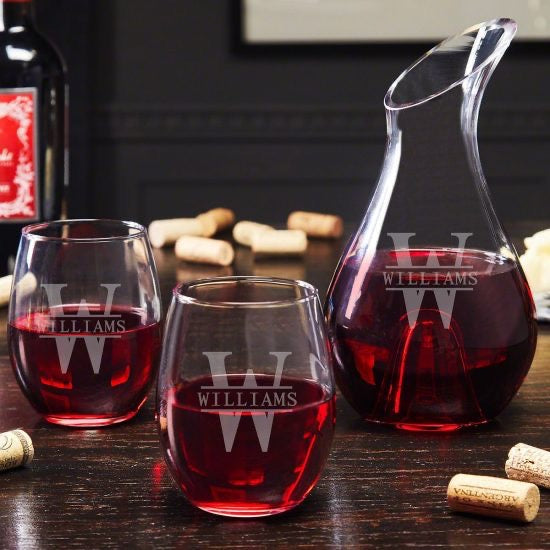 There's no doubt that they have wine glasses in their cabinet somewhere. However, once you give your grandparents this set of custom wine glasses and a decanter, they'll keep those old glasses way back in the cabinet and keep the new set out for all to see! Seeing their name and initial on this gorgeous glassware will bring a smile to their face every time they use them for sure!
Personalized Gift that Lets Them Stay Seated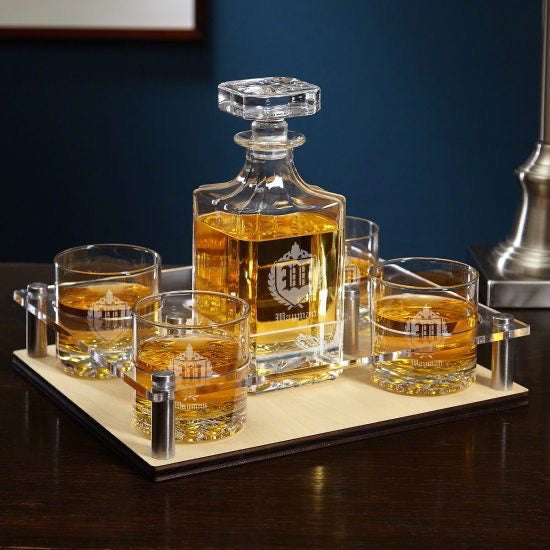 As hardworking as your grandparents are, they'd love a gift that lets them enjoy their favorite drinks with total ease. With this monogram presentation set, they'll be able to indulge in their favorite spirits without having to walk into the kitchen, grab a glass, walk over to the liquor cabinet, open the bottle, pour it in, walk back, or anything of the sort. They'll love simply reaching over to the coffee table or home bar and pouring themselves a glass of scotch or gin from their monogram decanter into their monogrammed glasses. With this personalized grandparent gift, they won't have to get up when they want to enjoy a drink.
417+ CUSTOM WHISKEY DECANTER SETS THEY WILL LOVE>
Family Time
Is there any love on earth stronger than that of grandparents for their grandchildren? Any set of grandparents will adore this custom wall clock! Every time they glance at this clock to check the time, they'll see a photograph of their favorite people too. Checking the time will suddenly be one of their favorite things they do all day!
Keeping Memories Alive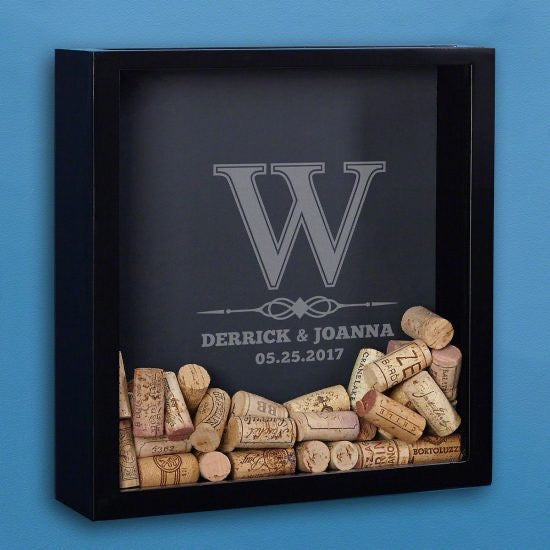 Through all the years they've been together, they've made so many memories. Give them a way to save mementos from all the good times they spend together with a terrific personalized grandparent gift—a custom shadow box. Whether it's wine corks, bottle caps, photographs, or any other trinkets, your grandparents will love storing them inside this incredible box. Plus, this is decor, which means they get to have this awesome gift hang on their wall so they can always remember their best times together.
Cigar Gift for Gramps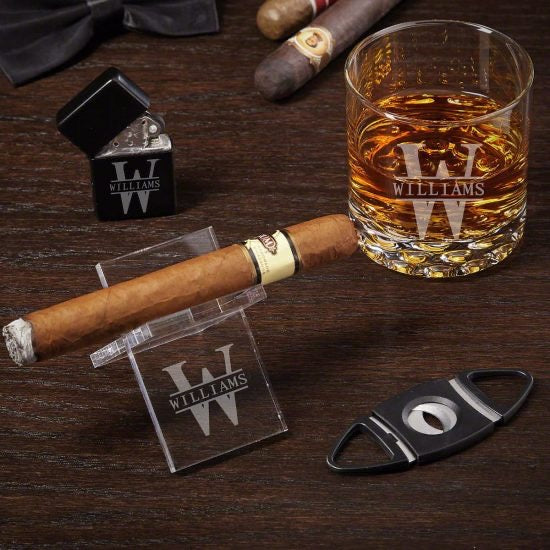 Your grandfather is a wonderful, classy man, so you know a classy gift would be awesome for him. That's what makes this cigar gift set perfect for him! With his name and initial on the cigar stand, lighter, and glass, he'll feel like the coolest grandpa ever. It'll make the next celebration the best yet!
Monogrammed Gift Box Set Your Grandparents Will Adore
Your grandparents have received a lot of gifts in their lives, but there's no doubt they'll love this monogram gift box set more than any other! They'll love using wine accessories with their initials on them, and the gorgeous engraved box is perfect for storing drinking accessories or anything else they want inside it!
Their Famous Cookies
Their cookies are absolutely famous and beloved by everyone in the family. They're so delicious that they deserve to sit in a handsome personalized cookie jar! Not only will they stay fresh and scrumptious inside this jar, but it'll look fantastic sitting on your grandparents' kitchen counter with their name on it!
Home is Where the Heart Is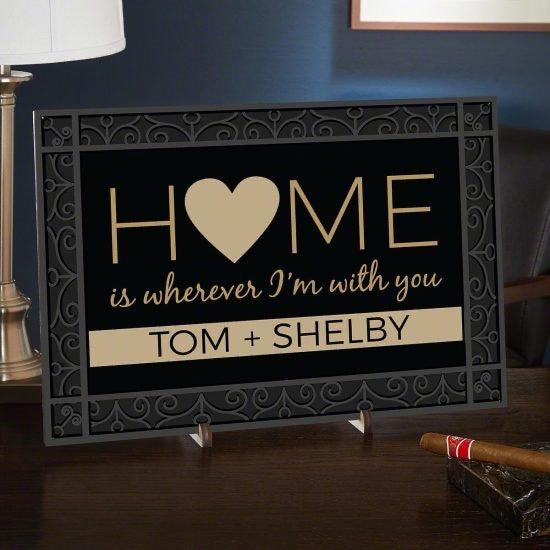 No matter what house they've lived in for their whole relationship, it's always been home. This personalized sign is just what loving grandparents like them need in their house. They'll love seeing the both of their names on this sign, reminding them that even as the years have passed, home will always be where they spend time with each other.
Out-of-this-World Gift
They've seen the world together, or at least parts of it, and you want to get them a gift that reminds them of their travels as well as lets them know that they mean the world to you. So what could be better than their own personalized globe decanter set? They'll love the way this gorgeous gift looks on their home bar or mantle, filled with their spirit of choice. Plus, when they use these personalized Glencairns for a drink, it will be more enjoyable than ever; making this the ultimate personalized grandparent gift.
Kitchen Gifts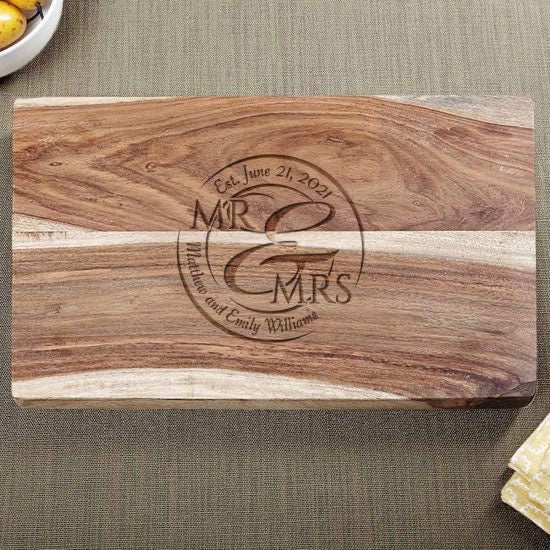 They've spent time in the kitchen together, and it's one of their favorite experiences they share. This engraved cutting board is a terrific gift that both your grandmother and grandfather will greatly enjoy using, both to chop up food and as a handsome kitchen display. They'll love seeing their names on it as well as their anniversary date. They'll remember back to that terrific day every time they see this handsome cutting board to prepare that favorite family recipe or their all-time favorite dish.
Ultimate Beer Set of Personalized Gifts for Grandparents
There's nothing quite like an activity that both of your grandparents can enjoy together! That's what makes this beer box set the ultimate personalized gift for them. They'll greatly enjoy sipping on their favorite beer together from fancy pint glasses with their name on them!
All the Photos They Love in One Place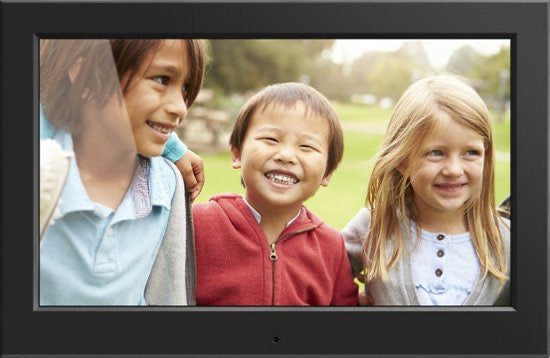 Photographs are a great way to capture memories and display some of life's happiest moments. However, instead of getting your grandparents a normal picture frame, bring them into the modern era with an electronic picture frame! With this awesome gift, they can see their wedding photos, children, and grandchildren all on one display!
Matching Glasses and Box Personalized Grandparent Gift
When it comes to a gift you know that your grandparents will love, this versatile box set is the way to go. Not only is the customized box great for storing all kinds of small possessions, but the glasses are just as versatile. Whether they want to enjoy whiskey, a cocktail, or any other beverage, these custom glasses are the way to go, making this set one of the most useful personalized gifts for grandparents.
493+ INCREDIBLE PERSONALIZED BOX SETS>
Lovely Gift for a Lovely Grandmother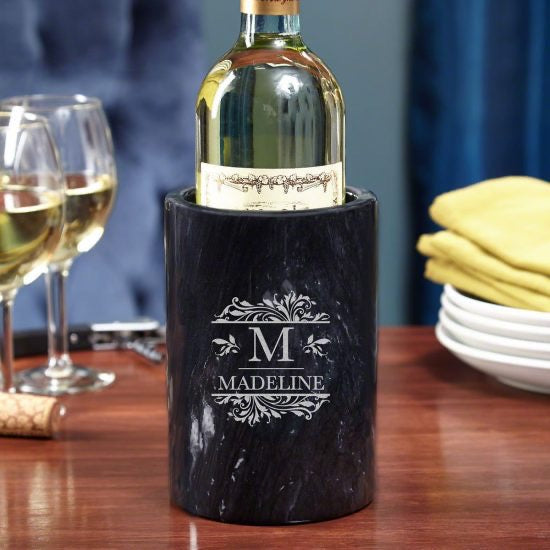 Your grandmother is full of beauty and grace, and she deserves a gift that's equally as lovely. This personalized marble wine chiller is the kind of gift you know she'll love and get great use out of! She'll adore the way this gorgeous wine chiller looks on her dining room table or mantle, especially with her name engraved onto it.
Coolest Gift Ever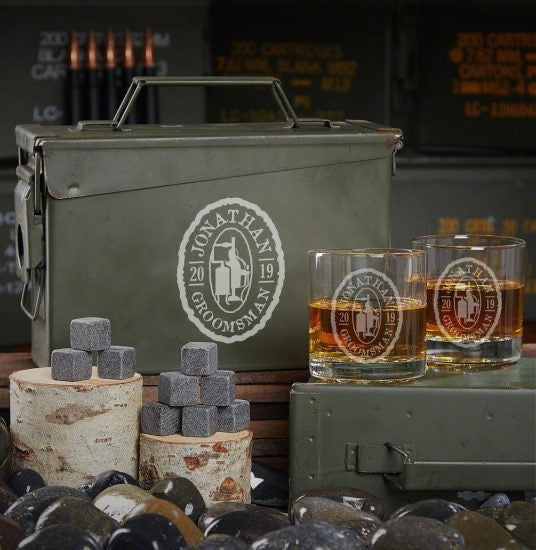 Because your grandfather is one of the coolest people you know, he deserves the coolest gift you can think of—this ammo can gift set! He'll be a huge fan of the personalization on this ammo can, and glasses, with his whiskey tasting like it's fresh from the still engraved on the can and glasses. Your gramps will definitely want to share a drink with you!
His and Hers for Your Grandparents
The idea of couples matching can sometimes seem cheesy, but with this gift, it'll be nothing but adorable! Your grandparents will love sporting these custom couples aprons in the kitchen, in the garden, or anywhere else they might need to protect their clothes. Having their names on these matching aprons will make them feel like the cutest couple ever.
The Perfect Tools for Their Wine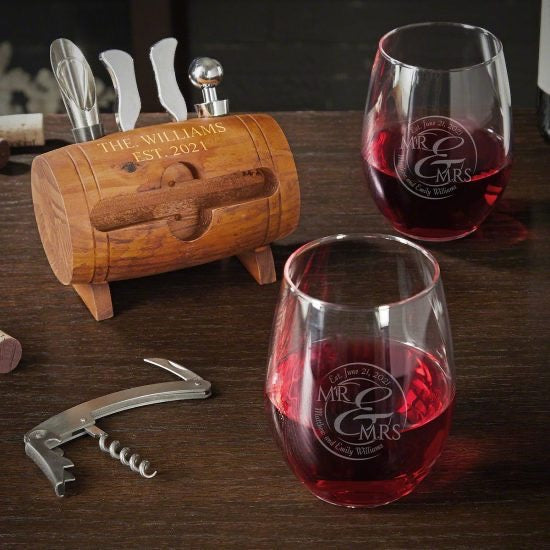 For grandparents, how their items look is just as important as their functionality. This wine gift set is just as aesthetic as it is functional, making it a fantastic personalized grandparent gift. They'll be huge fans of seeing their name on the unique wine barrel as well as the wine glasses, and they'll want these items displayed in their kitchen or bar area even when they aren't drinking wine!
The Best Doggone Gift
Get them a gift set that reminds them of their furry best friend! They'll cherish this dog decanter set forever because it will remind them of their loyal companion who makes life so fun. They'll be so grateful for such a novelty gift set!
Party Time Personalized Grandparent Gift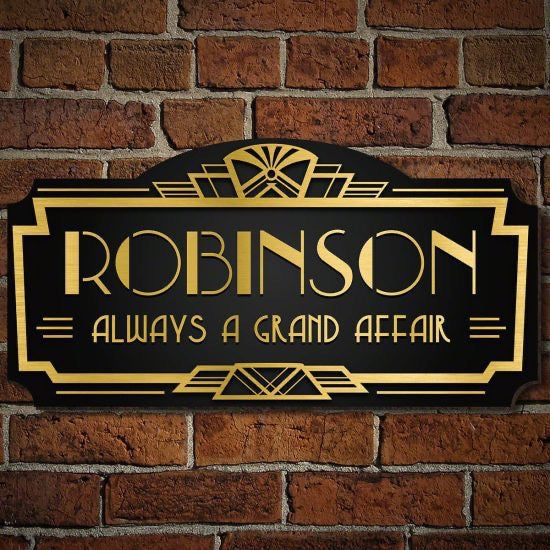 As the life of the party, your grandparents are awesome, and they deserve to feel as awesome as you see them. With this custom Gatsby sign, their house will feel like the coolest party spot where all their friends and family love to hang out. Thanks to the customization that has their name in large, bold and gold lettering, everyone will always know that they are the best hosts of the party ever!
Most Special Kind of Tree
If there is one thing that grandparents are, it is being proud of their children and grandchildren. Make sure that they can show off their pride with a family tree they can display with ease anywhere in their house. With everyone's name, birthday, and birthstone on this gorgeous framed tree, this makes the perfect decor to go on their wall and make them happy every single day.
Perfect Cocktails for Grandparents
Are there any two people more deserving of delicious cocktails than your grandparents? Definitely not! That's why this ice bucket and these glasses are the perfect personalized gifts for grandparents. With the matching personalization, they'll love how these glasses look, and they'll be big fans of the large supply of cold ice they can continuously add to their cocktails to keep them nice and cold!
271+ PERFECTLY PERSONALIZED GIFTS FOR GRANDPARENTS>