For a man, the only thing better than an awesome gift is a super cool gift box! Amazing gift boxes are incredible go-to gifts for any man in your life, whether the occasion is a holiday, birthday, or any other celebration deserving of an awesome gift. You're in search of an excellent gift box for a man for any of these occasions. You want to find an awesome set of the best gifts for men that comes in a box, is unique, and has several parts that work together perfectly to create an awesome gift experience for the man you're buying for. It doesn't matter if you're looking for a man gift box for your dad, husband, brother, cousin, or anyone else, you can't go wrong with the phenomenal gift boxes we tracked down!
A Personalized Man Gift Box Perfect for Relaxation
There's nothing better than a simple gift box designed purely with your relaxation in mind, right? That's what makes this rocks glasses and whiskey stones gift box so awesome! The personalization on the glasses and box will make him happy, and he'll greatly appreciate having a fantastic glass from which to indulge in his liquor of choice from time to time when wanting to chill. Including a few miniature bottles inside this set makes it an even better man gifts box!
So Many Beer Glasses
A singular beer glass can be cool, but what about a set of four different personalized beer glasses? Mind-blowingly awesome! Astounded by how amazing this set is, he'll fall in love immediately with this ultimate beer box set. He'll have a blast trying different beers from the various glasses, seeing how they affect the taste of beers. The customization on the glasses and box sets it apart from any gift he's ever received.
Grilling Gift Box
A man will feel so much more powerful behind the grill when he's using the best tools available! That's what makes this grilling tools set such a perfect man gift box. He'll feel so awesome standing over the grill with his meats and seasonings ready when he has been fully equipped with these grill tools. Now, he is finally able to make the best steaks, burgers, and brats that the neighborhood has ever seen.
A Simple, Perfect Gift
He's not a complicated man, so you know a simple yet awesome gift box would make him happy. This whiskey stones and glasses gift set is just this kind of amazing present. There's no doubt that on his birthday, Christmas, or another occasion, he'll want to share a drink with you or another loved one. The customized gift box for men is perfect for storing important items as well. He'll really like having classy, personalized glasses to enjoy a chilled drink whenever he wants to celebrate a special occasion or have a relaxing moment to himself. This set is so awesome that that it doesn't matter if this is a set of gifts for guy friends, your husband, brother, or anyone, he will love it!
A Snack Set for Him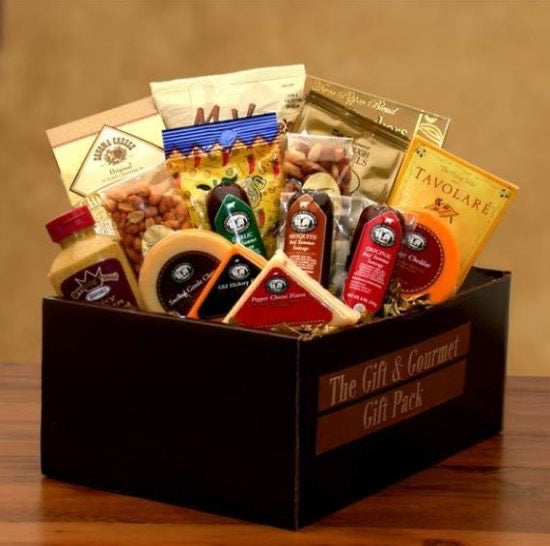 A man gift box full of delicious snacks is always a good choice. This gourmet food gift pack will make his mouth water as soon as he opens it up! From Jambalaya spicy snack to Mesquite summer sausage, these unique, gourmet snacks will make him and his stomach very happy. It's simply the perfect gift box for a man!
Ammo Cans Make Cool Gift Boxes
This man gifts box is so creative, the box isn't even a box! This ammo can gift set is a really cool gift because it's one of a kind and personalized just for him. Any man will feel super manly using the ammo can to store various items like small tools or drinking accessories. He'll really like always being equipped with the knife and bullet bottle opener, and of course, the cool, custom pint glasses.
131+ SUPER COOL CUSTOMIZED AMMO CAN SETS>
Sophisticated Man Gifts Box
For a man who values sophistication and classiness, few things will make him feel as good as this fancy gift set. This watch case set is definitely the most handsome and classy gift he's ever seen! The handsome wooden watch will quickly become his favorite watch, and he'll be really thankful for the watch case as a place to keep it safe. When he's finished a long day at work and needs a drink, the flask and glass are perfect for enjoying a sip or two of his favorite liquor or a cocktail.
A Manly Spa Set
Men deserve to treat themselves to a manly spa day once in a while. This men's spa set lets them do just that! He will love using the spicy shave gel, fisherman's hand butter, and other masculine-scented items inside this set to really rejuvenate himself and make him feel more refreshed and relaxed than he has in a while!
Personalized Whiskey Gift Set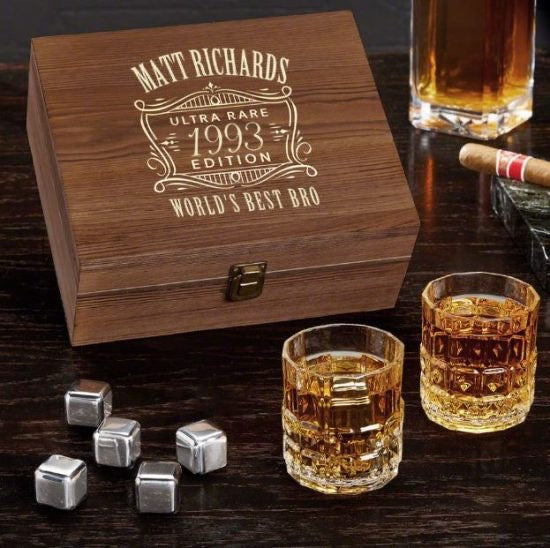 A great man gifts box doesn't have to be overly complicated. In fact, some of the best are super simple, just like this legendary whiskey stone set! He'll really like the unique shape of the glasses and the rare stainless steel of the whiskey stones. Having a nice cold drink when he needs to relax or celebrate a special occasion will be better than ever with this awesome gift box set.
Stainless Steel Perfection Man Gift Box
A manly wine gift box set? How cool! The stainless steel glasses will keep his chilled wine, cocktails, or any other beverages cool until the last drop, so when he's slowly enjoying his favorite drink on a special occasion, it'll stay perfectly chilled inside these glasses. Seeing the personalization on everything in this set will make him feel like the coolest guy ever, and he'll definitely want to use these glasses at every opportunity!
Dress Up His Feet
Get him a gift box that is so unique, he'll be surprised! This socks box set is a fun, special present that he'll really like! It's perfect for a thank-you gift for a friend or a just because gift for your husband. He'll have so much fun wearing these unique, high-quality socks. He'll love wearing them on any casual day in his house or when he's all dressed up, too!
A Custom Beer Mug Set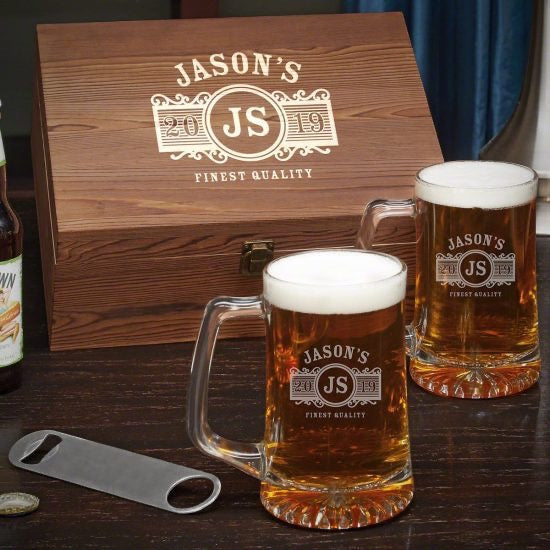 A man gift box should always be something you can picture him using. You can imagine these beer mugs in his hands perfectly, can't you? This beer mug box set is a phenomenal gift for him because after a long week of work or on his birthday, you can see him reaching for his favorite beer and one of these mugs to have a tasty beverage as he kicks back and relaxes. The heft and quality of the mugs, along with his personalization on them, makes them awesome. He'll definitely want to keep them safe inside the wooden box when they aren't being used.
This Man Gifts Box Will Bring Much Joy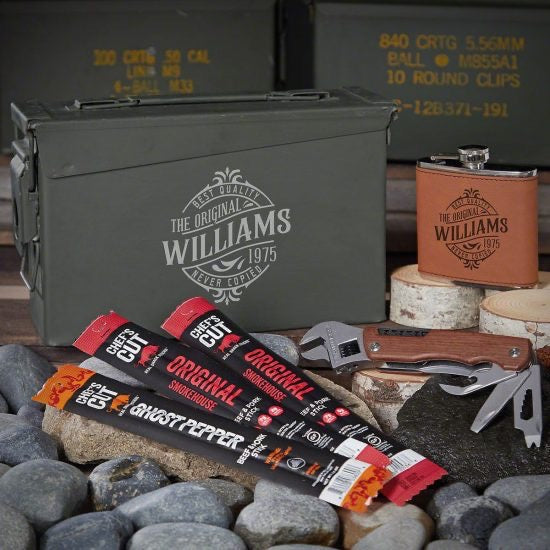 You want his reaction when he opens up his gift box to be one of pure excitement and joy, which will be the reaction you'll get when he sees this personalized ammo can gift set! Whether it's for Christmas, his birthday, Father's Day, or any other occasion, he'll think the rugged ammo can is totally awesome and use it to store his most prized possessions. The multi tool will definitely come in handy all the time for cutting open a box or unscrewing something!
De-Stress Box
Everyone gets a little stressed once in a while, so this stress less box is an incredibly useful man gift box. From items like a time management cube to waterproof notepad that help him stay organized to ones like aromatherapy oil that keep him focused, this gift box is designed to keep his stress away any time he feels it creeping in. He'll love how calm he feels after using this awesome set.
Most Handsome Decanter and Glasses Box Set
A stunning glassware box set always makes a terrific gift box! This whiskey decanter box set is absolutely beautiful and each piece of it has been personalized just for him. The decanter set is so gorgeous that he'll definitely want it displayed prominently in his home. When he has friends or family over and they see the custom set resting on his home bar or end-table, you can be sure he'll want to pour them a glass so they get to experience his awesome gift too!
429+ AWESOME WHISKEY DECANTER SETS>
A Man Gift Box for His Cigars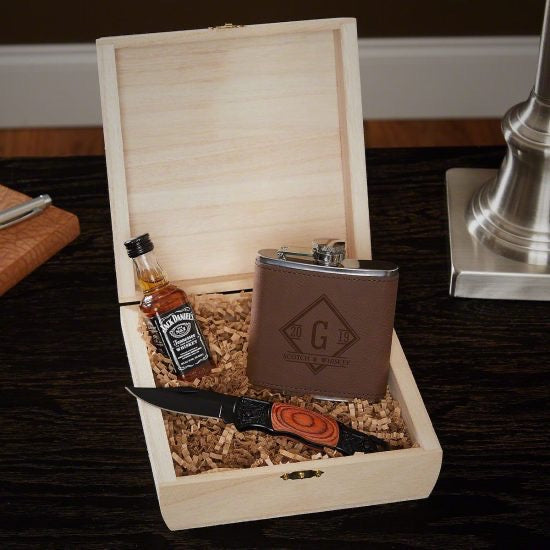 A gift box set is cool, but it's even cooler when the box is actually a cigar box! This cigar box gift set is really awesome and different because of its customization, and he'll really like having both the handsome flask and awesome knife whenever he needs to use them. He'll appreciate feeling prepared for many scenarios with this set. Also, he'll have the perfect place to store cigars—in the wooden cigar box!
Delicious Desserts
Everyone deserves to indulge in surgery snacks every once in a while, and he's no exception! This cookie gift basket is perfect for any man because who doesn't love a gift box that is full of delicious baked goodies, like chocolate chip cookies and lemon muffins. He'll be so excited to indulge in these scrumptious items!
Legendary Gift Box Set
For a legendary man, a legendary man gift box is required, such as this beer growler gift box set! The growler is the perfect way to store beer, coffee, or any other beverage for hours and he can rest assured that it will stay at the ideal temperature the whole time. He'll love taking this growler on road trips or to work so he always has a delicious beverage on hand. But this gift is more than just a growler, the box is perfect for storing all his favorite beer-related items, like this pint glass and bottle opener!
Greatest Drink and Snack Set Ever
There's no chance that he won't consider this whiskey stone gift set the greatest gift he's ever received! He'll really like that it has everything he could ever want: a customized glass to have a nice cold drink and whiskey stones to ensure his favorite scotch or cocktail doesn't get watered down. Especially considering how uniquely shaped the whiskey stones are, this set is really impressive, and he'll absolutely love it.
Super Fancy Scents
He'll feel super fancy when he sees this gift box! This Prada men's cologne set is a unique, sophisticated gift set that any man will greatly appreciate because it's high-class and fancy. He'll love using this set on a special occasion or date night so he smells his best and feels confident!
Monogrammed Man Gifts Box
There's something about seeing your monogram on something that just makes it cool. This monogram gift box set will have that same effect on him! He'll think it's really special that his birthday, retirement, or holiday gift has an awesome flask, glass, and box with his initials on them. He'll appreciate these awesome ways to enjoy his favorite drinks and then keep the drinking accessories safe!
Bet On this Gift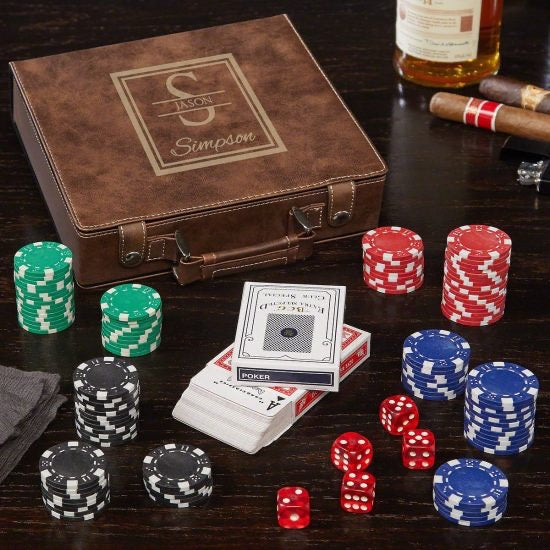 He'll be so excited to host a game night with all his buddies and use this set! There's nothing cooler than this man gifts box that will provide him hours and hours of fun. This custom poker gift set is incredibly awesome! He'll really like having everything he needs to play poker or any other awesome card game inside this cool personalized case. 
For His Vices
A gift box that helps him enjoy two of his favorite vices is always an excellent choice. With this whiskey and cigar set, he'll enjoy the two more than ever before! From the unique bullet whiskey stones to the very useful cigar stand, he'll really like having a set that has everything he needs for his vices. The super unique bullet whiskey stones will set this gift box apart from others, and he'll be a huge fan of how special it is.