With wedding season on the rise, you're probably starting to look for gifts to bring to all of the upcoming weddings you have. Don't worry, we did all the shopping for you, so you are sure to get the best wedding gift no matter who it's for! Our unique wedding gift ideas are designed to be one-of-a-kind, practical, and memorable gifts that the bride and groom will enjoy and treasure for the rest of their lives together. Whether they have a registry or not, you'll find everything you could possibly think of, even for the couple who has everything. We even found a few ideas for just the groom or just the bride!
The Perfect Wedding Gift for the Bride and Groom
No, really, this whiskey gift set is the perfect wedding gift! Not only can you engrave the lid of the beautiful wooden gift box with the names of the happy couple and their wedding date, but the bride and groom will love having such a nice set of whiskey glasses and stones. Whether they're feeling like having a couple of romantic drinks after dinner or want to offer their guest a drink in style, this is the set they will use from now on.
Lovely New Decor for the Newlyweds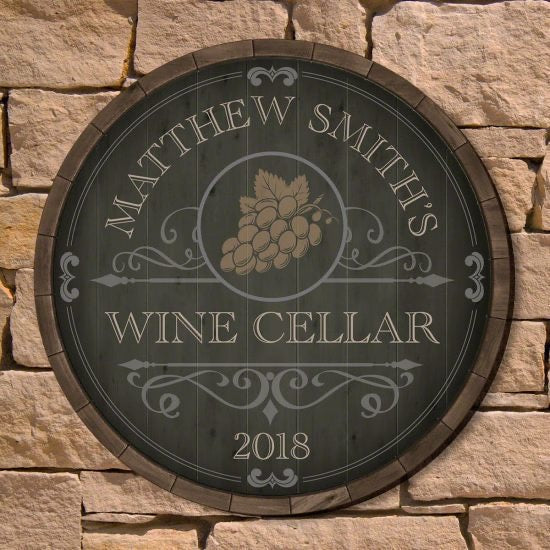 Even if they've been living together before the wedding, they'll want to have some new things for their home after the wedding too. One of the most unique wedding gift ideas you can give is a custom sign, like this fun and rustic wine cellar sign. It's the perfect decoration for an actual wine cellar, a home bar, or even as a piece of decor for their dining room that has a subtle nod to their marriage with the personalization. This one-of-a-kind wedding gift is sure to be treasured for years to come!
Classic Decanter Set for the Bride and Groom
One of the best activities to do in married life is to enjoy a drink together as husband and wife, and this gorgeous crystal decanter set will ensure that the happy couple can enjoy a variety of drinks together! The hefty glasses are large enough for cocktails or doubles of their favorite liquor, and the set altogether makes a stunning centerpiece for their home bar. Any bride and groom would enjoy getting such a beautiful and versatile decanter set as a wedding gift!
A Fancy Bar Cart is Always a Good Wedding Gift Idea
Bar carts are one of the most popular gifts for weddings, but you shouldn't just give them any old bar cart. Instead, go the extra mile and wow them with this exquisite globe bar cart! It's not just gorgeous, either, it actually has a lot of storage space for various bottles of liquor and glasses. Designed to look like a priceless antique, this incredible bar cart is sure to be the coolest gift the happy couple will ever get!
A Durable Cutting Board for Their Everlasting Marriage
When considering a wedding gift, you should get the bride and groom something long lasting and timeless that they can enjoy for years together. This hardwood cutting board is extra durable, beautiful, and even personal, which makes it the ideal wedding gift! The sheesham wood is extra resistant to cuts and nicks so that the surface stays smooth even after many years of using it for daily food preparation, and it will look lovely in their kitchen when they're not using it.
39+ PERSONALIZED CUTTING BOARDS>
You Can't Go Wrong with a New Coffee Maker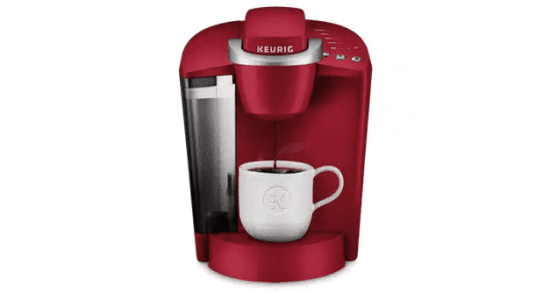 Chances are, the happy couple who loves coffee could probably use a new coffee maker. After all, coffee machines are ever evolving, and you know it's something they'll use every day! The Keurig K-Classic is the pinnacle one-cup coffee maker that any couple will enjoy. It comes in a few different colors, too, so that you can match it with their kitchen decor! When in doubt, a coffee maker is the perfect fail-safe gift.
Impressive Monogrammed Decanter Set
Decanter sets are one of the best gifts for weddings not just because they look nice, but they're great for enjoying drinks together as a couple or with their friends! This impressive monogrammed decanter set is certainly dressed to impress, making it ideal for a variety of drinks and occasions both. This timeless set is sure to be the center of many date nights, parties with their friends, formal events with family, and every special occasion.
One of the Cutest Wedding Gift Ideas You Can Give
How cute is this personalized wooden sign? This one-of-a-kind piece of decor will look great in the bride and groom's dining room, home bar, or kitchen. Every time they look at it, they'll be reminded of their wedding day and that it's the little things like having drinks together that matter the most in a marriage. This adorable, thoughtful gift idea is guaranteed to make everyone go "Aww!" when they see it!
Engraved Wine Glasses Make Great Wedding Gifts
You can never go wrong with wine glasses as a gift for a wedding, especially when it is this beautifully personalized set! This matching set of glasses for newlyweds also makes a perfect replacement for old or mismatched wine sets. These large stemmed glasses are designed to be ideal for red wine, but they're great for white wine as well. The simple but elegant style of these glasses make them nice enough for formal occasions but not too fancy for everyday use.
Wedding Gift Idea for the Groom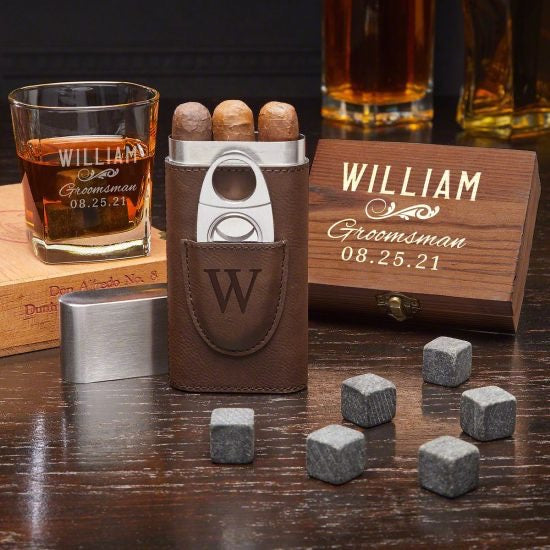 Want to get a special gift for the groom? Look no further than this whiskey and cigar gift set! The perfect way to celebrate nuptials is with a drink and a cigar, after all, which makes this set one of the best gifts for the groom on his wedding day. You could even fill up the cigar case with a couple of his favorite stogies so that he can enjoy one as soon as he opens up his gift! He'll love having this set in the future, too, especially after a long day at work. All around, this whiskey and cigar gift set is a win-win!
The Softest New Bath Towels
Bath towels are popular wedding gifts, but these towels are unlike any the bride and groom have ever seen before! The extra soft and warm waffle knit style of these luxurious towels are so much more efficient and comfortable than the standard microfiber towels. The happy couple will be so amazed by this set that they'll probably ask you where you got them in your thank you card so that they can get more!
The Perfect Set of Rocks Glasses Every Couple Needs
Even the couple who has everything could use a nice set of rocks glasses! This set of four monogrammed old-fashioned glasses is perfect for enjoying a glass of scotch together after a romantic dinner or for entertaining guests with homemade cocktails. The unique design of these glasses even prevents condensation rings so that their (probably new) furniture is safe even without coasters! Pair this lovely set of glasses with a nice bottle of whiskey and you've got a wedding gift idea that's guaranteed to please.
Every Married Couple Needs a Wine Decanter Set
One of the most essential things to have as a married couple is not just a set of wine glasses, but also a wine decanter! There is no better way to guarantee a delicious glass of red wine, after all. This three piece wine decanter set ensures that the bride and groom will have both wine essentials in their home bar, and they'll certainly be thankful for it as soon as they try out the decanter for the first time! Plus, when it's not being used the decanter looks absolutely stunning on display.
For the Bride and Groom Who Love Coffee As Much as They Love Each Other
Whether they first meet at a Starbucks or they depend on coffee as much as they depend on each other, any coffee-loving bride and groom need this adorable personalized sign! This cute wooden sign is great for reception decor if they're having a coffee bar at the wedding, but it's also the perfect decor for their kitchen. It'll look lovely hanging above their beloved coffee machine or mug collection!
Stunning Decanter Set for the Happy Couple
Looking for wedding gift ideas that will stand out among the rest of the gifts? This spectacular whiskey decanter set is so breathtakingly beautiful and luxurious that any other set of glassware they get for their wedding will pale in comparison. Such an incredible decanter set is sure to become the centerpiece of any room the bride and groom display it in whether they want to show it off in the home bar or even the living room!
613+ WHISKEY GIFTS FOR THE BRIDE AND GROOM>
When In Doubt, Send a Gift Basket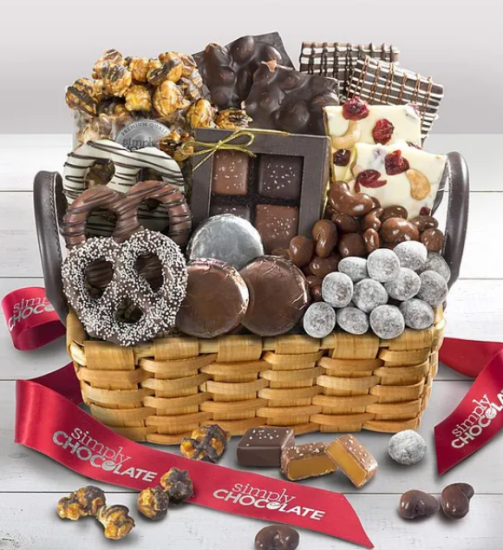 Not sure what to get as a wedding gift? If you don't know the couple very well or they say they don't really need anything, a nice gift basket with edible goodies is always a great idea! This adorable box set of chocolates, pretzels, and an gourmet popcorn are sure to be enjoyed by any couple. In fact, they'll probably enjoy the gourmet chocolates and sweets on their honeymoon!
Beautiful Decanter Set They'll Use All the Time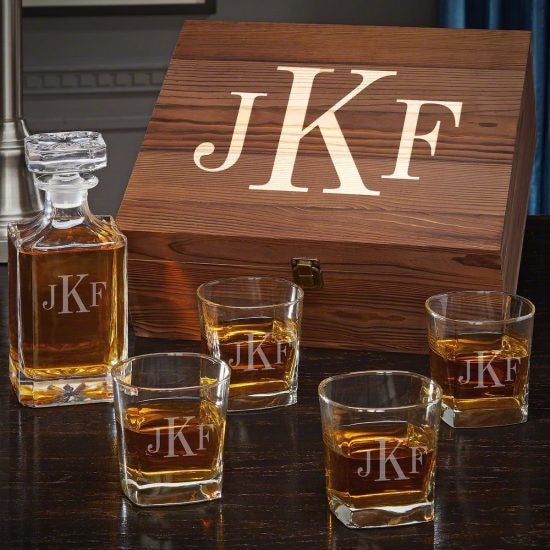 Everyone appreciates nice drinkware, especially guests! With this elegant monogrammed decanter set, the happy couple will always have a nice set of glasses to use to serve drinks to guests and enjoy for themselves on their date nights. The decanter set even comes in a matching personalized wooden gift box that the bride and groom can use to keep the set safe in between special occasions, or it can be repurposed to be a keepsake box to store mementos from their wedding day!
Everyone Needs Coasters
One of the most underrated and forgotten gifts are coasters. Seriously, they're absolutely essential in a home and the newlyweds will adore having a nice set that's personalized with their new shared last name! The durable, handsome black leather will blend in seamlessly with their decor whether they use the coasters for their dining room or living room.
Make a Statement with a Stunning Serving Set
One of the best wedding gift ideas you can give is something that the bride and groom can enjoy together, like a serving set! This ultimate decanter set comes with its own serving tray so that the happy couple can serve drinks to each other or to guests with ease. Plus, it looks wonderful on display in any room of their home! The cherry on top of this amazing wedding present is that each piece in this set is engraved with the couple's first initials surrounding their last initial in a unique way.
Cheese Boards Are Newlywed Must-Haves
It may be 2020, but cheese boards are still in style and they are fantastic wedding gift ideas! Cheese boards are great for serving appetizers and small bites to guests, of course, but they're great for surprising your loved one with breakfast in bed or enjoying a romantic date night with an assortment of gourmet cheeses. These versatile serving trays are must-haves for any couple, especially when they double as decorative pieces when they're not being used like this one does!
The Best Wedding Gift Idea: New Dishes!
Having a nice set of dinnerware is essential as a married couple. Corelle is one of the few brands that make virtually unbreakable and extremely durable dishes while retaining style, which is why they belong on every wedding registry! This 30 piece set comes in dozens of different patterns and colors to suit the bride and groom's style. Make sure you pick out something they'll really like because this set will last for decades!
A Decanter Set They'll Treasure Forever
Want to give a really nice wedding gift that the bride and groom can enjoy for years to come? This thoughtful decanter set is perfect for enjoying on their wedding day and every anniversary after! In between using it to celebrate special occasions and date nights, they'll want to keep it on display as a sweet reminder of their nuptials. In fact, they can use the gift box to house their keepsakes and mementos from their wedding!
A Wedding Keepsake Box for the Bride
Speaking of keepsake boxes, they're one of the most thoughtful gifts for the bride! The bride will want to hold on to certain things from her wedding day such as her wedding gown, maybe some flowers from her bouquet, photos of course, things from the wedding planning, and even the invitations to the special day. The attractive walnut box will make sure that these special mementos will be there for her to look back on for years to come!
479+ GIFT BOXES AND GIFT SETS THEY WILL LOVE>
A Custom Cutting Board is a Wedding Gift They'll Never Forget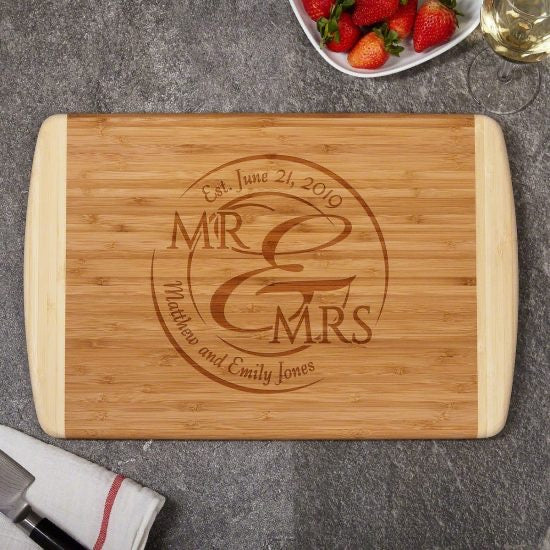 You just can't give a cuter wedding gift than this lovely bamboo cutting board! Every time the newlyweds use it, they'll be reminded of the wonderful day they said "I do." The beautiful bamboo will look great in their kitchen when they're not using it to prepare a delicious meal together, and it is designed to last for years to come too!
Give the Bride and Groom a New Hobby to Try Together
Looking for a really unique wedding gift idea? Give the soon-to-be married couple a new hobby to enjoy together as husband and wife—collecting! The custom shadow box is perfect for displaying all sorts of items such as wine corks from every bottle of wine they share or ticket stubs from concerts and movies they attend together. The unique collection will not only be a great way to enjoy a new activity together, but it also creates a one-of-a-kind representation of their marriage that they can display in a fun way.
Digital Picture Frame for All of Their Wedding Pictures
Modern couples are turning toward digital picture frames rather than assembling photo albums, but this is no ordinary digital frame! This frame has a unique feature that allows friends and families to share their own pictures to it so that the bride and groom can see both their loved ones' photos and their own. Using the companion app or an email address, they'll be able to see different pictures and special messages every day. How's that for a unique wedding gift?
Champagne Flutes Are Always Good Wedding Gift Ideas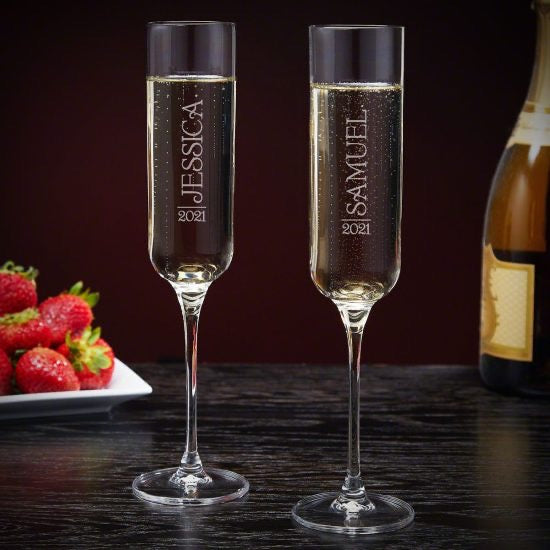 You can't have a wedding without champagne, and the wedding toast is a vital tradition! Make sure the bride and groom can make their toast with these extra special his and her champagne flutes! This beautiful pair of glasses is also perfect for celebrating every special occasion in the years to come such as anniversaries, New Year's, birthdays, and more.
The Perfect Way to Celebrate a Wedding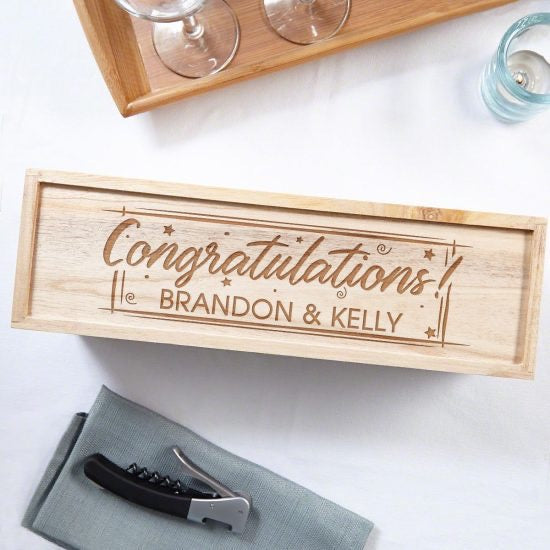 Whether you can't make it to the wedding or you're just stumped on what to get the bride and groom as a wedding gift, keep it simple with this thoughtful wine gift box! You can place a nice bottle of wine or champagne inside and the box does all of the congratulating for you. After the wedding, the happy couple can use the box to store a wine cork collection, special bottles of wine for anniversaries, or keepsakes from the wedding.
For the Beer-Loving Bride and Groom
Do you know a pair of lovebirds who enjoy drinking beer together? Get them a custom growler and pint glass set as a wedding gift! They'll love having their own custom glasses for a proper cold one at home, just like they'd enjoy at their favorite brewery, and the growler is great for bringing home plenty of local brew to enjoy together or bringing cold beer on the go. The beer-loving newlyweds will be taking their trusty new growler everywhere they go, even on their honeymoon!
The Sweetest Wedding Gift Ideas
For those of you looking for romantic gifts for the soon-to-be-married couple, this is it! The beautiful, elegant wine gift set has everything the bride and groom needs for a romantic night together. Whether they use it for their wedding night or every date night and anniversary in the future, each piece in this thoughtful set will remind them of their love for one another.
Air Fryers Are the New Stand Mixers of Wedding Gifts
Married life is a little bit different from dating life where a couple often prefers to stay at home and cook rather than go out for fast food. With an air fryer, they can enjoy their favorite fried foods in a healthier, easy way right at home! This practical wedding gift idea is certainly unique, and helps the newlyweds stay healthy even when they're enjoying their favorite fried foods. Once they try out this nifty kitchen gadget, they will never want to go back to using the oven!
Make Sure the Happy Couple Always Has Cold Wine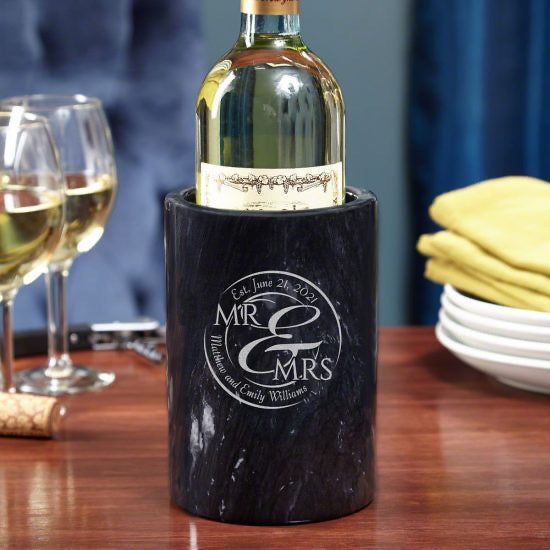 There's nothing better than a glass of fresh, chilled wine. Make sure the bride and groom always have perfectly chilled wine with this gorgeous marble wine chiller as a gift for their wedding! Made of genuine black marble, this gorgeous chiller takes a room-temperature bottle of white wine and instantly cools it down so that the happy couple can enjoy a nice glass of wine with their dinner even if they forgot to put the bottle itself in the fridge. Plus, it doubles as a beautiful piece of decor for their kitchen when they're not using it.
Personalized Piece of Decor for Their New Home
Whether they're moving into a new house as a married couple or they've been living together for some time, a personalized sign featuring their new last name and the day they were married is always a great wedding gift idea! This beautiful sign will help make their house feel like their home, and serves as a reminder of the day of their wedding every time they look at it. Such a timeless piece of decor will look lovely in any room of the house and is sure to be treasured for many, many years.