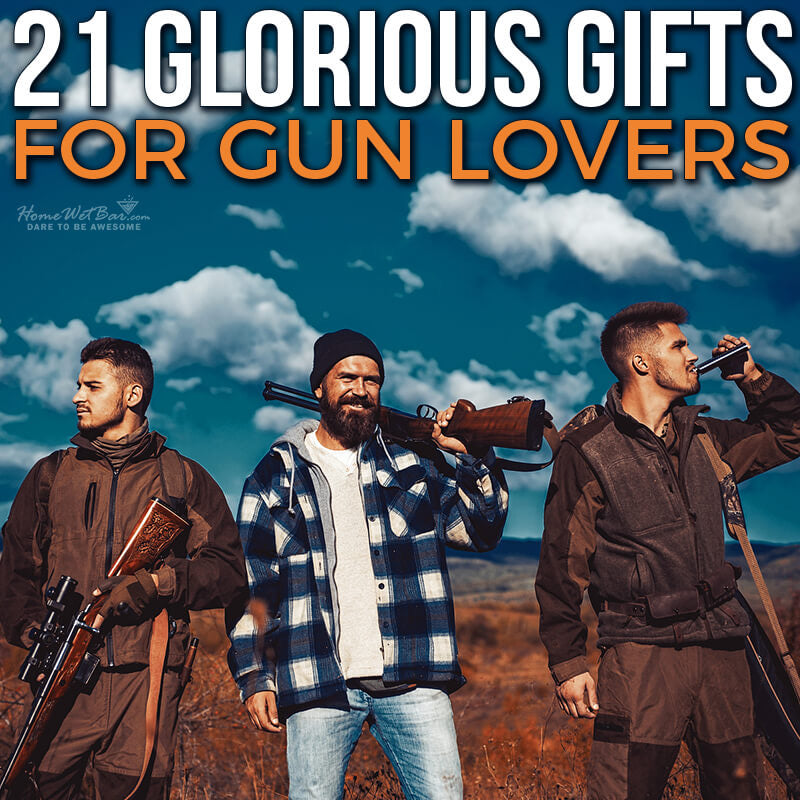 21 Glorious Gifts for Gun Lovers
Take Your Shot at Getting the Perfect Gifts for Gun Lovers with One of These Awesome Gift Ideas!
Most people who are into guns prefer to buy their own guns rather than get them as gifts, which leaves you in a tough spot if you're wanting to get them something. The best gifts for gun lovers are not just gun parts and accessories, but gifts that allow them to show off their love for guns! Besides, every gun owner knows exactly what kind of parts and accessories they want, and they'll probably buy them one day. Firearm owners are proud people, after all, and they should get something really cool as a gift! Don't worry, we've got plenty of unique gifts for gun owners that they'll never expect to get!
Chill Your Whiskey with Bullets
The gun lover in your life is the kind of person who enjoys going to the shooting range and having a drink afterward. Whether it's whiskey or beer, there's nothing like a cool refreshing drink after being in the warm range for a while. Make their after-range drinks even better with this unique gift set! The stainless steel whiskey stones actually look like bullets and will perfectly chill any liquor or cocktail without diluting the flavor. Feeling like a beer instead? The awesome .50 caliber bullet bottle opener will be close by. This set is one of the coolest gifts for gun lovers for any occasion!
Manly Must-Have Gifts for Gun Lovers
As a gun lover, you've probably got an ammo box or two already, as well as a bottle opener and a couple of glasses. But are they as cool as these? Not likely! Finally, you can enjoy your beer in your own personalized pint glasses and store your rounds in a custom engraved ammo box that was once used by the US military. Plus, that .50 caliber bullet is actually a bottle opener. How awesome is that? Everything about these incredible gifts for gun owners screams "Manly!" The best part: you can totally customize the three lines of text on the ammo box and pint glasses. Score!
Classy but Subtle Gifts for Gun Lovers
Besides wearing a gun-themed T-shirt or having a "Don't Tread on Me" license plate, there are only so many ways to proudly show off your love for your guns. These unique coasters are a more subtle and decorative way to do so! Plus, they'll keep your furniture safe from condensation. These coasters are made of stone and hand-painted to resemble the end of 12 gauge shotgun shells. Your guests will all be jealous when they see these unique coasters!
Travel with Cigars in Style
Nothing ruins your day quite like reaching into your pocket for a stogie only to find that it's become a crumbled mess. You've been meaning to get a cigar case for a while, but now you have to! You like to light up a cigar after cleaning your guns or shooting clays, and you like to have one on hand to share with your shooting buddy. Why not combine your two favorite things into one with this bullet-shaped cigar case? This unique case has two tubes to snugly and securely store two stogies. Don't worry, they're connected on one end so that they don't get separated! Thanks to this unique and handy cigar case, you'll have two cigars ready to smoke wherever you go.
Create Your Own Gun Lover Gift Set
Made it this far and haven't seen anything perfect enough for your gun lover? Then you should take matters into your own hands and create the ideal gift set! These are just a few ideas that any gun lover would enjoy: a personalized .50 caliber ammo can, a flask shaped like a shotgun shell, .50 caliber shotgun shell shot glasses, and a.50 caliber bullet bottle opener. All of these items are fun novelty pieces that are the perfect gifts for gun lovers on any occasion, and a great themed gift when put together into a set.
339+ MORE GIFT SETS AND GIFT BASKETS>
Ultimate Gun Cleaning Kit
Whether you're a new gun owner or a seasoned expert, a gun cleaning kit is an absolute must-have. It is crucial to clean your gun after taking it shooting to keep it in working order. This ultimate cleaning kit is ideal for rifles, shotguns, and pistols, which makes it an ideal gift for gun owners because most of them own one or two of each type. This 65 piece kit comes with all kinds of handy cleaning necessities such as various ramrods, brushes, swabs, and more!
A Unique Piece of Decor Every Gun Lover Needs
Why toss your bottle caps when you can display all of your favorite beers with a beer cap map? After a few hours at the range, nothing sounds better than an ice cold beer. Pop one open and place the cap on this fun revolver-shaped art! Now, everyone will know what your favorite beers are when they come over. Filling up the beer cap map is a fun new way to collect bottle caps, and the revolver design will match your decor perfectly whether you display it in the garage, your man cave, or even the kitchen. This piece of decor is one of the most unique gifts for gun lovers whether they're into revolvers or not!
Complete Gun Lover Gift Set
When looking for gifts for gun lovers, you should consider the things they're interested in besides just guns. For example, most people who like guns enjoy drinking and spending time outdoors too! The best kind of gift combines all of their favorite things into one, like this ammo box gift set! It's got beer glasses, a hatchet, and a flask, could it be any cooler? Any outdoorsy gun lover would enjoy this totally awesome gift set. The .50 caliber ammo box was actually used in the US military and is custom engraved, which makes it one of the most personalized and unique gifts you can give. He will enjoy using it to store his ammo, but he can also use it to store tools or even a couple of bottles of beer too.
Create a Totally Unique Gift Set
Don't just get a couple of boxes of ammunition as gifts, you should get something special! Gifts for gun lovers don't have to be an obscure gun part, they enjoy novelty items that are related to guns too! This entire set of novelty gun gifts are all perfect gifts for firearm fans. The unique design on the beer mug is quite eye-catching and great for fans of Westerns while the fun corn holders look just like shotgun shells. The flask has a cool shotgun shell design that anyone would appreciate, and the handsome revolver shot glasses will make any of your friends think that you're taking shots from an actual revolver barrel! Combine all of these items together and you've got quite a unique gift set.
Show Off Your Prize Shots
Are you a gun fan who is also into outdoor activities such as competitive shooting or hunting? Then you need a shadow box! You can finally show off all of the shells from your favorite shots and trips in a unique way. Simply drop the shells inside the convenient hole at the top of the shadow box and you've got a unique piece of decor and a cool collection all in one item. Shadow boxes make the best gifts for gun owners to show off their legendary shots, especially when there's a great story behind each shell!
Saved By the Bullet
Bet you've never seen a glass like this before! This awesome glass is quite eye-catching and is sure to turn some heads when you casually pull it out and pour yourself a shot when your friends are over. The shotgun shell is actually embedded in the glass! Don't worry, it'll stay there. This unique glass is one of the coolest gifts for gun lovers whether they're into collecting shot glasses or just enjoy novelty gun gifts. After all, that's why you're here! You can certainly make plenty of puns when giving them the glass like "Now you can literally and figuratively take a shot" or "I got you a shot." They're sure to chuckle at the sight of this fun glass and use it all the time.
The Only Way to Drink Whiskey as a Gun Guy
There's simply nothing more badass than having a glass of whiskey, especially when using whiskey stones shaped like bullets instead of boring old ice. You and your fellow gun nut will love using the whiskey glasses and bullet stones for a nice, refreshing drink after spending a couple hours shooting clays outside. This set is one of the manliest gifts for gun owners you can give, and it's great for any occasion!
Beer Gifts for Gun Lovers
Not into whiskey? Beer it is. There's nothing quite like an ice cold beer to keep you cool and refreshed as you wait patiently in the duck blind for your targets. At home, beer is the first thing you reach for after a successful adventure or shooting practice. Why not reach for these personalized pint glasses and bullet bottle opener? The bottle opener is made from a genuine .50 caliber shell and is by far the coolest one you'll ever own. Beer is best served in a proper glass, anyway, instead of just drinking it from the bottle or can it comes in. All around, any beer-loving gun owner need this set!
The Perfect Gift for a Hunter
Naturally, most gun owners enjoy going hunting. The two usually go hand in hand. Whether you've got a hunting lodge or a room dedicated to your trophies, one of the best pieces of decor to have is this rustic buck sign! The classic design will match perfectly with your decor, and the best part is that you can customize all of the text on the sign to be just about anything you wish. You could make your hunting lodge official with the sign by having it say something like "Hunters Only, John's Hunting Lodge, Big Game – Good Times" or something fun like the example shown.
A Manly Gift Set Unlike Any Other
When getting gifts for gun owners, you don't just have to get them something related to their love of guns. The best gifts are items that are related to multiple things that they enjoy! Think about the gun guy in your life, does he like to drink whiskey? Does he enjoy being outdoors? Then he'd absolutely love this gift set. It's all about his favorite things! He will love using the monogrammed whiskey glasses and the stones to have a chilled bourbon with his wife or a friend. The tactical knife has a hidden survival kit in case of emergencies and will certainly come in handy whether he's fishing, hiking, or camping, thanks to its many unique features. All of these items come in a monogrammed ammo box, which was once used in the military to store live rounds. That's pretty neat! Everything about this awesome gift set is perfect for outdoorsy gun lovers who like to have a glass of whiskey now and again.
79+ AWESOME AMMO BOXES AND SETS>
Always Know How Many Rounds You Have Left
Serious gun owners who religiously visit the shooting range know the struggle of getting caught up in target practice and forgetting how many rounds are left. It's just so disappointing to be focused and lining up the sights to the target, checking your grip, pulling the trigger, and…click. Nothing. You're out of rounds. One of the most useful gifts for gun owners you can possibly give is a digital round counter! Available for the Beretta 92FS, M-1911, AR-15, and M-16, this awesome gadget is a must-have! It's easy to install and convenient to use as it fits discreetly onto the grip. Thanks to this handy high-tech accessory, you'll always know how many rounds you have in your gun. Target practice will be smoother than ever!
Unique Top Gun Gifts
Excuse the pun, but seriously, the design on the whiskey stone box really is inspired by Top Gun! Everything in this set are manly gifts for gun lovers from the bullet whiskey stones to the genuine bullet bottle opener. Whether you're really into guns yourself or you're trying to find a cool gift for the gun fan in your life, this set is the perfect go-to gift! You can give it as a birthday, retirement, promotion, holiday, any occasion works. Anyone who likes guns, whiskey, beer, and all things manly will appreciate this gift set the most, but it's all around cool for those who aren't as well.
Right Between the Crosshairs
Like the revolver-shaped beer cap map you saw earlier, this unique bottle cap collector sign is shaped like a target! How cool is that? Any gun lover will get a kick out this cool sign whether they drink beer or just bottled sodas. It's the perfect piece of decor for a man cave, garage, or hunting lodge.
The Perfect Gift Set for the Guy Who Loves the Old West
Everyone knows at least one person who loves to read and watch old Westerns. They have all of the versions of the tales about Wyatt Earp, Bonnie and Clyde, and Jesse James. Even if they don't live in the West or wear a cowboy hat, any gun lover who admires the gunslinging past of America will enjoy this cool gift set. The design on the ammo box and beer glasses is the skull of a bull cross by two shotguns, how badass is that? The cigar accessories and tactical survival knife are pretty awesome, too. Thanks to your awesome gift, the gun lover in your life will feel like Billy the Kid himself!
The Most Secure Gun Safe
You've been expecting to see a gun safe in this article, right? Well here it is! Not an average gun safe, this monstrous safe can hold your entire firearm collection. The safe is totally customizable with the full grid panel inside so that you can move around your ammo, accessories, or even your handguns with its detachable bungees and clips. It might look like a safe that weighs hundreds of pounds, but it actually weighs only 105 pounds! You can move it around your garage or closet with ease so that it's not just stuck in the same place for years. Relax, it's still plenty secure with its 3-point locking system. There's no wonder why this safe is a bestseller!
A Touch of the Old West
This sign looks like something you'd find in an antique store that's decades old, but it's actually brand new and custom made just for you or a gun lover you know. After all, anyone who's shot a gun has attempted a quick-draw just like the cowboys in old Western movies. There's just something about the Old West that never gets old and has a unique appeal. You can customize this saloon sign to be uniquely your own and turn your modern home bar into the Western saloon you've always dreamed of. Any gun lover would appreciate this awesome sign!