When you are searching for a gift for a couple who already has it all, it can be really difficult to find the perfect gift, especially since you have two people to consider. To find gift ideas for couples who have everything, you will want to go way outside the box with super unique and exciting gifts; these can be rare items they've never seen before or even gifts that are personalized. Also, you've got the tall task of getting the perfect set of gifts that both halves of the couples will enjoy. So what type of gift will both people enjoy? How do you choose the perfect unique gift for them? We have tracked down the greatest, most surprising, phenomenal couples gift ideas that will delight absolutely any couple in your life.
A Glassware Gift Set That They'll Love
When a couple has everything, finding an amazing gift that's personalized just for them is the way to go. This amazing decanter set is one of the best couples gift ideas that they will think is to die for! When they open up your gift to see that not only is the box engraved with their last initial but the whole set is too, they'll be so excited! Each time they see their awesome and sophisticated glassware, you can be sure it will always bring a smile to their face. Not to even mention that this will be a great gift for them to enjoy a drink together at the end of the day, on date nights, or even with other couples!
Unique Bar Gift for Their Home
Make sure to get something truly unique when you're searching for gift ideas for couples who have everything, like this globe bar cart! Whether they've been talking specifically about a bar cart or you know that they would love a new gorgeous, and functional, piece of home decor, this is the perfect gift for them. It can easily take all of their favorite drinks and glasses room to room, making it perfect for sharing a drink together and entertaining anyone who ever comes over.
It's Wine Time
Fancy and classy, your go-to adjectives to describe the perfect potential gift for a couple. This custom wine gift set is a phenomenal gift idea for couples who have everything because who doesn't want to have their own matching custom glassware set? Plus, seeing their initials monogrammed on every item from their keepsake box to wine stopper, is sure to make them feel classier than ever when they get this set. You know since they have everything they are sure to have some cool wine glasses and maybe even a few unique wine accessories around, but nothing makes a better gift than a fully customized gift that they can use for their entire wine experience!
Home is Where the Heart Is
No couple's home is complete without their own beautiful personalized sign. So make sure they have one with this unique gift just for them! Whenever they see their gift hanging on their wall or displayed on a mount, they'll think of how grateful they are to have and love each other. A sign this good looking is the perfect piece of home decor for any couple's house. They'll love how it looks but they'll especially love how the gift makes them feel closer as a couple.
Coolest Whiskey Gift Set
Sometimes, when you're giving a gift, you want to impress. You want your gift to make them say, "Wow." Well, look no further than this bull decanter set as the coolest couples gift idea they've ever seen! They'll love the string pose of the bull, mid-charge, and will definitely put this on display as a unique centerpiece. However, this set also is ideal for a perfectly chilled Old-Fashioned or Whiskey Sour.
645+ AWESOME WHISKEY GIFTS THEY WILL LOVE>
Photos Last Forever
Any couple wants a good way to remember all the great times in their relationship. Get the couple a gift that will help them make memories that last a lifetime—this instant film camera. They can take photos and videos of all of their precious moments together so they can instantly print them out and relive the memories over and over. This gift is so much more unique than using their phones to record moments in their lives. Now, they can easily create collection boxes or collages of their favorite memories together!
Couples Gift Ideas for Memento Collecting
Speaking of amazing gifts, this shadow box is a fantastic gift that the couple can use to collect mementos from experiences they share! Whether it's wine corks, beer caps, photographs, ticket stubs, they'll love starting a memory collection. They'll love having such a special, memory-filled decor piece on their wall that holds so much sentimental value for them.
Serving It Up
They deserve a gift that helps them relax and enjoy their time together easier than ever. This glassware set and serving tray lets them do just that and do it in style! The fanciness of their initials on this set makes it an even more terrific gift idea. Also, this gift will make it easier to serve guests liquor when they're entertaining. When it comes to this serving tray and glassware set, there are no better gift ideas for couples who have everything.
Keep Their Watches Safe
Couples who have it all definitely have nice watches and jewelry they treasure. This leather valet box is the perfect fancy gift for any couple because it helps them keep all of their expensive accessories in one safe place. They'll love having this gorgeous case on their bedside table, keeping many precious belongings safe.
Best Gift On Earth
They've traveled the world and seen a lot of cool things, but they definitely haven't seen many things as cool as this globe decanter set! They'll be reminded of their many travels as they sip their favorite liquors from these glasses and reminisce as well as plan their future trips. They'll love how worldly they feel when using this gift, and they'll be forever grateful for such a unique, stunning gift.
Can't Go Wrong With Food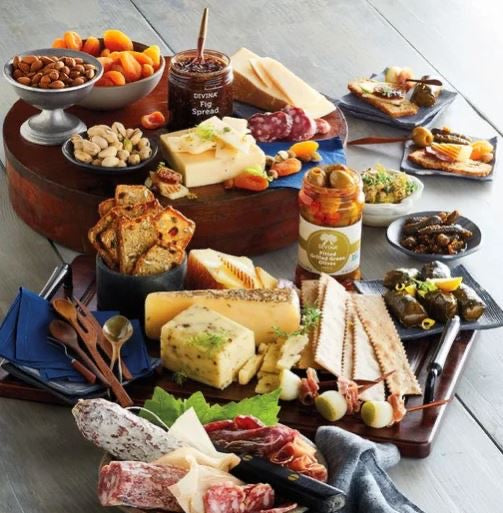 Their mouths will immediately begin watering when they lay eyes on this gourmet charcuterie gift set! They won't be able to stop raving about this huge, astounding gift full of delicious cheeses, meats, nuts, bread, and so much more scrumptious items. They'll absolutely love this amazing gift, and with their full stomachs, they'll thank you profusely!
Wine Couples Gift Ideas
A fancy bottle of wine and this stunning wine gift box make one of the most perfect gifts for couples who have everything! The personalization on the box will make them feel so special and loved. They'll greatly appreciate such a stunning box that they can use to save a bottle for a special occasion, and the classic tools included will make their wine-drinking experiences easier and better than ever.
They'll Love This Awesome Ammo Can
Instead of thinking outside the box for the couple who already has it all, it is time for you to think inside the ammo can! There's absolutely no cooler gift ideas for couples who have everything than this personalized ammo can gift set. They'll love that they can use their engraved gift to carry their bullets at the range or even bring supplies with them on a camping trip. That isn't even to mention that when they get home after a long day, inside their ammo can they'll find engraved beer glasses, perfect for sharing a well-deserved frosty pint together!
For Their Spirits
Nothing will make a couple feel classier than having a set of the fanciest glassware that's personalized just for them! Having their name and initial on the decanter makes it a phenomenal display piece as well as vessel for their liquor. Drinking from the matching glasses will make them so happy as well. They couldn't imagine a better gift!
Warm and Cozy Couple Gift
Everyone deserves to be treated like a king and queen once in a while, so get them a gift that will let them feel that fancy. These ultra-soft robes are perfect couples gift ideas because they'll feel like royalty lounging in them! The soft cotton and absorbency level makes them the perfect things to throw on after a shower or bath and relax in.
Stunning Gift Ideas for Couples Who Have Everything
A set of stunning crystal glassware will make any sophisticated couple giddy with excitement. This gorgeous whiskey glassware set is just the kind of gift that they will absolutely adore! When they see their personalization on the decanter they'll fall even deeper in love with this gift. They'll feel so fancy pouring their decanted whiskey into the beautiful crystal Glencairn glasses and sipping slowly, savoring every flavor.
Custom Home Sign Gift Idea for Couples Who Have Everything
Whether they enjoy a nightly cocktail, entertaining friends, or like to save their drinks for date nights, you know that any couple will love seeing a sign like this with their name on it. Perfect for hanging up in their home bar or kitchen, this wooden sign will make the whole room amazing while reminding them there is nothing better than spending time together while enjoying their favorite drink.
311+ ATTRACTIVE PERSONALIZED HOME SIGNS>
Stainless Steel Gift Ideas for Couples Who Have Everything
Since they already have everything, a gift that's very unique is the way to go. Any couple will love receiving this stainless steel wine glasses set as a gift! It's an attractive set that they'll love using to indulge in wine or cocktails and they'll feel really cool using such unique tumblers. The stainless steel will keep their wine cold much longer than their old glasses, making them not only an impressive gift set but a useful one too!
Competitive Couple Gift
Get the couple a gift that helps them have a ton of fun with loved ones! This cornhole set is a fantastic gift idea for couples who have everything! They will love using this gift because it is great for hours of entertainment anywhere they go. It doesn't matter if they're having a cookout, tailgate party, or outdoor birthday bash, they'll love bringing their portable game to play with friends and family. Plus, the custom design Tennessee whiskey inspired design is a finishing touch to the set that any couple will find irresistible.
Unbelievable Beer Trio
Never let the couple be without their favorite beverage again. Thanks to this awesome growler set, it doesn't matter if they're traveling or simply bringing beer back home, because of you they'll always be ready to quench their thirst! What is even better about this personalized gift, the growler is insulated. So, when they get cold Kombucha or beer home, they can enjoy its frosty flavors in their pint glasses!
Roku and Chill
An awesome, high-tech gift that helps them relax and enjoy entertainment? Say no more! They'll definitely love relaxing together and watching TV with this Roku Ultra! The amazing picture and unique features of this gift will bring their TV-watching experiences to a whole new level that will leave them speechless!
Bring Immense Joy Via this Gift
They may have almost everything, but do they have their own whiskey label? With this personalized gift box set, they'll have an awesome box customized with their very own whiskey label. With these fabulous glasses, both halves of the couple can enjoy their favorite liquor together out of the best glasses they've ever owned.
Ice Cold Couples Gift Ideas
This unconventional ice bucket gift set is the perfect unique gift for a couple that will stand out amongst the rest! They will love having it keep ice nice and cold even when outside by the pool or near the backyard barbecue. Plus, the cocktail glasses are perfect for their favorite mixed drinks. This amazing gift set will help them have the best time when they're relaxing or spending time with friends.
Beautiful Brewery Sign
Whether they have a full-blown home bar in their house or just a nook in the kitchen with all their liquor and drinking accessories, they love their bar area in their home. That's why bar signs make fantastic gift ideas for couples who have everything. Specifically, this gorgeous personalized bar sign will brighten up their bar area and make them want to spend more time in it than ever before! They'll feel so special with their name on this beautiful sign, and they'll always remember that you gave them such a terrific gift.
Tumble Into Wine Gift Ideas for Couples Who Have Everything
They love spending quality time together, just like any other good couple. Enjoying a drink is a great way for them to spend that time together. The engraving makes this handsome, specially designed box set ideal for them to enjoy their favorite wines together, and they'll really bond in their time together. They can use the box to store mementos from their relationship. When they drink wine together, it will be so much better when using this wine glasses set!
Magical Clock
Every couple has a clock in their home. But a levitating timepiece? That's only for couples who have everything! They'll love this clock with a magnetic levitating sphere orbiting around it. It's a great conversation starter that they'll absolutely love having hung up on their wall. They'll be impressed over and over again whenever they look at it.
Unique Whiskey Accessories Couples Gift Ideas
You know you've hit the jackpot giving a gift when the recipients keep mentioning the gift over and over! Any couple won't be able to stop talking about this beautiful whiskey decanter set! They'll feel so loved knowing you took the time to get them such an awesome, personalized decanter, and the super unique glasses will make drinking whiskey so much fun. No one will blame them for talking about this gift all the time!
Chop and Display
Engravings just make the best gift ideas for couples who have everything, which is part of what makes this etched cutting board so awesome. They'll love using both to chop food, and the personalization also makes it a phenomenal display piece! This attractive board will look fantastic displayed in their kitchen, and they'll love having such a multi-functional gift.
Perfect Beer Gift for Any Couple
This amazing beer gift set is a phenomenal couples gift idea because it gives them all they need to both enjoy their favorite beer and collect memories while doing it! They'll have so much fun trying to fill the USA beer cap map with different bottle caps from beers they try, and they'll also have a great time getting their favorite brew from the brewery using the growler.
143+ GIFT IDEAS FOR COUPLES WHO HAVE EVERYTHING>