Gift baskets are some of the most versatile kinds of gifts you can give because they can be an arrangement of all kinds of unique items and can be given for literally any and every occasion. However, the best kinds are custom gift baskets because they are tailored specifically to the person receiving them, which is more meaningful and thoughtful than a store-bought basket! Personalized gift baskets that you can customize the design, message, or name on them are especially unique gifts that no standard flower arrangement or box of chocolates can compare to. Even the person who has everything would love to get a custom gift basket that you curated just for them!
Custom Gift Baskets Aren't Always Food
One of the best things about gift baskets is that any arrangement of items in a container is essentially a gift basket. This watch box set, for example, is one of the coolest gift baskets ever! Not only is it highly impressive with its unique assortment of items like a custom rocks glass and even a wooden watch, but it's fantastic for giving at a variety of occasions from Christmas to corporate client gifts.
Badass Gift Basket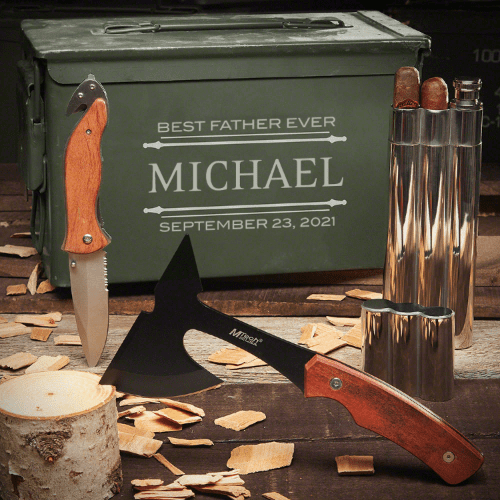 Looking for a badass gift? This ammo can set is one of the most unique custom gift baskets you can get! Anyone will enjoy each piece in this practical gift set from the custom ammo box they can use to store gear and tools to the handy cigar flask they can bring with them everywhere to enjoy a smoke and a drink. This set would be awesome for Father's Day or their birthday, but make sure you include a couple of stogies in the flask to complete this incredible gift.
Gifts They'll Definitely Use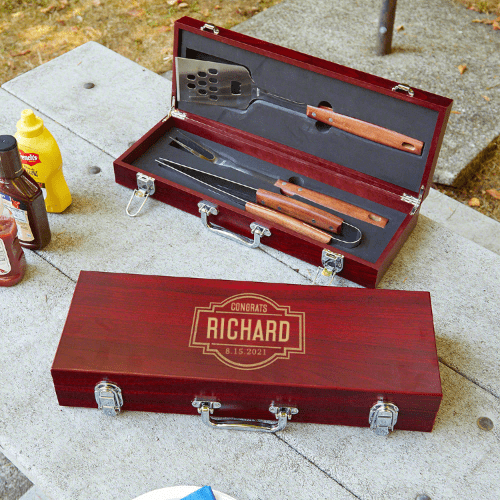 Who can say no to a personalized gift basket full of handsome grilling tools? This awesome set is ideal for anyone who enjoys cooking and grilling, and is certainly a memorable gift that they will enjoy using to make tasty BBQ and burgers for all of their friends and family. The fact that the "basket," part of the set is personalized and makes the tools easily portable makes this set even more practical and awesome!
Personalized Gift Baskets for Beer Fans
For someone who enjoys beer, no gift basket is better than this custom beer mug box set! Every beer drinker knows that beer is best enjoyed from a mug, but not everyone has one at home. Thanks to your awesome gift, they'll be able to drink their favorite brew in the comfort of their own home just the way they like it as if they were in their local pub! The only thing that would make this gift basket better is if you pair it with a couple of their favorite beers before giving it to them!
Custom Gift Baskets Don't Get Better Than This
"Wow," is the first thing that comes to mind when you see this set, and the lucky person you give it to will certainly be speechless! This incredible whiskey taster gift basket is the ultimate gift for someone who enjoys whiskey as it comes with every type of glass they need to enjoy the various types of whiskey to the fullest. From Canadian whisky to a fine bourbon, each glass is designed to deliver a unique experience that will turn them from a casual whiskey fan to a bonafide connoisseur!
599+ AMAZING WHISKEY GIFT BASKETS>
Design Your Own Gift Basket
You've probably spent hours looking through other popular gift basket websites in search of the perfect one, but you want to get something a little more unique and personal. That's how you came to this blog, right? Well, if you're wanting custom gift baskets that you can completely design yourself, these are it! Even the company that makes them is called Design It Yourself Gift Baskets, and the options are endless to create a chocolate-themed gift basket or even one for a baby shower. First you choose the theme, then the basket, the products, and voila! You've created your very own gift basket.
This Beer Gift Basket Provides the Bar Experience
Give the gift of a brewery experience in the comfort of their own home with this beer gift basket! These large, custom beer mugs are just like the hefty glasses their favorite brewery or pub has, but thanks to your gift they can enjoy quality brew from their very own set at home. This set is great for kicking back on the couch with a friend and enjoying a couple of beers while watching a football game!
The Best Custom Gift Baskets Are Practical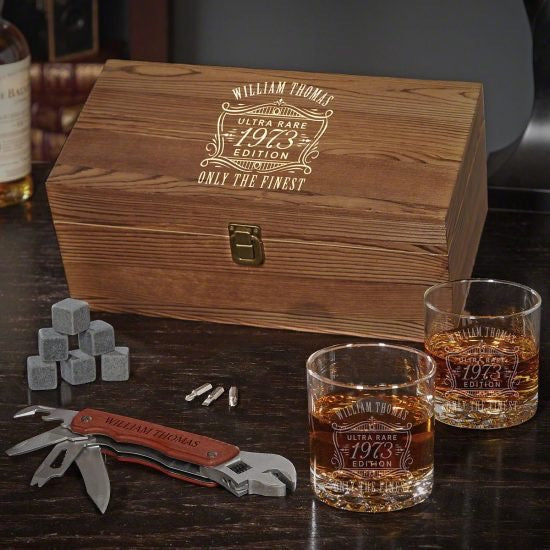 When you think of gift baskets, you're probably imagining food and little trinkets piled in a basket and wrapped in cellophane. Honestly, no one uses half of the things in the generic baskets, so why not get them an assortment of practical gifts they can use and enjoy for years? The double old-fashioned glasses are perfect for all kinds of drinks from a double shot of scotch or a cocktail, and the whiskey stones will make sure that every sip is perfectly chilled. When they're on the go or at work, their trusty new multi tool is sure to come in handy whether they need to tighten that pesky leaky faucet in the break room or open a package.
The Coolest Gift Basket Ever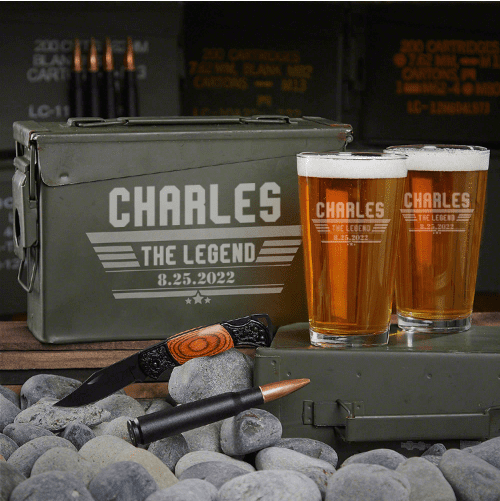 Have you ever seen a gift basket like this? No? Well, the person you're giving it to likely hasn't either, which means they're bound to be amazed! Anyone who gets this incredible set as a gift will be in awe of the personalized pint glasses, badass bottle opener, their handsome new knife, and the matching engraved ammo can. Everything about this gift set is practical, cool, manly, and most importantly, uniquely personalized. You just can't go wrong with such an awesome gift basket!
Complete Whiskey and Cigar Gift Basket
There's nothing like sipping on a glass of whiskey and treating yourself to a fresh stogie at the end of a long day, especially when you're having a drink with a friend or a loved one! With one of these custom gift baskets, you can give the gift of a relaxing drink and a cigar in style. The personalized cigar-holding glasses are great for celebrating special occasions with a cocktail or double shot, and the fact that they can sip and puff with one hand makes relaxing easier than ever! They will also love the exquisite crystal decanter, which shows off their whiskey and makes it easier to serve.
The Ultimate Chocolate Gift Basket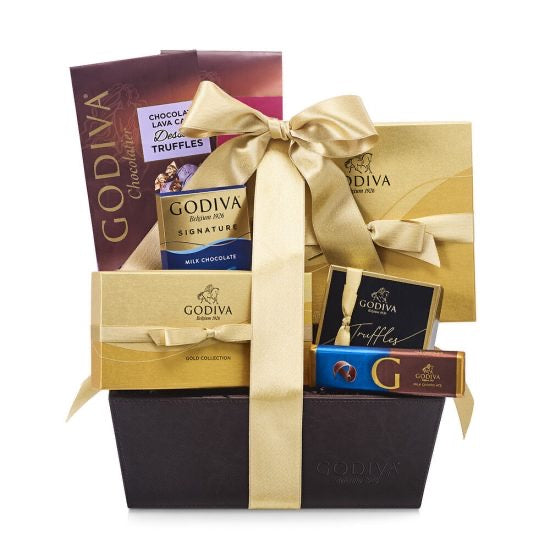 Did you know that Godiva has gift baskets? The basket and tons of different chocolates, treats, and snacks to fill it up with! For the chocolate lover in your life, no gift is better than a basket full of the famous chocolates. This thoughtful basket works for a variety of occasions from corporate gifts to all your clients to a birthday present for a loved one!
Unbeatable Custom Beer Gift Basket
When it comes to getting gifts for someone who enjoys beer, the only thing better than a six-pack of their favorite beers topped with a bow is this amazing gift basket! They will be amazed at the many different types of beer glasses inside this unique set that they can use to enjoy various types of beers from pilsners to stouts. Once they try their favorite brand of beers with each unique glass and realize how much better each one tastes thanks to the particular designs of the glasses, they'll never want to drink them out of a regular pint glass ever again!
339+ BEER GIFTS THEY WILL ENJOY>
Classy Custom Gift Baskets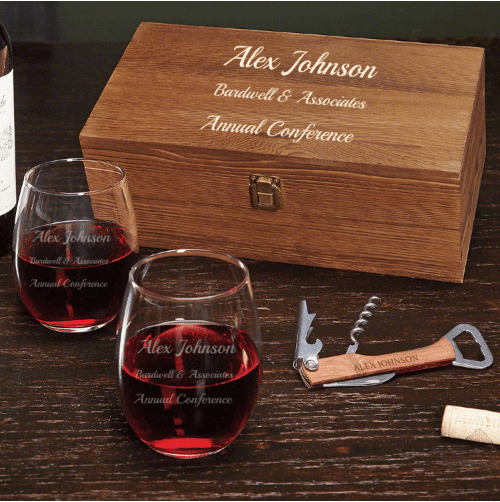 Are you looking for gift baskets that are classy and impressive enough to give your boss, clients, or employees? This handsome personalized wine set is perfect. The elegant and unique glasses are so luxurious that anyone you give this set will feel like royalty when using them! The corkscrew multi tool ensures they're always ready for a drink, but the main part of this gift basket is actually the engraved box it comes in! Perfect for using to display the set when not in use or for storing items such as their watch collection or cigars, everything in this suave gift basket makes it a stunning gift.
 A Gift Basket They Can Play With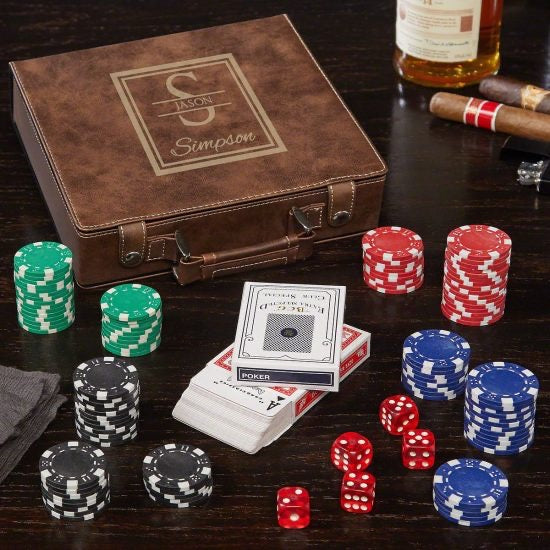 This custom poker set has to be one of the most unique personalized gift baskets ever! With a complete chip set, cards, and dice, this versatile gaming set can be used for all kinds of fun games with friends and family. The "basket," part of this set is even a convenient organizer and carrying case so that they can bring the poker set to their friend's house, on vacation, or even to their work's poker night!
The Best Gifts Last for Years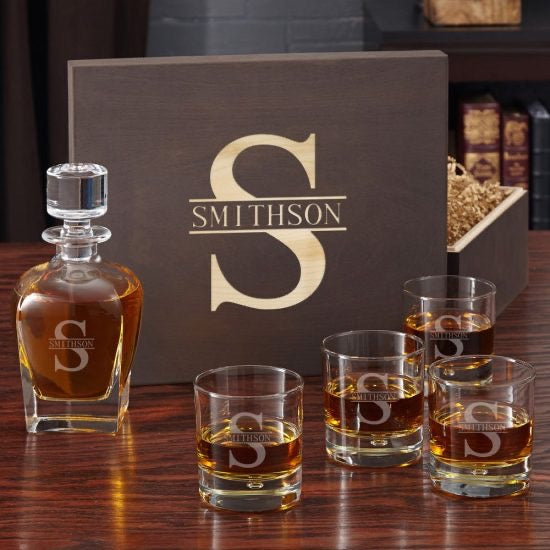 Are you looking for a special gift basket that the person receiving it can enjoy for years to come? Look no further than this beautiful decanter gift basket! Every item, including the walnut box it comes in, is personalized with their name. How awesome is that? They will be ecstatic to display this gorgeous decanter set, box and all, in their home bar or dining room. The only thing that would make this set better than any other custom gift baskets would be a nice bottle of whiskey they can fill the decanter with!
Create Your Own Personalized Gift Baskets
Want to get really creative with a gift basket? Create your own gift basket! With over 100 options to put inside, you can make a basket unlike any other and give someone a one-of-a-kind gift. Best of all, you can create one for anyone on any occasion you need it for and you can even print a message on the ribbon. With so many options, you can make your very own themed basket or do an assortment of all of their favorite things. Either way, they will be impressed and touched!
A Gift Basket Full of Their Favorite Things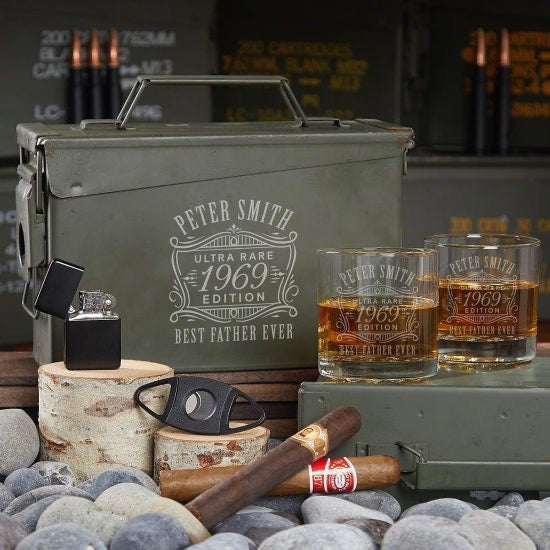 Allow them to indulge in their favorite things with this cool whiskey and cigar gift set! They will love using the uniquely personalized rocks glasses for their evening scotch and the handy cigar accessories to enjoy a fresh stogie. The ammo can is perfect for storing fishing gear, tools, or ammo. When they want to go on a trip to the mountains or the shooting range, the ammo can will be the first thing they grab to bring along!
Creative Beer Set
How cool is this beer gift basket? The large beer mug is great for chugging brews and enjoying plenty of their favorite beer int he comfort of their own home. The tactical knife comes with a hidden survival kit, which makes it a must-have for outdoor adventures like camping and hunting. This simple but creative beer set is one of the coolest and manliest gift baskets around!
The Most Versatile Gift Basket
As far as gift baskets go, this engraved whiskey set is by far the most versatile! You can customize the two lines of text that come engraved on the lid as well as the initial on the glasses, which makes it fantastic for literally any occasion because you can personalize it specially for whoever you're giving it to. Need a Boss's Day gift? They would love this set. Wanting an impressive client gift? This gift basket will be the talk of the company for days! Seriously, you just can't go wrong with such a simple but thoughtful gift basket that anyone can enjoy.
Cookie Gift Baskets Are Always Appreciated
Most gift baskets are full of a variety of tasty treats such as chips, chocolates, and coffee, but you don't see too many cookie gift baskets around! Cookie Bouquets makes these amazing gift baskets that you can have made with custom photos, logos, or just about anything you want on their gourmet cookies. This large gift basket would be awesome for a company event, a family reunion, or even a housewarming!
Modern Personalized Gift Baskets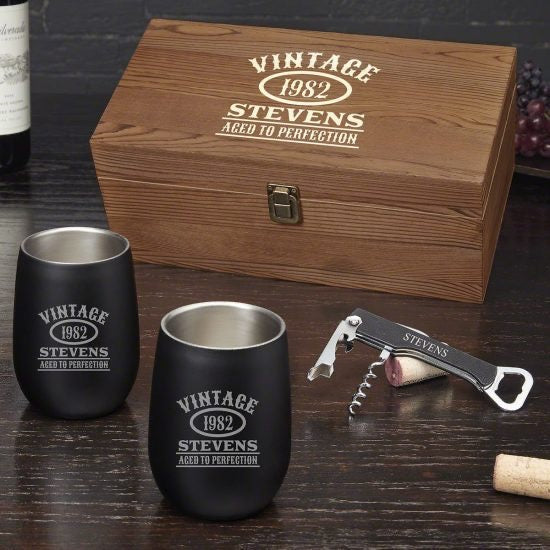 Forget those generic gift baskets with cheap bottles of wine and stale crackers, get them a gift basket they'll actually enjoy: this modern wine tumbler set! The indestructible stainless steel wine tumblers are awesome on their own, but this gift basket also comes with a cool corkscrew multi tool and a beautiful wooden gift box! This practical and cool gift basket is sure to be enjoyed by anyone you give it to for many years.