Receiving a bottle of liquor is always a nice gift, but you want to buy people amazing gifts. You want to stick with liquor-related presents because that's what the people in your life like. That's why gift sets are the way to go! They make enjoying their favorite liquor so much more exciting and awesome. The best liquor gifts are sets that go perfectly with a bottle of the recipient's favorite liquor. You should also think about if the person couples other activities, such as smoking cigars, with their liquor enjoyment. How should gifts differentiate based on the liquors they like? What if they like taking their liquor on the go? Should you look for glasses, box sets, liquor decanters? No matter how the people in your life like to enjoy their liquor, you will find gifts they will love among these liquor gift sets.
All Things Whiskey
Some people are all about the whiskey, so it's the main liquor they consume. Whiskey lovers need this whiskey gift set in their lives, because for them, nothing else is better than relaxing with a chilled glass of whiskey at the end of a long day. For the hardest of days, the smoking of cigars is often included as well, which is why the cigar flask can come in so handy. This liquor gift set is great to give someone who you know could benefit from how awesome it is.
Sophisticated Vodka Liquor Gift Set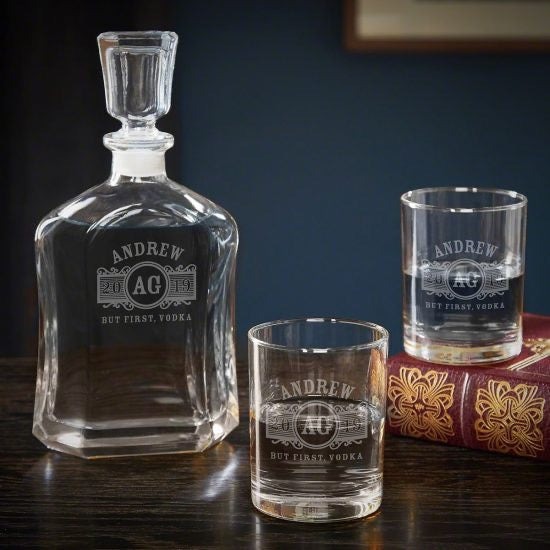 Vodka is his favorite spirit, and you want to buy him a vodka-related gift. This vodka decanter set is a beautiful glassware set that he'll love. The stunning decanter will look beautiful displayed on his home bar or kitchen counter, and he'll love pouring himself a glass of vodka into his brand new rocks glasses. He'll absolutely love showing off this gorgeous glassware set to all his guests.
Liquor Gift Set with Unique Accessories
He is a big whiskey fan who loves to keep his whiskey chilled with whiskey stones so as not to dilute it. However, he has plenty of typical whiskey stones, and you want to buy him some unique ones. This bullet whiskey stone set is calling your name. These whiskey stones are crafted from stainless steel and shaped like bullets – completely different from other whiskey stones. They'll keep his whiskey cold for hours on end inside this gorgeous rocks glass he'll love. A matching bullet-shaped bottle opener also comes in this box set, so he won't have to worry about not having a way to open his bottle.
The Box for the Perfect Liquor Gift Set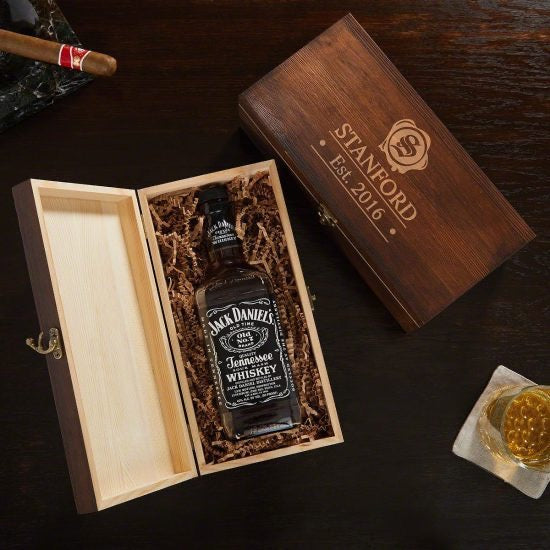 You're buying your friend a bottle of their favorite whiskey or other liquor for the holidays, but you want to make the gift unique with some sort of gift box. Look no further than this gift box, designed specifically for gifting and storing a bottle of liquor! Crafted from maple wood, this box is a gorgeous dark brown and is personalized with your friend's name, initial, and a date, so they will feel so special and loved when they see this amazing box. Add a bottle of their favorite liquor inside, and you've got the greatest gift that's ever been given.
Convenient Liquor Gift Set
You know a big whiskey and cigar guy. A gift-giving occasion is coming up, but instead of simply buying him a bottle of whiskey and a case of his favorite cigars, buy him this cigar gift set that will totally improve the experience. This square decanter is a great, visually appealing way for him to store his whiskey to keep is safe and delicious. The matching square cigar glasses are the easiest way to enjoy cigars and whiskey at the same time with just one hand, because the glass has a hole for the cigar to fit snugly inside. This decanter set comes in a gorgeous wooden box that he is sure to adore.
323+ AMAZING WHISKEY DECANTER GIFT SETS>
Super Unique Liquor Gift
His liquor of choice is vodka, and you want to buy him a unique vodka gift. This vodka gift set is a creative gift that he will be obsessed with! It comes with a bottle of sipping vodka that he'll find absolutely delicious. Also in the set is a copper gnome that can serve as a tumbler and a bottle. It's the kind of novelty glassware that liquor fans really like, and it will keep his vodka or vodka cocktail cold for hours. He'll love bringing this bottle to parties and showing it off to everyone he meets.
For the Glassware Collector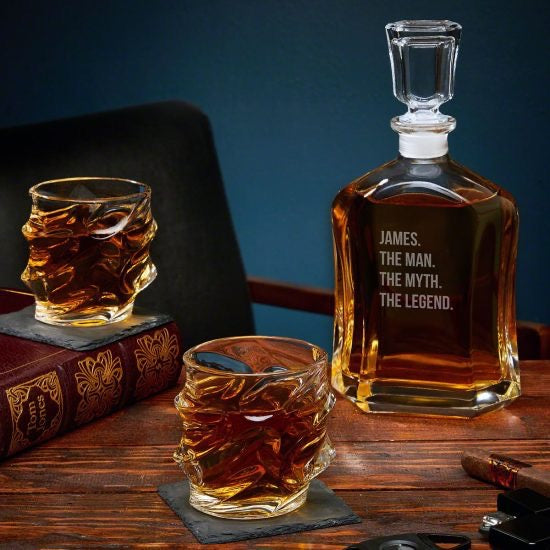 Many people like collecting very unique glassware, and you have one friend in particular that loves finding novelty pieces to add to his collection. This decanter and sculpted glasses set is the perfect gift set for him. The decanter is a shape that will stand out on any home bar, a statement to all who see it that its owner has exquisite taste in glassware. The two sculpted glasses are specially designed to fit comfortably into any size hand, making sipping whiskey more comfortable than ever. Your friend will feel like he has the best glassware collection in the world after he receives this set.
Shoot Your Tequila Shot
Tequila is a favorite drink of his, and you want to help him enjoy it. Buy him this tequila decanter and shot glasses set. The decanter will look unbelievably cool on his home bar, and he'll love looking at it. When it comes time to drink, though, he can easily pop off the stopper and pour it into these six fun tequila glasses. These tall shooters have a sophisticated, classy look to them, making them all the more fun to take shots from. He and all his friends will have an absolute blast with this set.
A Cool Ammo Can Whiskey Set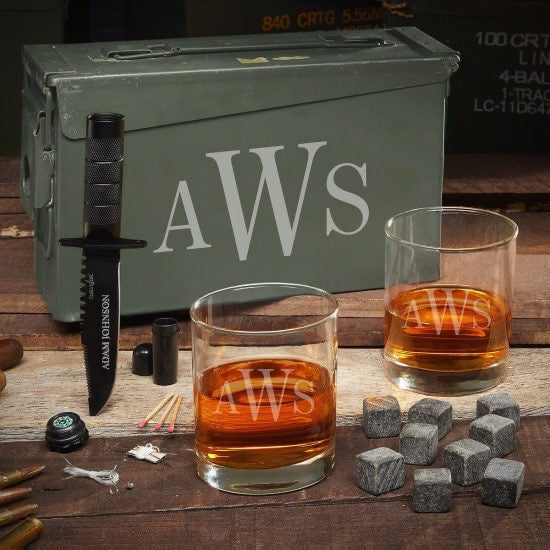 For as long as you can remember, your dad has really enjoyed whiskey. After a long day at work, he loves relaxing in his chair in the living room with a chilled glass of it. This liquor gift set is specifically designed for whiskey lovers, and he'll greatly appreciate it as a gift. He'll love plopping these awesome whiskey stones into his new glasses and sipping on his ice cold whiskey. He'll especially love it if you have a glass with him. After he's finished, he can put all items back inside this super rad ammo can that he'll love showing off to all his buddies.
77+ AMAZING CUSTOM AMMO BOXES AND CAN GIFTS>
Maple Wood Magnificence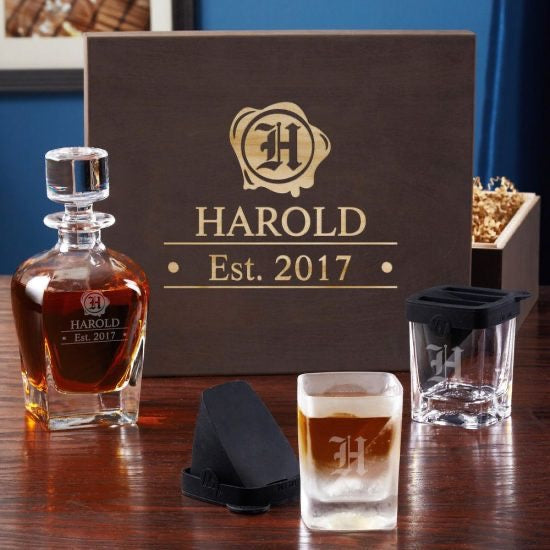 Liquor gifts are nothing without the proper tools, which is why this whiskey gift set is the ideal gift for the whiskey lover in your life. Not only are all parts of this gift incredibly attractive, but the awesomeness of the functionality is unmatched. He won't ever have to worry about having watered-down whiskey ever again with the ice wedges these glasses create. The glassware items come inside this gorgeous maple gift box that no one could help but display in their home.
Breathtaking Glassware Set
Contribute to his collection of distinctive glassware with the most beautiful decanter and shot glasses set he's ever seen. This stunning liquor decanter is handcrafted by master glassblowers of fluted borosilicate glass, so you know it's of the highest quality out there. The shot glasses to match are made from the same glass and look lovely alongside the breathtaking decanter, all three pieces shaped into the same exquisite design. He will never hide these away in a cabinet – he'll proudly display them for all to see.
Perfect Gift for Cognac Drinkers
Cognac is his favorite drink, and you know you want to buy him a cognac-related gift. This cognac gift set is the clear best choice for him. The two cognac glasses and cigar tools will make relaxing or even celebrating a special occasion very easy. He'll love the simplicity this set brings to his life!
Great Gift for the Guy or Gal on the Go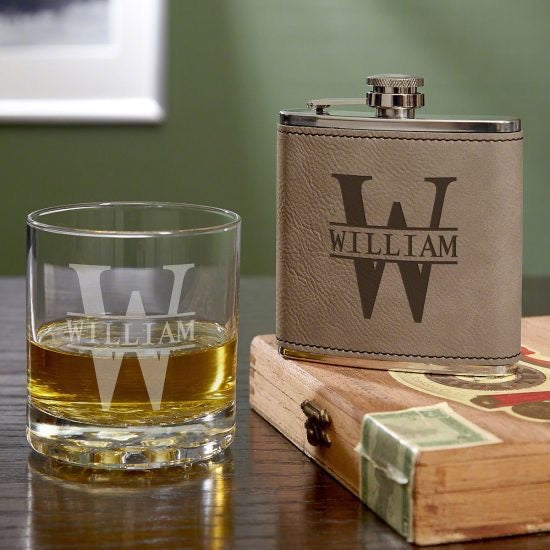 For the guy on the go, an easy way to transport his favorite spirit is the main aspect he needs in a liquor gift set. Whether it's a concert, a hike through the mountains, or even a day at the beach, he loves to have a flask tucked away for easy use. This flask set is ideal for him because it's the perfect size and color for optimal secret sipping. It'll fit in a pocket or briefcase, and the imitation leather it's wrapped in will make it easy to take out and put back over and over. Also included with this flask is a unique rocks glass, perfect for enjoying straight liquor or a cocktail. He'll love this creative liquor gift and use it constantly.
Whiskey and Cigar Displays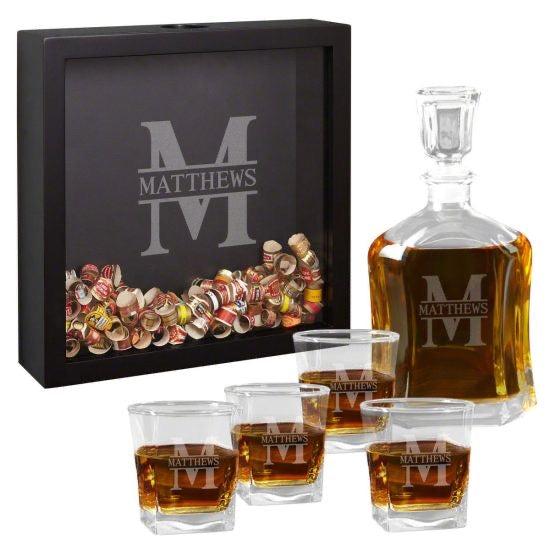 The classic combo of whiskey and cigars is a popular one, and you know a guy who is a big fan. This unique set is all about the visual aspect of this duo. This whiskey decanter is gorgeous, and his whiskey will never look better than when it's in this decanter. The four rocks glasses included are also very visually appealing, and the person that holds it will feel like royalty. The shadow box is great for cigar bands, so he can collect the cigar bands of their favorite cigars and display them to the world.
For the Canadian Whisky Fan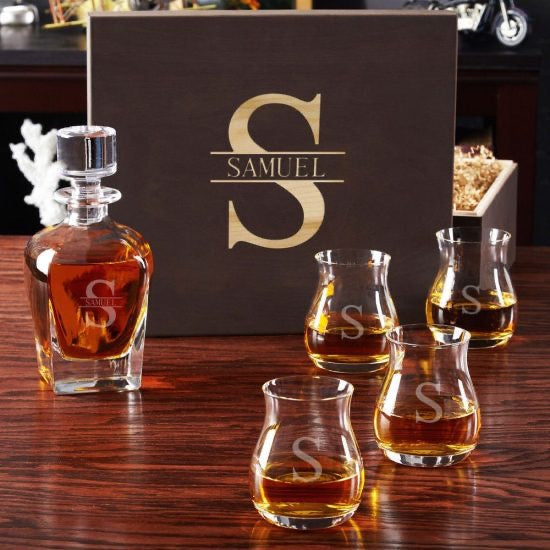 Some whisky fans like Canadian whiskys such as Crown Royal and Fireball, and they deserve the correct liquor gift set that will help them enjoy their favorite whiskeys to the max. This whisky set includes a lovely decanter and four Glencairn whisky glasses, which are specifically designed for Canadian whiskys. The wide bowl allows for the best appreciation of the unique colors of the whiskys as well as allowing plenty of room for ice or whisky stones. The decanter is great for any whisky, Canadian or not, to keep it secure before you pour it into the glasses. This glassware comes in a gorgeous wooden box that any whisky lover will love to receive.
Triple-Whiskey Threat
Your boyfriend is whiskey-obsessed, and you want to buy him the greatest whiskey gift ever. This awesome pack contains three miniature bottles of the finest whiskey, great for bringing liquor on-the-go or enjoying it at home. Each bottle contains whiskey with a distinct flavor, with one having caramel notes, one with sugar maple, and the third with a distinct charcoal taste. Your boyfriend will absolutely adore this gift and will thank you over and over for it.
All-Encompassing Set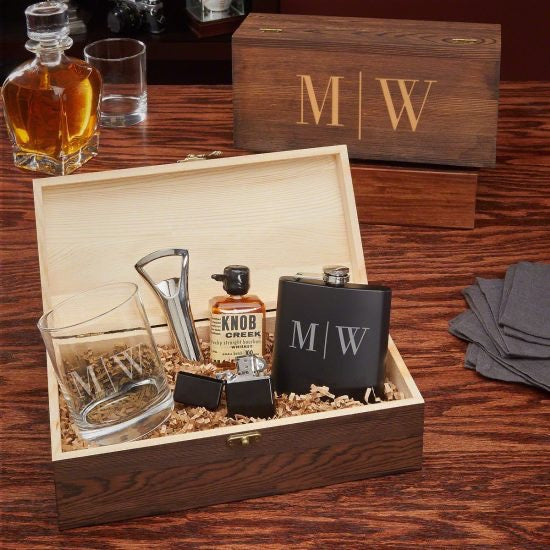 The best liquor gift sets contain several parts so the recipient can enjoy their favorite liquor several different ways. This amazing liquor gift contains this super awesome flask that he can use to discreetly enjoy his favorite liquor whenever he chooses. He'll greatly enjoy using both the bottle opener and lighter when he's enjoying his favorite liquor and stogies together as well. You can't go wrong with giving him this amazing set.
415+ SUPER COOL BOXED SETS FOR MEN>