Although you may not exactly be Santa Clause, your employees have been working all year like his elves to keep your business going. For their hard work and dedication, you know it is time to recognize their effort with Christmas gifts for employees. Make sure you get your employees things that are useful to unwind after the work week, make their work-life better, and of course, personalizing the gifts are always a bonus! But where can you find such gifts? What is a work appropriate cool corporate Christmas gift? And with Christmas so close, where do you even begin? Well, how about right here? These unique gifts are sure to make sure your team doesn't think you're a Scrooge, in fact, they'll think your heart grew three times when you hand out their best Christmas gift yet!
An Engraved Box Set of Christmas Gifts for Employees
Everyone in the office will be blown away when the Christmas party rolls around and each of them has their own customized wooden box filled with gifts! This set comes with a wooden watch, bamboo sunglasses, a lighter, and cigar cutter. This is the perfect gift to lighten the mood and truly kick the office party into high gear! Plus, how cool will it be for the team to have matching shades and watches for pictures at this year's holiday party?
Celebrate Christmas with a Cocktail
Make this year's Christmas gifts for employees stand out forever with a custom set of rocks glasses and whiskey stones! The weather outside may be frightful, but inside with a cool drink in hand, your employees will feel the full embrace of the holiday spirit this Christmas! These glasses are great for drinks such as White Christmas Margaritas, White Russians, and Drunk Jack Frosties. Also, since each gift is personalized, you won't even have to make name tags, simply add a bow to the top of the glass and this will be the perfect present for them to find on their desk!
A Steel of Employee Christmas Gift Ideas
You've always had a tough as nails team, they've been able to surge through every project, meet every deadline, and fix every problem. For these awesome individuals, only a classy set of equally as tough gifts will do, just like these personalized wine tumblers! Better yet, say wine isn't their drink, these insulated tumblers work great for cocktails or even their favorite chilled soda too!
Monogrammed Cutting Board
Get your employees something they can use right away during the holidays. This monogrammed cutting board is the perfect personal gift to show them that not only are they valued as an employee but that you want to give back too! Give them this gift before their Christmas break and you can be sure that holiday ham or Christmas roast is going to be prepped using this fantastic gift!
73+ COOL CUTTING BOARDS FOR CHRISTMAS>
Catchall the Things in their Pockets
Want to make the most of your employee Christmas gift ideas? Then look no further than this catchall tray that comes with a wireless charging mat! Whether they use it at the office to store their things and leave with a full charge to tackle the remaining hours of the day or this is the first thing they look for when they get home, you can be sure this will be one of the most useful and classy gifts they get all year.
A Sharp Set of Christmas Gifts for Employees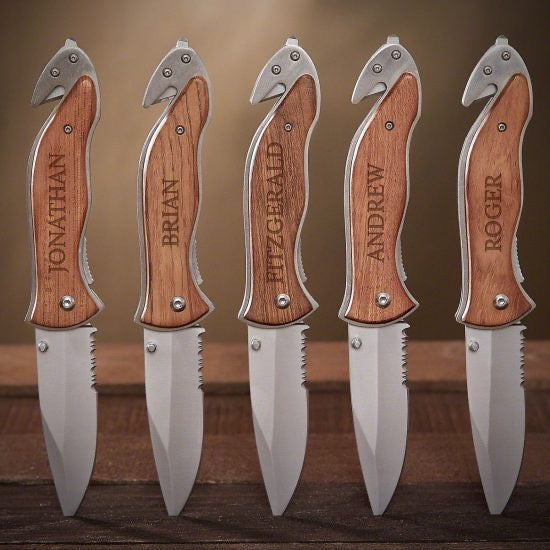 Fill the office stockings with a simple gift that they'll never see coming but will always keep on their person with these super-useful personalized lock-back knives! During the holiday season, their new knives are sure to get plenty of use from cutting twine and of course, opening presents!
Personalized Ammo Can for Employees
Your workers have always been like your troops while you are their General Patton, so make sure they are outfitted as such! A personalized ammo can doesn't just make a cool unique gift, you can also use it in so many different ways! Whether you give them the ammo can as is to be a unique desktop organizer at work or a toolbox at home or you fill it with Christmas goodies as the ultimate surprise for them to find on their desk during the holiday season!
Put a Twist on Christmas Gifts this Year
Put a new twist on cool Christmas gifts for employees when you get them these engraved twist whiskey glasses that come inside their matching box set! This is the one of the best corporate Christmas gift to send them on their holiday break with, this way, they can share a toast to another great year and a great boss with their spouse from their matching glassware set!
Classy Employee Christmas Gift Ideas
When searching for a classy set of employee Christmas gift ideas, you want to get them something that won't just wow them in the moment but something they'll keep coming back to and be impressed every time they see it, and this watch case gift set is definitely something that is bound to impress everyone who gets it. This multipart gift even means they get to use part of it every day! Whether they are rocking their wooden watch or celebrating the new year by rolling it in with a drink, it's sure to come from this great Christmas gift!
More Snacks than They'd Leave Out for Santa
You wouldn't be named the best boss or manager in the world if you didn't know one of the top gifts every employee loves around the holidays is food. So, spoil them rotten with a gift box that would even take a kid all of winter break to be able to make their way through with this gift box that has sweets, salty snacks, and savory treats!
The Tool for Every Job
Want to keep things simple this year but still have an impactful gift? Look no further than this engraved multi-tool as the ultimate work Christmas gift! People are always having to fix and tweak things (especially around the holidays) and thanks to your gift, no matter what is broken or what needs to be fixed, they'll have the tools!
Team Fuel
Keep your team fueled and ready to go with a set of matching coffee tumblers. These are great for offices because what office team doesn't run on coffee? You could even make these a true surprise gift by getting everyone their favorite coffee and coming back with their order inside their new Christmas tumbler.
An Ice-Cold Set of Christmas Gifts for Employees
Give one of the coolest employee Christmas gift ideas for employees this holiday season with this whiskey stone gift set! The personalized case and glass shows them that you searched high and low to find a unique gift for your employees and you should! You're getting them an awesome gift because you value them and want to show you appreciate them, and nothing shows that like getting them a gift that literally has their name on it!
About Time for a Stein at Christmastime
Christmas gifts for employees don't necessarily have to be things they have to enjoy at the office or be office related. Sometimes, to show that you, as a boss, are in fact human, getting them something that makes spending time at home even better is the best gift you can give. A  customized beer stein for example is always a fantastic gift. They're incredibly classy to look at, great to drink from, and even a fantastic display piece for any home's mantle or glass case. This is a gift you truly can't go wrong with!
345+ BEST BEER GIFTS FOR EMPLOYEES>
A Gift for a Silent Night
The office can be distracting, it has phone calls going on, people talking, the constant clacking of keyboards, and even other noises you'd never think of. Never let people be annoyed by sound or distracted again by outfitting your office with a high-quality set of noise-cancelling headphones! Now, they'll get crystal clear sound for their music or podcast while being able to focus even harder on their work.
The Perfect, Simple Gift Set
Want something simple for all your office workers but want it still to be a cool stand out gift? This sunglasses and flask set is perfect! You all can take a classy and cool holiday picture with matching shades for your Christmas 2020 party and with the flask, you know at the after-work party, everyone will be able to bring some of their favorite holiday spirits with them!
Employee Christmas Gift Ideas for Wine Lovers
When you're shopping around for employee Christmas gift ideas, you don't just have to make the gift great for your employee, you can make it great for their family too! This personalized wine glass set will look like a family heirloom with the matching box and glass engraving and instead of their old wine glasses, this holiday season they'll all be clinking together their new wine glasses as they celebrate St. Nick visiting their house!
An Ingenious Custom Decanter Set
Snowmen won't be the only thing sculpted and shaped to perfection this winter, this customized decanter set with sculpted glasses will be too! This unique set of gifts is sure to be one of the most memorable sets of Christmas gifts any employee has ever received, and it should be! Reward some of the favorite people in your life who work hard for you with a gift that shows you think they deserve it!
Custom Growler Gift Set for Employees
Ensure that when they're clocked out and have a few days off this winter that even if they are snowed in they'll be able to enjoy a frosty pint from their favorite brewery with an engraved growler and pint glass gift set. If they prefer bottles? No problem! This set even comes with an awesome looking bottle opener! Be the cool boss by getting them the gift you know they can't wait to use the minute they get home from work with this beer set!
Perfect Portfolio
No matter how organized they are, every employee could use something to help keep track of their day. So instead of a boring calendar get them a high-quality leather portfolio! It makes keeping track of their day a breeze and when they need to bring notes to a meeting, credit cards to a company outing, or simply want to be able to record anything that happens in their day, they'll have this gorgeous portfolio to do it all in!
Celebration Sets for the Office Party
Set the tone for an epic Christmas party this holiday season when you get a matching set of Christmas gifts for employees with these whiskey stone and shot glass gift sets! Their faces will light up just like Christmas lights when they see they all got personalized gifts that make getting into the holiday spirit a little bit easier this year!