You won't have to search all over the internet for the perfect gift every time because we found the absolute best gifts for your husband in 2019 for every possible occasion! Forget the generic, boring gifts that were popular in 2018, you want to get him incredible gifts that are both thoughtful and practical. Guys enjoy gifts that are useful, but also super cool, especially if it's something that can be used more than once. Whether it's for your anniversary, Valentine's Day, the holidays, or just because, we've got you covered.
Personalized Whiskey Glasses for Him
Whether it's Christmas, his birthday, or your anniversary, you can never go wrong with a set of handsome personalized whiskey glasses. This set of 4 is classy and cool enough for everyday use or just for serving with the fine dinnerware on Thanksgiving. Your husband will love that each glass bears his last name and are the perfect size for his nightly glass of scotch on the rocks. The unique bubble design both beautifully reflects the colors of the whiskey and prevents condensation rings on your furniture! Rocks glasses like these are the perfect gifts for your husband no matter the occasion in 2019.
Personalized Hatchet for the Outdoorsy Husband
Guys love getting cool tools as gifts, and this personalized hatchet is pretty awesome. The sleek black stainless steel blade is razor sharp so that he can cut firewood and large branches with ease. He'll love the unique personalization almost as much as he'll love the hatchet itself. He can use this at home year round or when he goes camping or hiking in the spring. You could give this hatchet to him by itself for his birthday or give him a set of tools to make it a themed set.
Whiskey Stone Gift Set
It doesn't matter if he drinks straight whiskey, tequila, rum, or makes cocktails, a set of whiskey stones are must-have gifts for husbands who drink. These unique stones are shaped like diamonds, which are not just attractive, but they are slightly larger than your average whiskey stone, meaning an even colder drink. You could pair this nifty set with a bottle of aged scotch or a set of glasses to make a really incredible gift for his birthday or the holidays. He'll love being able to drink his liquor like a true connoisseur and enjoy every full-flavored sip.
Beer Growler and Pint Glasses for the Home Brewer
Has your husband always wanted to get into home brewing or just started? He'll be over the moon for this incredible beer gift set! It comes with an amber glass growler for storing his latest batch and four pint glasses for his friends to try it. The growler is perfect for transporting his beer to the lake, cookouts, family events, or BYOB parties. He'll love that you got him such a fantastic gift for Christmas or his birthday that will help improve his new hobby.
Awesome Ammo Can Gift Set for Him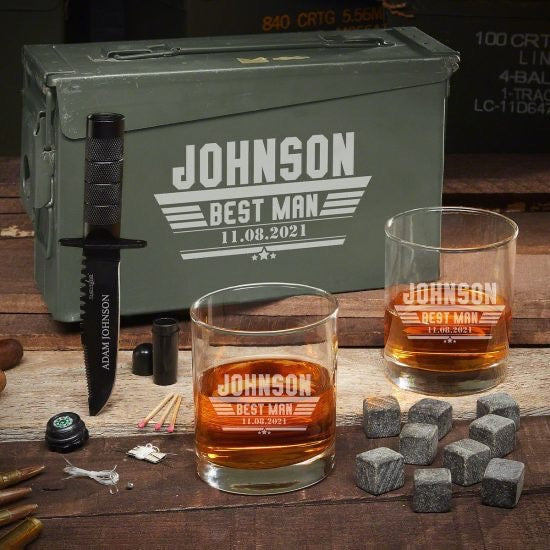 Is your husband a manly guy who enjoys shooting guns, drinking whiskey, and going on adventures? Look no further, this is the ultimate gift set for him! This set comes with a super cool genuine military-grade ammunition can to store tools or ammo, a pair of whiskey glasses, a set of whiskey stones for chilling his drinks, and a tactical knife with a hidden survival kit! Seriously, this set is one of the coolest gifts for your husband ever. With this set, the two of you can go shooting a the range and then come home to enjoy a glass of bourbon together. He'll love having the survival knife on hand when he goes fishing, camping, or hiking. Everything about this set is incredible, and it's even personalized!
353+ MORE WHISKEY GIFTS FOR HUSBANDS>
A Telescope for the Stargazer
Whether he's actually into astronomy or not, this gorgeous telescope will look amazing in your husband's office or living room. The vintage style will go great with any kind of decor. The telescope features a 50 mm refractor lens and an adjustable stand. Perfect for a romantic date night of looking at the stars together, this telescope is one of the most unique gifts for your husband in 2019.
Cognac Gift Set
There's nothing like a warm glass of brandy and a cigar by the fire. With this cognac gift set, you can make your husband's favorite evening ritual even better. The two of you can enjoy a glass of his favorite brandy with the two glasses after a romantic dinner. You can cut and light his cigar for him with the handy new cutter and flip-top lighter. This would make an excellent gift for Valentine's Day, Christmas, or his birthday. Make sure to include a bottle of his favorite cognac for a truly amazing gift.
The Ultimate Gift for a Beer Lover
Does your husband really love beer? With this giant USA beer cap map, he can show off his favorite beers with a bottle cap collection. This impressive sign can hold up to 142 bottle caps, which will definitely take a while to fill up. He'll love having this sign proudly displayed in the dining room, living room, man cave, or home office. Whether he drinks imported, craft beer, home brews, or all three, this is one of the most unique gifts for your husband and is ideal for any occasion.
A Classy Decanter for a Classy Guy
Is your husband a sophisticated guy with a taste for the finer things in life? This ravishing liquor decanter will be the perfect gift for your anniversary or the holidays. Made of the highest and finest quality crystal glass, this uniquely twisted decanter is an extraordinary piece. It'll look lovely as the new centerpiece in the dining room or his home bar. He can store any kind of liquor in it from tequila to bourbon and use it to serve a round of drinks for his guests at casual or special occasions. He'll love having such an exquisite decanter to show off his finest liquor in the classiest way possible!
Custom Tap Handle
Home brewers and bar owners know that a beer tap handle is an absolute must-have to keep things flowing smoothly, specifically beer. Your husband will love having a few of these on hand for serving beer with ease from his home bar. Plus, they're really cool. You could give him one or two for his birthday, Christmas, or just because! He'll have so much fun putting them up in his home bar area and feel like a real bartender.
A Pair of High Quality Wireless Headphones
Beats by Dr. Dre are some of the best headphones you can get on the market in 2019. The incredible quality in sound, total noise cancellation, and crystal clear clarity are unmatched. With these babies, your husband can listen to 22 hours of audiobooks, podcasts, or music on a single charge. He can even answer phone calls, skip songs, control volume, and activate Siri all on the headset. Cool, huh? These headphones are one of the coolest gifts for your husband for his birthday, your anniversary, Valentine's Day, or Christmas.
A Custom Poker Set
Does your husband often have game night with you or his friends? Then he needs a poker set! This set comes with four sets of chips, two sets of cards, dice, and a cool faux leather carrying case engraved with his name followed by "The Man. The Myth. The Legend." With a poker set like this, he can play any kind of poker as well as any games involving dice or cards. He'll love having his very own set to host or bring to his friends' houses. He'll probably start having an official poker night just so he can use this awesome set.
His Own Home Theater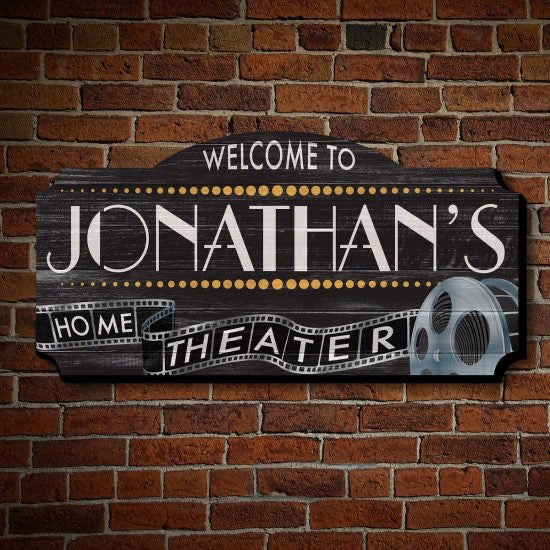 Has your husband always dreamed of having a huge home theater complete with reclining chairs and a screen that takes up an entire wall? By giving him an official home theater sign, you're bringing him one step closer. If he's already got a room dedicated to movie-watching, this is the perfect piece of decor! This awesome sign will make his theater room a little cooler and more official. You could theme all of gifts in 2019 around making his dream come true by giving him a huge TV, a nice lounge chair or two, or a popcorn machine!
Hardwood Cutting Board
Whether he's an amateur or a professional chef, he will love this handsome wooden cutting board. Made of thick Acacia wood, your husband will want to use it for everything from chopping to seasoning. It'll look lovely on your countertops and keep them clean, which is a bonus for you! While the personalization is cool, the best part about this cutting board is that each one is different so that he gets a truly one-of-a-kind gift.
Beer Gift Set for Him
Your hubby will love this cool beer gift set for his birthday or your anniversary. It comes with a custom pint glass, bottle opener, and an awesome growler for traveling. He'll love having a new bottle opener on hand and a go-to glass for his nightly beer. The growler is perfect for him to bring 64 ounces of his favorite beer to BYOB parties, the lake, camping, cookouts, anywhere! He'll love this gift set almost as much as he loves you.
265+ BEER GIFTS YOUR HUSBAND NEEDS >
Portable Charcoal Grill
Never again will your husband have to use those crusty old grills at the park or camping ground to make BBQ for the family. With this awesome portable grill, he can grill up a rack of ribs or some burgers anywhere he wants, indoor or outdoor! This revolutionary technology means that he can have anything grilled whenever he wants, so be prepared for more home cooking than ever before. This is the perfect anniversary gift for your husband so that he can cook up a delicious meal for a romantic dinner together.
Unique Whiskey Gift Set
Does your husband love whiskey on the rocks? With this cool whiskey set, he can have the best chilled scotch or bourbon anytime he wants. The two glasses come with a unique ice mold that freezes a triangular wedge of ice right into the glass, which means it takes longer to melt so that he can enjoy his drink without it being watered down. Plus, it's fun to use them! He'll love the beautiful decanter as well, which will look really nice on his home bar or in his office. He can store his finest scotch and show off its gorgeous amber colors as he serves his guests with style. This set is by far one of the coolest, most unique gifts for husbands on their birthdays, anniversaries, and the holidays.
Portable Drink Tank for the Husband Who Travels
Does your other half have to travel for work or enjoys going on adventures? Then he needs this awesome drink tank. Made of double-walled vacuum-insulated stainless steel, this 64 ounce growler is the best way to transport his favorite beverages. Plus, it'll keep anything inside cold all day long whether it's water or beer. He'll love bringing it to work, hiking, camping, the lake, anywhere! Bonus: it can serve as a kegerator with a keg tap for BYOB or tailgate parties! This incredible drink tank growler is the perfect gift for your husband for any occasion or just because.
Custom Beer Mug
Presenting the ultimate beer lover gift: a custom beer stein! Your husband will love having his very own German-inspired stein modeled after the traditional designs with lids. Not only is this mug beautiful, but its thick glass insulates his beer, keeping it cold for hours on end. With this cool mug, he can enjoy his favorite German beers just like his ancestors did. He'll love getting such an awesome gift for his birthday, Christmas, Valentine's Day, any occasion!
Fancy Whiskey Glasses
These handsome whiskey glasses are the perfect gifts for your husband, especially if he aims to be a whiskey connoisseur in 2019. The unique shape of the glasses help aerate his scotch, unlocking every exotic flavor. He'll love having a fine set of glassware to enjoy his finest whiskey with you, his friends, and family. This set of four is also stamped with an initial on a pewter crest, adding a fancy, sophisticated touch. Perfect for special occasions and family gatherings, your husband will want to show these exquisite glasses off any chance he gets.
Smartwatch Samsung S3
Does your husband want a smartwatch but still loves the classic look of his Casio? The Samsung S3 is the best of both worlds, making it the perfect gift for your husband. It looks like a regular watch, but it can track his exercise, sleep, swimming, heart rate, use various apps, get his texts, and make phone calls. Plus, it's compatible with both Androids and Apple devices. Smartwatches can't get better than this!
Custom Cocktail Glasses
If your husband is a cocktail fan, he needs a few quality glasses to drink them with. These two glasses are perfect for Long Island Iced Teas, Bloody Marys, Mojitos, and more. The two of you can enjoy a cocktail by the pool in the summer or by the fire in the winter with these neat glasses. He'll love using them for his favorite mixed drinks, but they're also the perfect size for sodas and tea as well, making them the perfect addition to your glassware.
Set of Two Spiegelau Beer Glasses
These Spiegelau glasses are the best and most unique gifts for husbands who love IPA. The glasses are specially made to enhance and improve both the flavors and aroma of his favorite IPA, making them taste better than ever before. The two of you can enjoy a high quality cold one over dinner or while watching your favorite sports team together thanks to these awesome Spiegelau glasses.
A Fun Bar Sign to Start His Home Bar
Whether he's always wanted his own home bar or is in the process of starting one, it can't be official without his own custom bar sign! This cool wood sign has a vintage look and features a whiskey barrel along with his name and a year. He'll want to hang this right away and proudly display his official home bar. This is the perfect just because gift for your husband, but would also make a nice birthday gift.
255+ MORE SIGNS FOR HIS HOME BAR>
Rolling Whiskey Glasses
What can you give your husband that is fun, cool, and useful? A set of rolling whiskey glasses! He and his friends will have a great time rolling these glasses around in between sips of bourbon. Plus, the rolling helps aerate the whiskey, making it taste better! Don't worry, they're designed not to spill bourbon all over your furniture. Ideal for birthdays and the holidays, these glasses are great gifts for husbands.
New York Times Birthday Book
This awesome Birthday Book is one of the most unique gifts for husbands. It starts out with his very first birthday, and includes the pages from every birthday afterward. Cool, huh? This will be a truly one-of-a-kind coffee table book. He can read all about the highlights and major events that happened on his birthday from the day he was born to his latest birthday. Obviously a fantastic birthday present, but would be cool for any other occasion as well. He'll love having his very own history book!
Golfer Grilling Tools
If your husband likes to golf and grill as much as the average guy, he'll really love these super cool grilling tools. The tool set, which is shaped like golf clubs, even come in a sweet bag made to look like a golfer's bag! He'll get a kick out of this fun gift set. This incredible gift set would go perfectly with the portable grill featured in this blog, but by itself it would make a great gift for your husband on any occasion.
Personalized Travel Mug for the Husband On the Go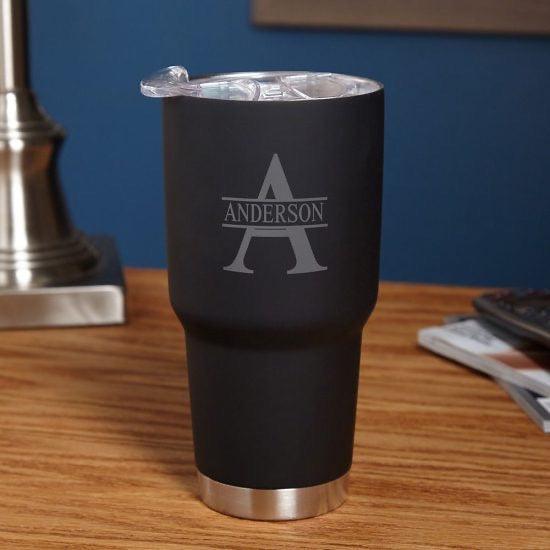 Does your husband have to travel for work or enjoys traveling for fun? Then he needs his very own personalized travel mug! This awesome Yeti-style tumbler is the perfect way for him to bring along his coffee, tea, water, or even beer. The super-insulated stainless steel will keep his coffee scorching hot for up to 6 hours and his water ice cold for up to 24 hours. He'll be so impressed by this mug that he'll use it every day, all year long.
Beer Flight Set for the Husband Who Home Brews
Does your husband brew his own craft beer at home or has just started? A flight set is a must-have for beer tastings. With this set, he can have you, his friends, or his family taste test his latest home brew with ease. It's also perfect for serving beer at parties! He'll love having this around to serve up a couple of cold ones to his buddies when they come over for poker night or to watch their favorite sport on TV.
Whiskey Making Kit
You've probably heard of beer brewing kits, but did you know that you could get your man his own whiskey kit? With this incredible gift, he can age his own whiskey in a real oak barrel! All he has to do is cure the barrel, pour in some grain alcohol or vodka, add a bottle of essence, shake the barrel, and wait two weeks for it to age. Then, he can pour his very own batch of homemade whiskey from the spigot! This will make an excellent anniversary or holiday gift to your whiskey-loving husband. Plus, you can get him a few of the many whiskey glasses in this blog to go with it!
Elegant Flask Set
If your husband the kind of guy who likes to drink when he's out with friends or on vacation? With this cool flask set, he'll always have his favorite liquor with him wherever he goes. The handsome stainless steel flask is wrapped with faux black leather and is even engraved with his initials so that everyone knows who it belongs to if it gets misplaced at a cookout or party. Also included are two shot glasses, which are perfect for sharing a round of shots with you or a few friends. This would be the perfect birthday gift for your husband in 2019!
359+ MORE GIFTS YOUR HUSBAND WILL LOVE >