What is Brandy vs What is Cognac?
First of all you may be wondering what is the difference in brandy vs cognac? All Cognac is a brandy, but only certain Brandy is Cognac. Confused yet? Let us explain further… Cognac is a specific type of brandy produced in the Cognac region. Much like Champagne which can only be produced in Champagne, France. Cognac can only be produced in the Cognac region in France.
Brandy is a distilled spirit made from grapes or fruit like wine which is distilled and matured in oak barrels. Wine in fact, is what most brandy starts as, a specific type of wine that wouldn't be very great for ordinary drinking. The wine must be high in acidity and low in alcohol and residual sugar. The wine is heated gentling in a still, where the alcohol and the wine's water evaporates. Then the concentrated vapors are cooled and condensed into a very pure alcohol that is matured in oak barrels.
What Makes a Good Brandy Snifter or Cognac glass?
In order to fully enjoy the complex aromas and flavors a proper brandy snifter glass is needed to direct the flavors to the right part of your nose, mouth, and palate. The best, most ubiquitous style of brandy and cognac glassware is the snifter glass. Known for its generous bowl size, a snifter allows the aromas and flavors to blossom and build inside so that the drinker gets an enhanced experience. I love this particular brandy snifter because of the extreme change in radius from rim to base. When you lift a glass of brandy to drink, the aromas have had so much room to expand that taking even a brief whiff before sipping makes the complex flavors easier to notice.
Small Brandy Glasses for Tastings of Fine Cognac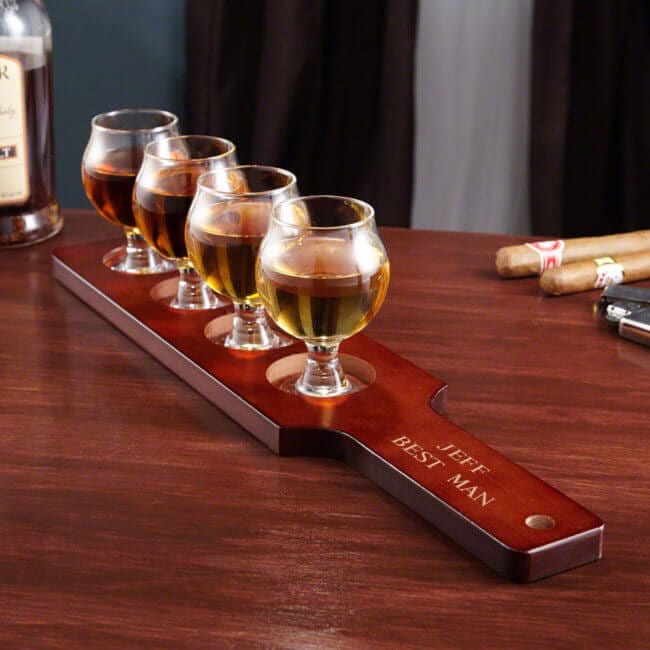 Fine cognacs can be borderline outrageously expensive. A tasting set with small glasses such as this allows you to serve small tastings of your favorite brandies and cognacs to your friends without coming off looking stingy, plus the carrying board frees up your other hand for a fine cigar or brandy glass of your own. Made in the timeless snifter shape, a natural wood paddle makes it simple to pour, carry, and serve your guests. For your tasting selection, try different levels of cognac, or brandy with several different origins. You might select spirits distilled from different types of fruit, and challenge your guests to see if they can decipher which is which.
What makes Cognac Different?
Grapes from the Cognac region are distilled in copper pot stills. Cognac is distilled twice, vs brandy is distilled once. The spirit then develops and ages in the oak casks for 10 to 15 years, sometimes longer. The Cognac houses then blend older and younger brandies to give their product a consistent and desirable product year after year. As you can see the complexity of cognac demands a special glass to enjoy all of those complexities. That's why you don't drink cognac or brandy from a typical open ended glass.
Classic Snifter Set for the Cigar Smoker
A nice cigar and a glass of brandy go together like rum and Coke. This sophisticated set is perfect for lighting up a stogie and pouring a glass of brandy for a friend or loved one. The snifters are perfect for sipping a warm brandy whether it's heated on an actual warmer like the ones above or just through your natural body heat. These snifters fit snugly and securely in your hand and are designed to allow plenty of heat to be absorbed to warm your drink. This set even comes with a cigar cutter, lighter, and a personalized gift box where you can store your snifters for safekeeping when not in use, making this complete set a must-have for any cognac connoisseur.
Rolling Around
Sometimes, you're in desperate need of a drink of cognac, and you don't want to have to wait for it to breathe before indulging. That's what this unique rolling glass was made for! Its pointed base makes it twist around and around so it oxidizes as it sits on the table. You'll never have more fun with a glass, and your taste buds will thank you too!
285+ DECANTERS PERFECT FOR YOUR BRANDY>
A Set to Adore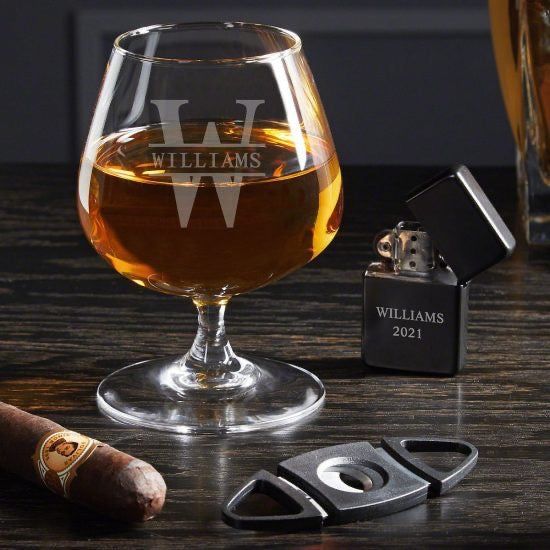 There's something about a nice glass that makes your cognac taste that much better. All the aromas and flavors will be brought out when you sip from this glass, filling your nose and mouth with pleasure. What happens when the rich smell of cigars is added to the mix? Well, it's something truly amazing. With this cognac gift set, you'll discover the awesomeness of this combo!
Concentrate on the Flavor of Your Cognac or Brandy
Add a new layer of class and sophistication the next time you enjoy a glass of brandy or cognac with these crystal Glencairn tasting glasses. Much like the snifters, they help to highlight the flavors and aromas of the liquor; however, the unique shape of the Glencairn makes it ideal for highlighting even the most minute flavors. So, whether you want to use these glasses to find a new taste in your go-to drink or save them for a top-shelf bottle, you simply can't go wrong!
Stemless Brandy & Cognac Glasses
Most people don't realize it, but brandy is a distilled spirit, just like whiskey or vodka. Because of this, several styles of cocktail glasses can be appropriately used on occasion. For those in search of stemless brandy glasses, this tumbler is a stylish choice. It's smaller than a balloon or snifter but offers comparable benefits with its rounded shape. The bubble detail in the base adds a polished look.
The Finest Brandy Set You've Ever Seen
If you're looking for a really fancy set of brandy glassware to impress your boss, a high-profile possible business partner, or any guests, this is the set for you. The Queen Lace crystal set is expertly handcrafted to show off the elegance of wildlife, and you can get all kinds of brandy snifters designed with a rhino, lion, elephant, and more! You get to pick your favorite animals and build a set that is customized just for you. You'll feel like a king when drinking from this beautiful set, and anyone who sees it will be awestruck by your luxurious glassware. Only the finest top-shelf brandy and cognac should be served in such a spectacular set!
Most Unique Glasses
The best way to enjoy your favorite cognac or brandy is with unique glasses that nobody else has. That's what makes these sculpted glasses so awesome! You'll love the novelty of these attractive glasses, and you'll greatly enjoy sipping cognac and brandy from them.
Hip and Cool Cognac Set
Cognac and cigars area classic combo that people have been enjoying for years and years. That's what makes this cognac and cigar set so awesome. You'll love using this perfectly-sized and shaped glass to sip your cognac. The shape of your custom glass opens up the flavor of the cognac, making the pairing of your favorite cigars even more delectable. Make your most refined dreams come true with this personalized box set, perfect for all your cognac and cigar needs!
Unique Twisted Glasses for a Different Drinking Experience
Have you ever seen such beautiful glasses? These unique twisted glasses will beautifully reflect the colors of your cognac through their elegant design, elevating your drink to be as attractive as it is delicious. Whatever you choose to drink, these twist glasses will be the ones you reach for. Plus, they're high-class enough for date nights, formal occasions, and business meetings.
Crystal Brandy Snifter
If you're looking for a high-class glass to sip your cognac from, a crystal snifter is the best way to go. Drinking from this glass will make you feel like a truly sophisticated connoisseur who only buys top-shelf liquor. The fine crystal is the most beautiful addition to your glassware, and you'll want to have this glass front and center for all to admire on your home bar.
Uniquely Shaped Cognac Glass Set
A cognac glass that comes in a unique shape should always be a welcome change of pace in your glassware collection. While the classic is hard to beat, this set of four personalized glasses updates the classic glass with a fantastic and charming design. Better still, without a stem, it is even easier to hold these glasses and warm your favorite drink before indulging in the first sip.
A Sophisticated Set of Cognac Glasses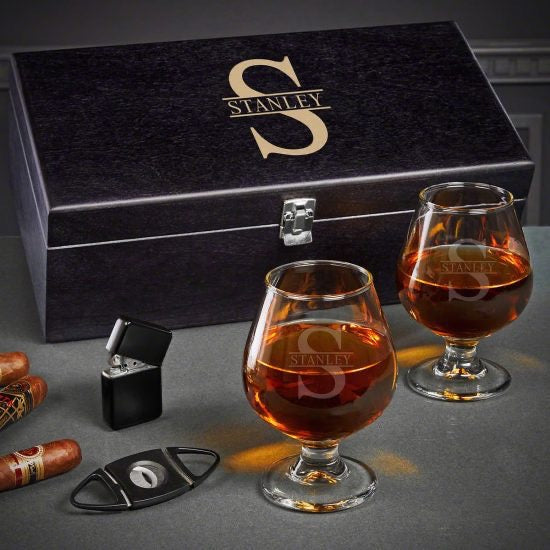 If there is one thing that this fantastic liquor makes everyone feel, it is classy. There is something magical about sitting down with a friend or loved one and enjoying a drink of cognac together. The next time you do, make the experience feel even classier with this engraved box set of cognac glasses. The box gives the whole set a refined feel while the glasses are perfect for a glass of Bardient or Paul Masson.
253+ MORE WHISKEY AND COGNAC GLASSES>
Most Important Set
Seeing your initials on nice glassware just makes you feel important. With this engraved cognac and cigar gift set, you'll feel like the most important person on earth! As you sip your cognac from this classy, initialed glass, you can use the lighter and cigar cutter to enjoy your cigar that's stored in this personalized box. When you're celebrating a special occasion, enjoying liquor and stogies with this gift will be the perfect way to celebrate.
Brandy Tumblers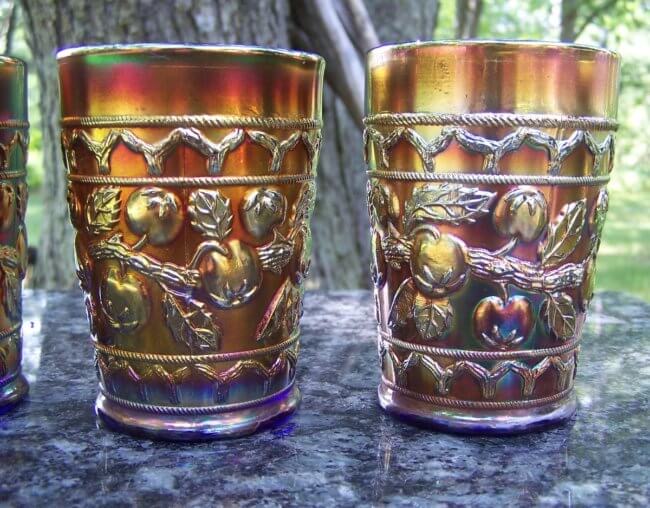 Apple brandy is known as a prominent ingredient in cooking and party punches. However, fine brandies made from apple are delicious on their own. It's a very American spirit as well, dating back to colonists who planted orchards and distilled apple cider. These vintage water glasses would make perfect brandy tumblers. I love the color of the glass and the embossed details.
Custom Double Brandy Snifters
Make nosing your favorite brandy or cognac a fun and easy experience with this set of engraved double brandy snifters! What does double mean? Simple, they are twice as big, allowing you to have twice as much in your glass. This means more flavor, more aromas, and of course, more brandy! This set of four is great to take out for brandy or cognac tasting parties too!
Best Brandy Glass Set
The finest of brandies can't be fully enjoyed without the finest of glassware. That's why you need this brandy decanter and glasses set in your life. Nothing will be better than pouring yourself a glass of brandy from this stately decanter that has your initials engraved into the side. You'll feel like the classiest person alive using this fancy brandy glass set, and your brandy-drinking experiences will be better than ever before!
521+ BOURBON AND BRANDY GLASSES >