Underneath the twinkling Christmas lights and amidst the carols and festive cheer, let us not forget those who deserve the finest yuletide treasures: our beloved parents. No matter if they are new to the realm of parenthood or veterans with children all grown, their unwavering love and tireless dedication to family should be honored in the grandest of Christmas style. 
Moms and Dads shower us with love and support year round, and Christmas is the perfect time to reciprocate with gifts that reflect how much you appreciate they with one of these amazing Christmas gifts. The ideal Christmas present for parents marries practicality with heartfelt sentiment, showing them the depth of your appreciation.
Fear not, for whether you're on the hunt for Christmas gifts for dapper dads or delightful moms, your quest ends here. And to those relatives or friends eager to spoil new parents with Christmas merriment, or children seeking the ultimate holiday gift for their parents, worry not, as the perfect presents await you just below.
Top Christmas Gifts for Parents
#1 Unique Christmas Gift Ideas for Parents – Twist Decanter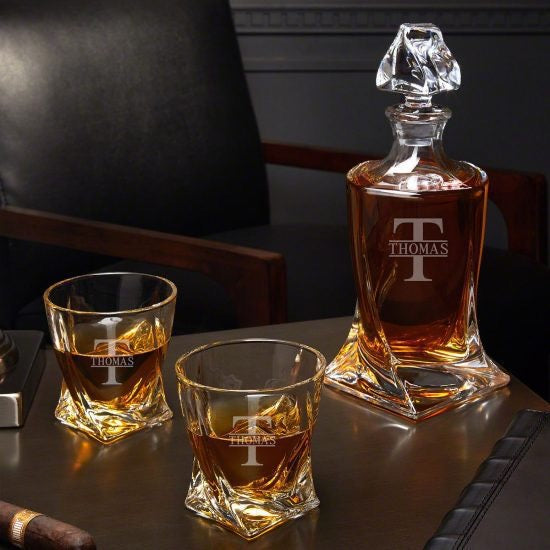 Christmas is a special time of year that's all about spending time with your loved ones and family. What better way for your parents to enjoy each other's company than while they're enjoying their new decanter set on Christmas Day? This stunning crystal decanter set is the perfect addition to their home bar or dining room and is sure to be the center of many future date nights, New Year's toasts, and holiday drinks together.
#2 Wine Pairing Any Parent Would Love to Receive

Do you parents love wine and you stuck trying to figure out what's a good Christmas gift for your parents? Then gift them this Rhone Wine Gift Set along with their favorite bottle of wine. It has all the items they need to enjoy their wine more fully and the personalized glass adds a touch of care they are sure to appreciate. 
#3 Sweet & Salty Gifts Parents will Love
You can't go wrong with gift baskets or food, so combine the two for the perfect gift for parents for Christmas. This sweet and salty gift box has the perfect combo of snacks that your parents can eat for a long time. This hand-packed gift box contains several different snacks, including pistachios, peanut brittle, gourmet trail mix, and chocolate covered raisins. Your mother and father will be obsessed with this scrumptious gift basket and thank you over and over again.
#4 Charcuterie Board Centerpiece – Amazing Christmas Gift for Your Parents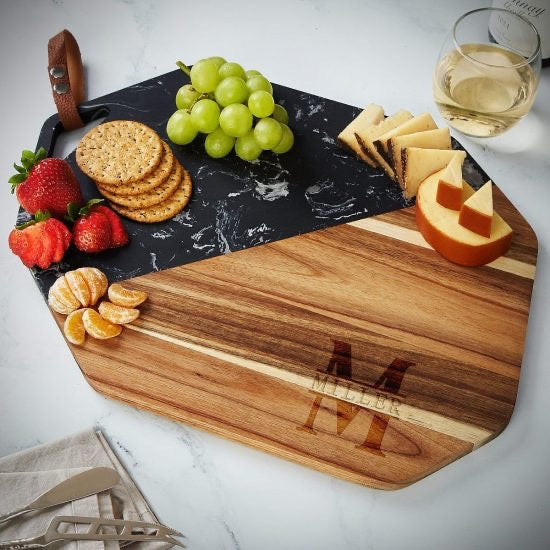 Large charcuterie boards such as this Opulent Black Marble and Wood Charcuterie board are all the rage right now. Everyone is using them to entertain guests for Christmas, parties, get-togethers, you name it. This charcuterie board has ample room and is strikingly beautiful. It is the Best Christmas gift for parents who like to entertain.
#5 Gorgeous Wine Barrel Sign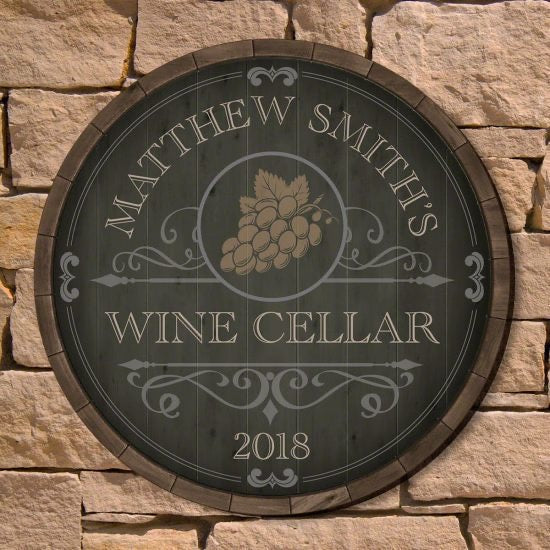 Surprise your parents on Christmas Day with a lovely new piece of decor! This rustic wine barrel sign is perfect for displaying in their kitchen, home bar, dining room, or their actual wine cellar if they've got one. The unique sign is custom made just for them, and they will certainly cherish it for years to come!
#6 Elegant Serving Set Christmas Gift for Your Parents
The best kinds of Christmas gift ideas for parents are those that make things easier for them to do. For parents that enjoy serving drinks to guests, this impressive presentation set is perfect! The elegant monogram of mom and dad's initials makes it really stand out, especially compared to the regular glassware they have. The entire set fits snugly on the acrylic and wood tray so that your parents can bring it anywhere in the house whether it's to the living room for drinks with the family after opening presents or their friends who are visiting after the holidays.
#7 New Grilling Tools for Family Cookouts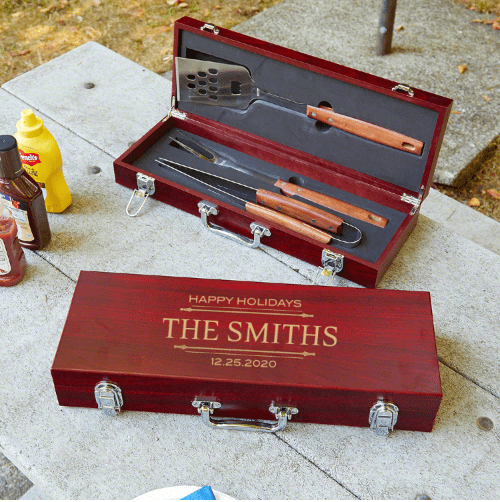 Even though it's the holidays, it's important to have cookouts with the family! Your parents will love this beautiful new set of wooden grilling tools to use on the outdoor grill or inside on the George Foreman grill. The custom cherrywood carrying case makes it easy for your dad to bring his trusty grilling tools to your grandparents' house for Christmas or to the campground where your family has an annual trip together every summer! This has got to be one of the most useful Christmas gifts for him on the market!
#8 Romantic Christmas Presents for Parents
There's nothing like a glass of red wine with your sweetheart by the fire, and this gorgeous wine decanter set ensures that your parents have everything they need for a proper drink! They will want to celebrate Christmas with a perfectly aerated glass of wine right away, so make sure you also get them a nice bottle of red wine that they both enjoy!
159+ CHRISTMAS GIFT IDEAS FOR WINE LOVERS>
#9 A Brand New Kitchen Gadget for Your Parents Home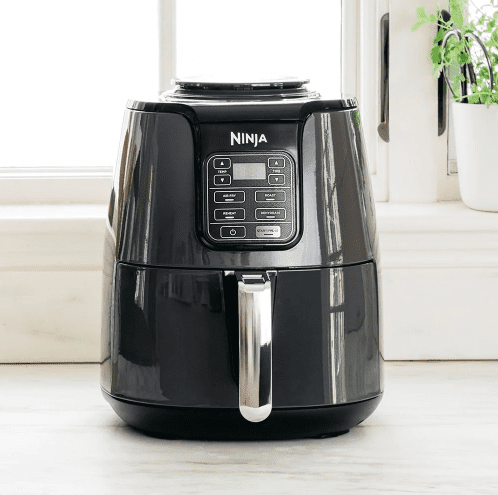 One of the best Christmas gift ideas for parents is an air fryer that will turn their favorite fried foods into tastier, healthier versions of fast food classics! Your parents will be amazed when they use the fryer to cook some french fries and don't need oil to create crunchy shoestrings just like the ones they love at their favorite fast food restaurant. The air fryer will not only make it easier for your parents to cook at home, but it also makes their food healthier and saves them money by not going out to eat as much!
#10 Lovely Wine Chiller for Mom and Dad's Date Nights
Are you looking for something sweet for mom and dad to enjoy together on Christmas Day? Pair this lovely custom marble wine chiller with a nice bottle of wine and you've got the perfect Christmas gift! The beautiful wine chiller will ensure that your parents always have a cold bottle of wine even if they forget to put it in the fridge before dinner. This is one of the simpler Christmas gift ideas for parents, but it is certainly practical and thoughtful!
#11 The Perfect Decanter Set for Christmas Drinks with Family
You and your siblings are all grown up now, so it only makes sense to get your parents a decanter set that's big enough for everyone in the family to have a glass to raise at Christmas dinner! This gorgeous decanter set is great for holiday drinks and cocktails, but it's also great for having out on the home bar year-round to offer any guests a drink in style. Mom and dad will love showing off the beautiful set their kids got them for Christmas!
#12 Family Name Signs Make Great Christmas Presents for Parents
This Christmas, give your parents something sweet that will make them feel like newlyweds all over again! This one-of-a-kind piece of decor is a great addition to any room in their home, and it will be a touching reminder of the day they said "I Do," every time they see it. Such a lovely sign will make any house feel more like their home!
#13 Vintage Style Decanter Set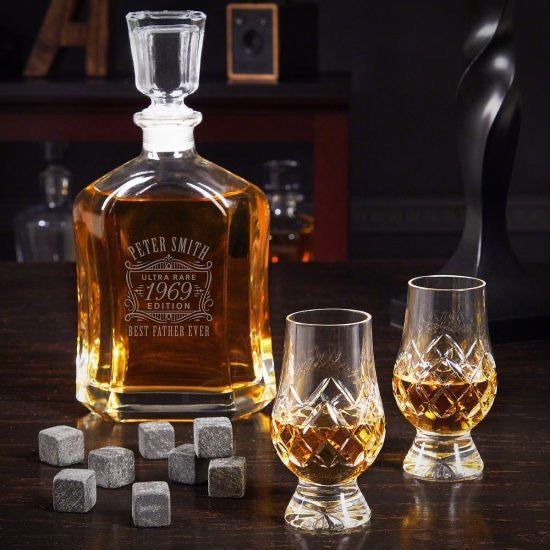 Your mom and dad will love this unique liquor decanter set! The vintage-inspired design gives the entire set a luxurious look and adds a touch of elegance to any room they decide to display it in. One of the coolest Christmas presents for parents, your mom and dad will especially appreciate the stunning crystal Glencairn glasses that make them feel like royalty every time they use them!
#14 The Best Christmas Gift for Parents
Give the gift of one less chore to deal with this Christmas! The Shark IQ Robot Vacuum will make sure that your parents never have to vacuum ever again thanks to its automated system. The vacuum maps their entire home and can operate according to mom and dad's schedules so that their floors are always clean when they come home. This thoughtful Christmas present for parents just keeps on giving!
#15 Make Sure Their Wine Tastes the Best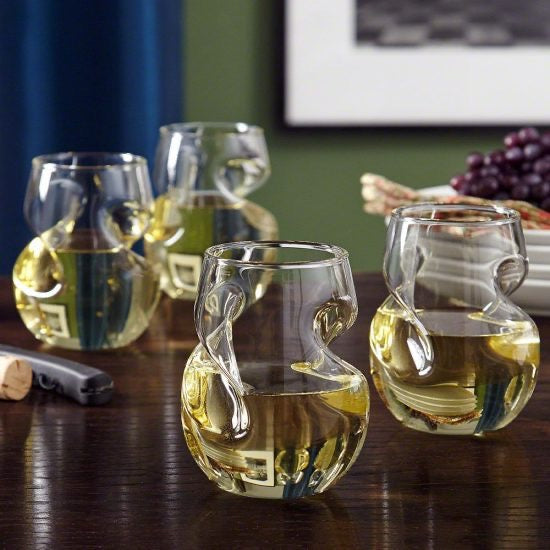 One of the best Christmas gift ideas for parents are these aerating wine glasses! The glasses make any wine (white or red!) taste smoother and more flavorful through their unique curves. As your parents sip, they'll be amazed that each sip tastes better than the last! These fun wine glasses will be the only set your mom and dad will want to use from now on, especially when company comes over!
#16 Elegant Monogrammed Crystal Decanter Set
Your parents will be so amazed by this gorgeous crystal decanter set on Christmas Day that they'll be speechless! From the stunning cut crystal details on each glass and the decanter to the large wooden gift box, every single piece in this set is incredible. They'll want to display their gift right away and use it to serve everyone a holiday drink!
467+ GIFT BASKETS AND BOX SETS FOR MOM AND DAD>
#17 Christmas Gifts for Parents Poker Night
Christmas time is all about enjoying time with family, like playing games together and watching holiday movies. This year, how about a fun game of Texas Hold 'Em? Your mom and dad will enjoy having their own poker set to play with the family and for when they have friends over! This set is also perfect for kid-friendly card or dice games, too, so that no one in the family is left out.
#18 Trace Their Dog's Ancestry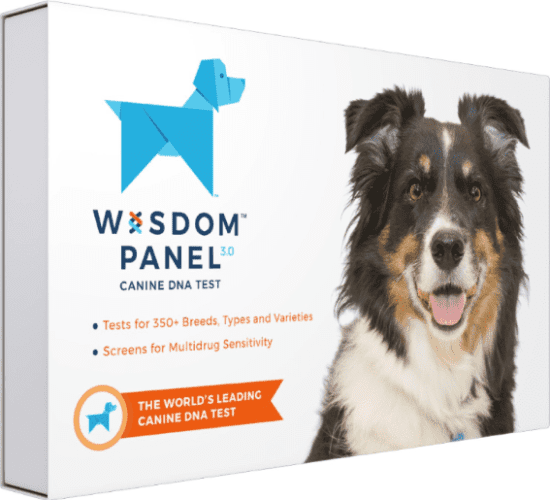 Do your parents treat their dog as if it's your sibling? One of the most unique Christmas presents for parents who adore their fur kids is a DNA testing kit! By discovering their dog's roots, your parents will learn more about where their beloved dog comes from and maybe even discover some helpful information about its health! This fun, educational experience for mom and dad will be a Christmas gift they'll never forget. Just be prepared for them to brag about the breeds their dog is from now on!
#19 A Fun Decanter for Mom and Dad
Give your parents a fun novelty decanter that will add a little bit of adventure to their home this Christmas! This unique ship in a bottle decanter is a beautiful work of art that will make any liquor look like a peaceful ocean, and the cool spigot design makes it super easy to pour from into the handy shot glasses. This decanter is sure to become a conversation piece among their friends and will be the site of many drinks together in the years to come.
#20 Cute Christmas Gift for Both Mom and Dad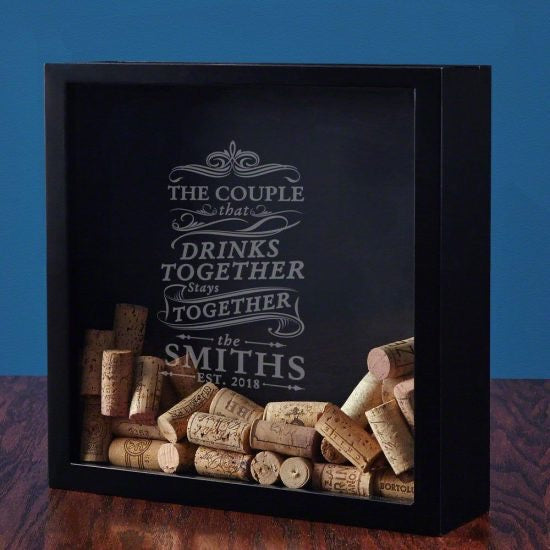 Whether they've only been married a year or 50 years, this adorable custom shadow box will make mom and dad feel like newlyweds every time they see it! Starting with their collection on Christmas Day, your parents can keep all of the wine corks or bottle caps from the drinks they share as a unique representation of their love in this interactive shadow box. This is by far one of the best Christmas gift ideas for parents, just make sure you also give them a bottle of wine to pop open after they unwrap their present so they can get started on their collection!
#21 Liquor Decanter Set for Christmas
Want to get mom and dad something just for them to use together? This decanter set is ideal! With the decanter and the two matching glasses, they'll be able to enjoy a scotch on the rocks or a holiday cocktail together. The gift box is even reusable so that they can store all of their holiday drink mixers, Christmas cards, or even the stockings inside until next Christmas.
#22 Give Them a Nice Bottle of Liquor for Christmas
What do you give the parents who have everything for Christmas? A nice bottle of liquor, especially in this custom gift box! They will be so touched by your practical and thoughtful Christmas gift, especially since you got them something so unique. After they drink the liquor, the box is a great place to store bartending tools, a wine cork collection, or greeting cards.
#23 A Weighted Blanket to Keep Mom and Dad Warm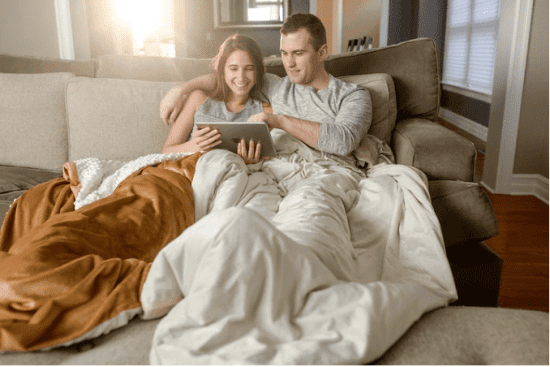 Weighted blankets are still trending, and it's no wonder why! This huge, comfy weighted blanket will help your parents get the best sleep of their lives. Even with their flannel sheets and plush holiday PJ's, mom and dad won't get too hot under this blanket thanks to the cooling material! Weighted blankets make fantastic Christmas gift ideas for parents, especially to new moms and dads who need a good night's sleep!
#24 Christmas Gifts for Parents Who Cook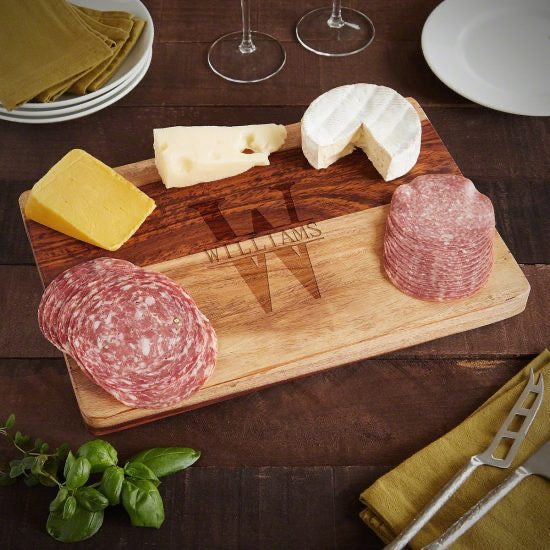 Wondering what the perfect Christmas gift is for mom and dad that they will both love? Give your parents a beautiful new cutting board! They'll want to use it right away to start preparing Christmas dinner after unwrapping their thoughtful present. The durable hardwood is built to last for many years, especially if you also give them some board oil to keep it smooth and clean in between uses.
#25 Stylish Whiskey Glass Set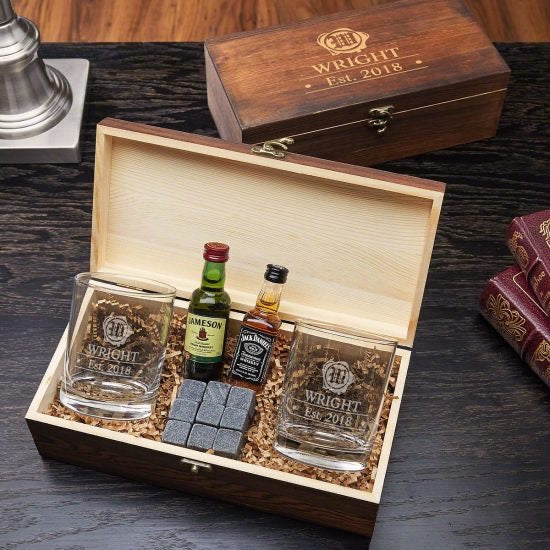 Skip out on the cheap gift boxes for your awesome Christmas present and simply get your parents a custom gift box they can keep for years! Stuffed with whiskey glasses and stones (and maybe a few small bottles of liquor too!) your parents are sure to love a gift that refills their holiday spirits!
665+ WHISKEY GIFTS MOM AND DAD WILL LOVE>
#26 A Fun Game for Your Parents to Play with TFheir Kids or Grandkids 
Your parents have always loved playing games with their kids and the rest of their family, which makes this custom bean bag toss game the ideal Christmas present for your parents! They will love playing cornhole with you kids, their grandkids, and their cousins on Christmas and at every future family get-together. The set is easily portable, so you know it'll come to every single reunion and family trip!
#27 A DIY Keepsake Christmas Gift for Parents
Hand casting has been a rising trend, especially because of these at-home DIY kits! One of the most unique Christmas presents for parents, this kit will be a fun activity for both mom and dad to do that creates a one-of-a-kind keepsake they'll treasure forever. You can get one for everyone in the family to make a whole group of sculptures to do on Christmas Day and display together!
#28 Classy Whiskey Christmas Gift Ideas for Parents
Only one thing will make them feel as warm and cozy as their fireplace in the heart of winter: this phenomenal whiskey set! The crystal old-fashioned glasses are perfect for a bourbon on the rocks or a Christmas cocktail together, especially with the stainless steel whiskey stones that ensure their drinks stay chilled. Plus, the gift box the set comes with can be used to store the set for safekeeping in between drinks or for storing their prized bottle of whiskey for special occasions like Christmas or New Year's.
#29 Cute Custom Sign All Parents Can Relate To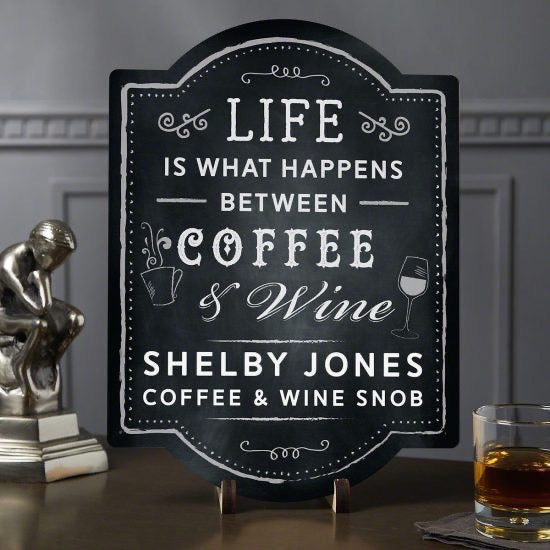 Looking for something unique to give a pair of new parents for Christmas? This cute coffee sign will remind them to enjoy every moment of every day, even though the holidays and a new baby are probably stressing them out. The new mom and dad will love having this thoughtful and cute piece of decor in their kitchen or dining room, but you might want to pair it with a pack of their favorite coffee or a bottle of wine to complete the gift!
#30 Unique Wine Tumbler Gift for Parents Who Love Wine
Speaking of wine, do your parents enjoy drinking wine together? They will love this fun tumbler gift set! Tumblers make fantastic Christmas gift ideas for parents because they're insulated, unbreakable, and portable. Your mom and dad can use these stainless steel tumblers for warm, mulled wine after opening all of the presents on Christmas Day or for chilled white wine by the pool in the summer!
#31 Beautiful Bonsai Mom and Dad Can Grow Together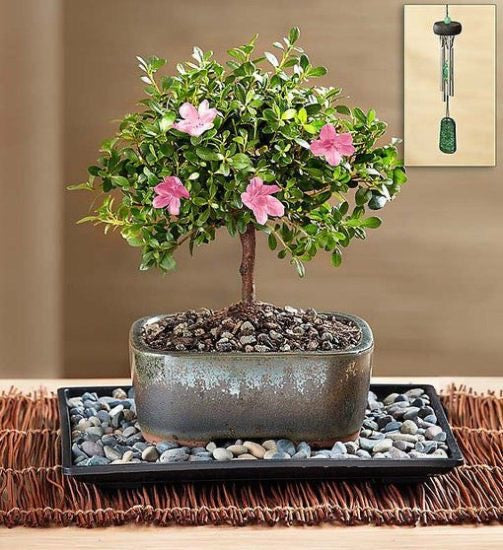 Give your parents something they'll never expect for Christmas: a bonsai tree! This azalea bonsai blooms several times a year and will last many years if taken care of properly. You can pair this beautiful Christmas gift idea for parents with a bonsai care guide or a set of pruning tools so that they have everything they need to nurture their new plant.
BONUS: Must-Have Whiskey Decanter Box Set for Your Parents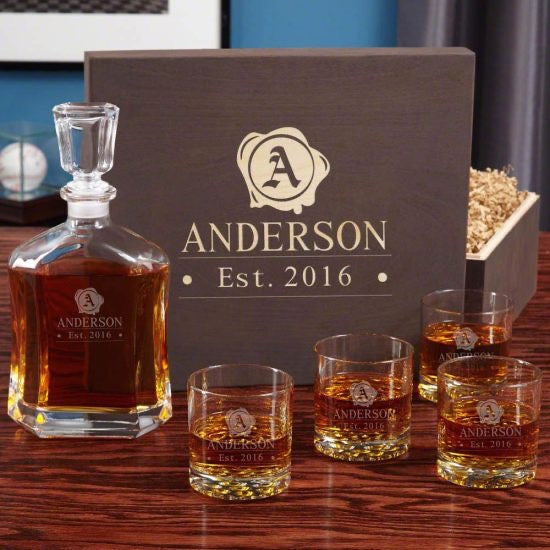 This Christmas, your whole family will be able to raise a custom glass and toast to the holiday with this personalized decanter set! Perfect for casual drinks and cocktails, this classy decanter set will be a part of every future gathering of family or friends. In fact, mom and dad will want to keep the set out on display, which frees up the handsome walnut gift box to use to store keepsakes, bartending tools, or even photo albums. Seriously, this is one of the best Christmas presents for parents because it just keeps on giving!