While it's customary to bring a bottle of wine or liquor to a gathering such as a housewarming party or a double date night, you can certainly kick it up a notch! For those who are really into alcohol as a pastime or are just casual drinkers, you can never go wrong with alcohol gift sets! Whether they're big fans of whiskey, tequila, wine, or beer, anything related to their favorite spirit of choice is always the best kind of gift. Of course, you should get a bottle to complete the gift set so that they can enjoy it all right away. Alcohol gifts are great for celebrating special occasions such as anniversaries, promotions, housewarmings, and even weddings because they're classy and unique. Looking for gifts for wine lovers? What are the best gifts for whiskey connoisseurs? Would a beer drinker enjoy a gift set? Want awesome cognac glasses? You'll find everything you need below!
Classic Whiskey Alcohol Gift Set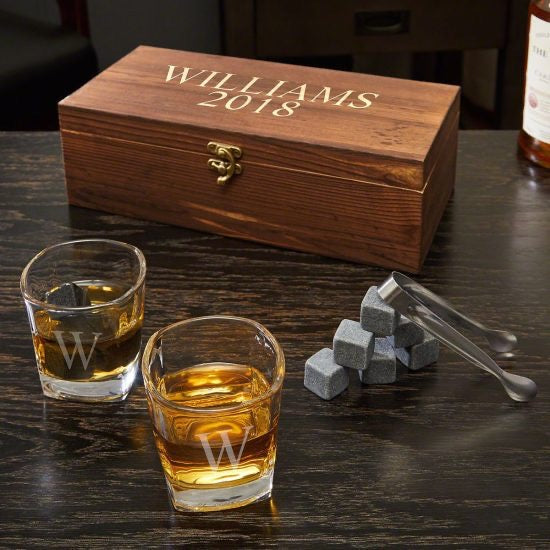 When considering a whiskey gift, you also have to consider whether the recipient is a novice or an expert on the liquor. You don't want to give them something they already have, after all. Casual drinkers and people just getting into the whiskey experience would love a nice set of personalized glasses and whiskey stones! They will love drinking their Macallan or Jameson out of these handy little shot glasses, especially since they're chilled with the whiskey stones. The glasses are the perfect size for a small serving of sipping whiskey, but also big enough for a large shot. Plus, the engraving of two custom lines of text on the wooden gift box and initials on the glasses are the cherry on top to make this useful whiskey gift set perfect and personal. Whether you're giving this as a birthday, holiday, or anniversary gift, the whiskey lover you're giving it to will be incredibly impressed!
The Manliest Beer Set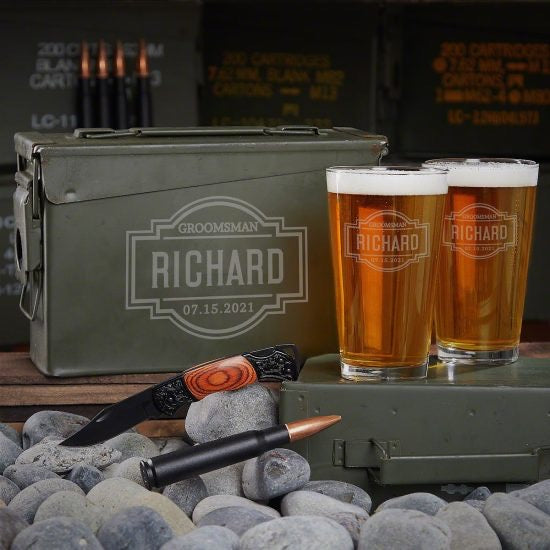 Most people probably think about liquor when hearing the term "alcohol gift set," but you can't forget about beer! The manly men in your life are all about beer, and they love getting gifts related to it: whether it's glasses, novelty bottle openers, or just a case of their favorite brew. But you can do better than that! This super manly ammo can set is the perfect gift for the beer lovers in your life. They will thoroughly enjoy using the custom engraved ammo can for storing their precious bottles of beer, tools, or work gear. When it's beer time, the first thing they'll reach for is their new .50 caliber bullet bottle opener to crack one open and pour into their personalized pint glasses. And who doesn't love getting a new pocket knife? You can never have too many, after all.
Must-Have Flask Set
Taking shots is always fun, especially with friends. Whether you're out camping with your bros, doing a bar crawl, or celebrating a special occasion with family, you want to be prepared. Look no further than this complete flask box set! The personalized flask is designed to fit discreetly in most pockets whether you're wearing basketball shots or professional slacks. You and a couple of others can all take shots together with the cool stainless steel shot glasses with the liquor from your trusty new flask whenever you like. When you're not on the go, the beautiful cherry wood gift box will keep the entire set safe and secure. Flasks are always the safest alcohol gifts because whoever you give it to can use their liquor of choice in it!
All the Essentials for Wine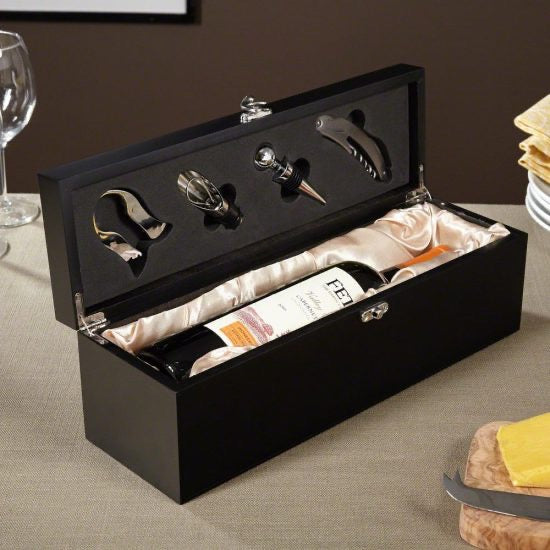 Giving a bottle of wine might seem like a good idea for someone who likes wine, but it's pretty boring. Whether it's for a housewarming party, a wedding, or just to come over to a good friend's house for dinner, you can do better. Jazz up that bottle of wine with this beautiful personalized box set! Inside the gorgeous wooden gift box is a set of essential wine tools: a foil cutter, aerator, stopper, and corkscrew. This becomes a wonderfully thoughtful and impressive alcohol gift set that they will never forget! They might even return the favor in the near future with a gift set all about your favorite alcohol.
Classy Presentation Set
Did you know that any liquor can be decanted? Besides wine, using a decanter to store and serve liquor can actually improve the taste. Most people use their decanters to store whiskey, but you can use them for gin, vodka, tequila, rum, you name it! One of the best alcohol gifts you can give is a really nice decanter set. This beautiful crystal set will make any liquor inside it sparkle! The elegant engraving of a unique monogram really makes this liquor gift set classy and refined so that it's luxurious enough to keep in the office or to dress up a home bar. You'll want to treat yourself to this exquisite set, but it also makes a lovely promotion or retirement gift for anyone since they can use the liquor of their choice.
Tequila Treat Basket
Looking for the perfect gift for a tequila lover? Put down those margarita mixers, this delicious gift basket is the only alcohol gift set you need. With a bottle of Partida Blanco, this gorgeous set comes with all kinds of sweet treats and salty snacks. Tequila is a unique liquor, after all, and it can be difficult to pair it with food. Well, this gift basket takes care of that! Whether you're giving this as a holiday gift to a coworker, a birthday gift for your dad, or as a congratulations to a close friend, anyone receiving this set will be amazed. Once they try the tequila with the yummy goodies, they won't be able to stop talking about you and your amazing gift!
Ultimate Beer Lover Gift Set
You usually go with a case of beer when bringing a gift to the beer lovers in your life. Why not switch it up a little and get them something amazing that they'll never expect? This ultimate beer lover set is perfect! It comes with everything they need: a growler to bring to the brewery and travel with beer, custom pint glasses to enjoy beer at home in style, and a set of cool coasters with built-in bottle openers so that you never need to search for a bottle opener ever again. This incredibly useful set is one of the most impressive alcohol gift sets you can give to a beer lover whether it's for Christmas, an anniversary, or their birthday!
Spectacular Alcohol Gift For Any Liquor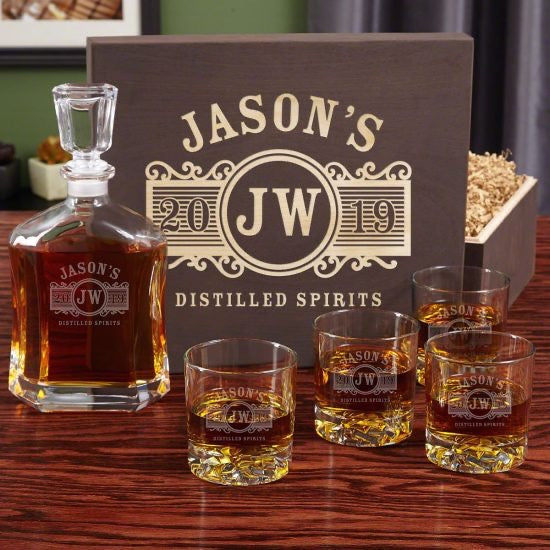 Looking to give something nice to the whiskey lover in your life? Whiskey drinkers often enjoy fancy glassware to make their golden spirits look attractive, especially if the glass is also designed to improve the taste of the whiskey. Take this decanter set for example: the crystal decanter in this set is beautiful, but can actually keep the whiskey more secure than the original bottle thanks to the airtight seal. Decanting whiskey over time can affect the flavor, too, just as aging it in barrels before it is bottled does the same thing. It enhances the different flavors throughout, creating a more refined taste and more pronounced flavor. As for the glasses, these unique double old-fashioned glasses have a crystalline base that beautifully reflects light throughout the glass, showing off the myriad of hues. The glasses are great for straight whiskey, scotch on the rocks, or even a sizable cocktail. Everything about this gorgeous gift set is spectacular and makes it one of the most impressive gifts for whiskey lovers.
Modern Alcohol Gift Set
People who drink wine are usually pretty easy to buy gifts for. They'll love anything related to wine! In today's modernized world, people are currently all about wine tumblers. Typically made of stainless steel or plastic, wine tumblers are more durable and help insulate the wine so that it stays chilled. Give the wine lover in your life their own personalized wine tumblers! These double walled stainless steel tumblers are extra insulated so that their chilled white wine stays cold for up to 6 hours. They will also enjoy the nifty corkscrew multi tool so that they never need to search through the kitchen drawers for a corkscrew or bottle opener again.
Unique and Manly Beer Gift Set
When looking for alcohol gift sets, you should consider all the recipient's interests, not just their favorite alcohol. For a manly guy who enjoys beer, cigars, and the outdoors, any other beer gift set will pale in comparison to this one. This entire awesome gift set allows him to enjoy all of his favorite things even more! The large beer mug is plenty big enough for a generous helping of beer to refresh him after a day in the outdoors. He'll never go anywhere without his new tactical knife, which comes loaded with tons of cool features like a double serrated edge and a hidden survival kit. While he's regaling you with his latest tale about his hunting and fishing trips, he'll use the handy cigar accessories to light up a stogie. Seriously, can a gift for a beer-loving, outdoorsy, manly guy get any more perfect?
Vodka and Snack Basket
Is the person you're shopping for more of a vodka person? Worry not, this gift basket has everything they need and more to congratulate them on a promotion or celebrate the holidays, even a bottle of vodka! This lovely assortment of cookies, chips, chocolates, and other sweet and salty treats comes with a beautiful bottle of Smirnoff vodka. Thanks to your wonderful gift, they'll have everything they need for a proper celebration!
Beautiful Vodka Decanter Set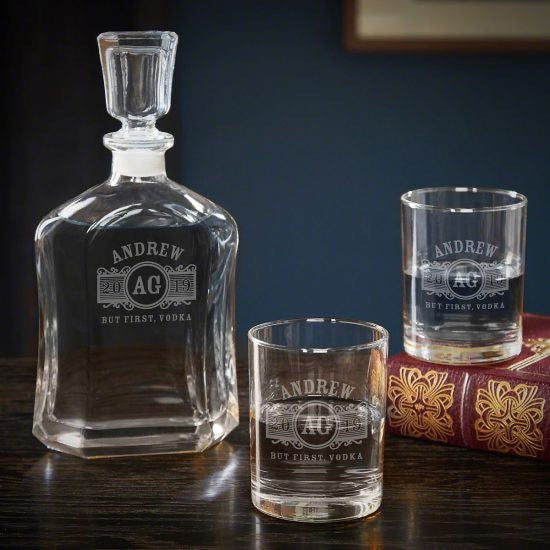 Of course, you could take your vodka gift a step further with a nice decanter set! This beautiful set looks absolutely stunning when filled with vodka. The crystal clear spirit enhances the engraving, making it more visible so that they can appreciate its unique design. The airtight seal of the decanter will ensure that none of their vodka evaporates as it tends to do in the original bottle. Even the cool glasses make the unique spirit more enjoyable as they're the perfect size for a lowball cocktail such as a Bootleg or a Vodka Cranberry.
For the Cognac Fans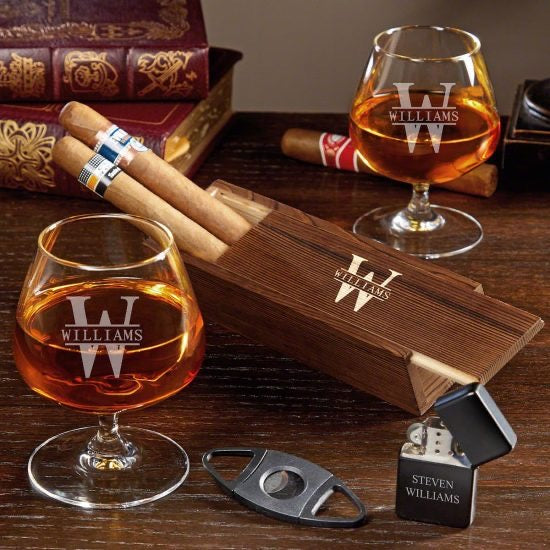 Perhaps they're more into cognac, the refined spirit made from aged wine! Cognac is a wonderful liquor, especially during the fall and winter as it's meant to be served warm instead of chilled or room temperature. The cognac snifters in this awesome set are designed to absorb the warmth from one's palm so that an actual warmer isn't necessary. Plus, no liquor is better paired with a cigar than cognac, and this luxurious alcohol gift set gives them everything they need to enjoy a relaxing evening with both!
The Best Gifts for Wine Lovers
Wine lovers especially enjoy over-the-top gifts that are all about the love of wine. For someone who enjoys sharing the romantic alcohol with their special person, you can't get a better gift than this! Perfect for weddings and anniversaries, this stunning wine gift set has everything they need for a romantic night in. The delicately engraved wine glasses are bigger than they look, and hold a good amount of red or white wine to enjoy throughout dinner or afterward by the fire. After they've opened the bottle with the cool corkscrew tool, they can drop it in the personalized shadow box and start a collection! Each cork will be a sweet reminder of all of the wine they've shared together over time. How adorable is that? You'll want to get this wonderful alcohol gift to every couple you know that enjoys wine!
Awesome Beer Mug Set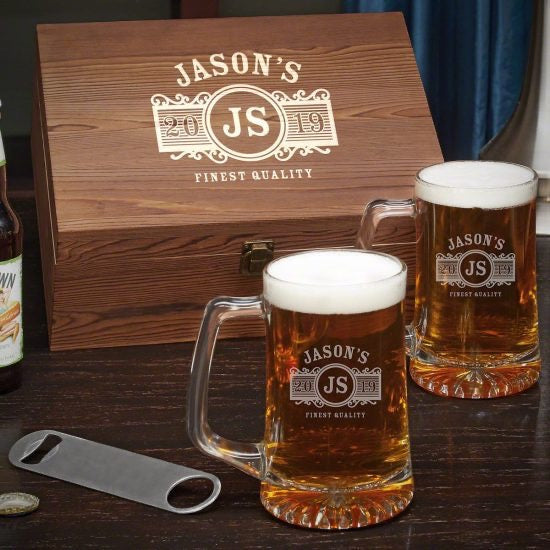 What if the couple loves to drink beer more than wine? Well, a beer mug set is the perfect solution. The pair will certainly enjoy having their own personalized beer mugs to enjoy their craft beer or imports in while they watch TV together after work or during their weekly game night with friends. The mugs are big and hefty, but sturdy enough for them to clink together and say "Cheers!" Plus, the handy new bottle opener will never get lost among their others in the kitchen because it can be easily hung on the wall! Not only are you giving them a gift that solves a common beer lover problem, but you're giving them a nice set of mugs that they can enjoy together.
Create the Ultimate Home Bar
Still not finding the right gift? Well, look no further! Alcohol gift sets can be as fancy and extravagant as you want, and nothing is more luxurious than this set. With all of these items, you're basically giving someone everything they could possibly need for a fully-stocked home bar. The unique hammered steel bar tending tool set gives them all of the essentials and even the fancy tools to create specialty cocktails. The personalized rocks glasses are big enough for cocktails, but also for a scotch on the rocks. Of course, you can't forget a set of cocktail mixers to help them get started! Everything will fit easily on their new bar cart, which is great for people with modern houses that don't have built-in home bars or even if they just use that area of the home for displaying antiques. Seriously, you'll be the star of the next Stock the Bar party with this ultimate home bar gift!
All About Wine Alcohol Gift
For someone who really likes wine, only a proper wine glass set is the ideal gift. They want to be able to enjoy their wine to the fullest, so they need the right tools. Stemmed wine glasses are considered to be best for red wine so that, by holding the glass by the stem, the wine stays the right temperature without being affected by body heat from holding it by the bulb. Every wine sommelier needs a nice set of stemmed wine glasses, and these beautifully engraved ones are perfect for medium to full-bodied red wines like the popular Cabernet Sauvignon or Pinot Grigio. If they don't usually finish a bottle in one night, the handy acrylic wine stopper will make sure the wine stays fresh for a couple of days. Plus, you can never have too many corkscrews or bottle openers, and this handy tool has both! Such an amazing gift set is the perfect birthday or holiday gift for any wine lover in your life.