19 American Gifts That Kick Ass
Do you know someone who's a diehard patriot? They love their country and make sure everyone knows it. They've got an American flag (or a few!) in their yard, they always throw the biggest 4th of July cookout in the neighborhood, and they love to show off their pride at every chance. Such a patriotic person deserves only the best American gifts that allow them to show off their pride and love for their country like never before! Don't just get them anything that has an American flag on it, it's gotta be something awesome like an American flag suit or a giant 'Murcican piece of decor for their home. These badass patriotic gifts will be the best presents the 'Murica lover in your life has ever received!
The Most Spectacular American Gifts You've Ever Seen
When it comes to showing off the American flag, it doesn't have to be huge or wild. In fact, the patriot you know would be all over something as tasteful and classy as this decanter set! By far one of the most beautiful and decorative gifts you can possibly give, this crystal decanter set deserves a prominent place in their home. Every time they have their fellow patriots over for a couple of beers or a cookout, they'll all be admiring this gorgeous decanter set. Such an amazing patriotic gift would be ideal for celebrating a military hero's retirement or promotion, too!
The 'Murica Beer Stein
Are you looking for a cool, patriotic gift? Look no further than this regal beer stein! This modern twist on a traditional German beer stein features an impressive pewter crest of the United States Seal, which you can customize! Such an awesome stein is the ideal celebratory gift for the hero in your life. Not only is it great fun to drink beer out of, but it looks fantastic on display when they're not using it. Get him a six-pack of his favorite lager and you've got the perfect gift. No matter who you give this stein, they will cherish it for many years.
Patriotic Gifts for Beer Lovers
A patriotic gift for a beer lover can't get any more perfect than this unique decor! This awesome sign comes in four different sizes with varying amounts of bottle caps it can hold: small, medium, large, and XL. Pick the one that's the perfect size for your 'Murican beer lover and they'll have a new favorite piece of decor for their kitchen or man cave. They will love filling up the sign with local beer bottle caps and showing off both their pride for their country and their favorite beers. Don't worry, there's a wine cork version too if you know a patriotic wine lover!.
Badass Ammo Box Set
Have you ever seen such a badass American gift set? Whether you're looking for a great gift for the manly military hero in your life or the cool patriotic guy you know, this is the perfect gift set. Not only is every piece in this set practical and cool, but he'll feel like a badass whenever he uses them! He will enjoy using the badass tactical survival knife and custom ammo box on his outdoor adventures from camping to hiking. When he comes home, the first thing he'll reach for is his personalized whiskey glass and a couple of whiskey stones for a refreshing, cool glass of scotch.
Must-Have American Gift for Your Family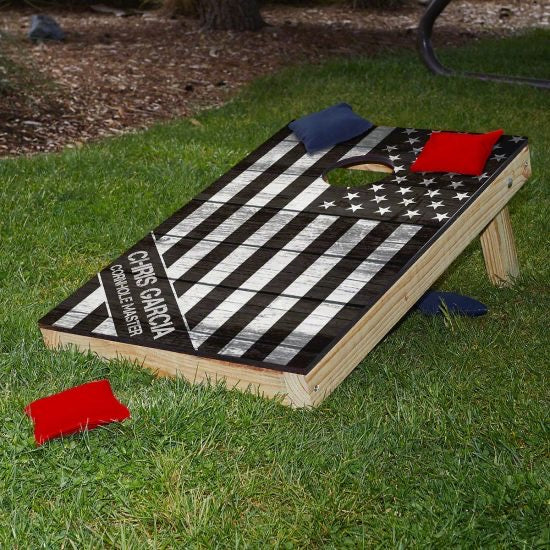 Whether they love to tailgate, host BBQs, or often have family over, the patriot in your life needs this bean bag toss set. Also called cornhole, this classic game is a must-have, timeless American game that is perfect for every gathering. The awesome American flag design is just too cool, and it won't ever fade, even if it's left in the sun, thanks to its UV-resistant coating. That's right, this cornhole set will last for years to come so that the patriotic family you know can enjoy it for generations! Thanks to your amazing gift, they can play this fun and easy game with the entire family and all of their friends at every party and event.
179+ MILITARY GIFTS FOR HEROES>
Every Patriotic Guy Needs This Suit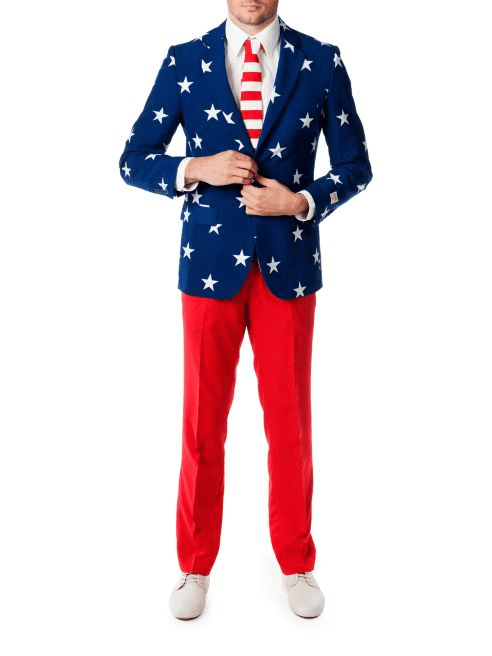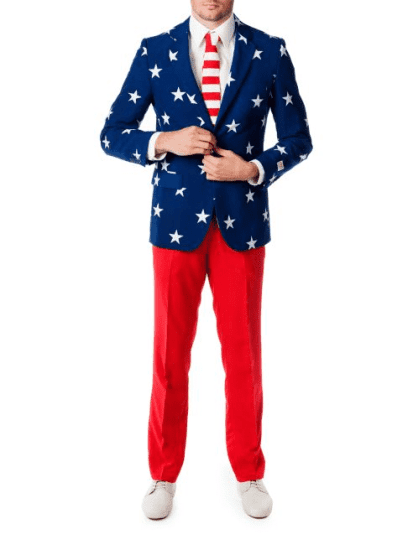 Now this is a kickass American gift. This amazing suit is the perfect outfit for the 4th of July, but it would also be fun to wear at parties year-round! After all, the American Flag never gets old. Someone who really loves their country and isn't afraid to show off their pride to the world is the perfect person to give this fun suit to. This awesome gift would be perfect for your boss, your neighbor, or perhaps even your boyfriend!
Kick Ass Ammo Box
If this ammo box doesn't scream "'Murica!" to you, what will? Such a badass ammo box is the coolest gift for the badass in your life. He could be in the military, law enforcement, the government, or he's just a cool gun-loving dude. This custom ammo box is great for storing live ammunition rounds, tools, keepsakes, or even important keepsakes! The watertight seal and durable steel casing will ensure that anything he keeps inside will stay secure and safe.
Their Own American Whiskey Label
You can't get any more 'Murican than with Jack Daniels. The classic whiskey is a staple in American culture, and a favorite drink of many patriots. With this custom whiskey decanter set, you can give an American gift unlike any other! The whiskey lover you give this set to will finally have their own official label that they've always dreamed of. Giving this set as a gift might even inspire them to take up whiskey distilling at home! Your whiskey-loving patriot will love using this handsome decanter set to serve a glass of good old American whiskey to everyone who visits, mostly because they will want to show off the customization!
'Murican Beer Gifts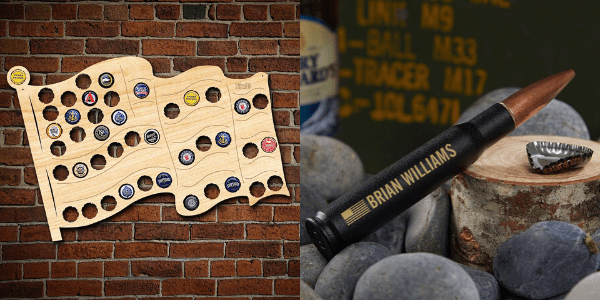 The beautiful Stars and Stripes of the flag are a classic way to show off American pride. With this kick ass American flag sign, your patriot can show off their pride in a whole new way. They'll love the nifty bullet bottle opener, too! Every time they grab a bottle of beer, they'll use their new bottle opener to crack it open and then place the cap on the unique sign. Once they fill up the sign with bottle caps, they'll want another one! This set is a great way to show off pride for the good old United States in the home.
Badass Patriotic Whiskey Gift Set
Have you ever seen such a badass American gift? It's got the American flag, bullets, and whiskey, it doesn't get any more 'Murica than that. This whiskey gift set is the perfect gift for the patriot you know who enjoys having a large glass of whiskey. These unique glasses are huge, and they're even shaped like a pentagon, making it even more American! Those bullets you see are actually stainless steel bullet whiskey stones that will keep their scotch perfectly chilled. Seriously, you cannot go wrong with such a cool gift set.
Show Off Your Patriotism in Style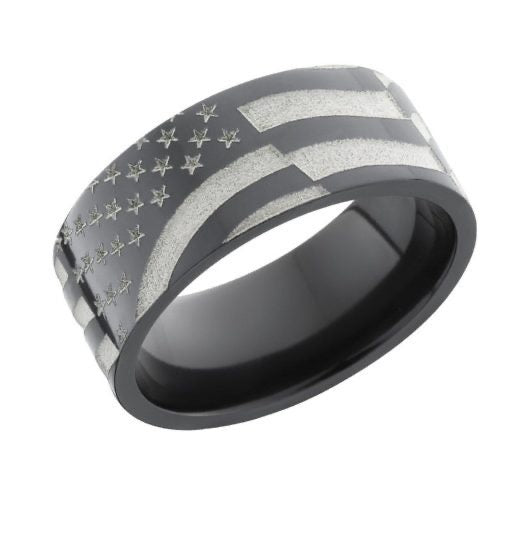 Want to give a gift that's patriotic but is still really nice? This kick ass American flag ring is made of black Zirconium, giving it a military-like look. It's the perfect ring for the manly patriot in your life such as your dad, husband, or boyfriend. The subtle 'Murica pride of this ring is tasteful and stylish without being over the top, and it's so nice that it could be a wedding band! Whoever the lucky guy is, he'll love this awesome ring and wear it all the time!
Elegant Whiskey Decanter Set
A patriotic gift doesn't have to have the flag on it to be patriotic, an eagle works too! The bald eagle is the symbol of America, and this classy decanter set would make even Abe Lincoln jealous of its patriotic elegance. This set is a fantastic display piece for a home bar or office. The detailed engraving of the eagle and its outstretched wings are eye-catching and downright cool, so you know that everyone who sees it in your patriot's home will be impressed. Such an amazing gift is perfect for celebrating the return of a military hero from overseas, a relative or coworker's retirement, or even your partner's anniversary.
Play Poker Like an American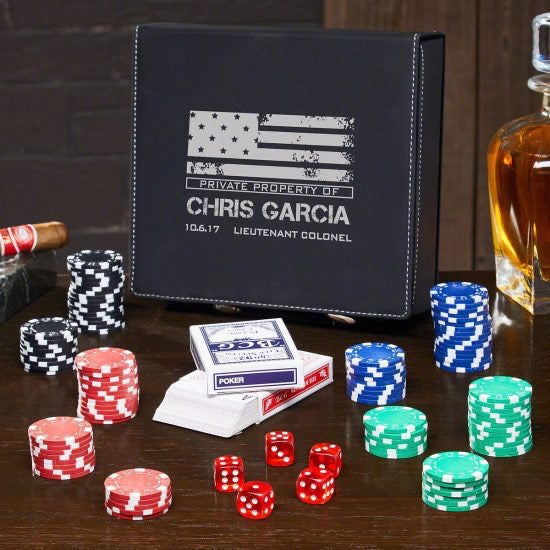 Poker night with the guys just isn't complete without a cool, patriotic poker chip set! This awesome poker set is the perfect 'Murica gift for the guy in your life who loves his country. He will enjoy using this set for his weekly poker night with his friends, and they'll all be jealous of his awesome set. This would make a really great gift for a soldier who's about to be deployed so that he has a fun game to play with his brothers-in-arms during downtime, as well as something unique to remind him of home.
For the Old West Fan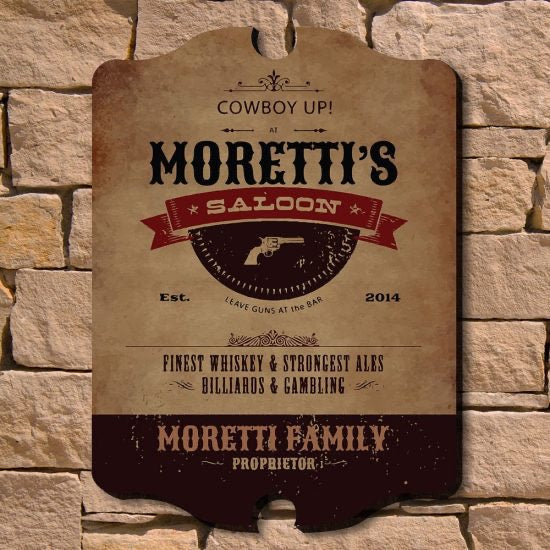 The Old West was a unique part of American history, and it's still quite popular today! John Wayne and Clint Eastwood movies are classics, and every kid grows up playing cowboys with their friends. For the Old West fan you know, nothing is more 'Murican than their own custom saloon sign! Anyone who's a fan of Westerns has wanted their own saloon, and with this piece of decor you can help make that dream a reality. All they need are a couple of saloon-style doors at the entrance of their home bar and the room will feel like it's the real deal.
The Manliest American Gifts
Speaking of gifts for outdoorsy guys, this gift set is also a great idea! It's manly, patriotic, and totally awesome, what's not to love? The manly man in your life will enjoy using his nifty new hatchet on his camping trips or even for yard work. After a long day, he'll want to come home and have a glass of whiskey with you, or a buddy, and use his 'Murica whiskey glasses with his handy whiskey stones. Everything about this kick ass whiskey set is just too cool!
Basket of Patriotic Foods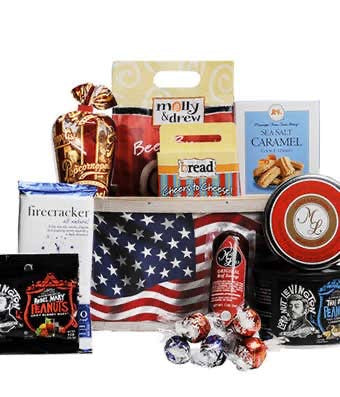 Are you still stumped on what to get the patriot in your life as a gift? You can never go wrong with a gift basket full of delicious foods and cool, patriotic items! This all-American gift basket comes with a variety of goodies such as a firecracker chocolate bar, gourmet spreads and dips, chocolate truffles, popcorn, and so much more! They couldn't possibly say no to this amazing gift basket, especially when they see that the basket itself is adorned with a beautiful American flag.
The Coolest Colonial Pub Sign for Your Home Bar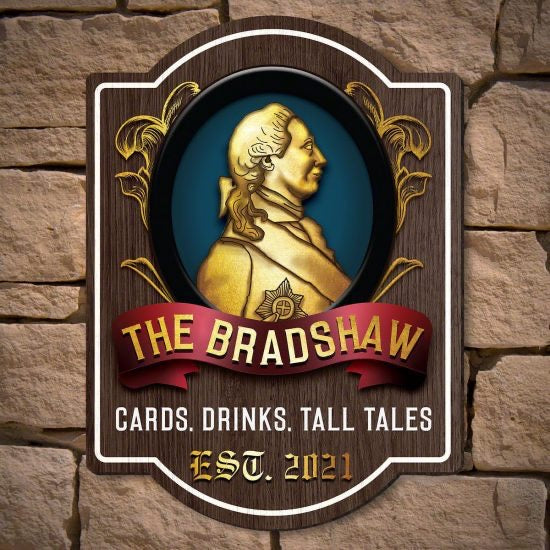 Looking for a patriotic gift for a history buff? This awesome piece of decor may not be a cool antique, but it is a badass sign inspired by America's founding fathers. Such an amazing, colonial-like sign is a must-have for their living room or home bar. The pub style of the sign is reminiscent of taverns in New England back in the day. Any history-loving American would love to have such an awesome piece of decor in their home!
Fly Like an Eagle with This Beer Set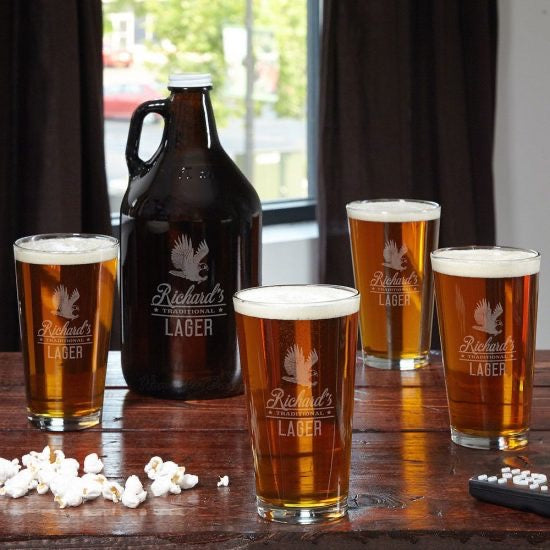 For someone who loves everything to do with beer and America, one of the best gifts you can give is this All-American beer glass set! Whether they're into craft beer or home brewing, this set is great for both. The amber glass growler will keep beer secure and fresh whether it's kept in the fridge at home or they take it on the go to share it with friends. Your patriot will definitely enjoy the regal bald eagle that's engraved on the entire set, making it extra cool. The next time they host a cookout, they'll enjoy showing off this patriotic set to their fellow Americans.
You Can't Get More 'Murican Than This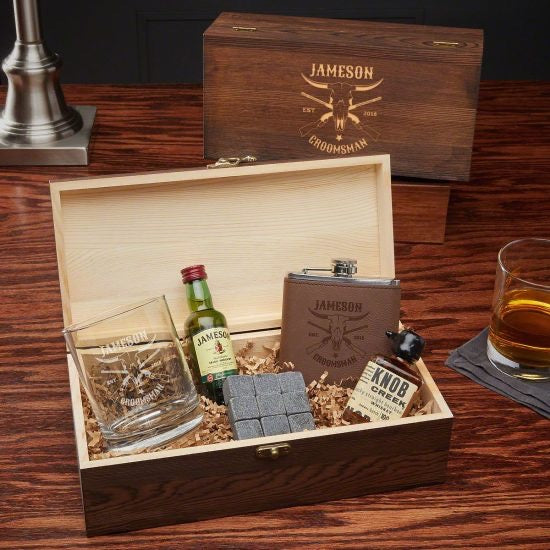 Make your patriot feel like a badass with this awesome gift set! Themed around whiskey and the South, you can't get any more American than this. The design alone is manly and kick ass with its longhorn skull crossed by two shot guns! They'll want to display the gift box for everyone to see whether it stores their pocket knife collection or a treasured family heirloom. They'll certainly enjoy using the rocks glass and whiskey stones for a glass of a Jack on the rocks. Wherever they go, their trusty new flask will be at their side whether they're going hunting or doing yard work. Seriously, this awesome gift set is by far the coolest and most unique American gift you can give!
99+ AMERICAN GIFTS THAT KICK ASS>