Your anniversary is quickly approaching and you're absolutely stumped on what to get your boyfriend or husband as a present. But what makes a good anniversary gift for him? Something that shows how much you care, but is also something that he will like! Guys don't like mushy, cutesy things, get him something practical that he can actually use. Worried about what to get the guy who has everything? Are there any tech gifts or geeky gifts that would be good for an anniversary? Would your man like something personalized? Don't worry! We put together plenty of unique anniversary gifts for him whether he's into whiskey, cooking, the outdoors, or gaming. There's something for every type of guy, even the one who's impossible to shop for!
For the Classy Guy Who Loves His Whiskey and Stogies
Your husband loves to kick back in his recliner and enjoy a Macanudo along with a glass of Jameson whiskey every evening. It's become his routine after work, especially after a particularly long and stressful day. Forget the boring gift of a pack of stogies and a bottle of scotch, get him something extra special like this multi-tasking cigar glass and a sturdy cigar case! The square-shaped glass is uniquely designed to hold his cigar for him, freeing up one hand for holding the TV remote or a new book. Thanks to your amazingly good anniversary gift for him, your hubs will have a high-quality cigar case to carry his stogies in instead of the typical plastic bag he normally uses. Plus, it comes with a handy cigar cutter so that he'll always have a freshly-cut cigar whenever he likes.
The Ideal Movie Lover Anniversary Gift
Does your man love movies? He's got the biggest collection of DVDs, BluRays, and even VHS tapes that you've ever seen? For your anniversary, you should give him his very own vintage theater marquee sign! He will love that it's personalized just for him with his name and a fun phrase of your choosing in the center (Ideas: the name of his favorite movie series, a movie quote, or an inside joke). As soon as he unwraps this incredible gift on your anniversary, he'll run immediately to his home theater to display it. Now his favorite room in the house will be an official home cinema!
The Ultimate Beer Gift
Since you two first met, the love of your life has been all about beer. He loves trying new kinds, going on brewery tours, and knows about beer as much as he does about his career! In fact, he could've gotten a degree in it. Such a man loves anything and everything to do with the popular alcoholic beverage, so you normally get him a case or two of his favorite brews and maybe a gift card to his favorite craft brewery. This year, you're going to step it up a notch with an incredibly good anniversary gift for him: a complete set of the most popular beer glasses! He's got a couple of pint glasses and maybe some pilsners, sure, but he certainly doesn't have an English pint, snifter, or IPA glass. Each one is specially designed to enhance the flavors of the beer it's meant for, and he'll be able to tell the difference in the taste in these glasses versus a standard pint. Such an amazing anniversary gift will be the only thing he'll talk about for weeks to everyone he knows!
Give Him a New Hobby to Start
Your boyfriend is the kind of guy who is incredibly hard to shop for. He is very picky when it comes to gifts, which is why you usually go with a gift card to his favorite restaurant or have him pick out his own gifts for you to give later. But not this time! For your anniversary, you want to give him something really special. One of the most thoughtful and unique anniversary gifts for him is a personalized shadow box! He can use it to store a new collection of just about anything: golf balls, bottle caps, cigar bands, event tickets, wine corks, you name it! He will love having a fun piece of decor for his home that he can add new pieces to now and then. He'll enjoy watching it fill up to the top, too, but that doesn't mean that he has to stop collecting! You can get him a new one or he can start over from scratch once the shadow box is full to the brim. Who knows? His new collection could be a fun new date night for you two to enjoy together.
The Perfect Combination of His Two Favorite Things
Like most guys, your hubby enjoys golfing and grilling. As soon as the weather is nice enough, he calls up a couple of his buddies and spends a few hours with them on the green. Afterward, he loves cooking dinner for the whole family on his grill. There's just something about the two manly hobbies that guys adore, so why not get him an anniversary gift that represents both? These fun grilling tools are designed to look just like golf clubs, and even their storage case looks like a golf bag! How awesome is that? Your husband will get a kick out of this amazing gift for your anniversary. In fact, he'll want to cook a romantic anniversary dinner for you with his brand new grilling tools as soon as he opens his gift.
21+ BBQ GIFTS ANY GUY WOULD LOVE>
The Newest Gaming Console
In the summer of 2019, Nintendo announced a brand-new portable gaming system: The Nintendo Switch Lite. As soon as it was announced, your man has been anxiously awaiting the day that he can get his hands on one and enjoy all of the best Switch games in portable form without messing with the actual, bulkier Nintendo Switch. As a gamer, he'll bring this new console everywhere he goes so that he's never bored whether he's waiting for you to try on clothes at the mall or hanging out with friends. Is this the perfect anniversary gift for a gamer or what?
A Gift Set with All of His Favorite Things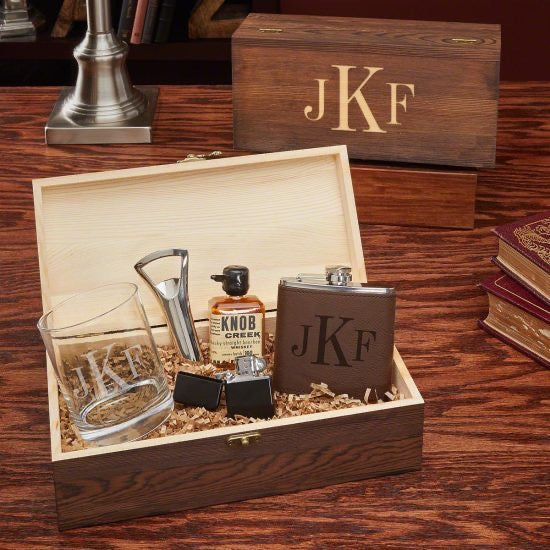 Your sweetheart is one of the most difficult guys to shop for. He has tons of hobbies and interests, you don't have a common theme to stick with! Don't worry, you can get him an incredible anniversary gift all in one go with this gift set. It includes a flask, bottle opener, lighter, and an old-fashioned glass all in a monogrammed wooden gift box. Your boyfriend or husband is the kind of guy who likes beer, liquor, and cigars, making this the ultimate anniversary gift for him! Thanks to your unique anniversary gift for him, he'll have everything he needs for when he feels like a drink or a smoke.
His Own Poker Set to Bring to Poker Night
Does your boyfriend have a weekly poker night with his friends? They play all kinds of poker from Blackjack to Texas Hold 'Em, and they like to change up the location so that everyone gets a turn to host and be the dealer. Your poker expert loves to host, but you've noticed that his set of chips and cards are looking a little worse for wear. After all, he's had the set since college! A really good anniversary gift for him would be a brand new poker set, especially this personalized one. He'll love that the set comes in a handsome leather case engraved just for him. The set comes with the standard four colors of chips and two sets of cards, but it also comes with dice so that he and his friends can play other games besides poker too.
A Romantic Anniversary Gift for Him
Since you two started dating, you and your husband have loved having wine together on your date nights. One of your favorite kinds of date nights is a quiet night at home by the fire after a home-cooked meal with a new bottle of wine. You two have these extra special and romantic date nights often, but for your anniversary you can make them even better! With this wine gift set, you two can enjoy a glass of aged Merlot or a sweet Moscato with your custom monogrammed wine glasses. If you don't finish the bottle, you can use the cute acrylic wine stopper to keep it fresh for a few days. The handy corkscrew multi tool has everything you need to open either a bottle of wine or a beer! How neat is that? Plus, the wooden gift box is also monogrammed and it perfect for storing keepsakes from your wedding, anniversaries, or other items such as photo albums. Your husband will be so touched that you got him such a romantic and wonderful anniversary gift that you two can use together for years to come on this anniversary and every one afterward.
An Awesome Gift Set for the Manliest of Men
For the guy who loves spending time outdoors, this awesome ammo box set is the ideal anniversary gift. It's as manly as you can get with its beer glasses, pocket knife, bottle opener made from a real bullet, and military surplus ammo box. You and your man can knock back a couple of cold ones with his personalized pint glasses after he gets back from a weekend of hunting with his bros. He'll love using the ammo box to store anything from live rounds to tools, especially since it's engraved with his name, a title or phrase, and a date of your choosing (such as the day of your wedding, anniversary, or another special date). Everything about this set is practical and cool, so you know each piece will be used often!
The Cleanest Shave He'll Ever Have
Whether your boyfriend has always dreamt of a professional shave like he's seen in Scarface or he needs an upgrade to his existing razor, the Gentleman Jon wet shave kit has everything he needs! Designed to resemble the vintage style of the kits used back in the day, it includes a stainless steel five-bladed razor, brush, alum block, shaving soap, shaving bowl, a toiletry/dopp bag, and even replacement blades for the razor. That's a lot of stuff! From this anniversary to the next, he'll have the smoothest, cleanest, and healthiest shave. Thanks to you, he won't have to deal with pesky razor bumps, accidental cuts, or itchy scruff. This shaving kit is certainly one of the amazingly good anniversary gifts for him that keeps on giving!
Unique Anniversary Gift for Gun Lovers
Whether he enjoys going to the shooting range every week with friends to keep his skills honed or just occasionally goes hunting, your man enjoys guns. While gun parts or a membership to the range are usually your go-to anniversary gifts, this year you should switch it up with this awesome bullet-themed gift set! He will thoroughly enjoy freaking his friends out by holding his personalized rocks glass full of the stainless steel bullet whiskey stones. They'll think he's chilling his bourbon with real bullets at first! When he feels like a beer instead, the bottle opener made from a real .50 caliber bullet will be there for him.
387+ GIFT BASKETS AND GIFT SETS HE WILL LOVE>
Give Him His Very Own Man Cave
Okay so you might not be able to actually give him a fully-stocked man cave, but you can help him start one! As a very thoughtful and unique anniversary gift for him, you can clear out a room in the house and start decorating it with this custom man cave sign. Your husband will absolutely love that you got him such an incredible gift. On your anniversary, you could put a blindfold on him and guide him to the room without telling him what it is, and he'll surely be confused at first that you led him into an empty room. Then, his gaze will land on the sign hanging on the wall and he will be overjoyed! You could pair this awesome sign with a nice recliner, new TV, or other decor to give him a complete and themed anniversary gift.
Essential Whiskey Gift Set
Does your guy enjoy a glass of Four Roses Bourbon after dinner fairly often? He insists that he doesn't need anything when you ask him what he wants as an anniversary gift, but you want to get him something nice that he will actually use. He's got plenty of his favorite whiskey, so what should you get him? This personalized whiskey glass and whiskey stones! He will love having a proper, designated glass for his evening drink. It's one thing to have an actual old-fashioned glass because it's the perfect size and shape to make the flavors of the whiskey more evident, but it's also nice to have a glass that's personalized just for him. He will thoroughly enjoy using the set of whiskey stones to chill his (and yours too!) drink without having to deal with it getting watered down. This whiskey gift set is a really good anniversary gift for him because of how personalized and useful it is!
Make Cooking Dates Even Better
Do you and your husband like to cook together? He's great at seasoning and you're really precise with measuring ingredients, so you two make the perfect team. Together, you have created some pretty delicious meals over the years. For your anniversary, you should get him something that shows how much those cooking dates mean to you, like this gorgeous cutting board! He will love the cool raw wooden look as it's almost like you just cut down a tree and brought it inside. The best part, though, is the elegant personalization of "Mr. and Mrs." followed by your names. How sweet! He will love using the new cutting board to prepare his meats and veggies.Plus, it's the perfect traditional anniversary gift if you're celebrating 5 years together!
A 2-in-1 Tablet and Laptop
Is he the kind of guy who likes to be on the move, but wants to bring everything with him? You can make his wish come true by getting him a Microsoft Surface Pro 6! This high-tech gadget is a computer and a tablet all in one. With an Intel i7 processor, 16 GB of RAM, Windows 10, and even more awesome specs, this tablet is a lightweight computer that will ensure he's capable of doing anything, anywhere. He can take his work to the park and enjoy the fresh air while continuing his project or draw a large digital piece in his free time. Can an anniversary gift for him be any more impressive?
A Decanter Set for Two
There's nothing like a romantic drink with your hubby after a delicious dinner. Whether it's date night or you both just got home late after a super long day at work, you both can unwind and relax together with a bottle of scotch. A really good anniversary gift for him would be a beautiful personalized decanter set that you can use together for those romantic drinks! He will love that unique monogram on the entire set and having a nice decanter set for the home bar. You can fill up the handsome decanter with your favorite bourbon and it will stay sealed and fresh while showing off its lovely golden hues. The two old-fashioned glasses are perfect for a neat glass of whiskey or a Whiskey Sour cocktail. As soon as he opens up your gift on your anniversary, he'll want to try out the set right away and you two can have a romantic anniversary toast!
Show Off His Love For Beer
One of the things you love best about your man is his vast knowledge of beer. He loves beer almost as much as he loves you, and you two love going to breweries to try new brews all the time. You guys often go on brewery tours and stop at local ones when on vacation, and your boyfriend enjoys bring home keepsakes from the breweries such as a coaster or bottle cap. One of the most unique anniversary gifts for him is a bottle cap map where he can show off all of his favorite beers through their bottle caps! How neat is that? He'll love having this unique piece of wall decor in his home bar or man cave, or even the kitchen! After all, showing how much you care about his hobbies shows him how much you love him, and that's what anniversaries are all about!
His Two Favorite Things: Whiskey and Cigars
He's a classy kind of guy who appreciates a quality cigar and knows exactly what kind of whiskey he wants whenever he goes out. He's a connoisseur of fine liquors and has quite an impressive collection of rare bottles at his house that he enjoys showing off. What's a better anniversary gift for him than a gift set with his two favorite things? He'll love having a set of Glencairn whiskey glasses to properly enjoy whiskey with. The Glencairn glass is, after all, specifically designed to produce the best-tasting whiskey experience every time. He'll enjoy having a nice wooden box to keep his stogies or cigar accessories in, and he can never have too many lighters or cigar cutters. The personalization on the Glencairn glasses and the cigar box make this set even more personal and meaningful!
Your Home Will Be Cleaner Than Ever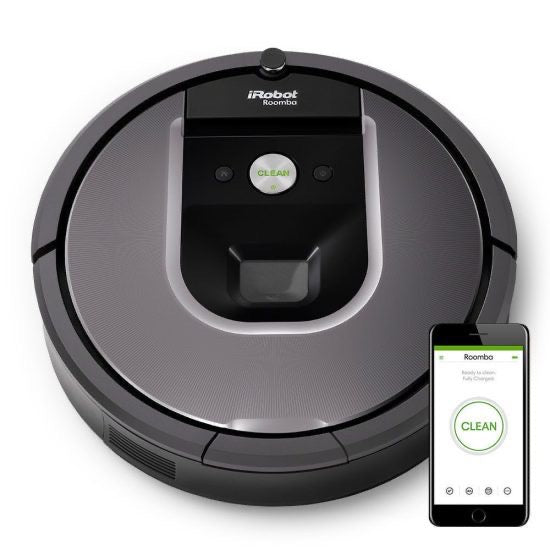 One of your guy's chores around the house is vacuuming, but (like most people) he doesn't always have the time to actually do it. He wants to help you clean, but he's always busy at work or sleeping at odd times because of his crazy schedule, so he can never find the time. Solve both of your problems and get him a Roomba for your anniversary! He can program it to automatically vacuum the house during the day so that his cleaning won't disturb you at night. This awesome robot is equipped with unique AI technology that adapts to your routines so that it knows exactly when and where to clean over time without having to mess with it! Thanks to your great anniversary present, he can take on a different household chore to help you keep the house immaculate.
Create a Whiskey Label for Him
Like most guys, he's dreamt of having his very own whiskey label. He loves all kinds of whiskey and enjoys trying new brands, but he's always thought about making his own. Surprise him on his anniversary by making his dream a reality! With this handsome decanter set, you can create his very own custom whiskey label. This six piece set will be the centerpiece of his office or home bar and he'll want to show it off to everyone who visits. It might not be his own distillery, but this set is pretty awesome. No matter what kind of anniversary he's celebrating, this decanter set is a fantastic gift and a great way to commemorate a special occasion.
227+ AMAZINGLY GOOD ANNIVERSARY GIFTS FOR HIM>