Your brother-in-law is either the easiest or the hardest person in your significant other's family to buy for. If you two are close, then finding him a gift he will like should be easier when using this guide. If, like many people, you are struggling to find something he likes, your research will pay off below. Cool brother-in-law gift ideas include things like personalized glassware for his kitchen or dining room, the latest tech or video games you two can play together, and unique gift sets tailored just for him. Giving your brother-in-law something that you also enjoy can become a bonding experience that will make your relationship better with your in-laws. You might be wondering, "What kind of gift is appropriate to give a brother-in-law?" "What kind of gift would both my brother-in-law and his wife like?" "What gift can I give that he and I can bond over?" Don't worry, these 27 way too cool brother-in-law gift ideas have everything you need to find the perfect present this year.
Gift Box Set for the Brother-in-Law That Loves Whiskey
Does your brother-in-law enjoy whiskey? Then a gift set centered around whiskey is the ideal Christmas gift for him. This cool gift set comes with a handsome wooden gift box, two whiskey glasses, and a set of whiskey stones. The gift box and glasses come engraved with his name, initials, a phrase of your choice, and a year. He can share a bottle of whiskey, scotch, or bourbon with a friend or a loved one with the set of 2 glasses. This is a great gift for him and his wife if they are both whiskey lovers, just make sure to personalize it with their shared last name to make it a couple's gift. This awesome gift set has many uses and features! He doesn't have to worry about watered down whiskey thanks to the set of 9 chillable whiskey stones. He can reuse the wooden gift box to keep small keepsakes such as bottle caps, cigars, photos, watches, or sample size bottles of liquor. This cool set is a perfect Christmas gift for your brother-in-law not only because of the personalized aspect, but also the wooden gift box that he can reuse and keep forever. There is plenty of room to add in a sample bottle or two of his and his wife's favorite whiskey to make a complete set!
The Perfect Gift Set for the Man On the Go
Does your brother-in-law often travel for work or just for fun? One of the best brother-in-law gifts you can give is something that will improve his travels and daily commute. He will love using this gift set while he's on a business trip or a camping getaway with the family. The insulated tumbler is perfect for housing his coffee to get him energized and ready for the day as it holds up to 30 ounces and will keep his favorite espresso piping hot for up to six hours. The flask is great for an after-work shot, or just to have on hand throughout the day as he fishes with your father-in-law. The survival knife has tons of different uses from cutting up firewood to preparing a freshly caught fish for dinner.
Engraved Ammo Can for Christmas
Whether your brother-in-law is a military man or just a gun nut, this 50 caliber ammunition can is sure to impress this Christmas. This awesome can is a genuine military-grade can that has been repurposed from the armed forces to be a unique engraved gift for him. He can store his ammo, liquor, ties, camping gear, fishing bait, lunch, and so much more with this nifty gift. It's even engraved with up to three lines of text of your choosing to make it a personal, thoughtful Christmas present for your brother-in-law.
Legendary Shadow Box
Shadow boxes are really cool Christmas gifts because you can put anything you want in them from bottle caps to concert tickets as a unique way to show off a collection. Your brother-in-law can start a new collection of almost anything with this personalized shadow box such as cards, cigar wrappers, golf balls, shotgun shells, and more. The glass of the shadow box is engraved with his name followed by "The Man. The Myth. The Legend." so that no one will ever doubt how cool he is with this unique decor! If you know he is a beer or wine drinker, you could give him a couple of bottles so that he can start his collection right away with the bottle caps or corks. Shadow boxes make great Christmas gifts for brothers-in-law because you're giving them a unique way to start a collection and a cool decoration all in one.
Custom Bar Sign – A Unique Christmas Gift for Men
Whether your brother-in-law already has a man cave or home bar or wants to create one, a cool custom bar sign is always a great Christmas gift idea. This classy sign would even look good in the dining room or kitchen as an interesting and fun piece of decor. This handsome wooden sign is personalized with his name and a year followed by "Great Friends. Great Drinks." This classic design is simple but cool because of its personalization and adds some character to any room. Custom signs such as this one are great Christmas gifts for brothers-in-law because of the uniqueness of each sign. This wooden sign will be a conversation piece for years to come no matter which room he hangs it in.
Bluetooth Speaker
Fact: everyone loves music. If your brother-in-law is often on the go or likes to hear his music no matter where he is, then you should get him a portable Bluetooth speaker this Christmas. This speaker is way too cool because it is water-resistant, floatable, and super powerful. The device comes in 4 colors and can connect to his device from 30 feet away. It may look small, but this little speaker is ultra loud and clear. He can listen to his tunes in the pool, camping, sailing, hiking, anywhere! It even has a handy little hook to clip onto his backpack so that it's secure. He can even answer his phone calls with it! This speaker is seriously cool and a foolproof Christmas gift for your brother-in-law.
Beer Mug Box Set for Your Brother-in-Law and His Wife
Looking for a nice gift for both your brother-in-law and his wife? This beer mug set is a great gift for beer lovers. The large beer mugs are perfect for just about every kind of beer, and are custom engraved with a name, phrase, initials, and year. It would make a great wedding gift for sure! The set also includes a large bottle opener that is not easy to lose in the kitchen drawers like most bottle openers, as well as a large wooden gift box that is great for storing keepsakes.
The Best Gift for the Classy Brother-in-Law
When you first met your spouse's brother, you were intimidated. He's a really cool guy with impeccable style, charisma, and class. Now, you want to be just like him and impress him with your own style. One of the best ways to get on your brother-in-law's good side is with a great gift for his birthday, Christmas, or a special occasion such as a promotion or retirement. No matter the occasion, this cigar gift set is the ideal gift for the classy brother-in-law. The whiskey glass holds his cigar for him! How cool is that? The cigar case, which will keep up to three of his favorite kinds of stogies secure and fresh, even comes with a handy cigar cutter so that he's always prepared for a smoke. On top of that, both pieces in this set are engraved with a unique monogram of his initials. You two will be best friends in no time thanks to this impressive and classy gift!
357+ MORE WHISKEY GLASSES FOR YOUR BROTHER-IN-LAW>
I Drink and I Know Things Beer Mug
Is your brother-in-law a Game of Thrones fan? Then he'll love this colossal beer mug. This huge beer mug is engraved with the famous quote "I Drink and I Know Things," quoted not by Tyrion, but by your brother-in-law! That's right, his name is engraved at the end, signifying to everyone who sees this mug that it is he who said this awesome quote. He will love this cool mug to drink out of and will quickly become his favorite both because of the massive size of the mug and its unique personalization. Now he can binge watch the previous seasons in style while he eagerly awaits the final season in the spring. If his wife is also a big fan, you should get her one too! To make this a complete Christmas gift, you should throw in a six-pack of his favorite beer.
Swiss Army BBQ Tool Set for the Brother-in-Law Who Likes to Grill
Does your brother-in-law enjoy grilling and cooking? This is the perfect Christmas gift for him! This awesome Swiss Army-style tool features fold-out grilling tools such as a basting brush, fork, spatula, bottle opener, and corkscrew. The tool is even personalized with a line of text in your choice of font. You could have it engraved with his name or a short phrase such as "Grill Master" or "It's BBQ Time!" The options for customization are endless, which makes this set a really cool Christmas present. The tool can also separate into two pieces if he needs to use both at the same time. This nifty grilling tool set is one of the coolest brother-in-law Christmas gift ideas because of its versatility and handy features.
Watch for Brother-in-Law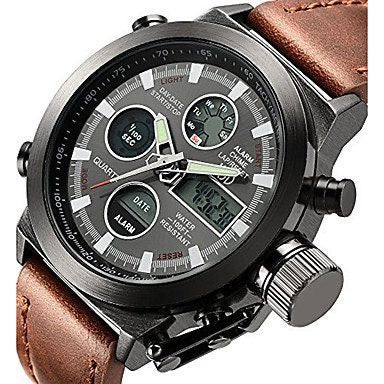 Watches are always great go-to gifts for men, but this watch is especially cool for your brother-in-law. The watch comes loaded with features: digital and analog time, date, full calendar, alarm, chronograph, dual time zone, 12 or 24 hour time format, backlight, water resistant up to 100 feet, and 2 years of battery life. This sporty watch will go with everything as it is nice enough for formal wear and perfect for casual wear. The band is genuine leather that is fully adjustable so that you don't have to worry about getting it fitted for him. You can even choose between a steel white or the matte black for the face of the watch. He will love getting this super cool watch this Christmas, but if you want to get him a complete gift then you should get him an extra watch band so that he has a backup just in case. Watches are some of the coolest Christmas gifts for brothers-in-law because everyone needs a good quality watch that has many useful features and a long battery life.
Precise Cutting Board

This Christmas, give the gift of perfect cooking to your brother-in-law with this super precise cutting board. The board features 8 cutting guides for him to follow to ensure that everything he cuts, dices, chops, or shreds is absolutely perfect. This Christmas present is humorous at first glance, but it is a genuinely useful tool for men who enjoy cooking and want to improve. He will never have too much or too little of an ingredient in his meals ever again thanks to this cool cutting board. He'll want to try it out immediately, so this would be a great gift for giving before Christmas dinner and help make the perfect meal for the family. Helpful kitchen tools like this cutting board are great brother-in-law Christmas gift ideas if he enjoys cooking as a hobby or professionally because it makes their experience a little bit easier and more efficient.
Travel Growler for the Brother-in-Law Who Loves Beer
If he loves beer, then this travel growler is one of the best brother-in-law Christmas gift ideas. The growler is personalized with his initials, making this both a cool and thoughtful gift. He will love being able to bring his beer with him on outdoor trips like fishing and camping, or to concerts thanks to the insulated beer growler. This will be especially useful when the whole family gets together at the lake every summer because he'll have plenty of cold beer to enjoy, even in the hot sun. Thanks to the double-walled stainless steel that keeps beverages chilled for hours, he'll never have to worry about warm beer ever again. Make sure to pair this awesome growler with a six pack of his favorite brew to make this a complete Christmas gift.
Now He Will Have His Own Poker Set for Family Game Nights
The best way to bond with family is by playing games with them whether it's a classic game of Flinch or Texas Hold 'Em. Poker is a fun game that all of the adults in the family can enjoy. This personalized poker set is a great holiday or birthday gift for a brother-in-law. It can also be used for card and dice games such as the timeless Go Fish or Yahtzee. He can finally host family game night at his house with this complete set!
Beer Cap Map of His Home State
Whether your brother-in-law drinks beer or bottled soda, this beer cap map is a fantastic Christmas gift idea. He can start a collection of bottle caps with this unique piece of wall decor. The coolest part about this Christmas present is the interesting way to display a bottle cap collection via a wall sign that doubles as a state pride piece of wall decor. He can show off his favorite craft beers, IPAs, and imported brews from all over the state with this beer cap map. If he doesn't drink, he can show off his favorite sodas! Bottle cap maps make great Christmas gifts for brothers-in-law because of their dual purpose of collecting bottle caps and having a one-of-a-kind piece of wall decor that will add charm to any room in his home.
Google Home Mini
Smart home technology is all the rage right now, and your brother-in-law wants to get into it. A Google Home Mini is a great starting device to jump on the smart tech bandwagon. Starting this Christmas, he will be able to get any Google search answer, the weather, his daily schedule, take phone calls, play games, and play music all from one little hands-free device. He will never want to be without his Google Assistant after he gets the hang of it. Electronics like the Google Home are great go-to Christmas gift ideas for him because of their many features and additional accessories so that it becomes the gift that keeps on giving. You can get your brother-in-law a new component from the Google Home line every Christmas to build his collection and turn his house into a smart home!
Decanter Set for the Holidays
Whether he drinks whiskey, rum, vodka, or tequila, this decanter set is a must-have for your brother-in-law. This set comes with a decanter and four glasses, all of which are personalized with his initials. He can pour a round of drinks for his friends or family with this beautiful set. The coolest part isn't even the personalization, but the variety of what kind of alcohol he can store in the decanter. The topper ensures that anything inside stays fresh, so he can display any liquor he likes. The unique glasses have a beautiful ice-like design in the base, making them just as pretty as the decanter. This handsome set is great for displaying in his dining room, lounge, home bar, man cave, or home office. This set is a great gift for your brother-in-law and his spouse as a dual gift, or even as a group gift to your in-laws. This set is a cool Christmas gift idea for him because of its versatility, beauty, and personalization.
Flask Set for Brother-in-Law
If your brother-in-law is the kind of guy who is always traveling, likes liquor, or both, this flask gift set is for him. This Christmas, he will be getting not just a flask, but an entire gift set that has a handsome leather case, a leather-wrapped stainless steel flask, 2 shot glasses, and a funnel. Both the case and flask are personalized with his name, initial, and a phrase of your choosing. This set is ideal for traveling so that he can bring his favorite spirit along when he goes hunting, hiking, camping, fishing, and more. He can share a shot with you, his spouse, or a friend thanks to the stainless steel shot glasses. The coolest part about this set is that he can use the case as a safekeeping space for the set, or he can reuse it as a nice storage case for small items such as cigars or watches. This handsome set has many uses, which makes it one of the coolest brother-in-law Christmas gift ideas.
Traditional Beer Stein for the Brother-in-Law Who Likes Antiques
Every beer lover needs a classic German stein to enjoy beer like his ancestors did. Vintage beer steins are great Christmas gift ideas for brothers-in-law this year because vintage memorabilia and related items are all the rage in 2018. The traditional design is really awesome in itself, but this stein has an extra cool factor: a handsome pewter crest on the side of the stein engraved with two lines of your choosing, like your brother-in-law's name. This beer stein is elegant and attractive enough as decoration alone, but he will love using it to drink his favorite beer at home with the pewter lid that keeps his drink fresh and cool.
149+ MORE BEER MUGS AND STEINS YOUR BROTHER-IN-LAW WILL LOVE>
Pressure Cooker for the Brother-in-Law Who Cooks
In the last year, pressure cookers have become the hottest new kitchen gadgets for amateur and professional cooks. If your brother-in-law likes to cook, this cool pressure cooker will make his kitchen faster and more efficient than ever before. The Geek Chef pressure cooker has 11 functions: pressure cooker, sous vide, rice cooker, slow cooker, soup cooker, sauté, yogurt maker, pressure canner, steamer, simmer, and insulation warmer. The pressure cooker can also adjust the temperature and timer if needed. He will never have to wait hours for a meal to be ready in a slow cooker ever again with the pressure cooker. He can make mashed potatoes in 15 minutes instead of having to wait 20 minutes just to get the water to boiling. Most of the functions only take mere minutes, which means a quicker and easier meal for your him, his friends, and family. If he's in charge of making something for Christmas dinner, he'll want to use this right away and show off his awesome new kitchen gadget to everyone in the family.
Customizable Beer Lover Gift Set for Any Occasion
If you know that your brother-in-law is a beer lover, then he'll love this awesome gift set. Almost everything in this set is engraved with his name, a phrase, and a date, making this a more thoughtful gift that is suitable for any occasion whether it's his birthday or retirement. He'll love using the growler to bring plenty of his favorite craft beer along to the next family reunion because it will keep it ice cold all day long, even at the annual lake trip! The pint glass will become his go-to at home, and he'll certainly never lose his new bottle opener. As for the engraved gift box, he can use it to store all kinds of things from his bartending tools to photo albums.
Unique Whiskey Gift for the Gun Loving Brother-in-law
If you want to give your brother-in-law something simple but personal, then this custom whiskey glass set is the perfect gift. The main feature of this set are the unique bullet whiskey stones, which are made of stainless steel and will chill his drinks so that he doesn't have to deal with a watered down scotch on the rocks ever again. The double old fashioned rocks glasses have a beautiful bubble-like base and are engraved with his initials, making this set a handsome and classy gift for any man. He can use the glasses for his spirit of choice, a cocktail, or even as an everyday glass for other beverages. Don't forget to pair this set with a bottle of his favorite whiskey, scotch, or bourbon to make it a complete gift!
Ultimate Brother-in-Law Gift Set
Whether you're really close with him or not, finding the perfect gifts for your brother-in-law is never easy. The first step in your shopping should be to figure out his interests. Ask your spouse, your mother-in-law, and maybe even his wife to get a good idea of what his hobbies are. If he's the kind of adventurous guy who loves beer, smoking cigars, and spending free time outdoors, this is the perfect gift set. The custom pint glass will be the first thing he reaches for when he gets home from work, and the cigar lighter and cutter will be the second. He'll definitely love the awesome tactical survival knife for his weekend fishing and hunting trips with his friends, especially since it's personalized just for him! Whether it's his birthday, Christmas, or a job promotion, he will be amazed that you got him such an incredible gift.
Unique Gift Set Any Man Will Love
Still not sure what to get? Don't worry, this is one gift for your brother-in-law guaranteed to be enjoyed. Even the guys who are hard to buy for will love this set! It might not look like much, but guys love flasks and knives. You just can't go wrong with them. The personalized flask and matching gift box can both be engraved with up to three lines of custom text in your choice of font. The handsome pocket knife is a great everyday knife to have on hand. Plus, there's plenty of room in the gift box to add an additional gift such as his favorite candy or a small bottle of liquor he loves. Bonus: the gift box is actually a cigar box but if he's not a smoker then he can use it to store his watches, ties, cufflinks, and more. It doesn't matter if this is a birthday, holiday, or special occasion gift, he'll love it!
Sega Genesis Game Console for Christmas
If your brother-in-law is a gamer, then he'll love getting the Sega Genesis console for Christmas this year. This throwback console has 81 classic Sega games like Mortal Kombat and Phantasy Star that inspired the modern video games of today. The console comes with two controllers so that you can play with him and relive the old classics. The coolest part about this revamped console is the port to insert original sega cartridges if you or him still have some lying around. Sega games are incredibly cheap now so he can play his old favorites that aren't already included in the console. Classic game consoles like the Sega Genesis or Nintendo Classic are way too cool Christmas gift ideas for brothers-in-law who grew up playing the classic video games growing up. This way, you both can relive your childhoods and bond over gaming together.
Glencairn Whiskey Glass
Did you know that Glencairn glasses are specially crafted to improve both the aroma and flavor of whiskey? If your brother-in-law likes whiskey, then he needs a Glencairn glass. The glass has a unique shape and base that are designed to enhance the whiskey experience. He will be amazed at the noticeable difference in his whiskey when drinking from a Glencairn, so be sure to include a bottle of his favorite spirit for him to try right away on Christmas Day. Unique drinkware such as these Glencairn glasses are very cool Christmas gift ideas for brothers-in-law because they improve their drinks and look awesome when displayed.
Personalized Knife – A Cool Christmas Present for Brother-in-Law
When in doubt, knives are always great Christmas gifts for brothers-in-law. Men love knives and typically always carry one on their person for every day purposes such as opening packages, cutting things like stray threads, and for self defense. This cool knife is a must-have tool for him because of all of its neat features. It has a super sharp serrated edge, quick release action, a glass breaker, and a seatbelt cutter. It's also customized with his name on the wooden handle. This knife is perfect as an everyday tool to wear or keep in his car when needed. It's also handy for fishing, hunting, or yard work! A good quality knife is a staple in every man's tool belt, and this custom knife will outshine all other knives that your brother-in-law has.