Finding a gift for a newly married couple can be tough, especially if they say they already have everything. Typically, these couples are either really organized and prepared for their future together or are fortunate enough to have enough wealth from their jobs or families to get them everything they need. Finding a gift for these kinds of people can be difficult, as you want to get them something they will appreciate and use. Gifts for newlyweds who have everything should be practical and personal, like a custom decanter set or a cutting board. You could get them something that has class that will add to their home, like a personalized keepsake box to store memories from their wedding. You might have a few questions. What unique gift could you give the newlyweds? What would a couple who has everything appreciate? Can you give the newlyweds a gift that will improve their lives together? Don't worry, this list of 25 Gifts for Newlyweds Who Have Everything has plenty of unique choices that they'll never forget.
Decanter Set & Gift Box: The Gift that Keeps On Giving
Give the newlyweds the gift of not just a beautifully personalized decanter and whiskey glass set, but also a beautiful keepsake box. The entire set is engraved with their last name and wedding date. The new husband and wife can share a round of drinks from this whiskey set with their friends or family for years to come. While the decanter set fits well inside the box for safekeeping, this beautiful set belongs on display. This way, the newlyweds can use the gift box to store memories from their wedding such as the invitations, the groom's tie, pictures, the bride's shoes, or anything from their wedding that will fit in the box. Gifts that have more than one purpose are the best kind of gifts for newlyweds who have everything.
Personalized Cutting Board for Newlyweds That Cook Together
Do the newlyweds like to cook? Then a beautiful cutting board will be the perfect gift. Plus, this isn't your average cutting board. This natural bamboo cutting board is personalized with the newlyweds' first names, last name, and their wedding date. This beautiful cutting board is both a lovely addition to the kitchen's decor and a practical, necessary item for cooking. The couple that loves cooking together will especially love this gift, but every new couple needs a cutting board. He can chop the vegetables while she mixes the sauce or she can shred the cheese while he seasons the meat. Even the most prepared or wealthy couple would appreciate a quality, personalized gift like this cutting board.
Wine Glasses and Cork Shadow Box Set
Are the newlyweds wine lovers? Then they need a unique way to display their wine corks. The engraved cork shadow box also comes with a set of 4 beautiful wine glasses. The newlyweds can have a bottle or two of wine alone or with a couple of friends and then drop the wine corks in the shadow box as a unique memory keepsake of good times. The newlyweds will love that the set is personalized with their new shared last name to make this gift set truly unique. They might already have wine glasses, but not these beautiful custom glasses!
Beautiful Custom Marble Coasters
One of the most forgotten gifts for newlyweds are coasters. Everyone uses them! The new couple more than likely will not have even thought about wanting coasters for their home. Blow them away with these beautiful personalized marble coasters that are engraved with an initial in a handsome calligraphy style. These coasters will add a touch of class and sophistication to any newlyweds' home. Everyone who comes over to their house will be impressed by the quality and unique appearance of each coaster. These will be great to have for gatherings for wine tasting, board game night, or movie night with their friends and family. Pair these coasters with a bottle of wine or a marble cheese board to make a complete gift for the new husband and wife.
A Fun Game They Can Play with Family and Friends for a Lifetime
Their wedding has come and gone, but you can still get them a great gift to celebrate their nuptials. One of the best gifts for newlyweds who have everything is something they can use and share with their loved ones for years to come, such as this bean bag toss set! Personalized with their initials and the year they were married, the newlyweds will love playing this family friendly game at family reunions, barbecues in the backyard with friends, and even their children someday. The boards are coated with a special UV-resistant protectant that ensures the adorable design will last for many years. Playing this with their loved ones will become a tradition for sure!
Variety Subscription Box: Surprise Gifts for Newlyweds Each Month
If you're looking for a gift that will keep giving but you aren't entirely sure what to get the newlyweds, then a subscription box is the perfect solution! The Robb Vices subscription box is a monthly delivery of a themed box that could contain anything from a romantic dessert to share like the one pictured to a record player set! Subscription boxes that have different themes like this one or specific ones like wine are some of the best gifts for newlyweds who have everything. Each month, the couple gets an exciting surprise box of stuff that they can use for their next date night and remember that you were the one that gave them this awesome gift.
The Perfect Date Night Set
Wine and date nights go together like peanut butter and jelly: you can't have one without the other. Give the newlyweds a special set of wine glasses and accessories to toast every celebratory occasion with for the rest of their lives. Perfect for romantic date nights just like the ones they had before they tied the knot, this set is personalized with the bride and groom's initials through laser etching that lasts forever. They can use them for every anniversary, date night, birthday, or for anything awesome happening in their lives that deserves celebration. They can even use the engraved gift box to store keepsakes from their wedding or start a wine cork collection. Practical and sentimental, everything in this set are lovely gifts for newlyweds who have everything. Even the prepared or wealthy couples will enjoy this romantic gift set.
137+ MORE PERSONALIZED GLASSWARE FOR NEWLYWEDS>
Vintage Bar Cart
Even though you were unable to attend the wedding, you want to get the happy couple something special. They're the kind of people who have everything and had mostly gift cards on their registry, so what is the perfect gift for them? Something unique, practical, and long-lasting. How about a vintage bar cart? Whether they live in an upscale but small apartment in a busy city or a nice little home in the suburbs, this gorgeous globe bar cart will be a fantastic addition. Designed to look like a normal antique globe when closed, inside it can hold plenty of bottles of wine, liquor, and even glasses! It also has extra storage space below the globe. The new husband and wife will be ecstatic to show this off to their friends!
Newlywed New Shadow Box Collection
The start of a marriage is the perfect time to get a thoughtful gift for newlyweds that they can use for years to come, just like this engraved shadow box! Perfect for mementos and little keepsakes from the wedding, they can hang this display on their wall and begin filling it up with sentimental items to show off their unique and meaningful collection. They can fill this with things from the wedding, hobbies they enjoy together, or even things from date nights. The possibilities with this gift are endless!
Give Them the Gift of Chilled Wine
You know the happy couple already has a bar cart, a wine rack, a set of wine tools, and plenty of glasses. They love drinking wine together, but what should you get them as a gift? They've just tied the knot, after all, and seem to have everything they could possibly need. They probably don't have a personalized marble wine chiller! They won't need to keep their favorite brand of moscato in the fridge for after-dinner drinks anymore, this handy chiller will be there for them. Plus, it's engraved with their names and wedding date! How cute is this keepsake? Of course, you should pair this beautiful chiller with a bottle of their favorite white wine to make it a complete gift.
155+ GIFTS FOR THE WINE LOVING COUPLE>
Recipes for Two for the Couple that Cooks
Now that they're married, they'll need a classic cookbook to help them get started on cooking together. With this Cooking for Two cookbook, they'll never make too much of one dish and have a romantic dinner every time. Cooking together is a great activity for couples, especially for newlyweds. Working together to create an amazing dish to enjoy is a trust-building and fun bonding experience. The newlyweds can try new foods together and experiment with the recipes to improve them, making dinner a fun activity every time. Cookbooks are some of the best gifts for newlyweds who have everything except ideas for what to eat and struggle to pick a place to eat out at. You could pair this cookbook with a bottle of wine, a dessert cookbook, a cooking class for two, a mixer, pots and pans, or a set of kitchen tools. The options are endless to make this a really awesome gift for the newly married couple in your life.
Monogrammed Whiskey Glasses
Glassware is a common wedding gift, but more often than not, the couple gets a ton of wine glasses more than any other kind of drinkware. If the newlyweds in your life have all the wine glasses in the world but never have glasses for their cocktails or whiskey, then they need these double old-fashioned glasses. Monogrammed with their initials, you can give the gift of whiskey to the newlyweds. This set of 4 would go great with a cocktail subscription or a bottle of Macallan Highland Single Malt Whiskey as a complete gift. These glasses are ideal for having company over to the newlyweds' home and enjoying game night or movie night. These glasses are also great for cocktails such as an Old Fashioned, Vodka Tonic, or White Russian, making great versatile gifts for newlyweds.
The Most Elegant Gift for Newlyweds
Give them a gift that looks almost as elegant as the bride did on her wedding day. An engraved decanter is a fantastic classy gift for any newlywed couple. Perfect for storing their favorite liquor, this decanter also makes a gorgeous centerpiece for any home. The thick, twisting glass makes for a gorgeous display that any newlywed couple will always have out on their end table, mantle, or home bar!
A Taste of Fine Spirits
Marriage is a perfect opportunity to jump into new things and experiences. That is why changing their whiskey glassware set from an odds and ends collection, to a classy Glencairn set is a must. They've experienced some classy drinks before, but not like this. From now on, they'll feel like they're in their own privately owned bar or distillery each time they choose to enjoy a drink.
Date Night Subscription Box
Give your newlyweds a surprise date night every month with this date night subscription service. Each month, the couple will receive a themed box filled with games and challenges for the couple to enjoy together while growing closer in their relationship. The newlyweds who have everything will love this unique subscription because it will bring some spontaneity to their relationship as well as strengthen their bond. Couple themed subscription boxes are the best gifts for newlyweds who have everything because they are fun new things for the couple to try together and ultimately build their relationship. They can discover new hobbies, personality traits, and how to work together through this subscription box.
Custom Sign for the Newlyweds Who Drink
If you want to give the newlyweds in your life a decorative item for their new home, then this is the gift for you. Engraved with the phrase, "The couple that drinks together stays together" along with the newlyweds' names and wedding year, this handsome wooden sign is a lovely addition to any new couple's home. This sign will look great in their bar area, kitchen, or dining room as a quirky but unique sign. You can pair this custom wall decor with a bottle of their favorite wine or a six pack of their favorite beer. Both romantic and amusing, this sign will make the couple smile every time they see it.
A Cute Sign to Decorate Their Home
You want to give the new husband and wife a special gift to remind them that no matter where they live, their true home is where their heart is: in each other! It's an important rule of marriage to live by, especially if they have moved around a lot for their careers. This lovely sign will remind them of that simple but sweet sentiment, and is a super cute piece of decor for their house. They'll love that you had this little piece of wisdom personalized just for them, too!
HoneyFund Gift Card
If the newlyweds don't have a honeymoon planned, a HoneyFund gift card is the perfect gift! Even if they are going on a honeymoon, a gift card that will enable the couple to save a little money or do some extra activities is always a plus. HoneyFund gift cards are really awesome gift cards that can be used for airfare, restaurants, hotels, shopping, tours, and more. If they don't have the money for a honeymoon, you and the rest of the wedding guests could chip in and gift them an amazing trip as a thoughtful post wedding gift. The couple can use the gift card for an extra attraction, use for Uber credits to get around without renting a car or taking a cab, and pay for all of their food. Gift cards are always one of the best gifts for newlyweds who have everything because they can choose what they want to get with it.
Personalized Presentation Gift Set for Newlyweds
The best gifts for newlyweds are things that both of them can enjoy. This presentation set is an ideal gift for both the bride and the groom. It can even come with both their initials and their newly shared last initial too! Enjoying a drink on their honeymoon or when filling out thank you cards from their decanter set will be one of the classiest ways to have a toast to their shared life together possible!
Picnic Basket Set for Two
A classic, but always appreciated gift is a lovely picnic basket set for two. The newlyweds can go on romantic hikes or walks and settle down for a meal in the great outdoors. This basket comes with 2 plates, sets of silverware, wine glasses, napkins, and it has insulated compartments for food and wine bottles. This picnic basket is perfect for the newlyweds who have everything but like to go on outdoor adventures together. They can take the basket to a nearby park, lake, or go on a road trip to the mountains or beach and enjoy a nice picnic together.
Unique Rolling Wine Glasses
If you want to give the newlyweds wine glasses, then give them a set of truly unique wine glasses that roll around. These fun glasses are both entertaining and functional as they aerate your wine or oxygenate other spirits when you roll it on a flat surface. These wine glasses will be the newlyweds' new favorite wine glasses and the envy of their friends at their next gathering. Products that are quirky and fun but also serve a functional purpose are great gifts for newlyweds who have everything.
Food Subscription for Newlyweds
This subscription for newlyweds is ideal for the couple who loves to try new foods. Try The World is a themed subscription that lets the couple try recipes, snacks, and drinks from various places around the world such as France, India, and China. The couple will love getting a new box of gourmet food each month to try together. They can make a date night out of it and cook with the supplied ingredients, snack on the provided samples during a movie, and share a glass of the unique drinks. Couples who are foodies will especially love this subscription and discover new flavors and genres that they can go out to eat at from now on. Who knows, they might find a new favorite restaurant they never would have imagined liking thanks to the samples they tried from this box!
Whiskey Set for Two
If the newlyweds you're shopping for either enjoy whiskey or appreciate fine glassware, then they'll love this custom set. Encased in a handsome engraved wooden gift box are 2 matching whiskey glasses, a 9 piece set of whiskey stones, and a pair of tongs. The husband and wife can share a bottle of scotch without having to worry about watered down flavor thanks to the chillable whiskey stones. The gift box will look handsome in any room and can be used to store their whiskey glasses or small keepsakes such as cards or event tickets. This is a great set for the newlyweds who have everything except a nice whiskey set.
Natural Agate Bookends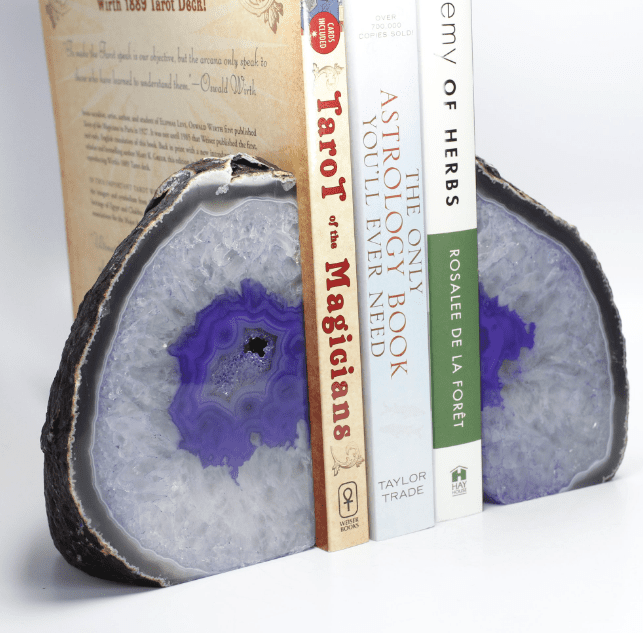 Whether they love to read or just have a couple of books, bookends are a must in every home. Newlyweds will love these beautiful bookends made of natural agate, a gorgeous crystal. Agate bookends are really popular because of their beauty and weight that easily keep books from falling over. Bookends are uncommon gifts because they aren't thought of until they're needed, which makes them perfect gifts for newlyweds and new homeowners. These bookends are really cool gifts for newlyweds who have everything because they are versatile and functional decor that will look great anywhere in their home and secure their books.
Wine Decanter Set
For the couple who loves red wine, a decanter set is one of the best gifts for newlyweds who have everything. This gorgeous personalized wine decanter set is engraved with their new last name and initial, and is as attractive as it is functional! The decanter is a beautiful piece of crystal and will gently aerate their favorite Pinot Noir through its two step process. The wine glasses are bigger than they look, and will certainly be there for the couple at every date night and late dinners. You can never go wrong with a wine decanter set, even for the couple who has it all.
151+ MORE GIFTS FOR NEWLYWEDS>