19 Amazing 3-Year Anniversary Gift Ideas for Him
If you've ever been in a relationship, you know that the three year anniversary is a big deal. It proves you've been through a lot and that after three years you need a great way of showing your appreciation. Of course, every year has a gift theme. The third anniversary is no exception. After three years, the traditional anniversary gift is leather, but the more modern tradition is glass. You naturally still have some questions. What makes a great gift after 3 years together? What are some ideas for a modern gift? How much should you spend on this anniversary gift? We actually put together this list of 19 amazing 3 year anniversary gift ideas for him that has a wide range of modern gift ideas and even a traditional one for good measure.
Classic Ammo Can Gift Set
What's better than one pint glass? Two pint glasses with a personalized ammo can gift set with each of them engraved with three lines of your choice. This set is one of those ideal 3 year anniversary gift ideas for him if he likes to sample a flight of beers, host friends for game days, or grilling in the backyard. He can even use the dapper ammo box to store home bar supplies, ties, or anything else he might like. These will become the pint glasses he always reaches for and the gift still sticks with the glass giving trend.
In Case You're in Need of an Awesome 3rd Anniversary Gift
3 years, that is a big deal. Not only is it a lot of time together, but you're starting to verge on serious long-term goals together like starting a family or buying a house. In fact, in honor of the time the two of you have spent together, check out this personalized watch case as one of the coolest 3 year anniversary gift ideas for him! This awesome case can easily hold all of his watches (including the one(s) you've gotten him so far) and still have room for his cufflinks, tie clips, and other accessories in the bottom. He will never again have to search for his go-to watch for the big meeting or his Apple Watch on the way to the gym since he can keep things organized in this classy gift!
Legendary Decanter Set
 If your love is as legendary as your man, he will want to show it off to the world. There is no better way to show off a gift than to have it prominently displayed in your home. That's why a legendary decanter set is one of those perfect 3 year anniversary gift ideas for him. He will be handsomely displaying his liquor and sharing a drink with friends and family while telling them he received this gift from someone he loves very much.
3rd Year Anniversary Gifts for Cigar & Whiskey Lover
After 36 months of time being married, it is time for a celebration! Hook your favorite man up with the classiest celebration gift set on the market, this engraved cigar and whiskey box set! He'll feel like a kid on Christmas morning opening the present he has waited all year for. Instead, he'll find these 3rd year anniversary gifts that are the ideal way for him to enjoy his favorite whiskey and cigar. If you want to go truly all out, you can even throw in a few stogies and a bottle of whiskey so he can celebrate right away!
Game Used Leather Wallet – A 3rd Year Anniversary Gift for Football Fans
These leather wallets are unlike anything else out there. Each one is crafted from a game-worn jersey of an NFL player. Pick out the one for your guy's favorite team and watch as his face lights up when he realizes his wallet might have once contained Aaron Rodger's sweat. Built to last, this should be the last wallet he should ever need. It has just enough slots for every ID, business card, or gift certificate you guy carries around. This is the kind of gift he will show off to friends, family, and coworkers. He might even brag about it to strangers in the street if they'll lend him an ear. Even when the wallet is beat to shreds years from now he will always be sure to hang on to it. It also doesn't hurt that leather was the old tradition for anniversaries.
Watch Out for This Awesome Gift Set
Make sure your husband or boyfriend always has everything they could ever need with this fantastic 3 year anniversary gift! A leather valet won't just show off his awesome watches, it'll also make sure he can always find them! Now, he'll be able to get ready and look sharp with ease since his watches and other accessories can all be kept in one spot. Once the day is done and your guy is still looking great with his accessories, now, he can enjoy a sip of his favorite drink from either his flask or cocktail glass! This matching gift set is perfect. He gets to enjoy his watches and flask on the go, and the leather case and cocktail glass when he is relaxing at home!
Personalized Rocks Glasses Gift Set
Some 3-year anniversary gift ideas are going to be in use much longer than others. This personalized rocks glasses gift set not only adheres to the glass tradition with 6 quality crafted pieces, but it also encourages social interaction. Your man will take any chance he can get to show off this handsome serving tray filled with 4 glasses and a decanter displaying his spirit of choice. With each piece engraved with his name and initial, this is a gift he will want to use again and again.
167+ LIQUOR DECANTERS FOR ANNIVERSARY GIFTS>
Beer Cap Map & Custom Growler Gift Set
If your guy is a bit of collector and loves beer then he will treasure this beer cap map and growler gift set. He'll be able to proudly display the bottle caps to all of his favorite craft beers, store one of them in the custom glass growler, and enjoy its full flavor in a pint glass designed just for him. Still holding to the glass tradition, but with something extra added, this is one of those 3rd year anniversary gifts he can't wait to unwrap.
Monogrammed 3rd Year Anniversary Gifts
Make sure for your 3 year anniversary gift you get a gift that has both the traditional and modern elements. This gift set is the perfect way to give the traditional leather while also incorporating a really cool glass for him. The leather-wrapped cigar case paired with a cigar-whiskey glass make for an incredibly tasty and convenient cigar and whiskey experience. Also, this is a gift set he won't be able to help but want to show off! The classy monogram is the finishing touch that any guy will love having on his gift set. With this awesome gift, he can enjoy a cigar on the go or light a stogie, pour a drink, and use his gifts at home while celebrating his anniversary with you!
Monogrammed Cutting Board for Him
If there has been one activity that the two of you still love doing on a daily basis together, it is making delicious food in the kitchen. Make sure he can keep his knife cuts as clean as possible with a top-quality wooden cutting board! This monogrammed cutting board makes for fantastic 3rd year anniversary gifts. In fact, with proper care, this gift will last for thousands of meals and tons of anniversaries more! Who knows, he may even cook you your 10-year anniversary on this gift?
Where Chefs Eat – A 3 Year Anniversary Gift Idea for Food Lovers
You and your man have shared many great meals. Now in its third edition, Where Chefs Eat can tell you all the best places in the entire world to eat. If your guy travels for work, loves planning vacations, or just needs an excuse to travel then he will appreciate this extremely detailed book. No matter what kind of cuisine he prefers he is sure to find a fantastic place to eat on each page.  
An Engraved Beer Stein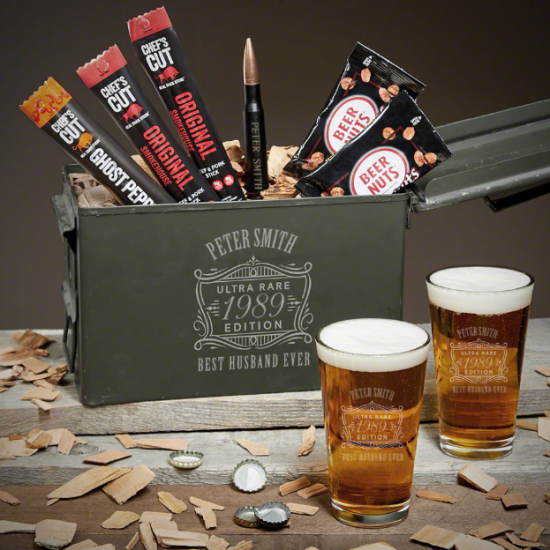 Make him feel like a king in his own home with one of the most unique 3 year anniversary gift ideas for him, a personalized beer stein! There is something so satisfying to men to be able to drink beer the way it should be, from a stein! It is like he can command a whole castle worth of people or lead a charge on a Viking ship. While he may not necessarily be that fierce, nonetheless, he'll still love enjoying his go-to ale, lager, or stout from his stein.

A New Twist on 3 Year Anniversary Gift Ideas for Him
Show him that even though you are entering your fourth year of marriage, you can still surprise him with a good set of gifts. This personalized twist whiskey glass box set of 3 year anniversary gift ideas for him is surely something he won't see coming. Each time he goes to have some Lagavulin or Glenfiddich, he will feel like he is being suaver than even the Dos Equis most interesting man in the world.
Personalized Manly Decanter Set
Embrace the modern tradition of glassware with the manliest decanter set he's ever seen! This is the perfect gift that you and he can use right away to celebrate your big day! Simply fill his custom decanter set with his favorite liquor and after a night out, you and he can toast to another beautiful year together with this set of 3rd year anniversary gifts!
681+ WHISKEY GIFTS HE WILL LOVE>
Beeropoly Board Game – A Fun 3 Year Anniversary Gift Idea for Him
If you and your husband or boyfriend like to have drinks together and love to gather people around to play drinking games then he will always remember the day he unwrapped Beeropoly for your 3rd anniversary. Beeropoly combines all the best aspects of drinking games into one fun board game that is incredibly social. Beeropoly is fun with friends or just as a couple. Your guy will probably want to invite people over that very night. You might need to remind him that you're currently celebrating.
The Coolest 3rd Year Anniversary Gifts
Give him the coolest 3 year anniversary gift with a whiskey stone gift box! There is something magical about getting a gift set that comes inside a wooden box. He'll feel like a pirate being given a buried treasure when he gets his hands on this gift box, and it'll only get cooler for him when he flips the latch and finds his new set of initialed whiskey glasses inside. When he gets this set, you can be sure these 3rd year anniversary gifts will become sentimental gifts he'll want to use every day!
Unique Wristwatch
Watches have become a must-have accessory for any guy that wants to look sharp wherever he goes. This terra time watch is no exception. The design stands out enough to buy an eye-catching timepiece, but the gray casing with matching band works great with your guys' suits and casual outfits. This is a gift idea for him that is stylish and practical.
Custom Ammo Can Gift Set
Show him how much he's meant to you these last three years with the ultimate customized ammo can gift set. You can add a bottle of his favorite whiskey or his favorite snack inside the unique ammo can to make this gift even better. He'll be thrilled to wear the handsome, customized watch on his wrist every day as a constant reminder of how much you love him. For your anniversary, the two of you can toast to many more years together with the classy rocks glasses! store inside the cool ammo can to keep them safe and sound inside.
A Modern Classic Glassware Set
Still stuck on trying to find the best 3 year anniversary gift ideas for him? Why not replace all his old glassware with a personalized set? Every man loves to drink out of custom glassware, especially when it has his name and initial on it. Also, this gift set is fantastic for your third anniversary because it has both leather and glass, how cool is that?
197+ 3 YEAR ANNIVERSARY GIFT IDEAS FOR HIM>