19 Wonderful Wedding Reception Gift Ideas
Most wedding gifts are meant to be enjoyed by the bride and groom after the wedding, but sometimes you can give a gift that they can use on the day of their wedding! A wedding reception gift is a wedding gift for the bride and groom to enjoy on their special day either before the ceremony or at the reception. Wedding reception gifts can be something special for the bride and groom to use together for a particular moment such as enjoying their first drink together as husband and wife or it can be a decorative item to display at the reception. Not sure what kinds of gifts are best to give at the reception? Looking for a wedding gift that isn't on the registry? Don't worry, we've got everything covered!
Beautiful Wedding Reception Gift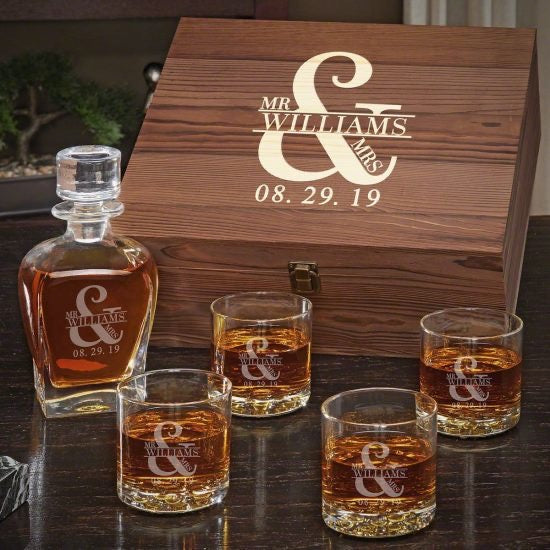 The bride and groom will adore this stunning decanter set! Perfect for surprising them on the day of the wedding either before they walk down the aisle or at the reception, they can enjoy their first drink together as husband and wife using this wedding reception gift. They can also have a round of drinks with their parents and new in-laws! Once they get it home, this gorgeous personalized decanter set will be the centerpiece of their home bar or living room.
A Gift to Display In Their Home and at the Reception
This beautiful sign is the perfect way to welcome guests into the wedding reception and into the bride and groom's home! Make sure you give the happy couple this lovely piece of decor before the reception so that they can display it before their guests arrive. After the wedding, they'll love having it hang in their entryway at home. Even many years from now, whenever they see this sign as they come home they'll be reminded of their wedding day thanks to your thoughtful gift.
Romantic Wine Wedding Reception Gifts
Now that they're through the wedding, the newlyweds can finally relax and celebrate their nuptials with their family and friends. Engraved with their names, wedding date, and "Mr & Mrs," the bride and groom can enjoy their first drink together as a married couple using this lovely wine decanter set at the reception. They'll definitely be using this set for every anniversary in the future as well as other special occasions. When they're not using it, this wine decanter set will look lovely on display in their home bar or dining room.
A Fancy Way to Display the Appetizers
Make sure the bride and groom's snacks, appetizers, and hors d'oeuvres at the reception look amazing by giving them this fancy bamboo charcuterie board to display them on! They will love seeing the elegant design featuring their new shared last name as they enjoy some gourmet treats from the impressive charcuterie board. At home, it's great for food prep and, of course, for creating charcuterie spreads! This bamboo board is something they'll be using often for years to come.
Custom Flutes for Their Wedding Toast
At every wedding reception, there is a toast to the bride and groom to celebrate their union. Make sure this moment is extra special for the happy couple by giving them these personalized champagne flutes to use! They will love having this thoughtful wedding reception gift on their big day and for every future anniversary from now on. Whenever they use these flutes, they'll fondly remember the moment they became husband and wife.
19+ CHAMPAGNE FLUTES FOR THE RECEPTION >
Comfy Robes to Wear
These adorable and super soft Mr and Mrs bathrobes are sure to come in handy on the day of the wedding! Give them to the bride and groom before the day of their wedding so that they can wear them while they get ready for the ceremony or so that they can have something comfy to wear for their wedding night. Either way, they'll love these robes so much that they'll be their new bathrobes from now on!
Celebrate Their Union with Drinks
One look at this incredible monogrammed decanter set and the bride and groom will be speechless! They will love seeing their initials surrounding their new shared last initial on the entire set as a representation of their union. This set is perfect for having celebratory drinks with their loved ones at the reception and any time someone comes over to visit their home. The happy couple will surely treasure this amazing gift forever!
Decorate Their Reception with Something Personal
Wedding signs are always nice to have on display at the reception, and this beautiful marble-themed one will look wonderful for any wedding. The newlyweds will love seeing this personalized sign on display at the reception and then in their home after the wedding! The art deco style will add a modern element to both their wedding reception at their home, and it even comes in two colors so that you can make sure it's perfect for the bride and groom.
Lovely Wine Wedding Reception Gift Set
This personalized wine gift set is one of the best wedding reception gifts! Not only can the happy couple use the custom glasses for their drinks at the reception, but they can also enjoy this set together on date nights, anniversaries, and other special occasions. They can even use the wooden gift box for storing wedding keepsakes such as the wedding invitation, the groom's tie, and the bride's veil.
Start a Collection on Their Wedding Day
The bride and groom will get a kick out of the fun phrase engraved on this shadow box when they first see it, but once they realize just how great of a gift this is they'll be so excited to use it, too. By starting a collection of wine corks (beer bottle caps, can tabs, or whatever they want!) on the day of their wedding, they'll be collecting keepsakes of each and every drink they share together from now on as well as the memories that go with them. From their first drink together as a married couple to the special wine they enjoy on their 50th anniversary, this shadow box will store all of their memories and display them at the same time!
A Map of a Special Moment In Their Lives
Give the bride and groom something special to display at their reception with this custom map plaque! Showing the location of a milestone moment in their relationship such as their first date, where they got engaged, or even where they're getting married, this unique plaque is a memento they can treasure forever. They will be so excited when they unwrap your thoughtful gift that they might just cry because it's so sweet! It'll be on display for everyone to admire at the wedding reception, and then when they get home they'll make sure it gets a special place for them to see every day.
Impressive Wedding Reception Gift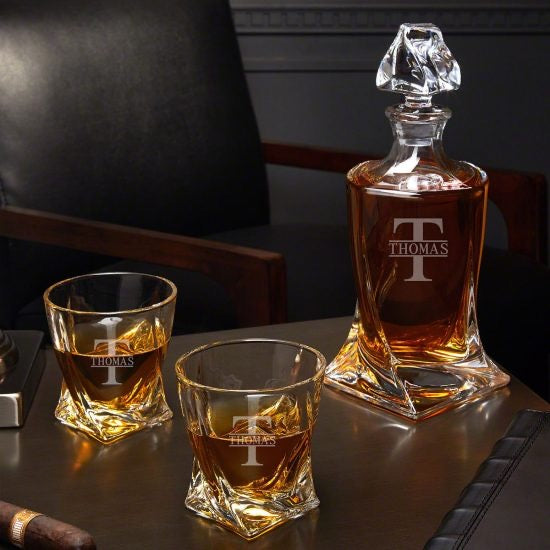 "Wow!" will be the first thing the newlyweds say once they open up your impressive gift at the reception. As far as wedding reception gifts go, this stunning decanter set is by far one of the most luxurious! The happy couple will be so excited to use the elegant twist glasses for their toast, and the decanter will look amazing on display at the reception table. Once they get the set home, they'll want it to be front and center in their home bar, living room, or dining room so that everyone who comes over will see it. They'll be sure to use this three-piece set for evening drinks, date night cocktails, and anniversary toasts for years to come.
A Gift to Enjoy with Everyone at the Reception
Want to give a wedding reception gift that everyone can enjoy with the happy couple? This custom cornhole set is perfect! Everyone young and old will have fun playing this easy game, and it's sure to be a big hit with the adults as much as it will be for the children. In fact, the bridesmaids might just team up against the groomsmen and see who's better! Perfect for indoor or outdoor weddings, this cornhole set comes in two color options so that you can make sure it matches the decor. After the wedding, the bride and groom will love playing this fun game with their friends and family every time they have company over!
Make Sure the Newlyweds Have Chilled Wine
Once the bride and groom get to the reception, they'll be thirsty and hungry since they've been busy making sure the ceremony went smoothly. One of the most thoughtful wedding reception gifts you can give them is this portable wine chiller, especially if you put a bottle of wine in it before you give it to the happy couple! They will love being able to enjoy a nice glass of chilled wine to help them relax and enjoy the reception. After the wedding, they can use this chiller to bring wine on their honeymoon, weekend getaways for their anniversaries, or even just to bring a bottle to a friend's house!
Make it Official with a Custom Sign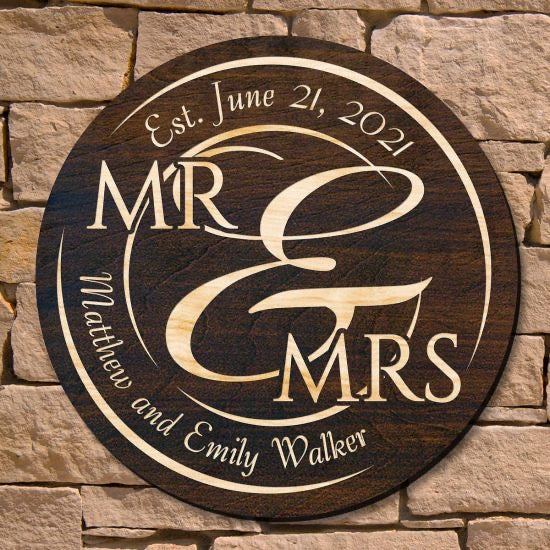 Sure, the bride and groom have decked out the reception hall with plenty of unique decor, but they won't have a personalized sign like this one! The beautifully stained wood will match any wedding colors they've chosen and it will look lovely on display at their reception table, for the wedding guest book table, or even to hang above the buffet. They can take it home with them after the reception to display, making it their official home as a married couple. Whenever they look at this lovely sign, they'll be reminded of their wedding day like it was yesterday even if it's 50 years from now!
45+ LOVELY WEDDING SIGNS FOR THE RECEPTION >
Luxurious Bedding for the Newlyweds
Now that they're husband and wife, their home decor deserves an upgrade. Give them these luxurious Egyptian cotton sheets at the reception so that their first night as a married couple is extra comfortable and special! They will love how soft and silky smooth these sheets are, and once they lay down on them they'll feel like they're laying on clouds. Thanks to your thoughtful wedding gift, the happy couple will sleep better than ever!
Rocks Glasses Engraved with Their Initials
The bride and groom probably have rocks glasses already, but none quite like these! They will love that each one is personalized with a unique monogram of their initials and new shared last initial as a subtle symbol of their union. When you give them these glasses at the wedding reception, they'll want to use them for a toast with their parents and in-laws right away. Plus, when they get home, they'll be excited to try them out for cocktails and romantic drinks together as newlyweds!
Congratulate the Happy Couple with a Bottle of Wine
Not sure what to give as a wedding reception gift? You can't go wrong with a nice bottle of wine for them to enjoy together now that they're married, or you can tell them it's to save for their first anniversary. Either way, you should give them the wine in this custom gift box! They'll love the cute, "Congratulations!" engraved on the box, but the bottle of wine and wine tools on the inside will make them even more excited! In fact, they might just open the bottle right away at the reception because they'll be so stoked to try out your amazing gift.
Whiskey Gift Set for Two
Make sure the moment the bride and groom share their first drinks together as husband and wife is extra special by giving them this beautiful whiskey gift set for two! Whether they're using them at the wedding reception or afterward in their honeymoon suite, these lovely wedding reception gifts are perfect for sipping on a fine whiskey or a romantic wedding cocktail. They can even use the gift box to store keepsakes from their big day such as the bride's jewelry, the groom's cufflinks, and a copy of the wedding invitation.
459+ WONDERFUL WEDDING RECEPTION GIFT IDEAS >